Want to find something unusual to do in the Outer Banks, North Carolina? This list will keep you busy!
The Outer Banks is filled with fun and unique activities to discover.
It's unlike your typical vacation destination.
Sure, there's sunbathing and water sports, but there's so much more than that.
There's history, adventure, and wildlife. There are black bears and pirates. There's a centuries old-mystery and ever changing landscape.
Simply put, the Outer Banks is pretty cool. As cliche as it sounds, it likely has something for everyone in your party.
Let's go through some quirky and unusual things to do in the area so you make lasting memories.
Take a biplane ride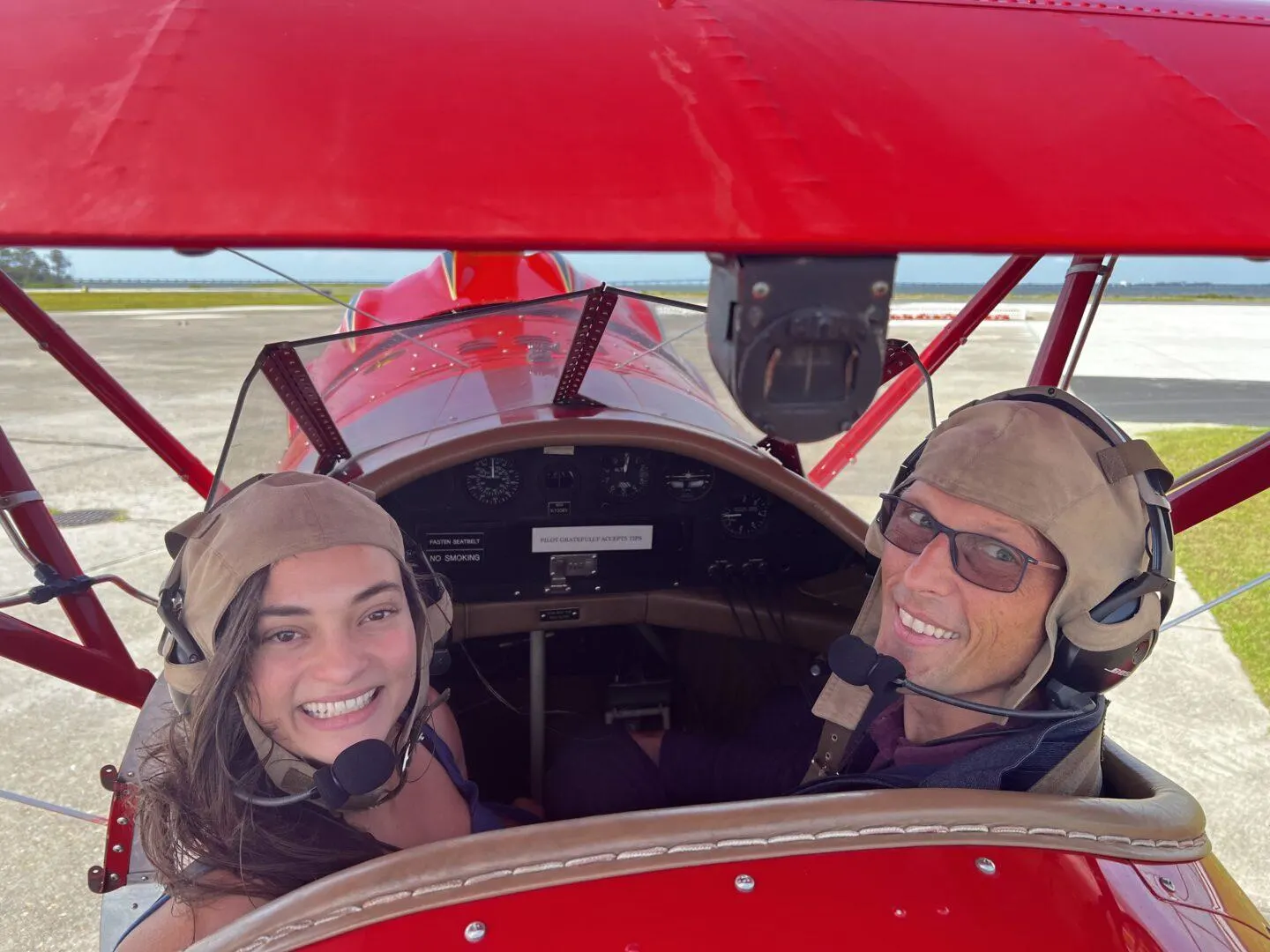 A biplane is an old-fashioned aircraft with two sets of wings, one on top of the other.
They're mostly used for recreational purposes today, or crop dusting.
At OBX Airplanes, they offer scenic flights in a biplane that's been altered so only the pilot and not the passengers can control the steering.
Up to two people can ride at a time, for varying lengths. We did a one-hour tour and it was spectacular.
We saw shipwrecks, the Wright Memorial, and massive vacation houses. It was the perfect way to get oriented to the area, having never been before.
It's an open air cockpit so the feeling is very thrilling. Make sure you keep your arms inside the plane at all times!
I was also impressed by our pilot and co-owner of the company, Jenny Hawk. She was 6 months pregnant at the time of our tour and was a total badass.
Go bird watching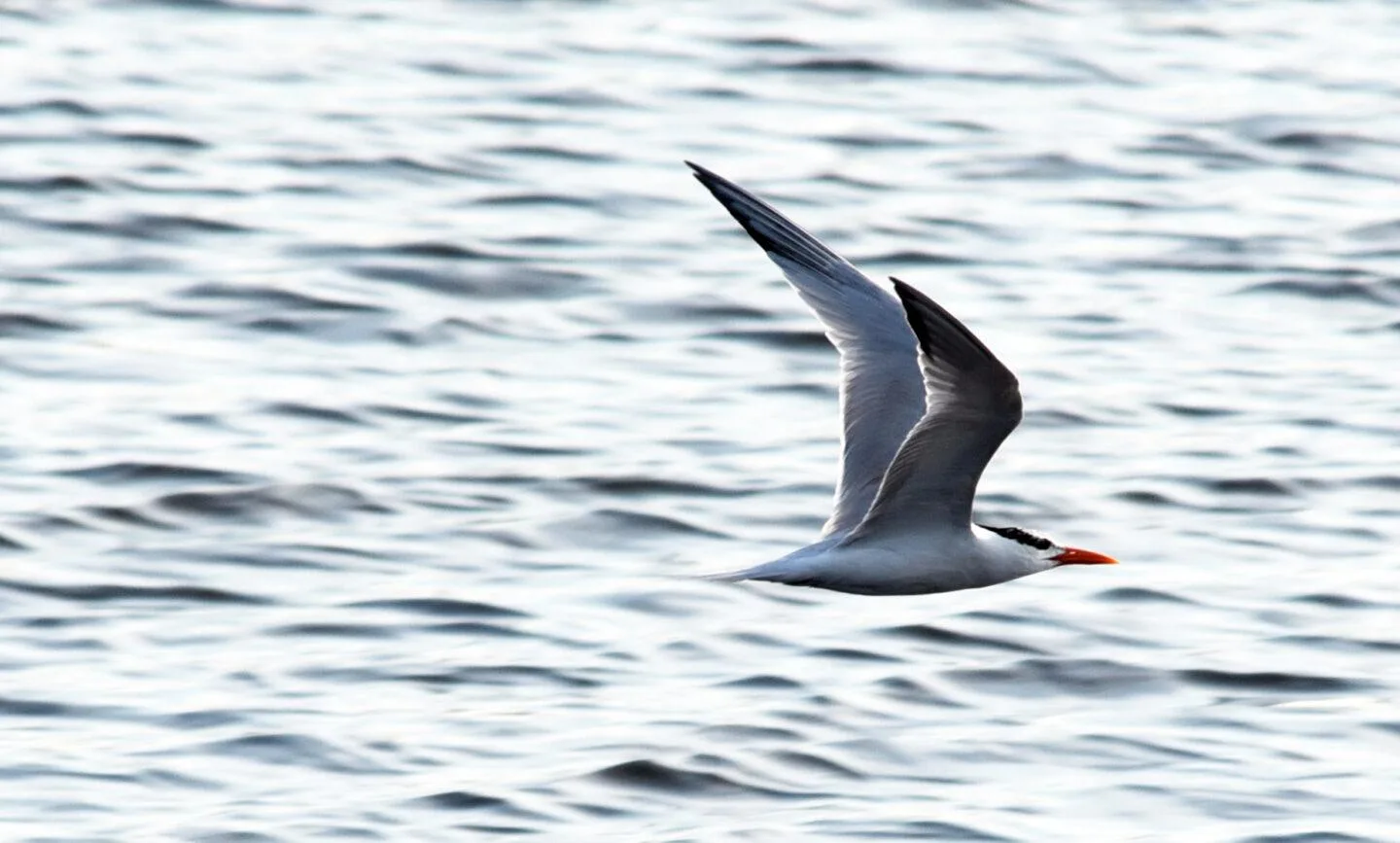 We went on a 4-hour birdwatching experience with Native Birding Tours and I cannot recommend it enough.
Head to Visit Outer Banks to read more about my experience.
The Outer Banks is one of the best places to go bird watching, since many of the birds migrate through the area on the way to Mexico or Canada.
It also hosts several regional birds since it's an estuary with unspoiled nature. This is also what draws in other wildlife, from alligators to turtles.
On our tour, we saw a tundra swan and barred owl, along with 40+ other species.
Our guide, Jonathon, was extremely knowledgeable, having worked for the state beforehand in conservation efforts.
Try parasailing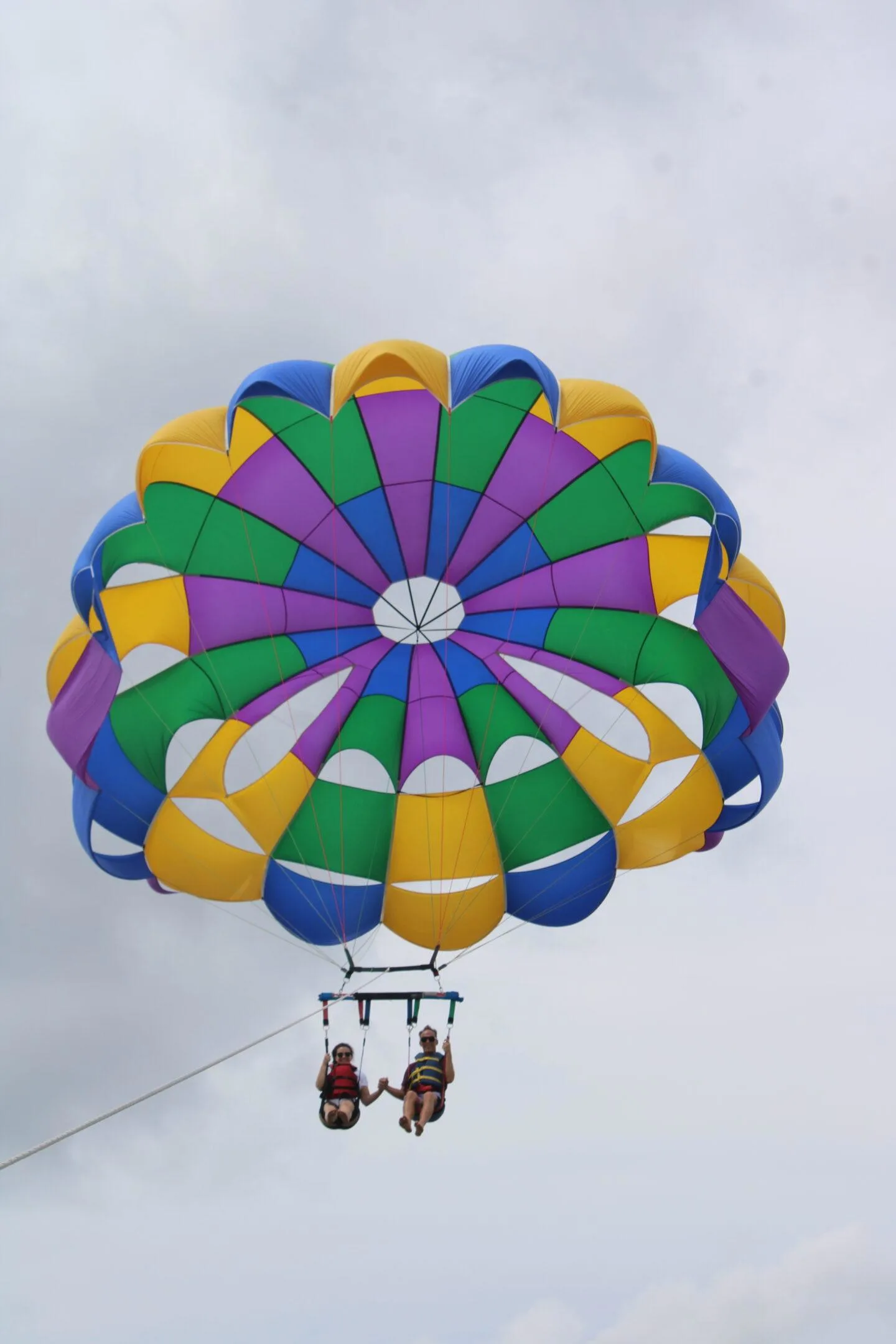 You usually think of parasailing as an ocean activity, but Kitty Hawk Kites offers an experience in Manteo that's on the sound.
The crew has jokes and the experience is fun, even for nervous first-timers like me!
They have giant scissors and take pictures pretending to cut the rope as you go out in the air.
You spend about 10 minutes total in the air and it's a weird feeling because you're about 800 feet up but your extremities are all dangling in the atmosphere, without any kind of barrier or protection.
I was able to summon the courage to go up after seeing a little kid do it, and found once I got up there it was quite peaceful.
Take a sunset sail cruise
Coastal Sols is a new company that was launched by a husband and wife couple, Captain Ryan and Jill Thompson.
These two lovebirds have a passion for sailing and have spent months on the open water just the two of them.
Now, they're sharing their love of sailing with guests to the Outer Banks on nightly sunset sail cruises. This isn't your average sunset booze cruise — this is an intimate, elevate setting.
You can fit 2-6 people on the ship. Jill is a phenomenal chef and prepares a 3-course meal to fit your dietary needs and preferences.
She also sourced and prepared charcuterie board with all local ingredients, from jams to cheeses.
They think of everything — there are koozies provided with a suction cup on the bottom so your drink doesn't spill. There is a bathroom and hot water on board.
Their job is to care of everything — you just show up and relax. We had dinner while docked in front of the lighthouse.
I would highly recommend this for couples celebrating a special occasion or an instance where you want to make a great impression, like welcoming parents to the area the week of a wedding.
Have your own Nights in Rodanthe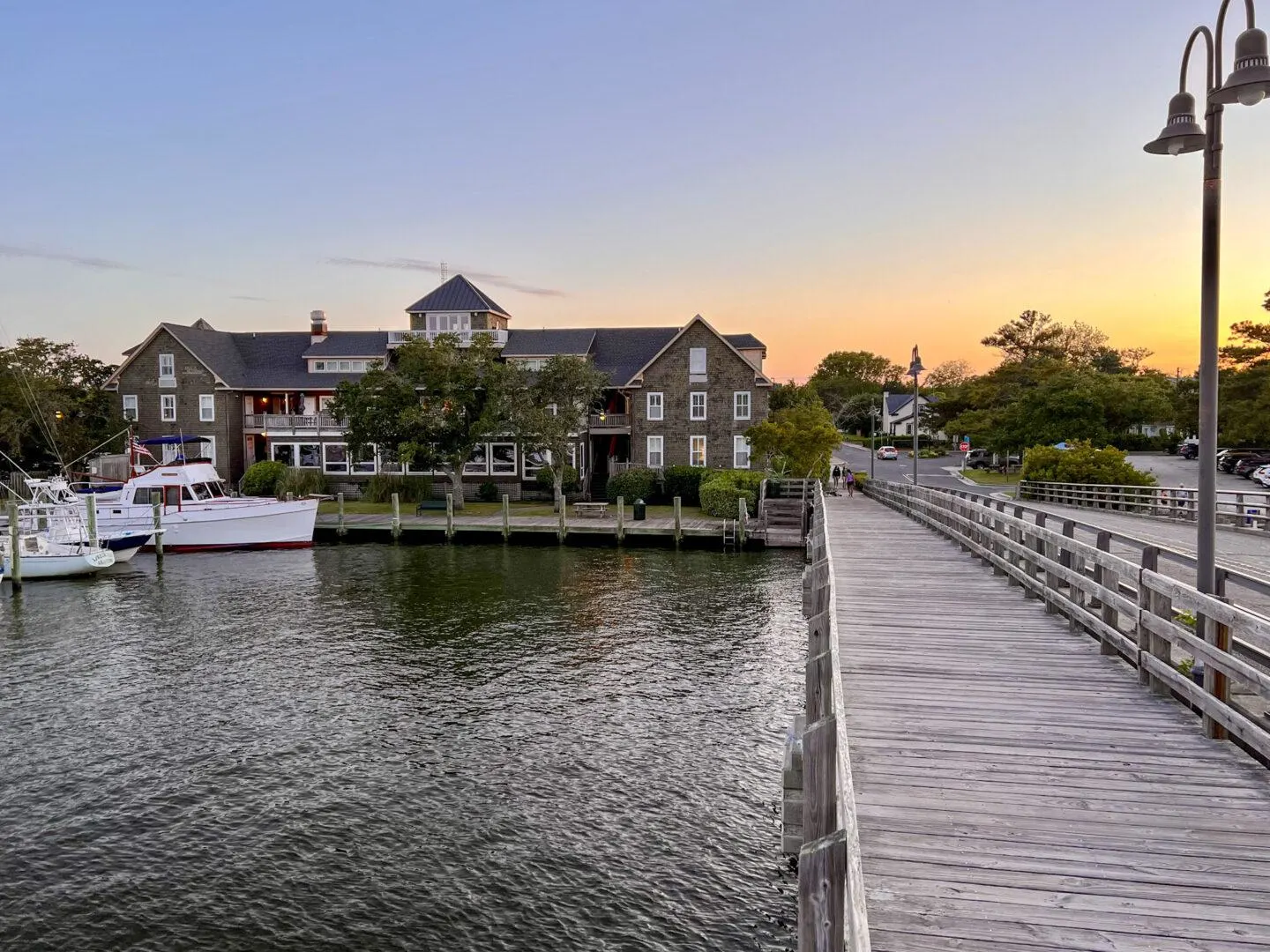 The Tranquil House Inn is where Richard Gere and Diane Lane stayed while filming Nights of Rodanthe, originally a Nicholas Sparks novel.
It is a charming waterfront property with newly renovated rooms and is the perfect place to stay if you want a quintessential Manteo experience.
There's a happy hour daily with free wine and cheese for guests. There are board games, books, and magazines throughout the property.
The in-house restaurant, 1587 Restaurant and Lounge, is quite popular with town residents.
If you're doing any activities in the area, the Inn is centrally located and within walking distance of several restaurants and businesses.
There's also nearby bridge (pictured above) from which it is tradition to jump, and you'll see many kids doing so. Apparently, they police tried to stop it at one point and were unsuccessful, so they ultimately joined them.
Visit the Queen's Rose Garden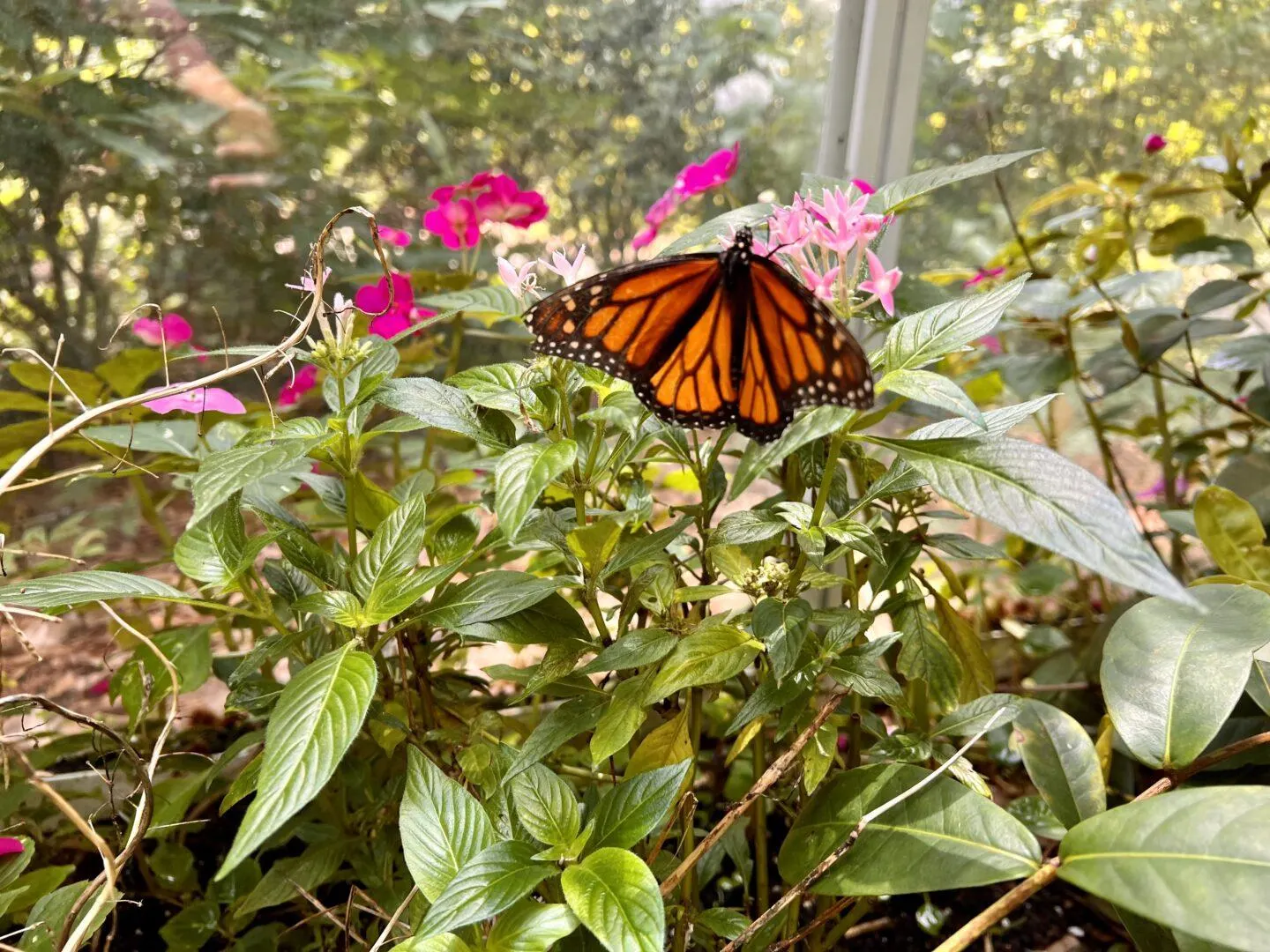 The Elizabethan Gardens is a hidden gem in the area, with 10 acres of beautiful flora and fauna. I saw endless butterflies and bees during my June visit, and everything was in bloom.
There's a main square area that looks distinctly European, with high hedges and a scenic fountain in the middle.
They also have the Queen's Rose Garden, an attraction in its own right, and several statues throughout, including one of Queen Elizabeth herself.
There are educational summer programs, a gift shop, and events like a winter lights show and jack-o-lantern festival.
Board a replica of the Elizabeth II
This is a full-sized replica of the ship that the original Roanoke colony used to come over to the states from England.
It was built for America's 400th anniversary celebration and guests are welcome to climb on board.
You'll find costumed staff in theme. They are determined to provide an authentic experience, so you might find yourself scrubbing the decks.
There is a small admission fee and tour included. Guests can also skip the tour and walk around on their own if limited on time.
Take a historic walking tour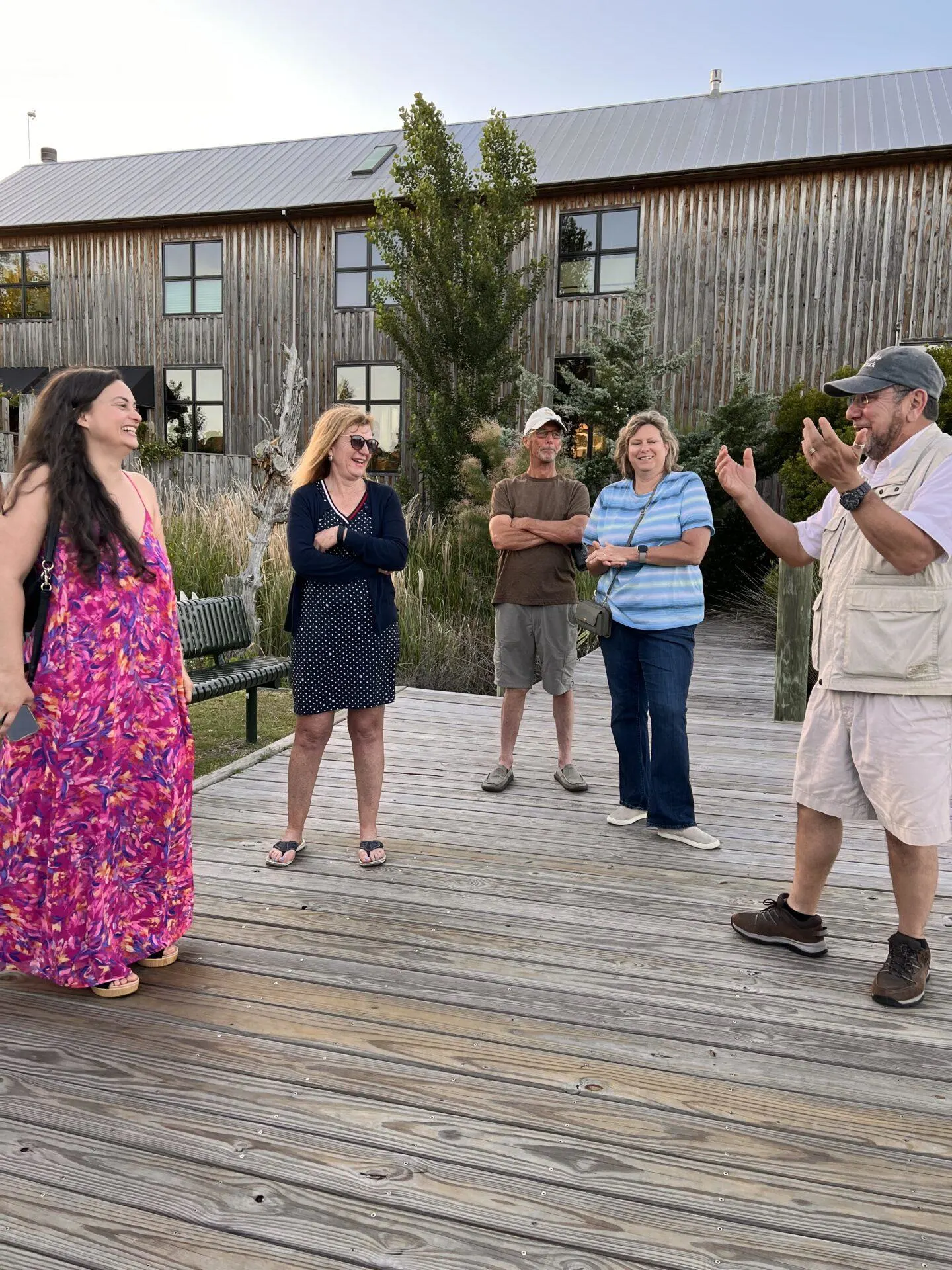 Did you know Manteo was the inspiration for the town of Mayberry in the Andy Griffith Show?
Or that the original mother vine from which grapes were introduced into the country can be found in the Outer Banks?
You'll learn all this and more on a historic walking tour of downtown Manteo with retired police chief Francis D-Ambra.
If you like history and little-known trivia facts, you don't want to miss this.
Fly fishing on motorized kayaks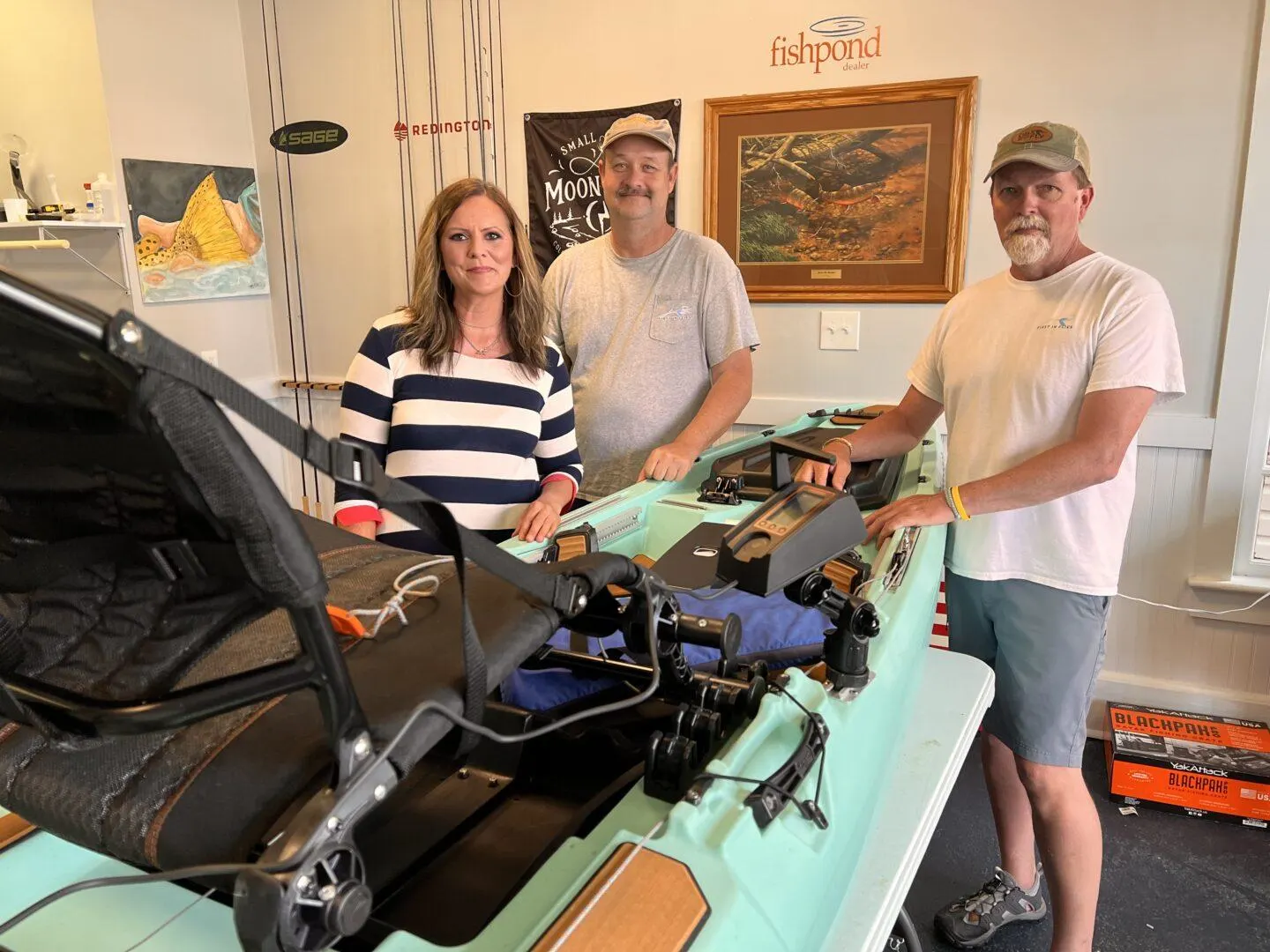 If you're a fan of fishing, you need to stop by OBX Fly Fishing.
This is an institution in the area. They tie their flies by hand, and you can sign up for classes to learn to do the same.
They're the first to put a motor on the back of a kayak so you can navigate around the sound and fish in the backcountry areas.
They have half-day or full-day excursions available.
Watch a movie at a historic theatre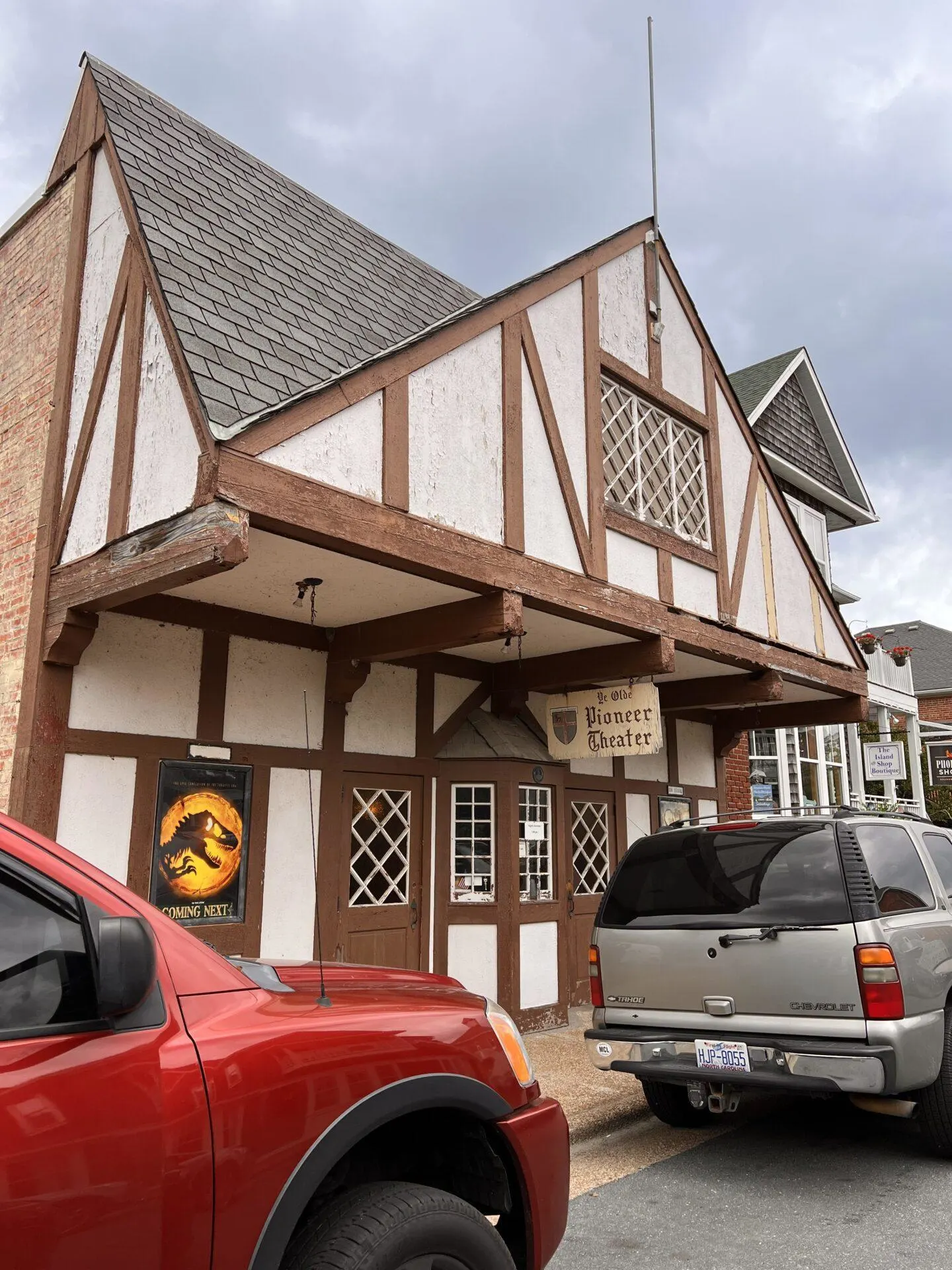 This family-owned theatre dates back to 1918. It is located in a charming, almost Bavarian building.
They only show one movie a night with no trailers. They are cash only but tickets are a steal, starting at $7 each.
This is a great way to support a local business while having a unique experience.
Taste duck for dinner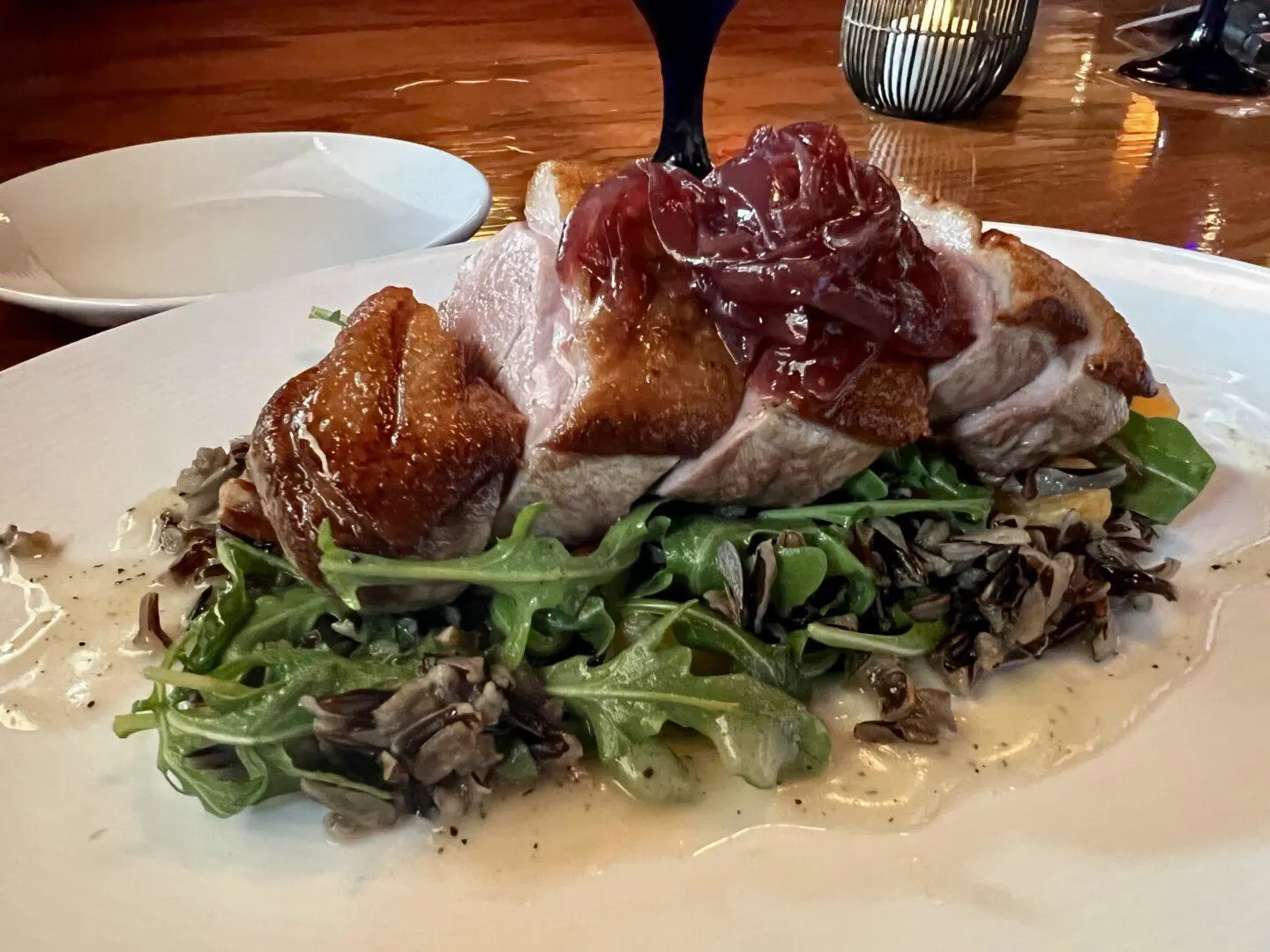 There are boxes all over the water to assist with hunting fowl. This means if you're going to try duck anywhere outside of Beijing, it should probably be the Outer Banks.
I tried duck for dinner at The Blue Point, a waterfront restaurant in the town of Duck, North Carolina.
It was crispy on the outside, tender on the inside. It's definitely an acquired texture if you've been eating chicken your whole life, but it was very flavorful and I suggest giving it a shot at least once.
Visit the Wright Memorial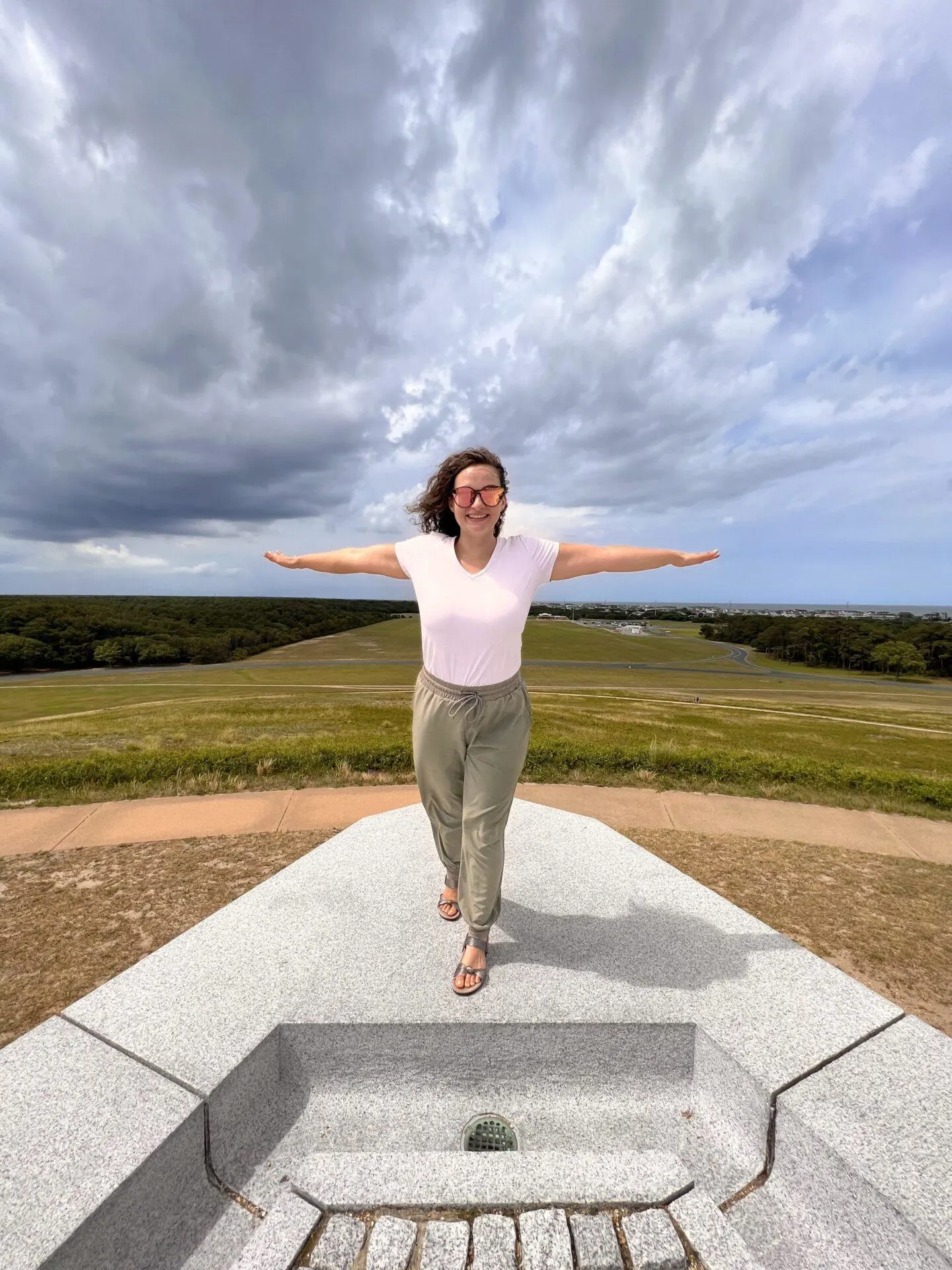 The Outer Banks is well-known for being the place where Wilbur and Orville Wright first discovered flight.
At the Wright Memorial, part of the U.S. National Park Service, there are markers denoting the exact lengths of the first flights they took in a powered aircraft, 4 total.
There is a massive memorial to the brothers on a hill which, poetically, had big birds of flight circling overhead the entire time I was there.
There is also a museum on site, documenting the life of the brothers and their lengthy trial and error process with regards to aviation.
This is where you'll find a full-sized replica of the plane they flew, although the original itself is in the National Air and Space Museum in DC.
Go hang gliding on sand dunes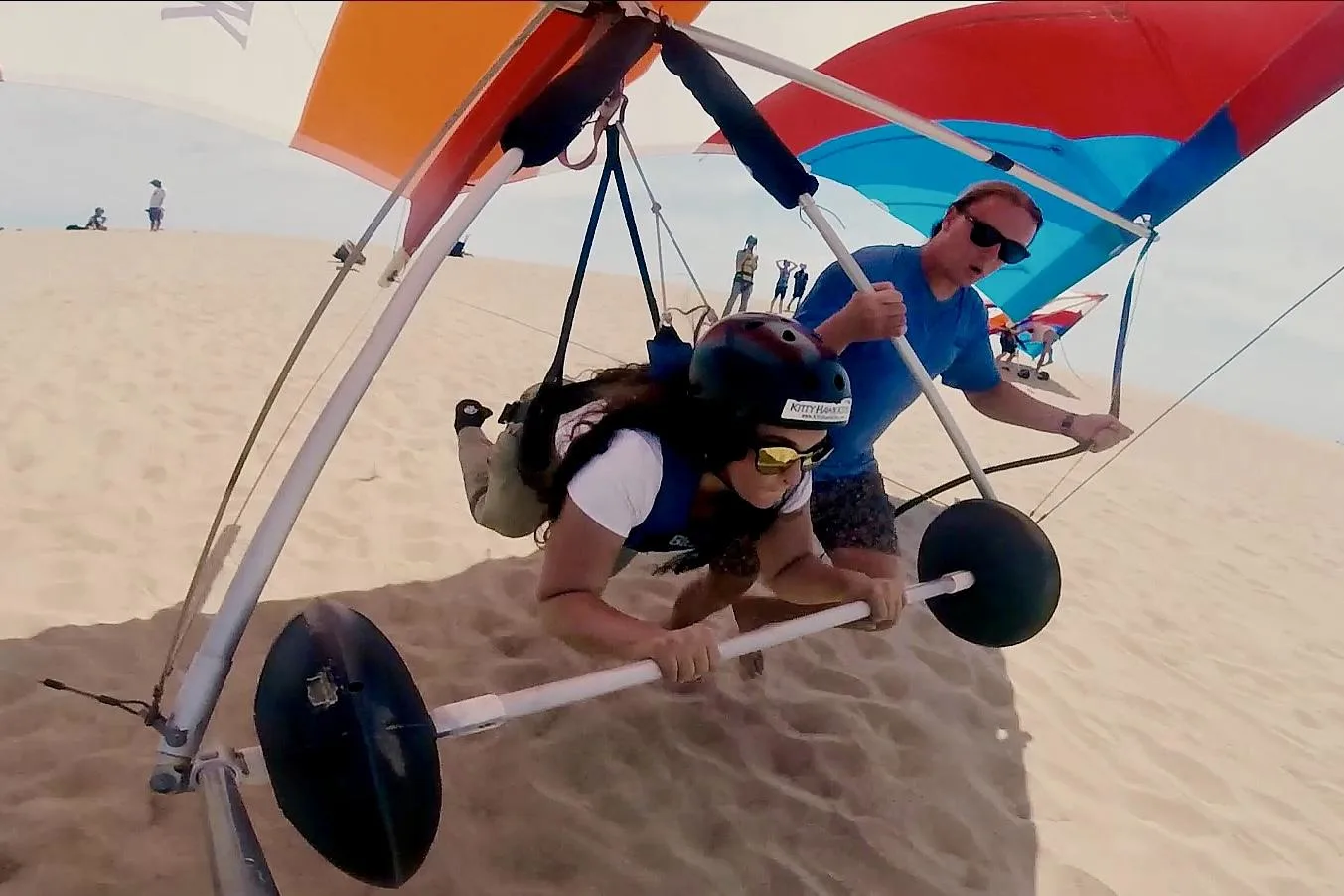 If you're going to the birth of flight, you should experiment with aerodynamic concepts just like the Wright Brothers did and go hang gliding on sand dunes!
This is a truly unique experience and perfect. for anyone looking for light adventure. There were little kids doing this.
Your total time in the air is about 10 seconds, max, and the sand provides a cushy landing if you're not airborne for long.
It is uncovered so I recommend bringing plenty of water as the sun reflected against the sand can feel very hot.
I recommend going first thing in the morning if possible, for the same reason.
They have GoPro footage available for purchase. They tie it to the end of the glider so it's an angle you wouldn't otherwise be able to get with your friend and a cell phone.
RELATED POST: A REVIEW OF THE SANDERLING RESORT IN THE OUTER BANKS
Till next time, safe travels!
Like this post? Pin me below.