Want to bask in the beauty of all that is Florence? Presenting my Florence photo diary, for your viewing pleasure.
There's no place in the world quite like Florence, Italy. The birthplace of the Italian Renaissance, it's long been renowned for its culturally significant city center with endless museums, music and food to enjoy.
Would-be visitors to Italy spend time fantasizing over the canals of Venice or history in Rome, but Florence is just as beautiful of a city with treasures more easily accessible than those found in the Vatican. There may not be any gondolas but there's a river that reflects clouds in its near perfect stillness, like a mirror to heaven.
Getting around Florence is easy; it's a walkable city. There are also train stations throughout, making it easy to get to Florence from other popular cities like Rome, Milan and Venice.
Don't just take my word for it though; have a look!
RELATED POST: 5 MUST-HAVE FOODS IN FLORENCE, ITALY
1) View From Piazza San Michelangelo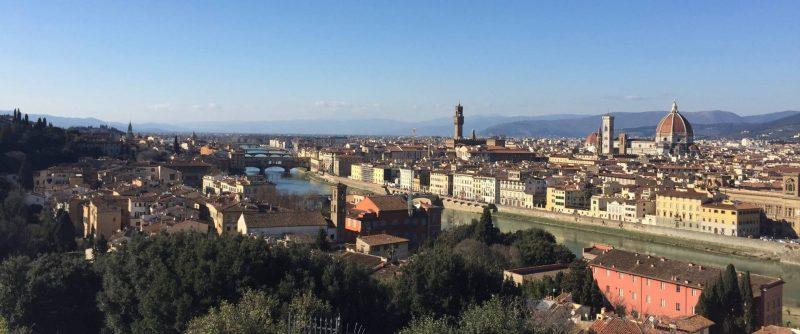 This view of the Ponte Vecchio Bridge, taken from Piazza San Michelangelo, is a popular spot for photographers looking to capture a Florence cityscape.
Easily accessed by taxi, there is a market during the day as well as vendors and performers. The nearby Church of San Miniato can be reached by foot for an even higher elevation and different perspective.
2) Strolling Riverside by the Arno

There is no filter on the photo here. The Arno River reflects the sky beautifully, even on a chilly day in February.
It's so still that it looks like a mirror image.
You can stroll on a sidewalk next to the river for 20-30 minutes and just enjoy the ambiance.
3) Santa Croce Church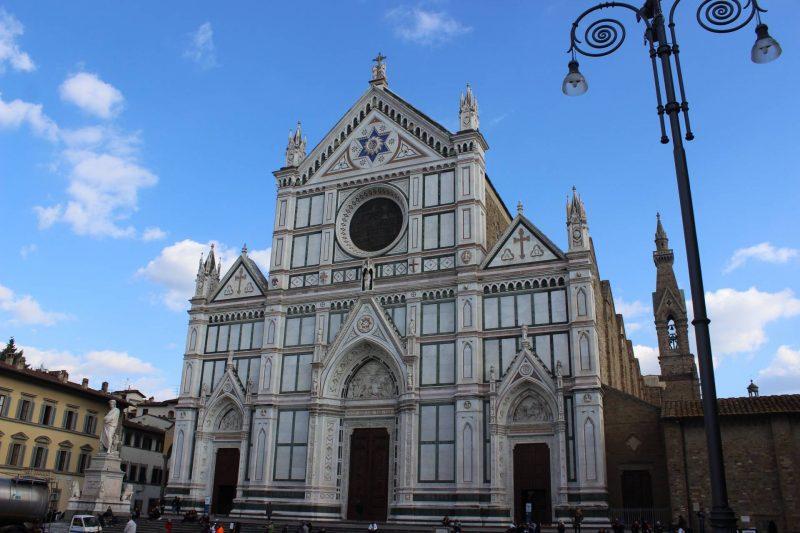 You'll find art students perched on the steps of this church, lining their drawing books with sketching charcoal.
It's also attached to the Scuola del Cuoio, the best place to get genuine leather in Florence.
4) Florence From the Campanile

The Campanile, or Bell Tower, is part of the Duomo complex and best entered with advanced reservations so you can skip the queue.
There's over 400 steps to the top but you get some phenomenal views of Florence's architecture and domes along the way.
5) Bountalenti Grotto Frescoes

These frescoes were made to resemble shelters taking refuge from the storm and look like a fairy tale.
Michelangelo's Prisoner's used to be housed here and you can see one figure still trying to break lose from the stone in the corner.
Learn all about the Bountalenti Grotto in my post about art in Florence.
6) Medici Lions

The Medici family rules Florence for quite some time so it makes sense that they would mark their chosen decor and spirit animal would be the king of the jungle.
The Medici Lions are on display at the Loggia dei Lanzi, an outdoor sculpture museum in the Piazza della Signoria.
7) Watermelon Bicycle in Florence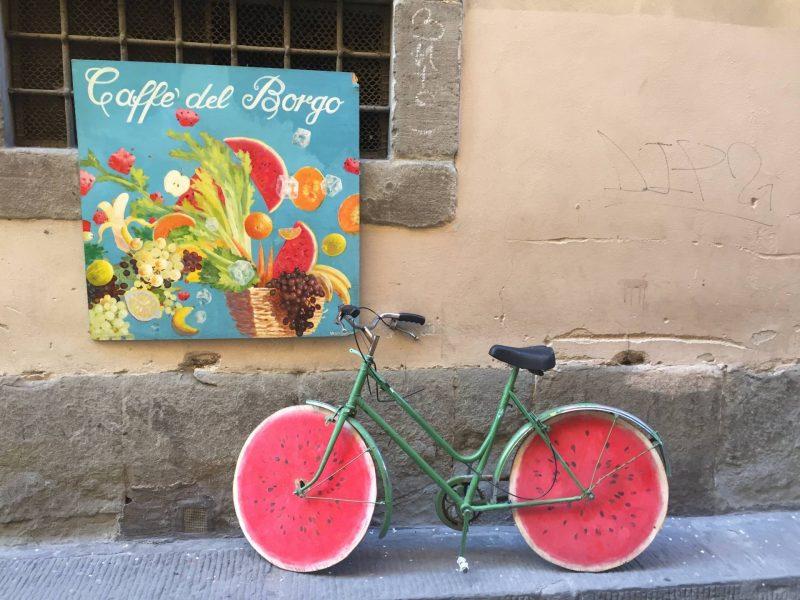 Sometimes the most charming images are captured just while wandering the streets of a city.
This little gem belongs to a local coffeeshop that makes deliveries on a watermelon bicycle.
8) Duomo Baptistery Ceiling
There's a reason Ghiberti's Gates of Paradise were chosen to adorn the East Baptistery entrance; the doors needed to be as lavish as the Baptistery's interior.
The gold domed ceiling of the Duomo Baptistery brings new meaning to the phrase, "all that glitters is gold."
9) Sunset at the Duomo Cupola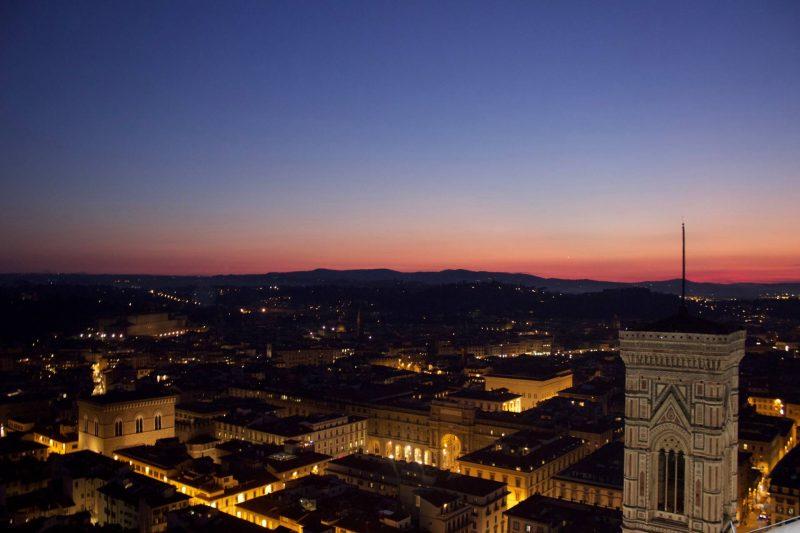 The Duomo Cupola, the main dome most think of when visualizing Florence, is a great spot to watch the sunset.
Grab you tickets in advanced and aim for entry an hour before sunset as once the sun starts to go down, it reaches max capacity and you have to wait for others to leave before you can climb out and see for yourself.
Till next time, safe travels!
Want more Florence content? Get a free 4-day itinerary to help you see all the best sites in a short time, just click here.
Liked this post? Pin me below!