The Dreams Vista Cancun Golf & Spa Resort in Mexico is an all-inclusive family resort that has everything you need to enjoy a blissful getaway.
I had the pleasure of staying at this hotel during a speaking engagement and trip planned and sponsored through Apple Vacations, trusted travel advisors. They took care of all the details from start to finish — more on that soon!
If you're planning a visit to Cancun and thinking about staying at the Dreams Vista Resort, here is everything you need to know before booking your stay.
RELATED POST: FUN THINGS TO DO IN CANCUN, MEXICO BESIDES PARTYING
Dreams Vista Cancun Open Date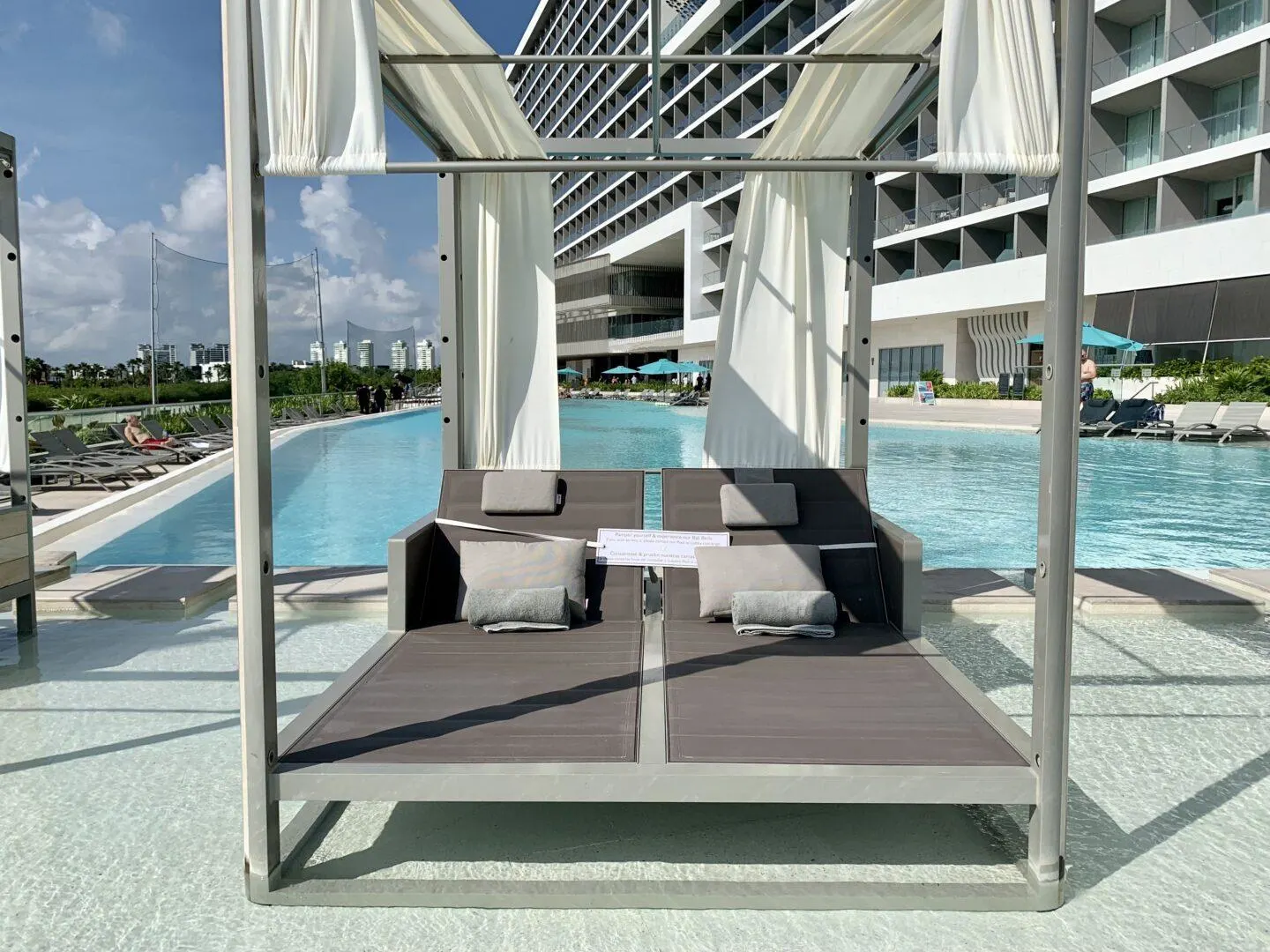 The Dreams Vista Cancun opened on July 2, 2020, in the middle of the pandemic, and has been surprisingly busy ever since. During my visit a little over a year later, there was a constant stream of conferences, special events and weddings being set up throughout the property.
They are well equipped to handle meetings, dinners and lavish gatherings. Moreover, true to its name, you'll be hard pressed to find somewhere in the hotel that doesn't boast stunning ocean views.
Located in a residential area, it's away from the typical hotel strip, feeling secluded. There are two gates to enter and the property is extremely well maintained by a dedicated staff ready to meet all your needs.
Food and Restaurants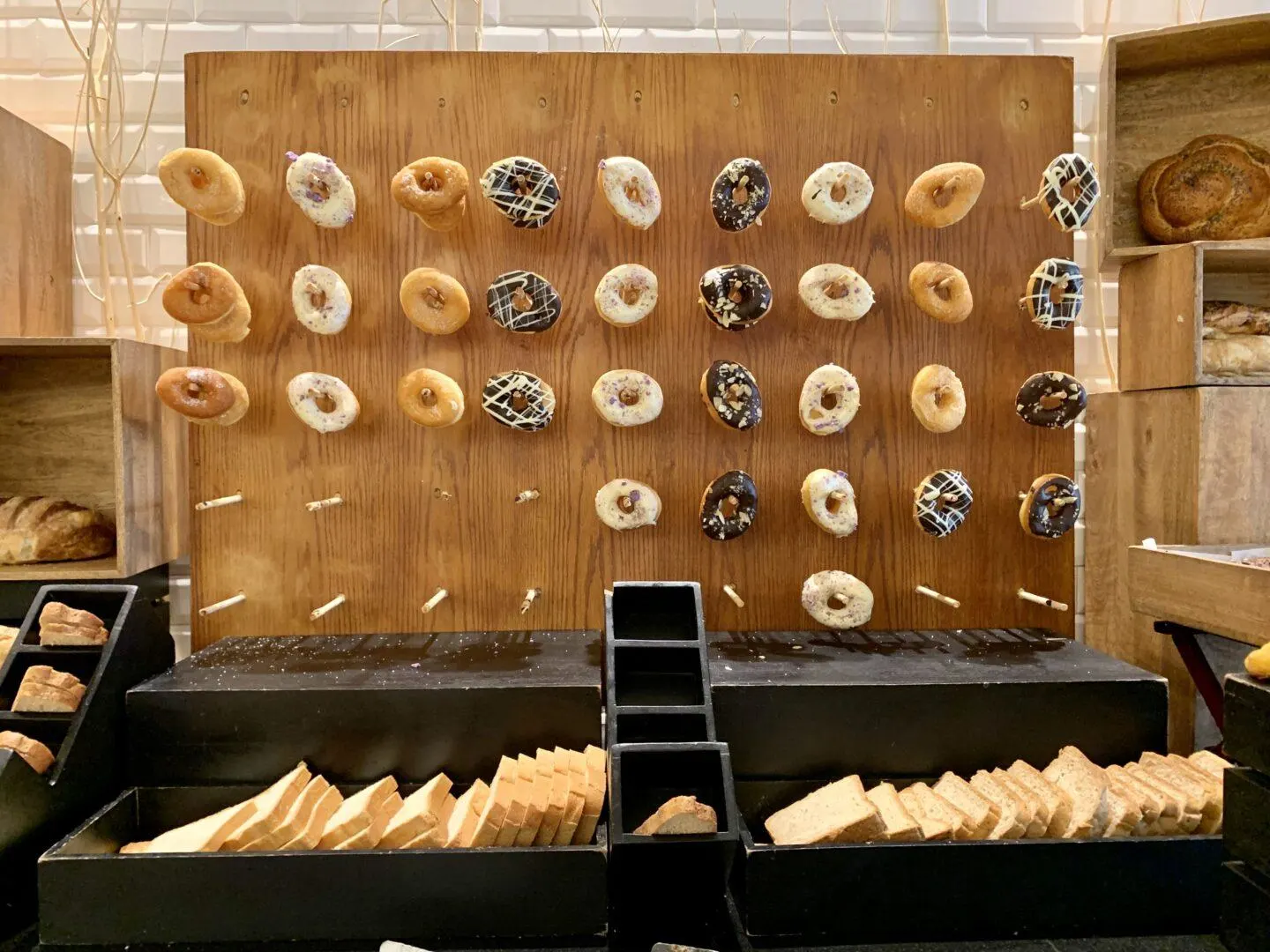 This is an all-inclusive resort, meaning food and drinks are included in the price of lodging. There are 8 dining options to choose from. For breakfast there is World Cafe, a massive buffet that has a. taco stand, omelette maker, hot dishes like hash brown, defied beans and waffles, lo, bagels, cereals, cheeses and even a doughnut wall.
There are also experiences that require reservations, like the hibachi grill experience at Himitsu, serving pan-Asian cuisine. Bar 360° is on the rooftop and offers panoramic views. It's great for a nightcap and to have a light dinner.
I also enjoyed La Plaza, serving lunch till 5:30 and with a cheeseburger and turkey hot dog that both hit the spot.
There's unlimited room service and six bars and lounges serving top-shelf domestic spirits.
Rooms and Suites

The rooms come equipped with bathrobe, slippers, waterfall shower, flat-screen TV and a tablet to help you plan your visit and make reservations. You can even use the tablet to plan and track your workout at the gym.
I had a king sized bed with firm pillows that supported my head comfortably; there is a pillow menu available upon request.
There was a portable steamer provided so clothes that had been wrinkled in my suitcase were event-ready in 5 minutes or less. They provided a toothbrush, toothpaste, shower gel, body lotion, shampoo, conditioner and more.
Turndown service was provided nightly, where they put on soothing music on the TV, pulled back the covers and left chocolates on the pillow.
There's also an in-room safe if you'd like to leave anything valuable in the room for safekeeping.
Suite upgrades can include a corner room, private plunge pool, honeymoon suites and more.
Preferred Club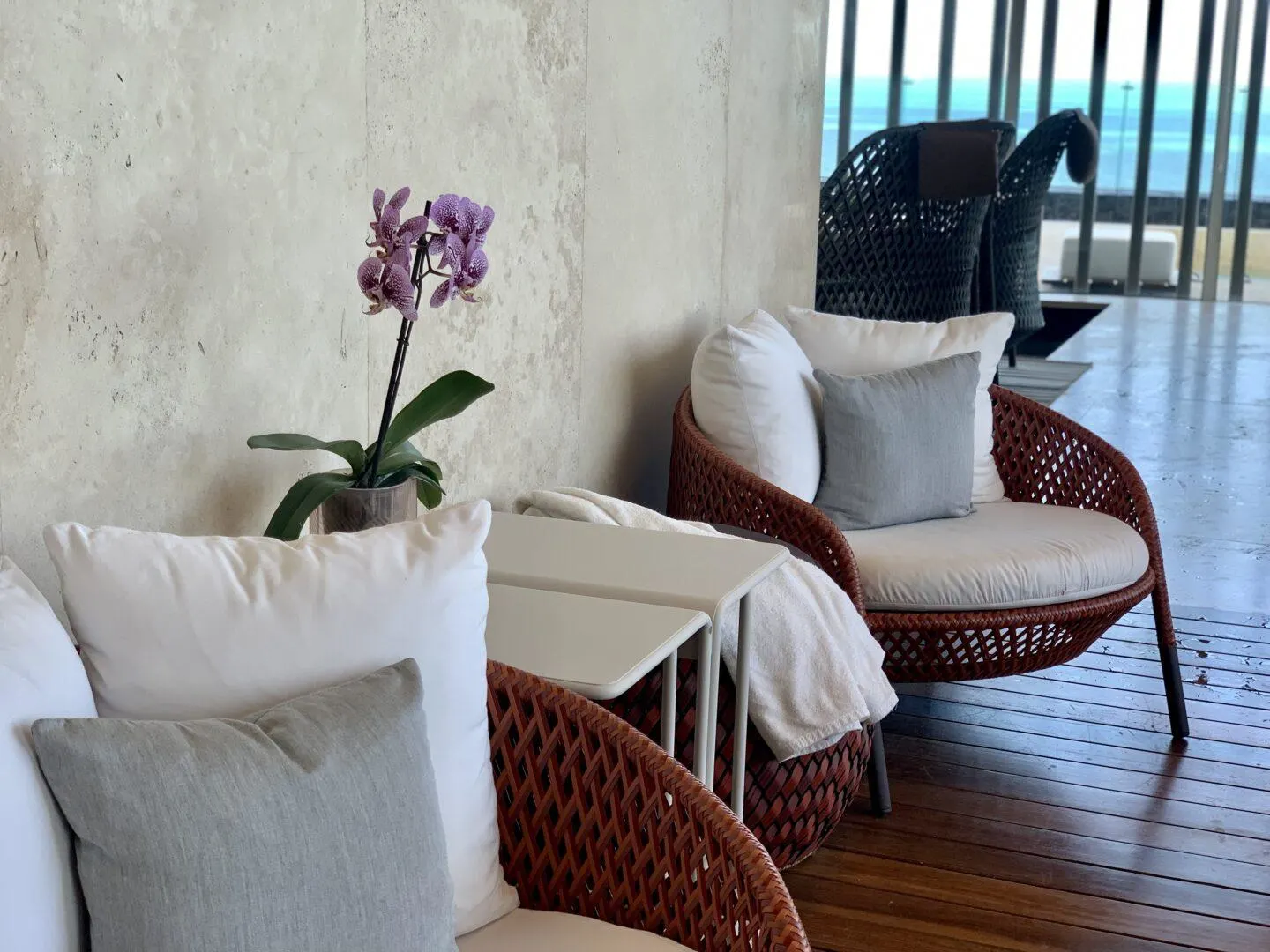 If you want a luxury upgrade, consider the Preferred Club. Instead of checking in at the front desk, you check in at a private lounge on the 9th floor.
Your club membership comes with a dedicated concierge, upgraded suite and complimentary hydrotherapy treatment at the spa.
There's also a special dedicated buffet you can access in the check-in lounge if you want to avoid going to the first floor for the restaurants or find yourself hungry while other restaurants are closed to prepare for dinner.
Amenities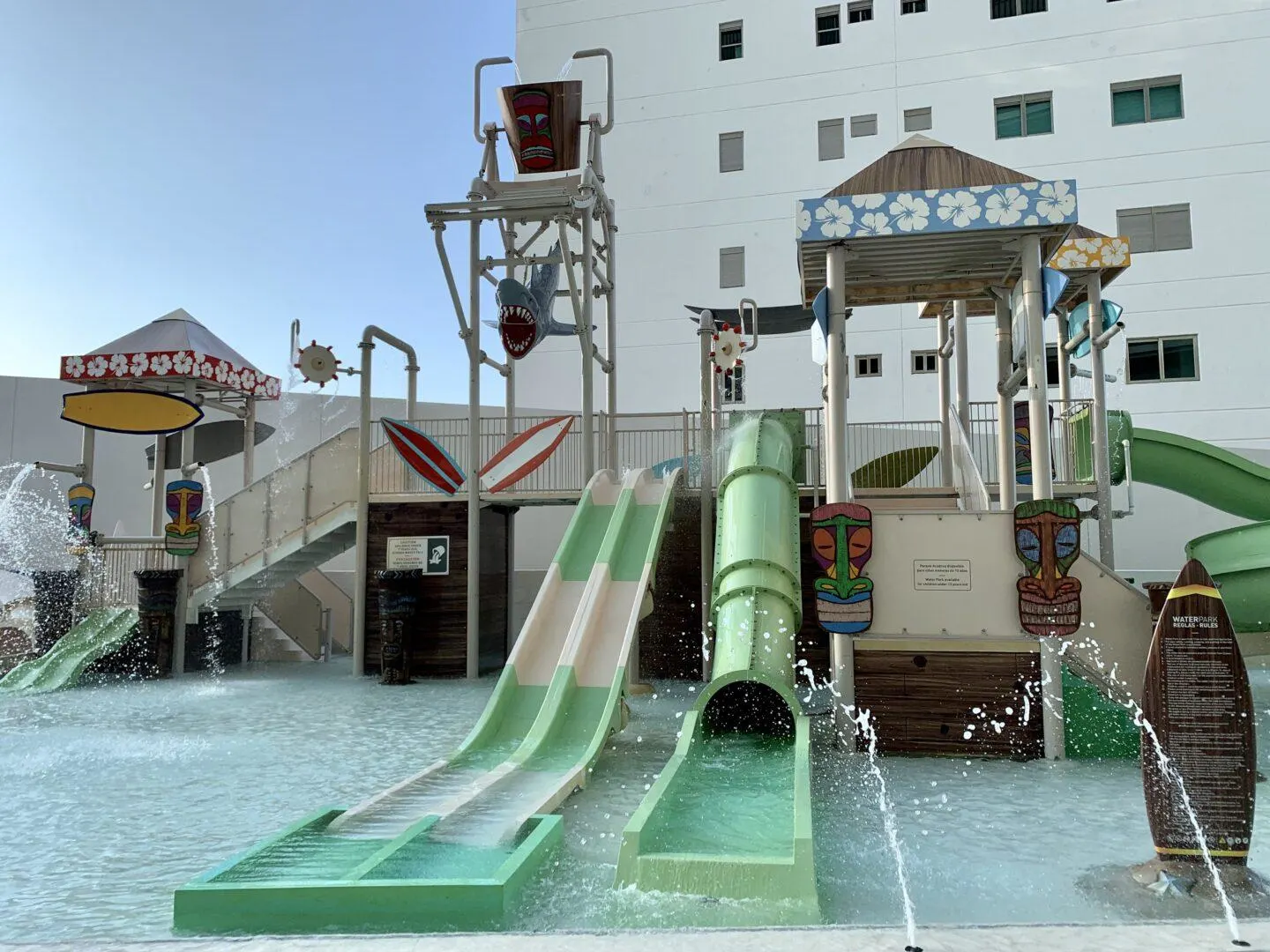 If you're traveling with children, you'll love the on-site water park. There are slides, two surfing simulators and a more private pool for family swim time.
There are hammocks in the ocean, poolside seats with towels at the ready and wait service who will bring drinks/snacks. There are several shops on site, including a jewelry store and genera souvenir shop. There is a theatre, golf course and childcare available.
If you're looking to relax, you can't go wrong with a spa treatment. The hydrotherapy treatment takes you through 5 different hot and cold water experiences, from a sauna to an ice dip, and culminates in a dip in the outdoor pool, overlooking the ocean. They have fresh juices and even chlorophyll water to leave you feeling rejuvenated.
Local Excursions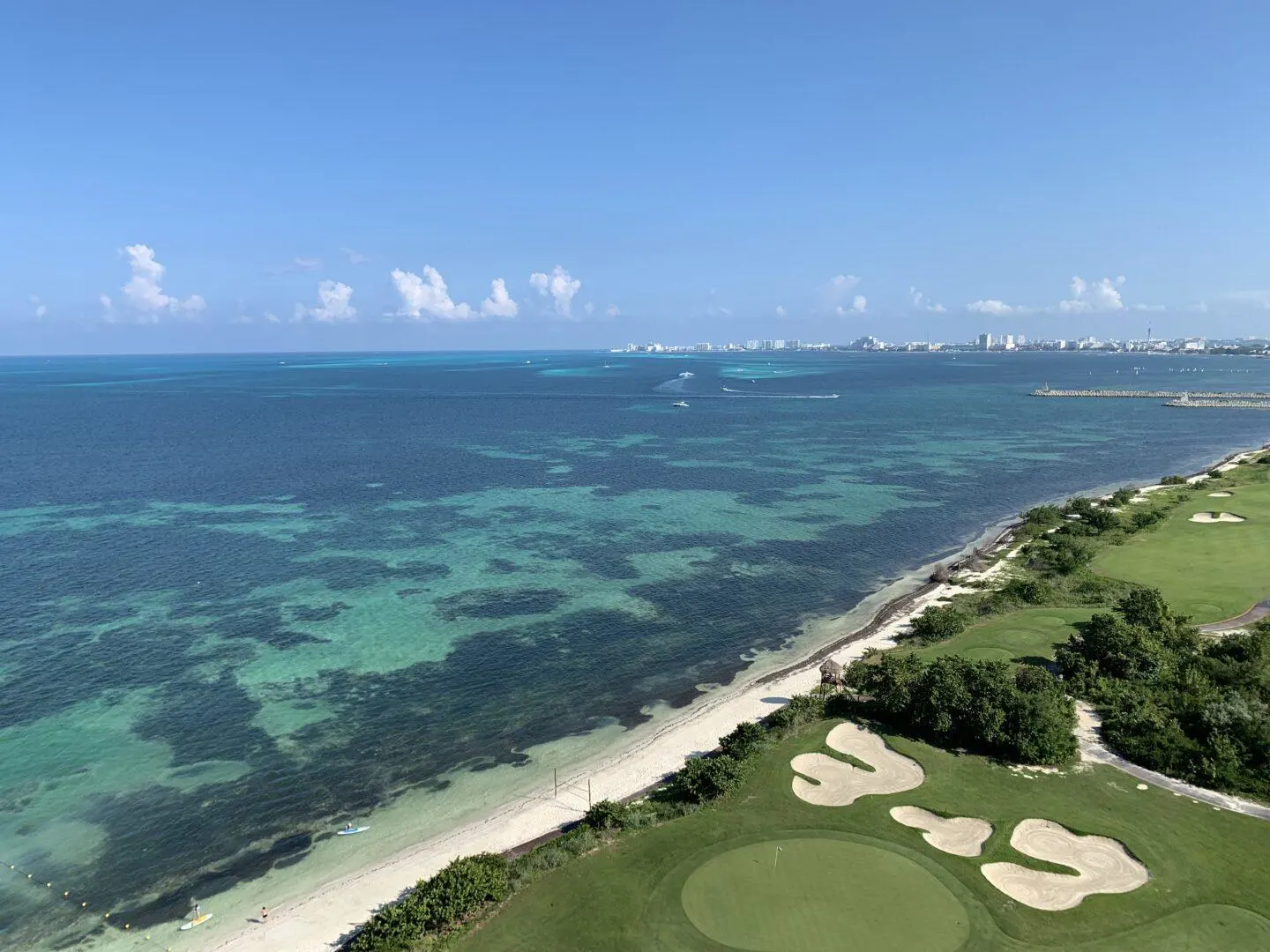 If you want to explore more of the area, Apple Vacations can even help you plan an excursion. They handle transportation needs so they can arrange everything from your airport pickup (Escalade, anyone?) to a private catamaran for you and your party.
Isla Mujeres is within eyesight of the hotel and makes for a great day trip. You can rent a golf cart upon arrival and easily explore the island. There are Mayan ruins, whale sharks in the right season and even an underwater museum.
I have snorkeled and dived the museum and would recommend both — snorkeling if you're short on time but diving if you want pictures up close and personal with the statues, including a Volkswagen!
RELATED POST: DIVING MUSA, THE UNDERWATER MUSEUM OF ISLA MUJERES
Planing Your Trip with Apple Vacations
My time at this hotel and experience overall was orchestrated perfectly thanks to Apple Vacations. They're travel planners with more than 50 years of experience and help you find the right trip at the right price.
Now more than ever, using a travel advisor can be helpful as you navigate the world of insurance, entry restrictions and testing requirements. They arranged it so I had a complimentary COVID test on site, making it easy to come home.
Apple Vacations packages can also include round-trip airfare, saving you hundreds when you bundle. As an added bonus, they have flexible change and cancellation policies for those nervous about traveling again and what the future holds.
I had a seamless experience and highly recommend using Apple Vacations to plan your trip if you're looking for someone to take care of all the work while you just relax.
I was very impressed with Apple Vacations' emphasis on luxury. During my stay, I was sent gourmet chocolates to the room and ate crab legs that had been perfectly split down the middle. I also attended one party that had both a drone show and fireworks.
It was so extravagant! They know how to throw a party and enjoy the finer things in life.
Dreams Vista Cancun Review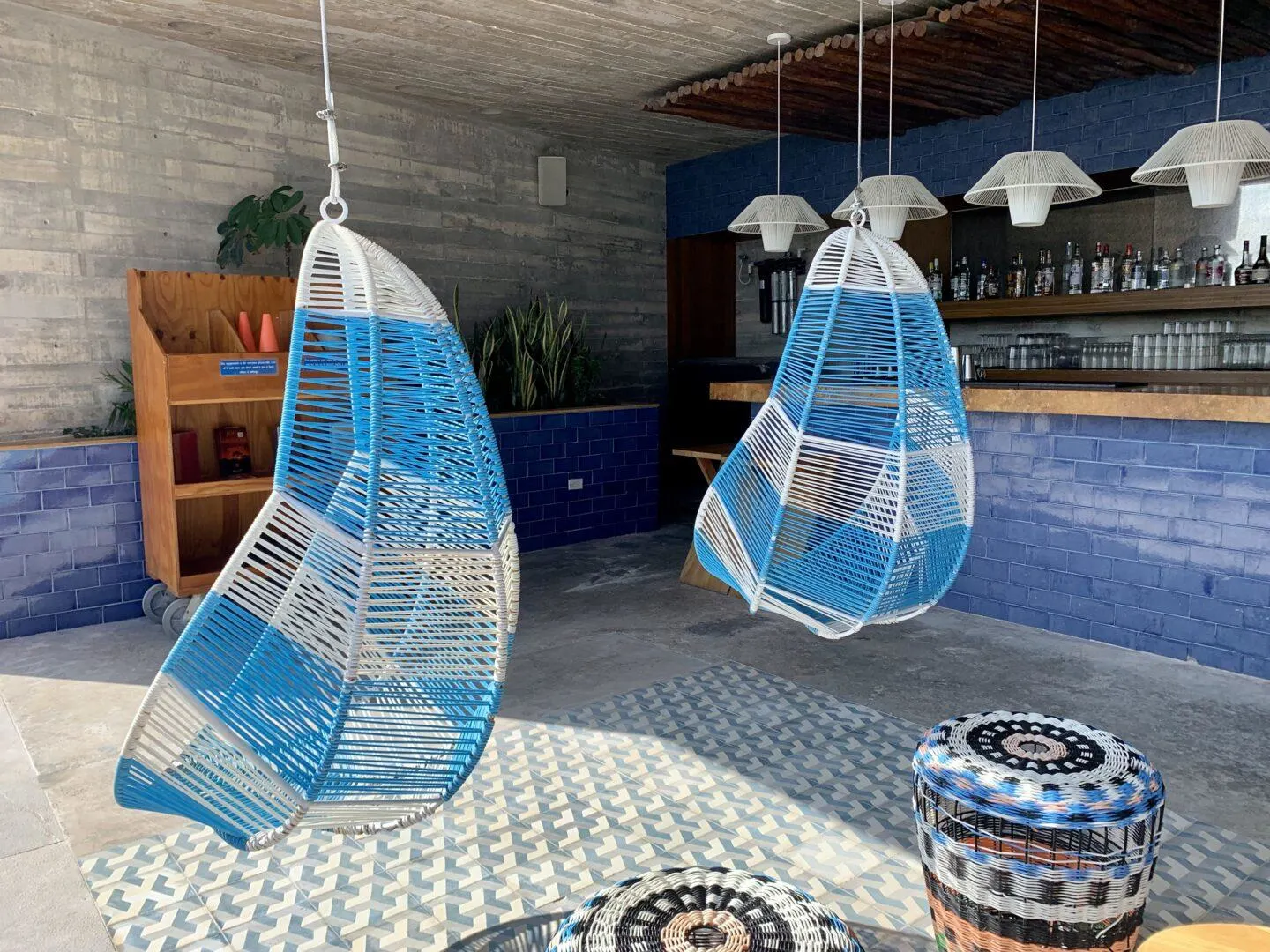 I was very impressed by the level of service and attention to detail exhibited at this hotel. Masks were required in the elevators and my bags were sanitized before being brought to my room.
If you're getting ready for your trip, make sure to bring lots of dollar bills. It could be challenging finding change for larger bills at times and you'll need the change to tip the staff and housekeeping.
Note, sunscreen is a must while you're in the Mexican sun, but the typical sunscreen you buy at pharmacies is actually harmful to the environment. I recommend you bring a reef-safe sunscreen.
Overall, I enjoyed my time at the Dreams Vista Cancun Golf Resort & Spa. I would go again in a heartbeat and recommend it for anyone looking for a luxurious escape right on the water.
RELATED POST: TAKE A TACO TOUR OF DOWNTOWN CANCUN
Note: This post was sponsored by Apple Vacations. All opinions are my own.
Liked this post? Pin me below: