I flew in a private helicopter from Newark to Manhattan using Blade. Read on for my full review!
It used to be that flying in a helicopter was an experience reserved for the rich and famous.
Now with the ride of rideshare services and apps, flying private is becoming much more accessible to the general public.
One such app shaking up the NYC scene in particular is called Blade.
They're most well-known for their airport transfer service but offer other routes as well.
I recently flew in a helicopter from Newark Airport to Manhattan on a business trip to New York.
Here's everything you need to know if you're interested in flying Blade.
RELATED POST: VISIT TOP OF THE ROCK, NYC
What is Blade?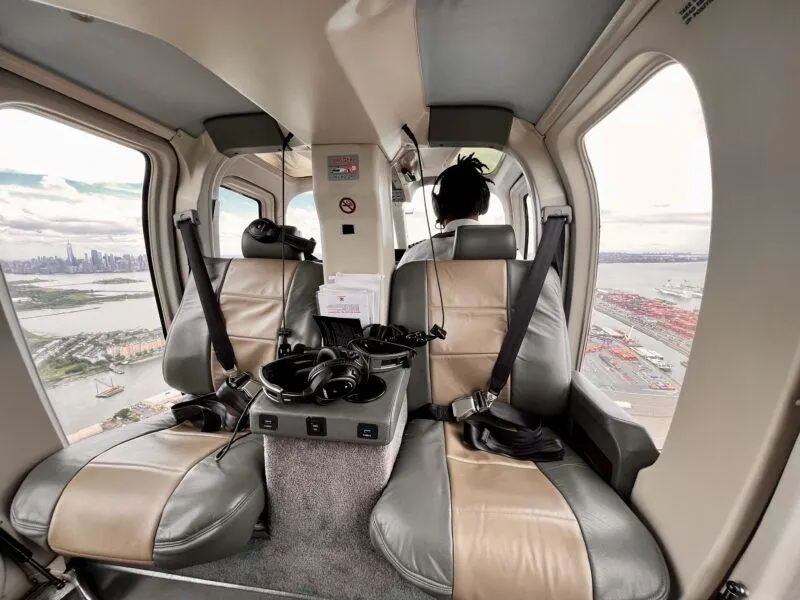 Blade is a company that makes luxury air travel affordable for everyone.
It's like a rideshare service but for private jets.
When you book a flight on Blade, you and a limited number of other people share the transport.
Blade is not the only company to utilize this business model. Other companies include XO and JSX.
Each has a distinctly different model, however, and where Blade really shines is in their transport in and around New York City.
Where does Blade fly to?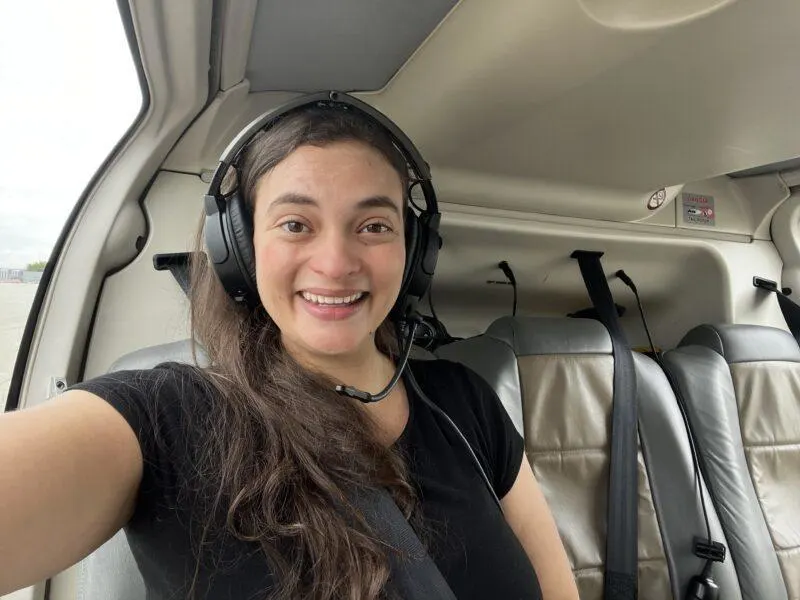 Blade currently flies to NYC, the Hamptons, Montuak, Nantucket, Aspen, and Miami/West Palm Beach.
They are attempting to expand to the Bay Area and Chicago.
They have a fleet of jets, helicopters, seaplanes, and turboprops available for you to charter to your destination of choice.
Currently, the main routes that are regularly scheduled and the most affordable are flights to/from JFK and Newark Airports as well as the Hamptons. They will soon also be servicing Laguardia airport.
The Miami/West Palm Beach flight is through Bladeone and can cost $3500+ per seat so it's not exactly cheap.
The Bladeone flight is on a jet with only 16 seats and VIP service, taking 2 hours and 45 minutes.
RELATED POST: MY HEADOUT REVIEW AND DISCOUNT CODE
What does your flight on Blade include?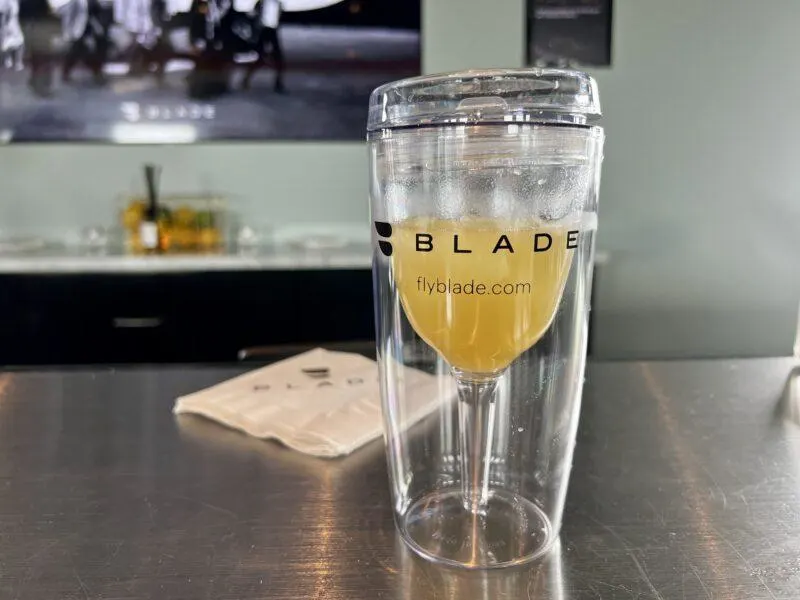 When you Fly Blade from the helicopter to Manhattan, your ticket includes private airport transfer to the heliport.
A black Cadillac Escalade picks you up curbside when you arrive at the airport.
There's a porter that takes your bag to the helicopter, and I suggest you tip them.
The flight is about 5 minutes and flies over New York City, giving you incredible aerial views and photo opportunities.
From Newark, you fly right over the Statue of Liberty.
When you land, there's a lounge where you can hang out. Free drinks are included in the price of your ticket from a selection of liquors and select brands.
The bartender told me people rarely take advantage of the free drink option since they're in so much of a hurry.
You can also hang out in the lounge on your way to the airport if you arrive before your flight.
My cocktail was served in a speciality cup, made to be carried on board without spilling. I was able to keep the cup as a courtesy.
Where does Blade drop you off?
Blade picks you up and drops you off at the West 30th Street Heliport in Manhattan.
If you're flying into or out of JFK, you also have the option to go to the East 34th Street Heliport for an additional $30. This option is not available for Newark airport.
There is a small parking lot so if you're coming via rideshare you can have your driver pull in to drop you off.
How much does Blade cost?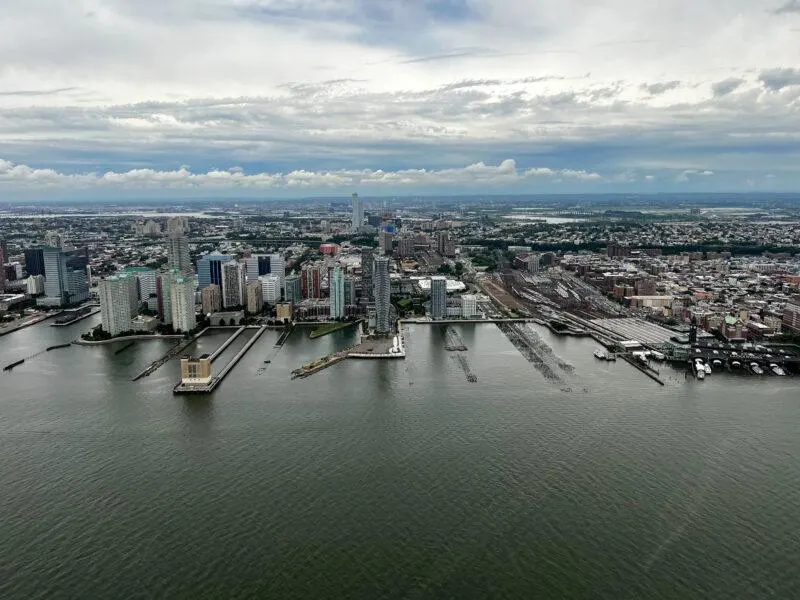 Blade prices vary depending on the route but airport transfer to/from Manhattan and JFK or Newark costs $195 per person, each way.
This is the basic package, with no cancellations or changes.
They have an Airport Flex package for $245 that allows you to cancel or change your flight up to one hour before takeoff.
They also have an Airport Max option that allows you to make changes up to the time of your flight and get a full refund in the vent of cancellation versus just a credit. This is the most expensive option at $295/pp.
You are allowed one personal item and one carry-on item, each up to 25 pounds.
If you're traveling with checked bags, it costs $145 to bring two bags up to 65 pounds each.
You can also pre-arrange a transfer once you arrive at the heliport. It costs $45 to have the driver pre-arranged, plus the cost of Uber Black to your final destination.
The tip for the pilot is not included. After your ride, you'll be prompted to leave a tip electronically much like Uber suggests. The minimum suggested tip is $20.
Blade Review and Discount Code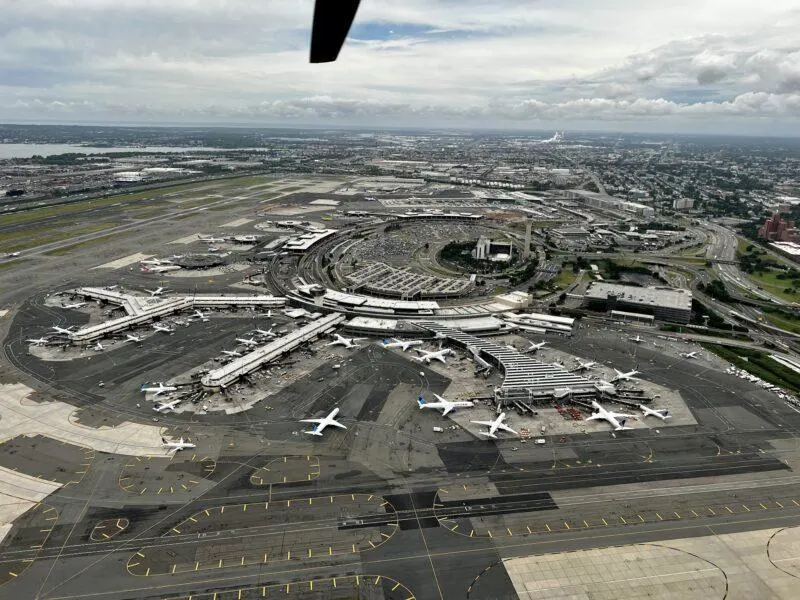 I really enjoyed my flight. It was a mix of tourism with practicality.
I was going to the airport either way, but got a scenic flight to boot.
Not to mention, I got to skip out on traffic and save almost an hour of my time.
I highly recommend you give this a shot at least once. You can use the code "JenniferR432" to get $50 off your first ride.
Click here to book your flight.
That puts you at $145 total for a one-way trip to/from an NYC airport, less than what you'd spend for an Uber/Lyft during rush hour.
Know Before You Go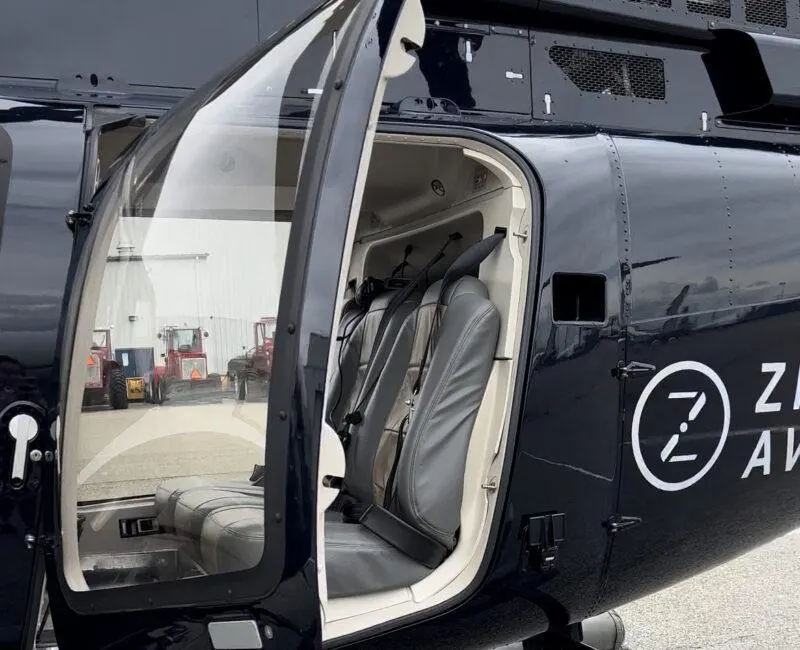 Rides are not available 24 hours a day — only from 7am to 8pm on weekdays and 3pm to 8pm on Sundays.
The mid-afternoon flights are the most crowded.
Since the helicopters only fit about 6 people max, these flights sell out quickly. Made your reservation ahead of time online to ensure you have a spot, especially on weekends or holidays.
RELATED POST: 8 WAYS TO FIND CHEAP FIRST CLASS FLIGHTS
Till next time, safe travels!