Want to visit the Benagil Sea Cave in Algarve, Portugal? Join the club!
This is one of the most famous landmarks in the country, and arguably the most famous sea cave in the entire world.
It's one of the rare tourist attractions that actually lives up to the hype. It's not easy to access, so I recommend deciding on your plans ahead of time.
Getting to the Algarve is easier than you'd think.
It's less than 3 hours driving from Lisbon and can also be reached by anyone doing a South of Spain or Portugal road trip. There isn't even a guard or customs office when you pass the border from Spain to Portugal — you just drive straight through.
This is also a popular retirement destination for Americans so English is widely spoken here and credit cards are widely accepted in stores and restaurants.
There are plenty of hotels and rentals available for your vacation, with all the standard amenities like AC and hairdryers. I stayed at this AirBnB and it was really close to the Benagil Beach.
You can visit year-round, but I recommend going in the early summer or fall for sunny days and warm weather that isn't too overwhelming. The cave used to be largely unregulated but since gaining in popularity restrictions have been instituted to make sure it says pristine for years to come.
Now there are only 4 ways to access the cave: by boat, by kayak, by standup paddle board ("SUP") and by swimming.
This post will break down everything you need to know about these routes so you can choose the means of access that is best suited for your needs and experience the Benagil Sea Cave your way.
RELATED POST: 5 THINGS I LEARNED ABOUT SUSTAINABLE TOURISM ON A WALKING TOUR OF LISBON
Cruise through the Benagil Sea Cave by boat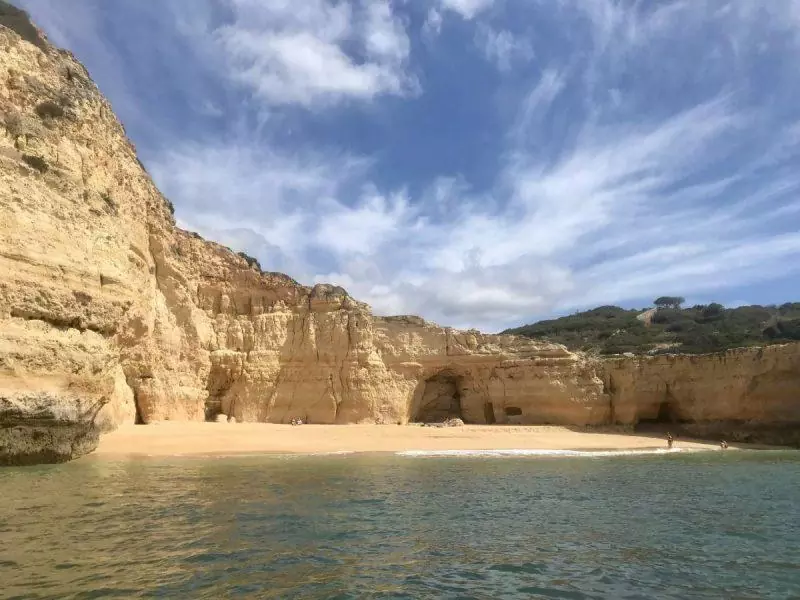 Taking a boat is the most popular way to access the Benagil Sea Cave, and also the easiest. However, it is the most restrictive.
Boats were presenting a danger to people swimming in the water so they've been banned from docking in the cave. If you take a boat tour, you'll enter the cave and cruise through.
You'll be able to take pictures of the landscape from the boat as you pass through, but the boat will only slow down — it won't stop. You won't be able to get off and get in the pictures yourself.
If you are not a fan of active adventure activities and want to see the cave at a leisurely pace, this is the best option for you.
A popular cruise provider is Taruga Benagil tours, with multiple boats going out daily and walk-in tickets available. Their prices start at just €15 and many local restaurants offer discounts with your meal receipt.
Enter the Benagil Sea Cave by kayak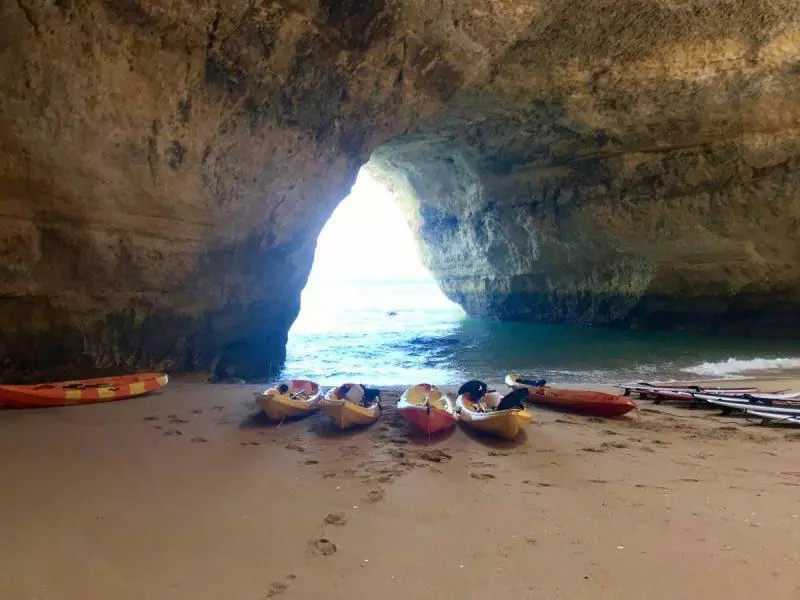 For me, this was the best option. It was an exercise, but you're not as exposed to the elements as you would be on a SUP.
Most importantly, you get to dock at the cave for about 15 minutes, giving you time to take pictures or go swimming.
My equipment was safe and dry inside my dry bag, which was stable on my kayak. Most kayaks were single but some were double.
The whole experience was about 2 hours long, with an hour and a half of kayaking in the ocean. The company's boat takes you back to the original point of departure after you finish in the Benagil Cave.
You visit other caves on this tour, and there's an extended version that runs for 4 hours if you want a longer excursion. I found 2 hours to be challenging enough, however.
Note that this event is weather dependent and can be cancelled if it's windy or if there's rough water generally.
I booked this tour through Expiritour and can highly recommend the experience. For €35, it was a bargain.
Enter the Benagil Sea Cave by SUP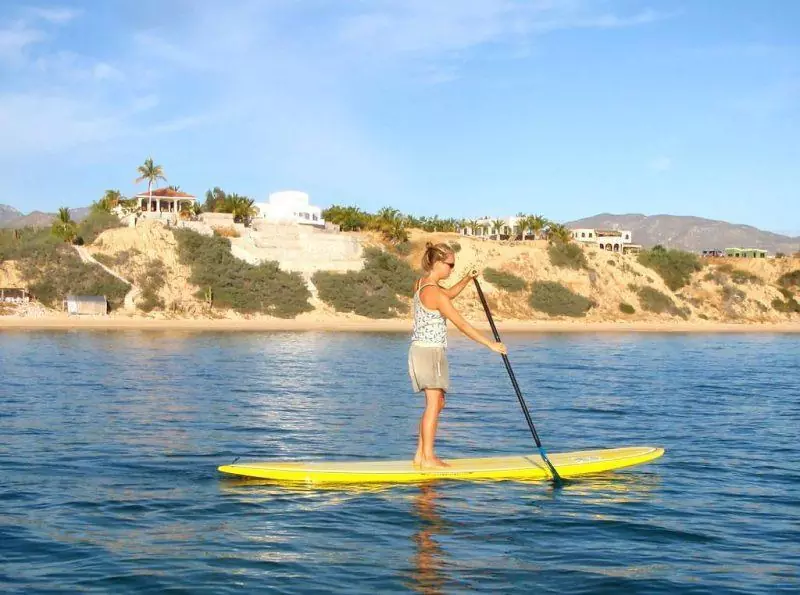 The standup paddleboard tours take a similar route to the kayak, down the coastline and exploring 6-8 other caves before reaching the main attraction.
Overall, it takes around 3 hours and requires quite a bit of physical exertion on your part. I wouldn't recommend this for families or those without physical endurance.
If you don't like being exposed to the sun for hours on end, this is not for you.
If you want to spend a morning (or afternoon) getting a full body exercise and exploring hidden caves then the SUP experience awaits.
Rentals cost around €50.
Get to the Benagil Sea Cave by swimming
View this post on Instagram
If you're an olympic level swimmer, then this option might work for you. You can reach the cave fro Benagil beach. It's about 200 meters and a 20 minute swim.
If you go this route, be careful. The currents are unpredictable and storms come here without warning. There are also some strong winds.
Definitely make sure you have the stamina to make the journey and let people know that you're going. Be aware that any time of year you go, the weather will be really cold.
The upside? This option is completely FREE.
Know before you go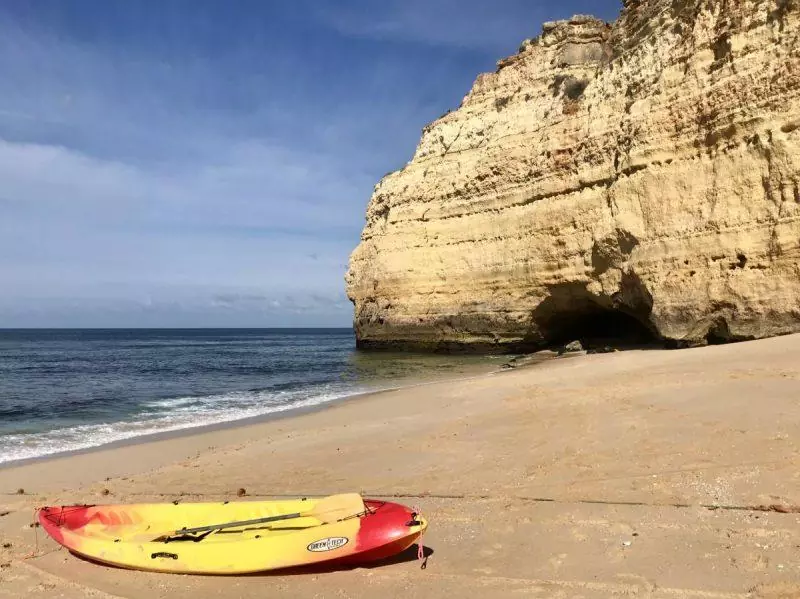 Whichever method you choose, try to leave a few days available as tours can often get cancelled due to weather. That way, if you're scheduled for the first day you're there and it doesn't go through you'll still have several other days to try again.
I took pictures with my iPhone, which I kept safe in a dry bag linked below. If you're a serious photographer and want to bring professional equipment, just buy a bigger dry bag. There's plenty of room on the kayak.
The tours all depart from different locations so I recommend doing a test run ahead of time so you know exactly where you're going, or at the very least leaving plenty of time to reach your tour, like an extra hour.
Parking can be tough to find, public transportation is practically nonexistent in the area and these tours tend to leave promptly.
While remote, the Benagil Sea Cave is worth a visit and can be accessed no matter your skill or fitness level. Don't miss it!
RELATED POST: HOW TO SPEND 3 DAYS IN LISBON
Till next time, safe travels.
My Amazon Picks:
Note, this post contains affiliate links. See my privacy policy for details.
Liked this post? Pin me below: