Looking for the best way to spend 3 days in Lisbon, Portugal? Read on for a complete itinerary.
Lisbon has become insanely popular in recent years. I remember back when Justin Bieber and Selena Gomez used to escape there and use it as a little-known hideout.
That time, like their relationship, is long over.
Everyone and their mother is in Lisbon now. It is the top digital nomad hub in the region and has seen an influx of expats in the last decade.
This is a gift and a curse.
On the one hand's Lisbon tourism revenues are booming.
On the other hand, rampant use of AirBnB and increased demand for properties has caused the ousting of local families who can no longer afford to live there.
Our fascination with the location has uprooted the very people who made Lisbon so special and it's uncertain what the future of the city holds.
Which is why if you must see what all the fuss is about (no judgement, I know I had to!) then the best way to visit without leaving any more damage is to pay attention to the lodging, activities and businesses you support.
Always try to shop local and support the residents who are trying to make a go of this new dynamic.
Here's everything you need to know to have the perfect 3 days in Lisbon, Portugal!
How to get to Lisbon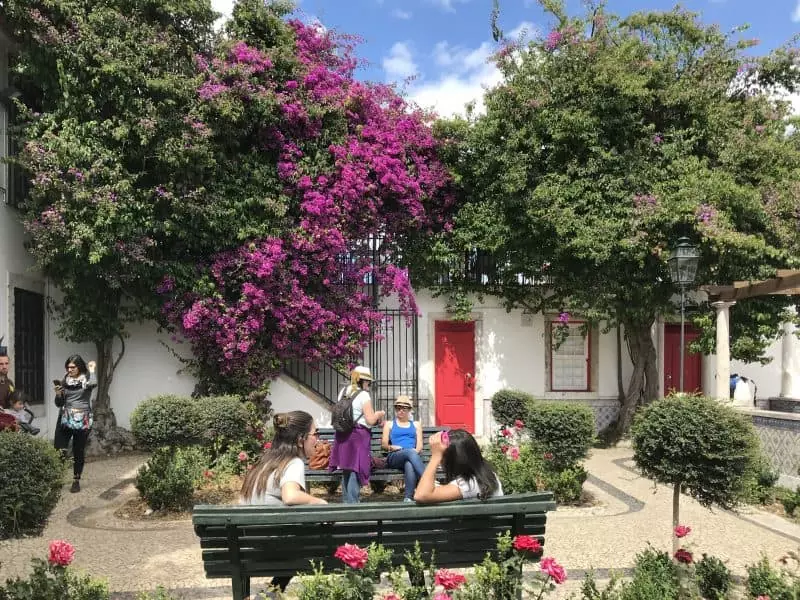 Lisbon is ideally situated on the coast of Western Europe and is serviced by several budget airline providers, including TapAir, Norwegian and RyanAir.
With a little wiggle room, you can find flights from any major US hub for $300-$500 roundtrip.
If you're already in Europe, even better!
I flew in to Madrid and actually rented a car and drove into Portugal so that I could see the South of Spain and Algarve region as well.
There wasn't even anyone at the border where I crossed — you just drive through a toll.
If you're going to be renting a car, double check to see if your rental car agency requires an international driver's license.
This is a somewhat outdated policy and most will accept your license but some places still require it.
You can get one at your nearest AAA location (yes, they're still in operation!) for like $20.
There are also buses and trains operating throughout the region, though this is your slowest option and if you're heading outside of Lisbon it may not drop you off near where you want to be as there are limited stops.
There are ride share and taxi services in Lisbon like Uber and an app called Free Now.
Where to eat in Lisbon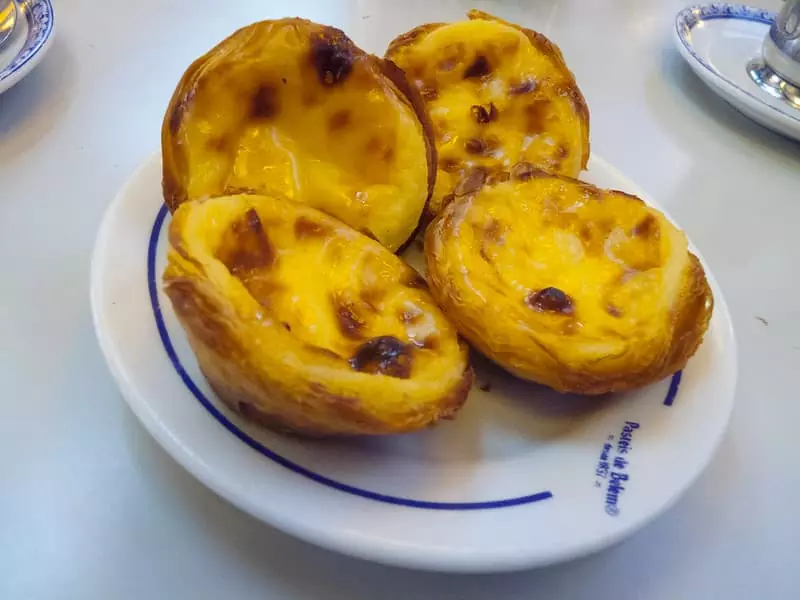 Lisbon is synonymous with one word — yum!
There are so many delicious places to eat. First and foremost, Pasteis de Belem is the most famous spot to find Portugal's signature custard-filled tarts, pasteis de nata.
There will be a line out the door to get in. Other top spots to find this dish include Manteigaria and Confeitaria Nacional.
Next, being by the water means you'll find great seafood throughout pretty much all of Portugal.
Popular ingredients include octupus, sardines and codfish, aka bacalhau.
For fine dining with beautiful views of the city, visit Chapito a Mesa in Alfama.
If your'e looking for a good glass of wine and want to sample some sample plates with your port, head to Chafariz do Vinho, aka Wine Bar do Castelo.
Those traveling in a big group looking for variety should head to Time Out Lisboa Market, which has dozens of vendors and sit-down eating options.
They're open from 10am to midnight daily.
Best neighborhood to stay in Lisbon
When in Lisbon, aim to stay in Alfama or Belem to be in the middle of the action.
In Alfama, Palácio das Especiarias is a four-star hotel located on one of Lisbon's colorful and IG-worthy streets.
It's a period building with a lot of character but still featuring all the modern amenities like a gym and A/C.
It's also within walking distance to several major attractions.
For a more affordable option check out Selina Secret Garden Lisbon, a hostel with co-working areas, a pool and single rooms available.
In Belem, Palacio do Governador is pure luxury with spacious rooms, a spa and multiple pools.
For a bare bones but clean accommodation still within walking distance of everything head to Hotel Soft Inn Belém Batista Campos, with rooms as low as $25/night.
The Belem or Alfama districts can get expensive during the summer.
If you have a rental car and are looking for an affordable place to stay that's within a 15 minute drive of the city center, I recommend staying in the Almada neighborhood. You can also reach the city by ferry; it's just across the bay.
I stayed at this AirBnB apartment in Almada.
I got it for under $50/night in peak season and had my own kitchen, bathroom, queen bed, washing machine and private access, with a prepaid parking lot to boot.
It was adjoined to my host's office space (although she was rarely there) so I knew that my money was going to help a local.
Day 1: Belem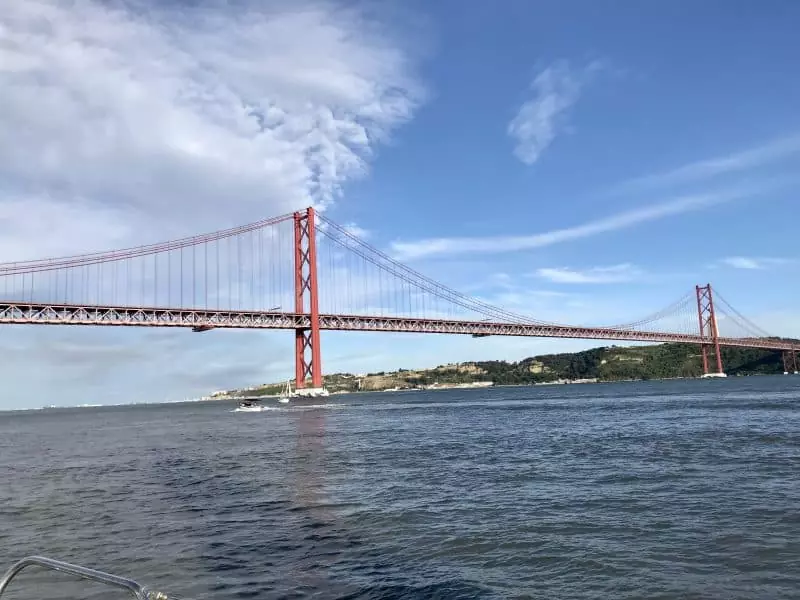 You've just arrived in Lisbon, hooray! You're in for a fun few couple of days. First things first, get a snack and get some energy for exploring.
This is a good time to knock out those famous pasteis everyone keeps talking about so head to Pasteis de Belem and wait your turn in line.
You'll need to buy at least a half dozen to make the time spent worth your while. I mean, that's not gluttony, that's just math.
While you're in the area, visit the Belem Tower and Padrão dos Descobrimentos (in English, the Monument to the Discoveries).
The Belem Tower has long stood as a ceremonial point of entry to Lisbon. It's an iconic image easily recognized and associated with the city.
Just a few blocks away is the Monument to the Discoveries, a massive carving in honor of Portuguese exploration.
You can go up the stairs to reach the top of both buildings and get a view of the water for €6 each.
There's also a museum at the Monument to the Discoveries that's included in your price of admission and an exhibition hall that's an additional €4 to enter.
Depending on how much time you have I also suggest you check out the National Museum of Archaeology in the Jerónimos Monastery, the largest archaeological museum in Portugal.
To finish off your day, take a sunset cruise and get out on the water.
This is particularly lovely on a warm night when there's a cool breeze and vibrant pink and red hues in the sky.
You'll get a good overview of the layout of Belem this way and some history on nearby landmarks, including those that resemble the Golden Gate Bridge and Christ the Redeemer (Ponte 25 de Abril and Christ the King respectively).
If you get to Lisbon late, the sunset cruise alone will still make for a memorable first day and serve as a solid introduction to the city.
Day 2: City views and history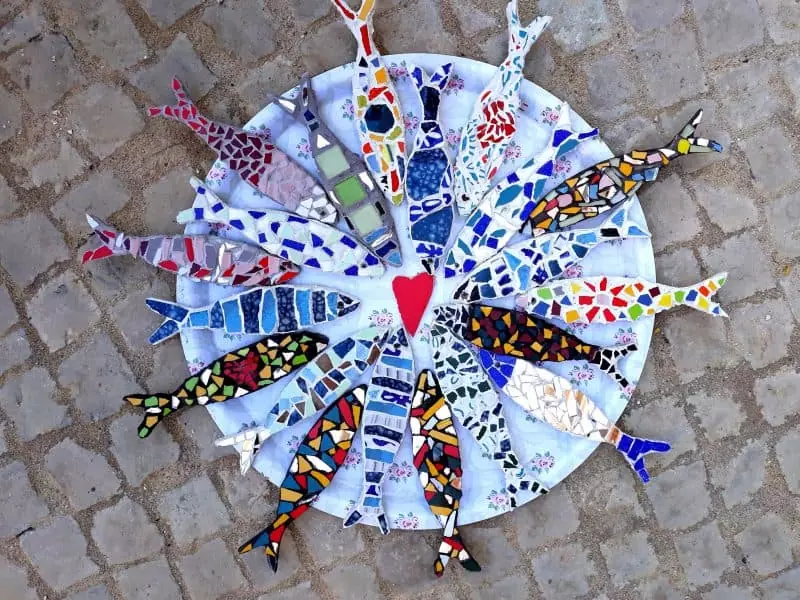 I have something really fun for you today — take a mosaic class!
Held first thing in the morning at Lisbon Mosaic Studio, this is a one-of-a-kind experience that will also leave you with a fun souvenir to keep.
If your accommodation doesn't have free breakfast there's a small mom and pop cafe right next door that makes hearty sandwiches and offers hand-squeezed fresh juice.
Stop in there for your meal; it'll come out to under $5.
Now that you've gotten crafty and fed your creative spirit, it's time to feed your mind. I recommend going on a walking tour of the Alfama District with Context Travel.
This company prides itself on giving you all the information so that you're leaving with substance and better understanding of the local culture.
I found this to be doubly important in Lisbon as so many tourists visit and exploit the location for its affordability and prime location, not taking the time to appreciate the people who've lived there for generations.
Instead of visiting popular tourists spots, we walked through residential neighborhoods.
We talked about what the different clothes on clothing lines mean, where the women go to gossip and where to find the best Ginja, a sweet cherry liquor sold on stoops.
Stop by Miradouro de Santa Luzia while you're in the area for amazing views of the city and a classic shot of the city's red rooftops.
Finally, have dinner with a view and relax by listening to Fado music, a classic Portugese ballad that's sang to the tune of mandolins or guitars.
I recommend you do these separately as venues that combine the two usually have subpar food.
Tasco de Chico is a local favorite and has Fado on Monday and Wednesday nights. Best of all, it's free! This is a stark contrast to some other overpriced shows.
If you're looking for a dinner show experience nonetheless, splurge on Ofaia.
There's a €50 minimum per person but both the food and singers are high quality so it won't be a disappointing experience.
RELATED POST: MY TOUR OF ALFAMA WITH CONTEXT TRAVEL
Day 3: Arts & culture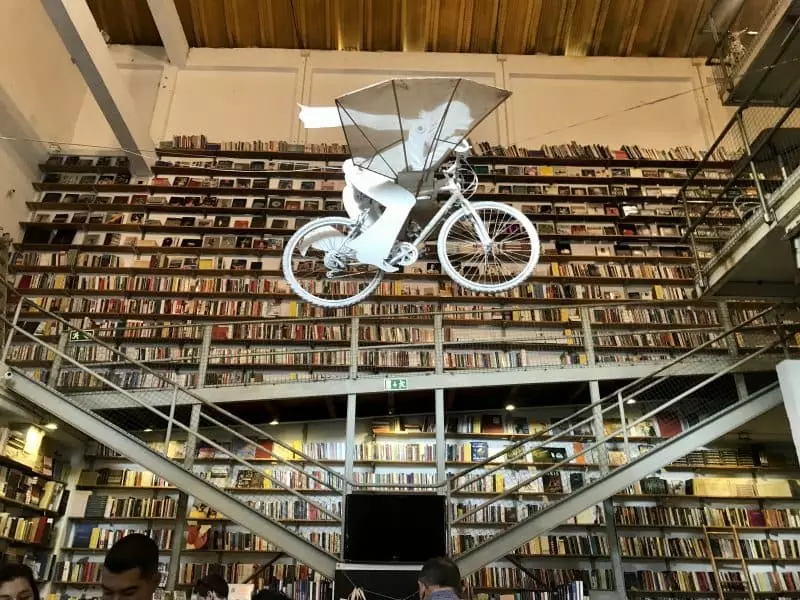 Let's check out some of the lesser-known spots on your last day in Lisbon.
First, hunt for street art around Lisbon's street and take some pretty pictures.
Lisbon has legal street art in certain designated tourist areas and the murals are impressive.
Check out Calçada da Glória and Largo da Oliveirinha for large-scale pieces that are ever-changing. This is one of the best photo spots in Lisbon.
If you're hungry, the Time Out market is nearby and makes an excellent stop for lunch.
There's also the Chão do Loureiro parking garage which doubles as a graffiti space for some of Lisbon's most recognizable street artists. I drove through it just to admire the art, not even to part.
Next, head to LxFactory in Alcantara, a trendy arts center with stores, cafes and a large tin statue that's recognizable from the bay.
This is where you'll find the coolest bookstore ever, called Ler Devagar.
It resembles the library from Beauty and the Beast with sprawling shelves and rolling ladders to help you reach them, with a floating sculture of a boy on a bike greeting you when you enter, reminiscent of ET.
There's a cafe on site that served cocktails so grab a book, sip your drink of choice and get cozy.
If you happen to be in Lisbon in September, I highly recommend attending Lisbon Under the Stars at Convento do Carmo.
Here, the ruins of this historic church are converted into projection screens and display a brilliant light show depicting the history of the city.
Know before you go
Ok, so non-motorized scooters are a thing in Lisbon. Don't ask me why.
I'm not a fan of them and neither are the locals but there's a program where you can rent them and use them to get around instead of walking a long stretch of sidewalks.
The problem is that people leave them lying all over the place so the most popular tourists spots look like scooter wastelands.
I also had someone come up behind me to try to rent me one and I cannot tell you how nerving it is as a solo female to have a stranger approaching you quickly from behind.
Parking is also tough here.
This is the case with most European cities since the streets weren't built for large lanes allowing you to pull over to the side and parking garages are practically non-existent.
Just be aware that if you're driving it will take you time to park, which is why most people opt to stay centrally located and travel by foot or trolley.
Looting mosaic tiles is a big problem in Lisbon. You'll see missing spots on walls all throughout the city.
Please, whatever you do, do no disturb these tiles or make any purchases to encourage the black market theft and trading of historic tiles.
Aside from that, Lisbon is safe, thriving and an absolute gem in Europe.
If you have the chance to add it to an exiting Europe itinerary or carve out three days in Lisbon as a trip in its own right, you will leave with fond memories and a full belly.
Till next time, safe travels!
RELATED POST: HOW TO VISIT THE BENAGIL CAVE IN ALGARVE, PORTUGAL
Liked this post? Pin me below.