Want to know how to get to Anafiotika in Athens, Greece? Read on for detailed directions.
Anafiotika is a hidden wonder inside the bustling metropolis that is Athens.
It's hard to believe a place like this even exists–a slice of the Greek Islands that is a veritable oasis amidst city noise, concrete and graffiti.
Yet somehow, despite a financial crisis, increasing urbanization and lack of government funding, Anafiotika is still going strong, retaining its distinct identify and thriving as the best little-known spot in Greece's capital.
RELATED POST: HOW TO SPEND 2 DAYS IN ATHENS, GREECE
History of Anafiotika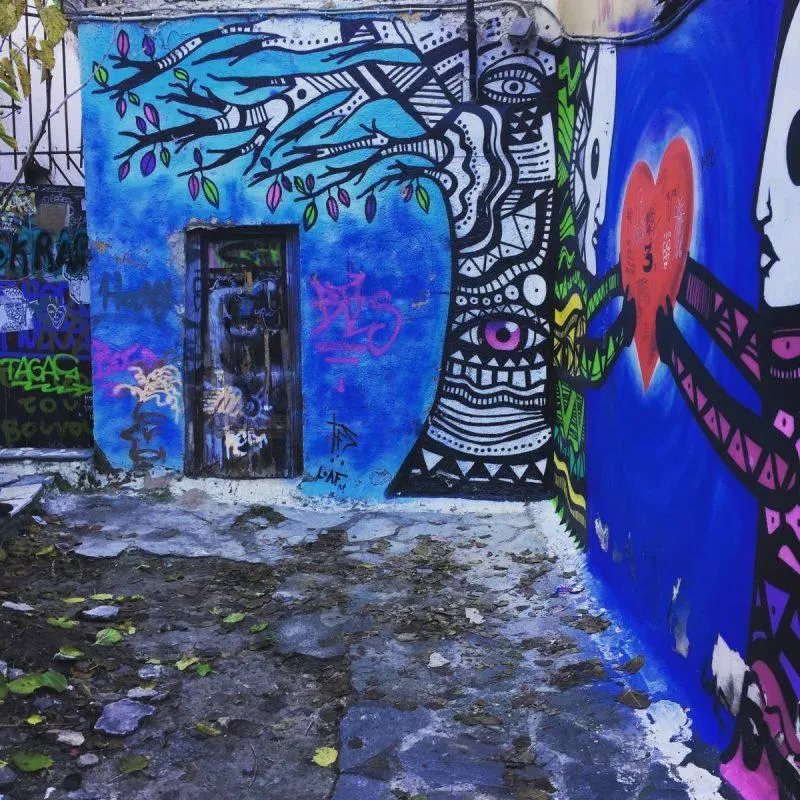 The architecture is not by accident. Houses in Anafiotika were built in the 1800s by workers who came to Athens from Anafi, an island in the Cyclades, hence the name.
They were brought by King Otto to perform renovations on his palace. They captured the essence of this island on their own properties with white walls and Bougainvillea trees.
Since then, the neighborhood has retained a strong sense of pride and aesthetic, especially since many of the residents descend from the original families to arrive in the area. Today, there are 45 of the original houses left.
RELATED POST: DISCOVER ANTIPAROS, THE HIPPIE ISLAND IN GREECE
Address for Anafiotika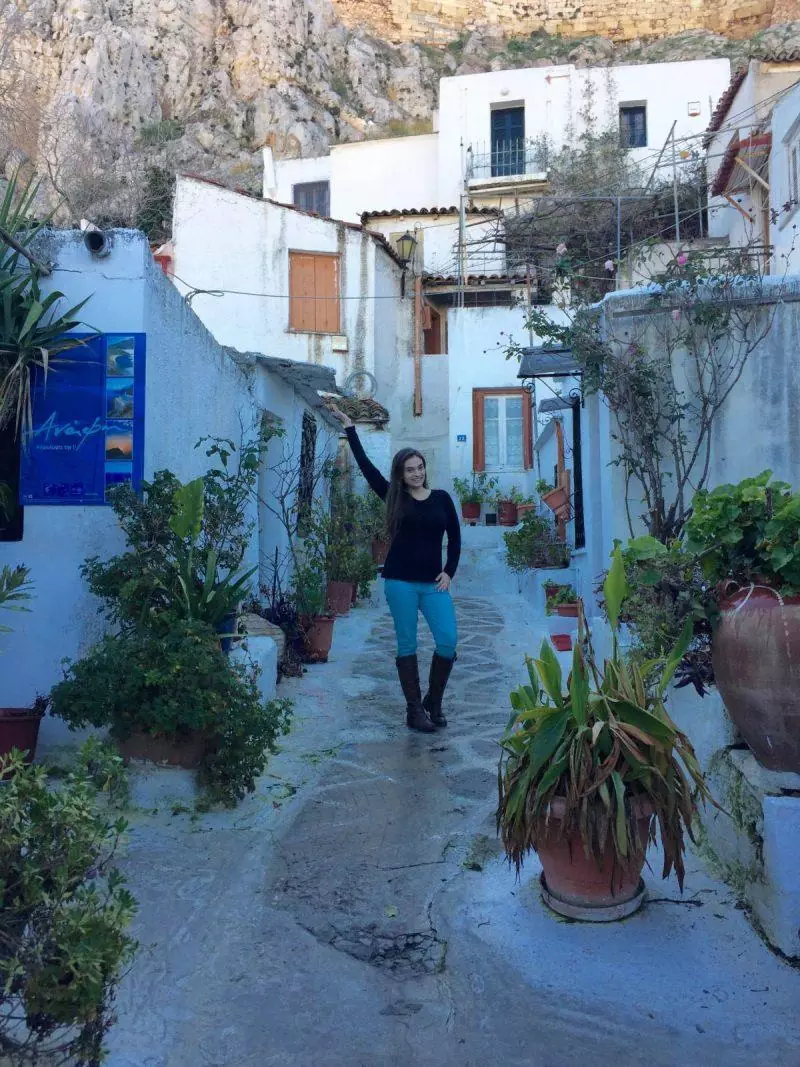 Anafiotika is located at the base of the North end of the acropolis, but it can be tricky to find.
You're technically heading for Stratonos Street but if you need a place to plug into your GPS try the Agios Georgios church at Stratonos, Athina 105 55-58, Greece.
Here's a map to help orient you:
If you're hungry want to have lunch on the way, look for "Anafiotika Cafe" or "Yiasemi." These two restaurants are adjacent to each other at the base of stairs leading straight up into Anafiotika.
The workers are asked for directions more times than they're asked "where's the restroom?" so they're very familiar and able to direct you further.
From the base of the stairs, you go up about a block, turn left and then walk down an alleyway leading you to Anafiotika.
It all feels very strange, and you might get nervous that you've made a wrong turn. If so, you're in the right place.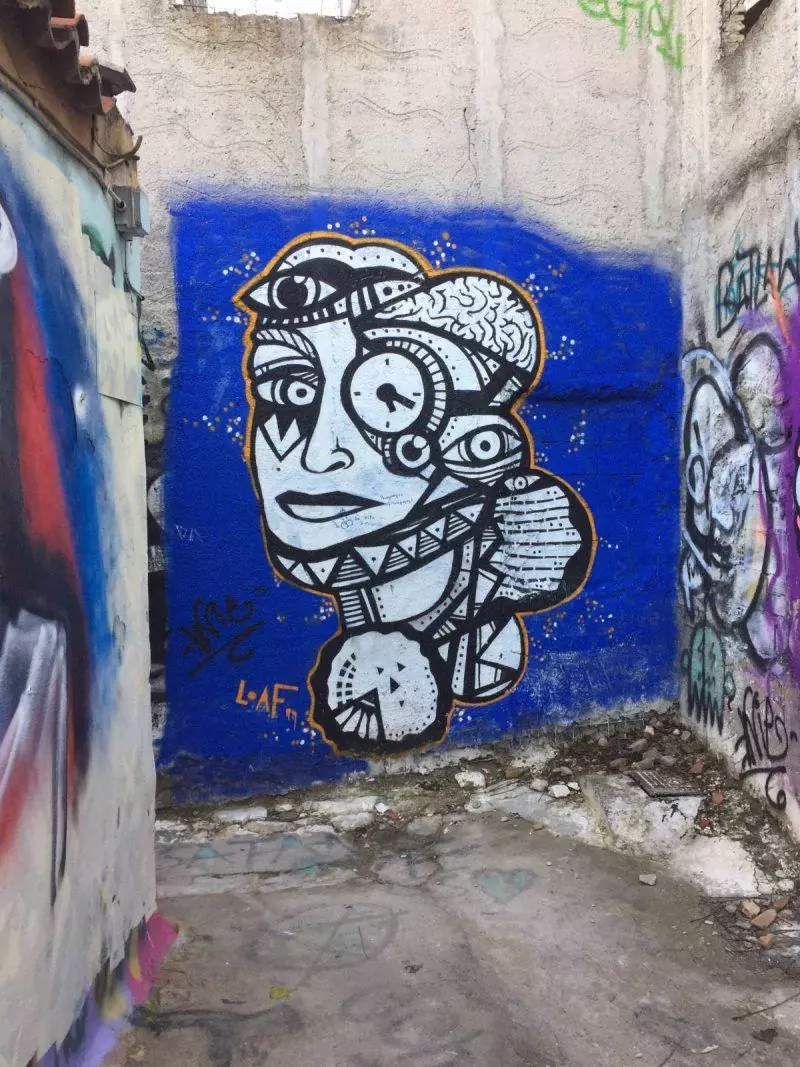 Half the fun of Anafiotika is going on the mission to find it, but once you get there it's worth the effort. Note that this is Athens, so don't expect a setting as pristine as the islands.
There is a distinct charm and mystery to the area, however, that is worth exploring.
The Rick Steves walking tour (free if you download the app) also takes you right by Anafiotika–in between the Lycabettus Monument and Tower of the Winds stops.
If you're walking on Vyronos Street (towards the Tower of the Winds), make a left onto Thespidos street and walk until you get to Stratonos Street. Turn right on Stratonos Street and walk until you see the Agios Georgios church on your left (pictured above).
RELATED POST: HOW TO VISIT THE MONASTERIES OF METEORA, GREECE
What to see in Anafiotika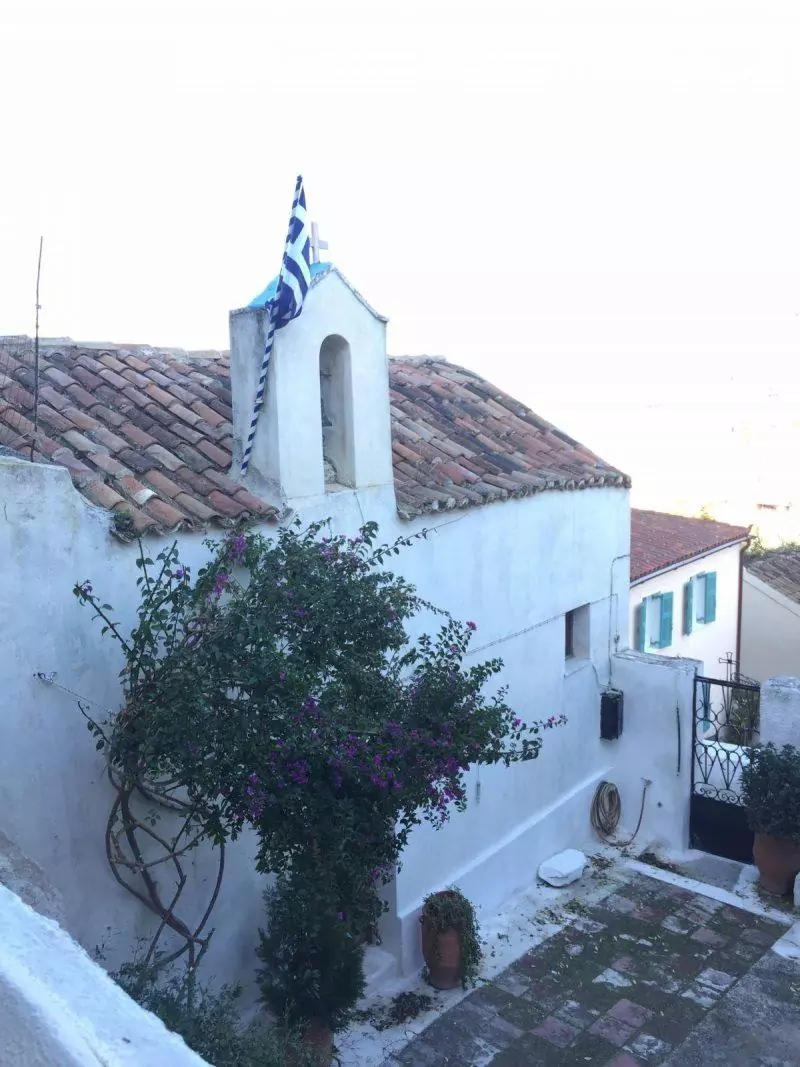 The street art on the way into Anafiotika is an attraction in itself, but once you get there you'll be greeted by some of Athens' most inquisitive residents–the cats.
You'll find them lounging in the oddest of places, sunbathing without a care in the world. I saw one in a bush and another in a windowsill garden box.
You can also get great views of the city and Mount Lycabettus here. Walk all the way to the top and you'll find a clearing with tourists and residents alike smoking a cigarette (still a thing in Europe) and taking in the city.
There are many ways to get off the beaten path in Athens. I hope you find Anafiotika on your future visit.
Till next time, safe travels!
RELATED POST: WHAT TO KNOW BEFORE TAKING A FERRY TO THE GREEK ISLANDS
Liked this post? Pin me below!