Want to know more about Coral Castle in Miami, Florida? Read on to plan your visit.
Miami, Florida is home to some pretty strange things, from avocado wine to gator wrestling, but no sight is more intriguing and, I'll just say it — weird — than Coral Castle.
If you're a fan of unusual places, this is a must-see!
It's been featured on the History Channel, Travel Channel and countless documentaries attempting to dissect exactly how it was built. It's been on shows like "Ancient Aliens" and "Mystery Hunters" and is listed on the National Register of Historic Places with the Department of the Interior.
You see, the site consists of massive stone structures weighing more than 1,000 tons, all of which were excavated, carved and erected by one 5'2″, 100 pound man.
Coupled with the fact that this was all done in 1920 with limited tools, the mere existence of the place is baffling.
Ready to witness the marvel and come up with your own theories? Here's everything you need to know to visit Coral Castle in Miami, Florida.
RELATED POST: 22 AMAZING DAY TRIPS FROM MIAMI, FLORIDA
Where is Coral Castle?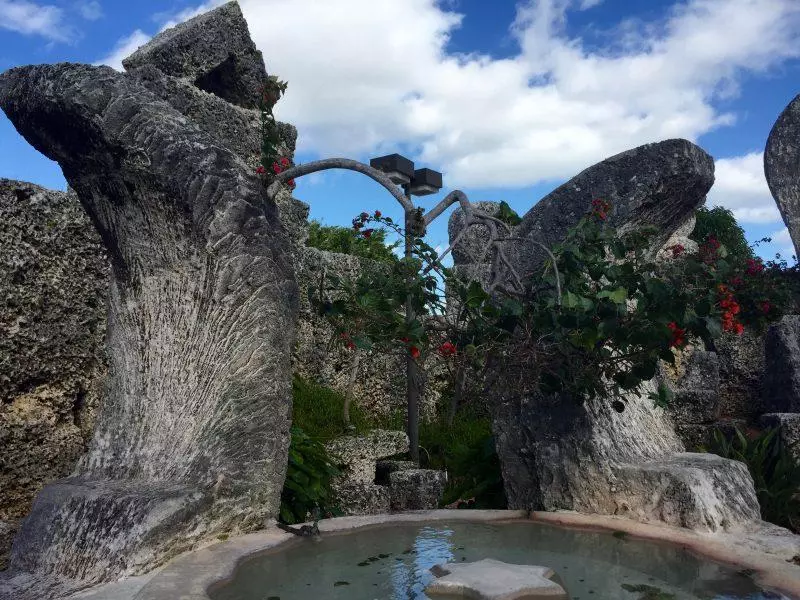 Coral Castle is not actually in Miami, but if I told you it was in Homestead you'd have no idea what I was talking about so we say Miami for reference.
Miami is the closest major city but the site is actually locates 30 miles and an hour south, in a stretch of Florida wetlands that has become more and more developed as Miami's population spans out.
You will need a car to get here. There are buses available but in most cases you need at least one connection and it would take 2+ hours.
If you're visiting I recommend making a day trip out of it and seeing other attractions in the region, including an orchid farm and local bakery serving famed cinnamon buns seasonally.
Your easiest way to get here will be to take the Florida Turnpike. You'll need to pay tolls but it's much quicker than taking the streets. Your other option is to take U.S. Route 1.
There is free parking on location and credit cards are accepted. There's also cafe and snack bar with free public restrooms. There is no free WiFi.
About Ed Leedskalnin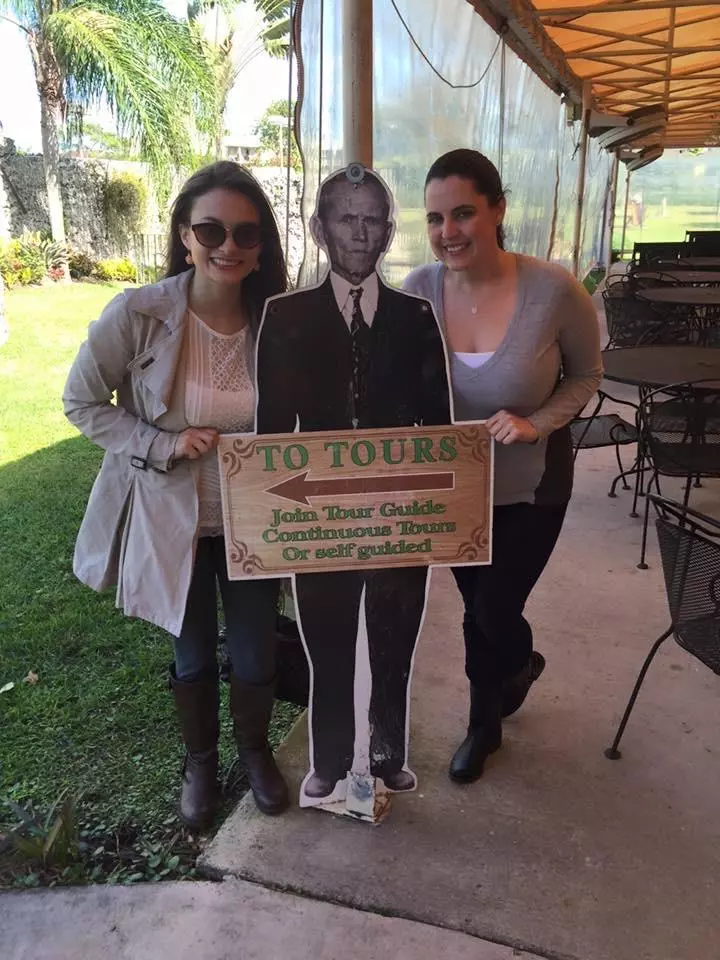 Ed Leedskalnin was born in Riga, Latvia to a family of stonemasons. When he was 26 he was supposed to marry Agnes Scuffs, who was 10 years his junior, but she cancelled the wedding the day before the ceremony.
That's when Ed set off on a quest to win her back by building here a home so beautiful and unique she wouldn't be able to resist coming back to him.
He ended up in South Florida and worked silently under the cover of night for 20 years to build the site. After it was done he ended up opening it up as a public park, offering tours and admission at $.10-$.25 a person.
Ed only used hand tools and a pick-up truck to mold and transport the 1,110 tons of oolite limestone required to build the castle. Each section of the premises wall is 8 feet tall, 4 feet wide and 3 feet thick and was erected by Ed alone.
Sadly, he never won back Agnes or even married anyone else. He passed away in his sleep at the age of 64.
Ed's tribute to his would-be wife, while intense and slightly creepy by today's standards, is one of the most monumental love pursuits of our time, having toiled away for 28 years to bring it to completion.
Not to mention, Ed was a skilled engineer, setting up the doors and gateways such that a child could move 9 ton boulders with the push of a finger.
When the system he installed for the back entrance encountered an issue, a team of a dozen people using the today's technology couldn't replicate what he'd managed to accomplish.
What can you see at Coral Castle?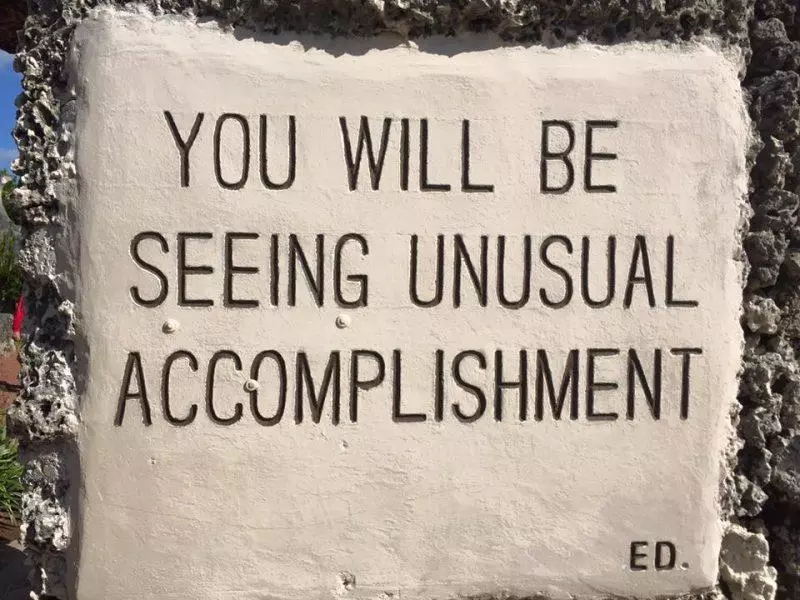 Some visitors to the castle are a little disappointed by its size. The word "castle" is somewhat misleading. This is more of a stone home, like a high-end house you'd expect to see on "The Flintstones."
The good news is that there are free tours running every half hour, you just meet your guide at the entrance. I recommend taking the tour as the context helps you understand what you're looking at and better appreciate the space.
You'll see things like an elaborate stone sundial, a heart-shaped dining table, functioning rocking chairs made of stones and even a Polaris telescope.
You'll also see Ed's toll shed and his living quarters. There's a museum and gift shop on the premises as well.
Coral Castle Coupon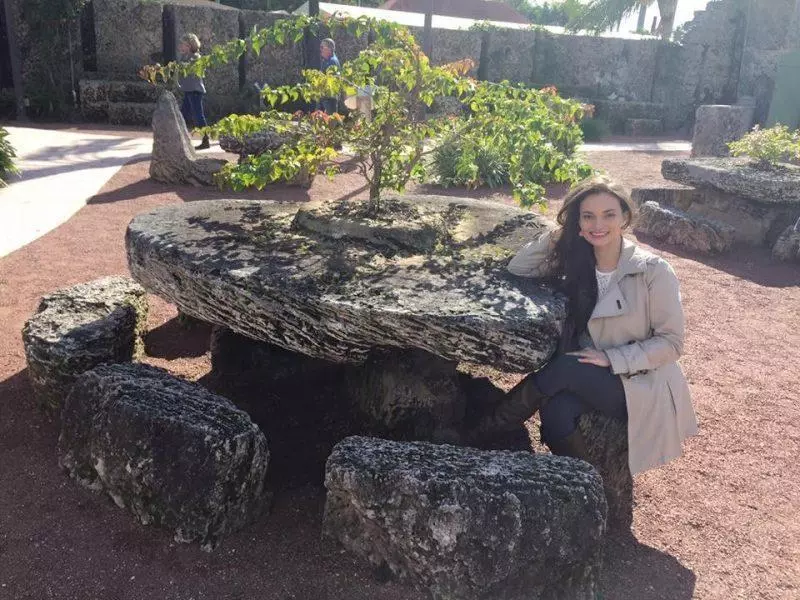 Regular adult admission is $18, which is steep for some. You can occasionally find deals on Groupon so make sure you search before you go.
Using this route you might be able to save up to 50% off admission, though the deals I've seen have been for more than one ticket.
Another option is to find a coupon online or in a local discount magazine, print it and bring it in with you to save $2-$3. There's one coupon here, though I haven't tested it myself.
Otherwise, you can buy your ticket online. They're not likely to sell out and are general admission so I wouldn't necessarily worry about advanced reservations or anything like that.
Once you're in there's no limit to the time you can spend there though they close by 6pm (7pm on Fridays and Saturdays).
Know Before You Go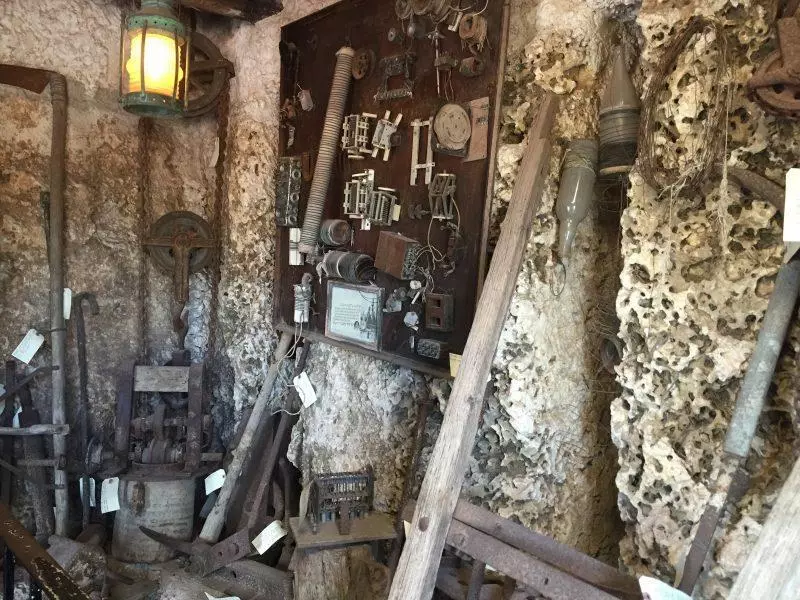 This is a dog-friendly spot! Bring your pup along for the fun. I also recommend you visit on a cooler or overcast day as there isn't much shade and the Florida sun can be unrelenting.
You can also pack a picnic and bring your own food — you're not obliged to eat at the cafe.
They host weddings here, accommodating anywhere from 25 to 450 guests.
This site is a little sad, very unusual and 1,000% worth seeing at least once if you're in the area.
RELATED POST: WHERE TO FIND THE BEST CUBAN PASTRIES IN MIAMI, FLORIDA
Till next time, safe travels!
Liked this post? Pin me below.