Summit One Vanderbilt is New York City's latest skyscraper attraction, having opened in October 2021. It features grand views of the skyline and otherworldly art installations inside.
There are three floors with artwork designed by Kenzo Digital. The altitude of the building itself is part of the canvas as guests make their way through an immersive experience.
If you have a fear of heights, this attraction is not for you!
Otherwise, it's one of the best places in New York City to grab IG friendly photos and nearly impossible to take a bad picture.
Looking for other fun photo spots? Check out this Sex and the City tour of NYC.
Here's everything you need to know to visit Summit One Vanderbilt in New York City.
Where is Summit One Vanderbilt?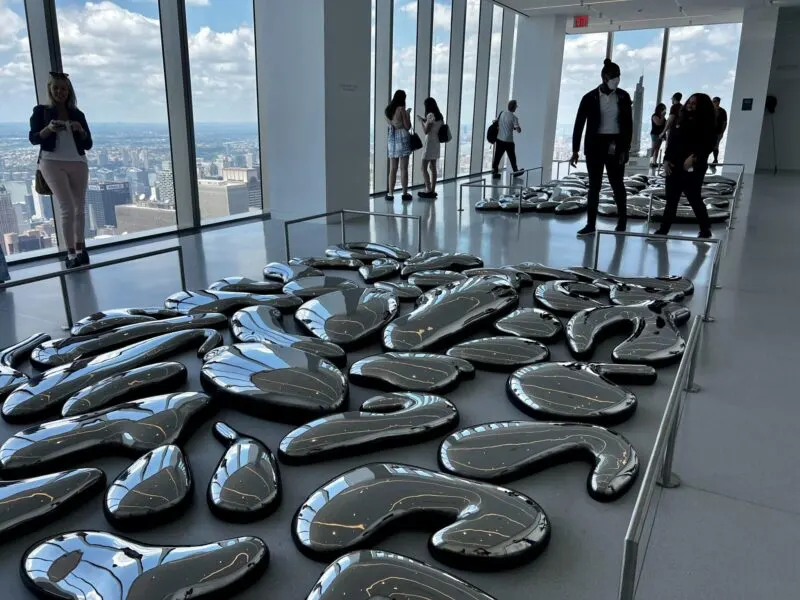 Summit One Vanderbilt is easy to locate, just go to Grand Central Terminal and follow the signs. The entrance is located on the main concourse.
Aim for the 42nd Street subway entrance. Once you're in the terminal, you'll find it.
The address is 45 E 42nd St, New York, NY 10017.
Before you enter the attraction, you'll be provided with covers to put on your shoes so you don't scratch the glass or mirrored surfaces.
Ladies, avoid wearing skirts because of the reflections in the space, otherwise people might be able to see your underwear.
There are no lockers so avoid bringing large bags or many belongings. I had my purse and a bag from H&M since I had to make a last-minute stop to buy shorts.
You'll be given sunglasses to protect your eyes from the brightness that can be caused by the reflection of the sunlight so high up in the air.
It is possible to buy tickets on site but there is timed entry so I recommend getting tickets ahead of time online to make sure there's availability and that you get a time slot that works for you.
How fast is the Summit One Elevator?

Your journey begins with a short video before boarding an elevator.
There are two elevator options — the Summit Experience ticket comes with a ride in a normal elevator while the Summit Ascent ticket comes with a ride in a glass elevator.
You ride the elevator up to the 91st floor, seemingly at an increasing speed as you ascend higher. The glass elevator takes 42 seconds total and ascends at a rate of 83 ft per minute.
There are lights flashing while you rise in the regular elevator, making it an exhilarating experience.
You get off on the observation deck, 1,210 feet above the city. You will be directed to the first of four exhibit spaces.
Note, foot traffic only goes one way so when you leave an exhibit space you can't turn back.
Want even more sky high thrills? Fly in a helicopter with Blade from the airport into Manhattan.
What can you see at Summit One Vanderbilt?

There are several installations. First is Transcendence, a room with floor-to-ceiling mirrors that reflect the sky and surrounding buildings.
This room is great for pictures, I recommend going with a friend so you have someone to photograph you.
Next up is Reflect, where you see what look like giant silver raindrops on the large. This was probably the least impressive room as the artwork and views felt separate from each other.
The third room is Affinity, the most popular room because it is filled with floating silver balloons. This room is almost guaranteed to be packed.
Then there's Transcendence 2, another mirrored room with a more panoramic span of the city. The last big attraction is Levitation, where you can step out into a gladdest box hanging over the city.
Both at Levitation and before you enter the initial elevator, they have staff taking pictures of you that are available for purchase before you leave.
There's also one last room called Unity but it's mainly a projection of clouds on the wall and feels like an afterthought. People weren't really stopping here so much as passing through on the way out.
You can hand them your phone and request they take pictures with your phone as well.
The best time to visit is during sunset and golden hour. If you go then, you can see the views both during day and night.
Summit One Vanderbilt is open till midnight with the last admission at 11pm.
Is there a restaurant at Summit One Vanderbilt?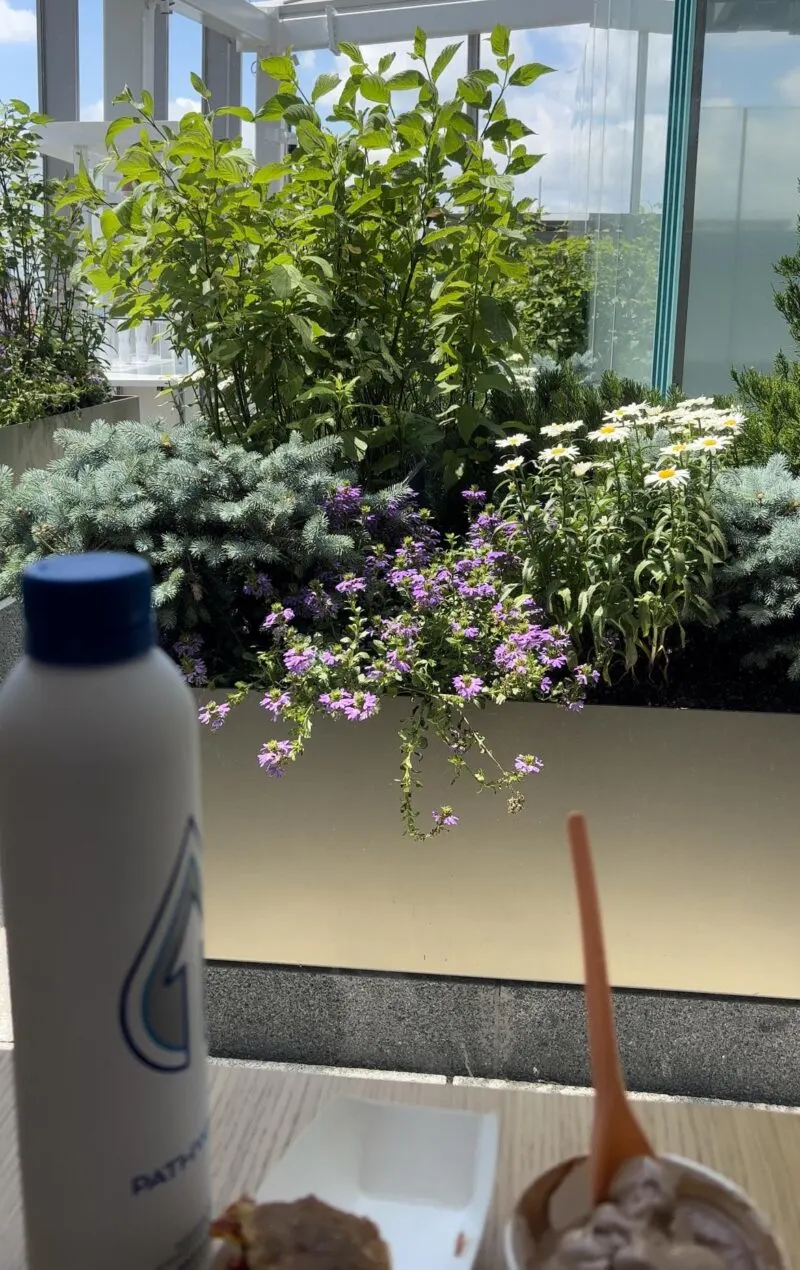 At the end of the experience there is a restaurant and bar called Après, serving food and cocktails.
I had the world's smallest sandwich here, and an ice cream cup.
You can sit inside in the lounge or take your food out to the rooftop terrace on a nice day.
They have a breakfast menu with options like a croissant for $5, and a menu of small plates and sandwiches, including soup and salad, ranging between $12-$14.
How much does Summit One Vanderbilt cost?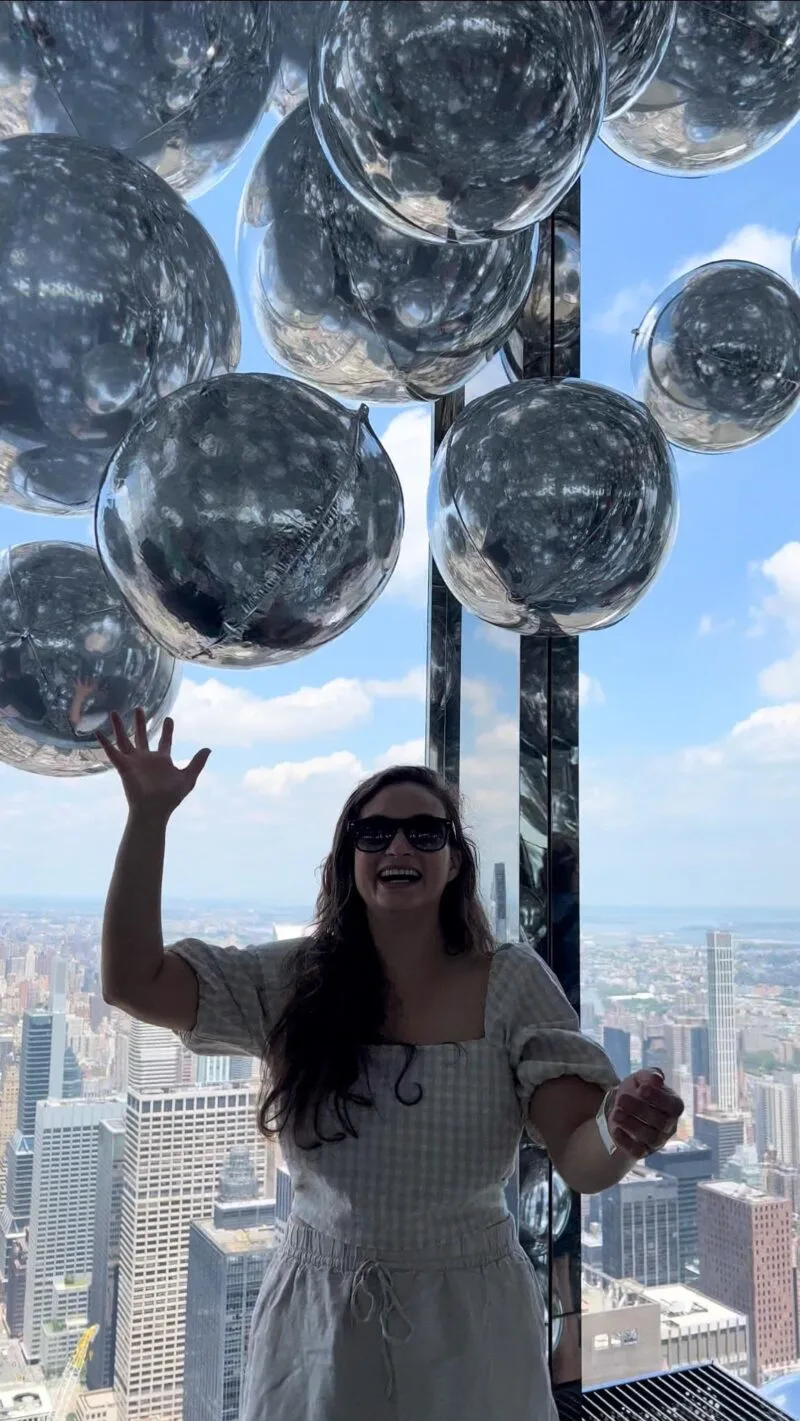 There are three price options:
Summit Experience, $42, includes admission and access to the exhibits
Summit Ascent, $62, includes admission and ride in the glass elevator
Ultimate Summit, $76, includes admission, glass elevator, and cocktail
I went with the first option and booked through Headout.
Ticket pickup was easy and I was able to reserve a spot that same day. I used a discount code that I had for the app.
Otherwise, the most affordable way to book is directly on the Summit One website to avoid third party fees.
If you're a local, there are special rates available for New York and Long Island residents.
Want more epic city views? Check out Top of the Rock in Manhattan.
Till next time, safe travels!