Looking for the best things to do on the North Island of New Zealand? I've got you covered.
The North Island doesn't get nearly as much credit as it deserves. Sure, the South Island has fjords and gorgeous nature views, but the North Island has hobbit houses, glowworm caves, black sand beaches and so much more!
The best way to see the island is by renting a car and driving yourself. The roads aren't bad (although sometimes they can be tight) and you'll have complete freedom to set your own itinerary this way.
If you're going to do both the North Island and South Island, you could extend your trip to include Wellington and then take a ferry to the South Island from there; it's only 3 1/2 hours. But don't feel you have to — North Island is a destination in its own right.
RELATED POST: HOW TO VISIT HOBBITON VILLAGE IN NEW ZEALAND
A week is the shortest amount of time I recommend you spend here, and this is how you can squeeze all the best sights in.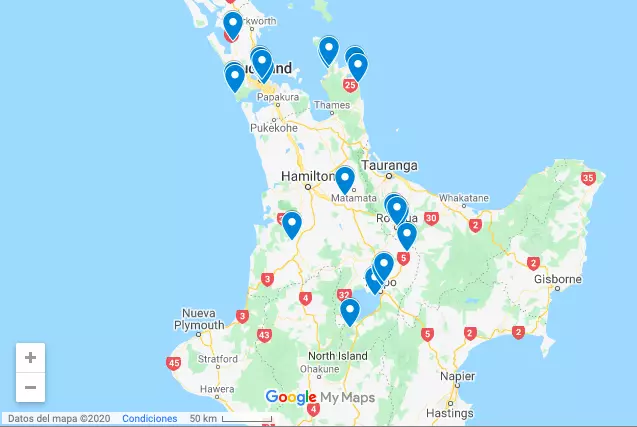 Day 1: Explore Auckland
You've just arrived in New Zealand, most likely to Auckland since that's the main airport. Take a load off. New Zealand is not close to anywhere in the world so chances are you're tired after your flight.
Check into your hotel, get the hang of driving on the other side of the road and when you're ready, knock out some Auckland highlights.
Residents of the city will tell you they all live here just to make money but vacation elsewhere on the island. They're so spoiled by gorgeous nature views that cities aren't too impressive for them. If you get in late in the day, hit the best viewpoints.
Mt. Eden is the best place to start for views of the Sky Tower, Auckland's iconic skyscraper. Another option is One Tree Hill, easy to remember if you're a 90's kid that used to watch the TV show.
The Auckland Harbor and Auckland Harbor Bridge are also great for pictures.
If you have a full day in Auckland, you can go up to the Sky Tower or take a day trip out to Waiheke Island, known for its wine.
Day 2: Auckland to Waitomo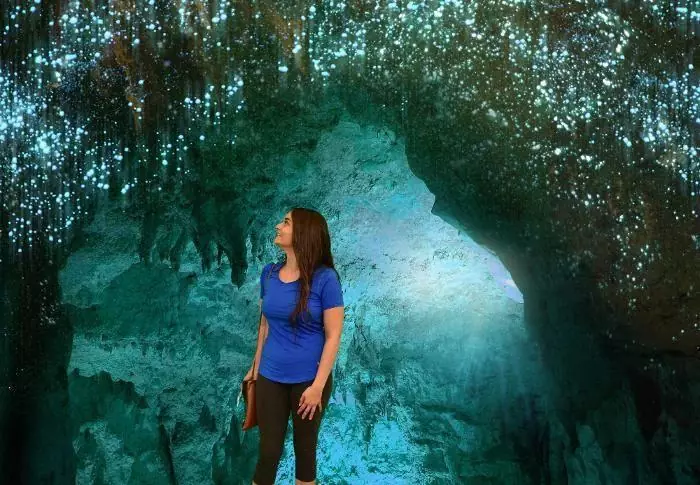 Don't get too comfortable in Auckland kids cause there's a whole lot of the North Island to see. Your next stop is the Arataki Visitor Centre, featuring a 2-story Maori totem pole outside and incredible mountain views. It is conveniently located on the way out to Auckland's black sand beaches.
The most popular black sand beach is called Piha Beach, located about 45 minutes outside of Auckland. The sand is a mixture of volcanic sand and iron oxide so it actually sparkles when the sun hits it. Aim to go earlier since on nice days this is a popular spot.
On your way out of the area, stop by Karekare Beach. It's only 15 minutes away and is a hidden gem, named one of the top beaches in the world. This is a great place to take a walk as the shoreline is breathtaking and very peaceful.
Now, it's time for the pièce de ré·sis·tance — the Waitomo Glowworm Caves. There are glowworm caves throughout all of New Zealand but this is the most tourist friendly. You walk inside the caves and then take a boat ride through a lake in a cave that's pitch black, so the glowworms look like stars in the night sky.
You can buy tickets there (tours leave every 30 minutes) or book ahead online. Be aware that there is no photography allowed in the cave. The picture above was taken on a green screen before entering and it coast around $40 to buy the picture package.
Day 3: Lake Taupo
Lake Taupo is to New Zealand what Lake Tahoe is to the U.S. This is a hotspot for families and backpackers alike, and the largest lake in New Zealand.
I highly recommend that you take a cruise out to the Maori carvings with Sail Barbary. They were highly professional and gave a ton of background on this one-of-a-kind piece that aren't accessible by foot.
Your other option is to kayak out, but like I mentioned this is a big lake so you better have superhuman strength in those arms for rowing.
Another popular stop in this area is Huka Falls, a powerful waterfall that is a draw for adventurers thanks to the famous jet boat tours on the water, which takes you right up to the base of the cascade.
Note: If you'd like to condense Rotorua (your next stop) into one day or skip Lake Taupo, you have the option to do the Tongariro Crossing, one fo the most famous hikes in New Zealand. It can take 8 hours to complete though and isn't for the faint of heart, so make sure you're prepared with the right equipment and enough energy because once you're on the trail there's nowhere to go but through it.
Day 4: Rotorua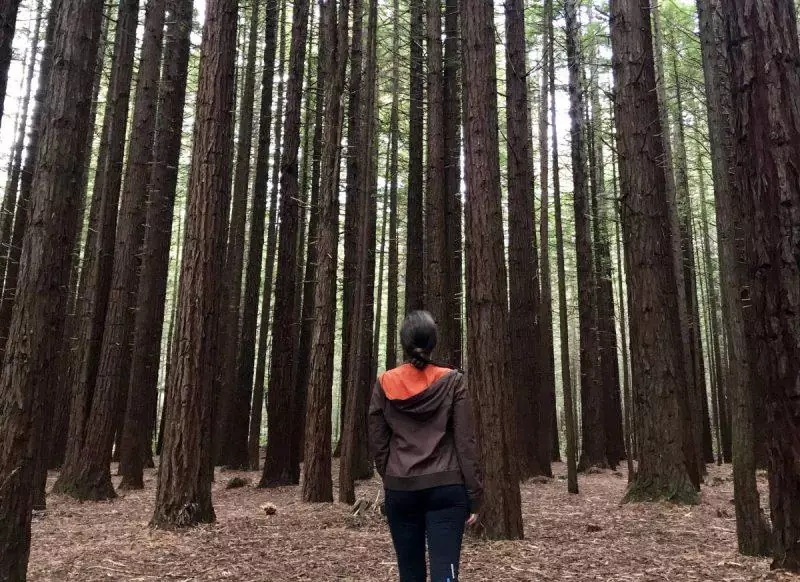 Your next destination is Rotorua. On your way from Taupo to Rotorua, make sure to stop by Lava Glass. They have an outdoor sculpture garden that is Instagram heaven as well as glassblowing demonstrations throughout the day.
Just a heads up — Rotorua is the site of a lot of volcanic activity and smells like rotten eggs. It's sulphur, but boy oh boy will the stench hit you when you arrive. It's OK though, you get used to it.
When you get there, the first place you want to go is the Redwoods Treewalk. The trees came from seeds from the Redwood Forest in America and grow really well since they're almost identically situated geographically, just on opposite hemispheres.
You can walk amongst the treetops on bridges held in place by suspension. There is also a special lights show available at night.
Another fun stop is luging at Skyline Rotorua. The basic pass gets you three luge rides down the mountain and there are different tracks depending on the level of difficulty you prefer.
I had no idea what luging was until I went here — it's kind of like sledding but with wheels and in the heat. The advanced track is serious — I caught some air on it so be careful.
Finally, end your day at the Polynesian Spa. It's named one of the top spas in the world and there are private or public pools available, warmed naturally by the volcanic activity. There's a family pool area or an adults only area.
I chose the adults only area and was very pleased with the number of pools available and facilities overall.
Note: For your stay in Rotorua I highly recommend the Prince's Gate Hotel. It's down the street from the Polynesian Spa, decorated with lavish antique furniture and cozy fireplaces and the service is exceptional.
RELATED POST: 7 BEST THINGS TO DO IN ROTORUA, NEW ZEALAND
Day 5: Rotorua ctd.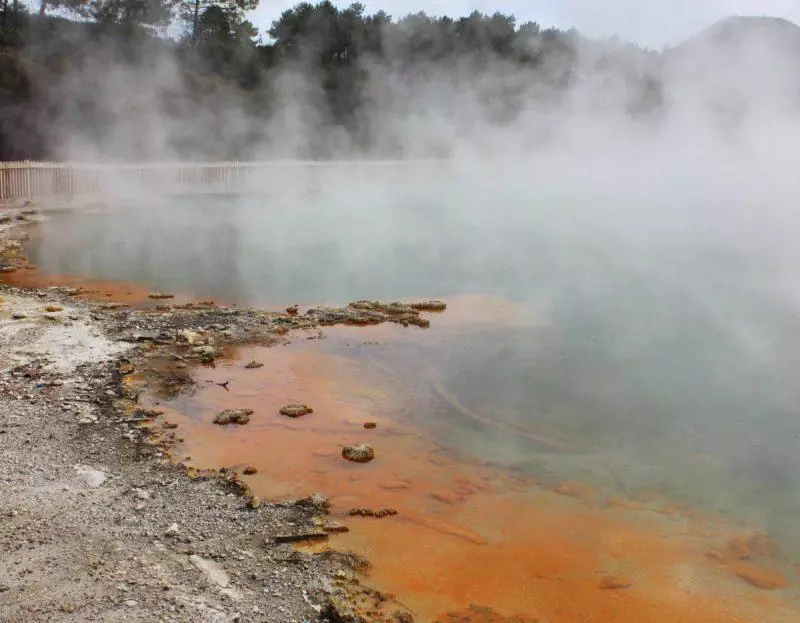 Rotorua has so much to do that you could spend a whole week here alone. Before you wrap up your time here, you must stop by the Wai-O-Tapu Thermal Wonderland. There are some really unique geological sights here, including neon green lakes and the Champagne pool (pictured above).
Make sure you're there on time to catch the Lady Knox Geyser, presented every day at 10:15am. It's artificially made to erupt with the use of soap but puts on a show nonetheless.
For dinner and a show at night, stop by the Tamaki Maori Village. The Maori people are native to New Zealand and have a rich culture. The village showcases their traditions, dances and cuisines in an immersive and lighthearted experience.
Day 6: Hobbiton and Coromandel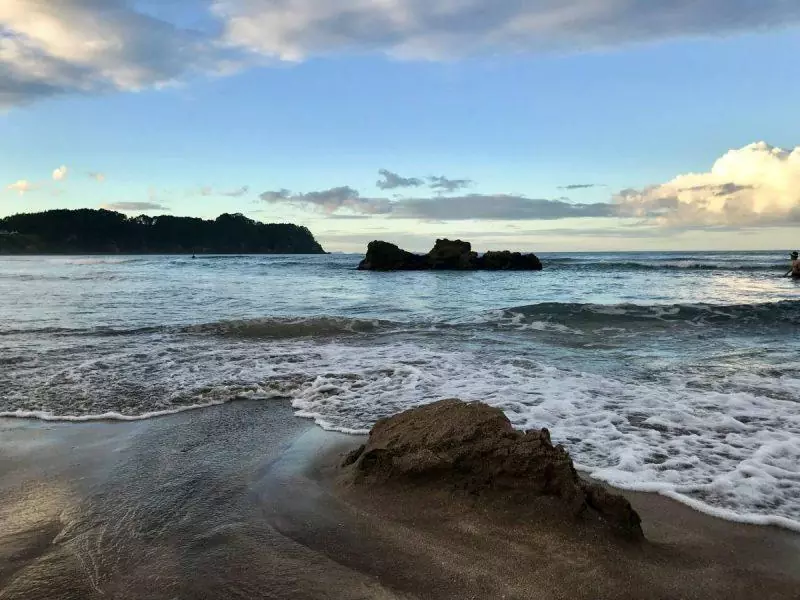 Your week is cruising by and you still haven't even been to see the hobbits yet! Don't worry, we'll fix that. From Taupo head straight to Hobbiton, the original set for the Lord of the Rings and nerd heaven. This is one happy place, and even if you're not a fan of the movies you're still likely to geek out.
I wanted to move to the shire after visiting here. Make reservations far ahead of time and try to get the first spot of the day so other tour groups won't be in any of your pictures.
There's a pub on site where you are treated to a free cider or beer. You can also purchase snacks. This is an expensive experience, but worth it.
Those looking to take it a step further can even plan to have dinner there, but be aware that seats book up months in advance and are about 3x the price.
The last stop on your trip is Coramandel, the peninsula on the North Island that is absolutely breathtaking. There are two sites here you cannot miss — Cathedral Cove and the Hot Water Beach.
Unfortunately, I only had time to hit one of them and chose the hot water beach, where people dig holes in the sand and they fill up naturally with hot water within two hours of low tide, in the morning and afternoon.
I went later in the day, around 4pm, and caught the sunset around 6pm. You'll need to bring your own shovel, borrow someone else's or jump into an abandoned hole.
It gets pitch black, and I do mean pitch black, around these parts come sunset so don't make the same mistake I did and head to Cathedral Cove first immediately after Hobbiton before finishing your day at the Hot Water Beach.
They're near each other, it just would've been impossible for me to see it after dark and I spent more time at the beach than anticipated.
Day 7: Coromandel to Auckland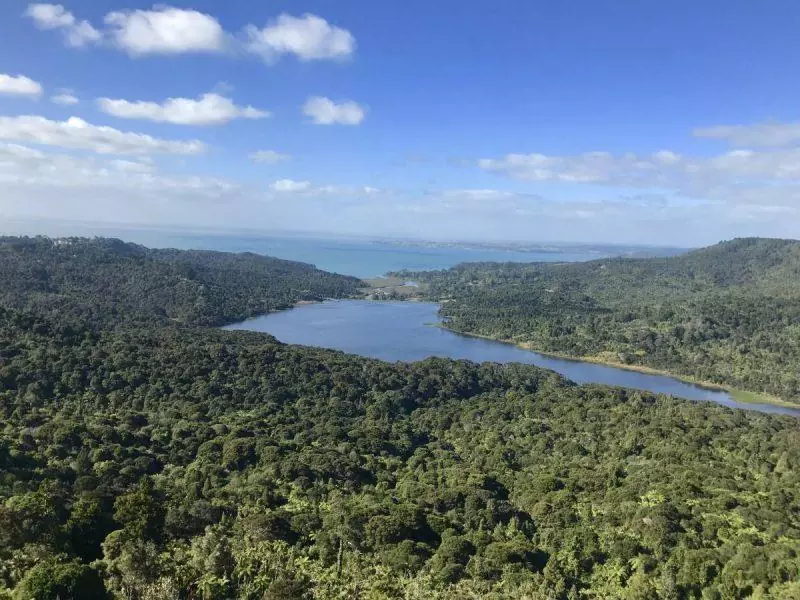 If you have time in the morning, take the Driving Creek Railway for a scenic train route. Then head out to Auckland; it's about 3 hours away.
Another alternative if you choose to skip the train is to visit Gibbs Farm, an outdoor sculpture park with gigantic pieces of art that will make for great photographs, located only 45 minutes north of Auckland.
With that, your New Zealand trip is over! There are so many things to do in the North Island of New Zealand that you're bound to want to stay for longer, and wander down to the South Island.
Even if you only have 7 days in the area, however, you can make the most of it and have a grand adventure.
Till next time, safe travels!
RELATED POST: HOW I FLEW FROM MIAMI TO AUCKLAND FOR $38
Liked this post? Pin me below.