Here's a throwback post for you, all the way back to summer 2011 when I spent 6 weeks in Australia. Like most others traveling to this amazing continent, I was determined not to leave without meeting both a kangaroo and a koala.
I know that, rationally speaking, I would have been able to have these experiences in another location if I was not successful this time around. But I wanted to see a koala and kangaroo in Australia–it just felt special somehow.
RELATED POST: 6 UNUSUAL THINGS TO DO IN SYDNEY, AUSTRALIA
Where can you find koalas and kangaroos in Sydney?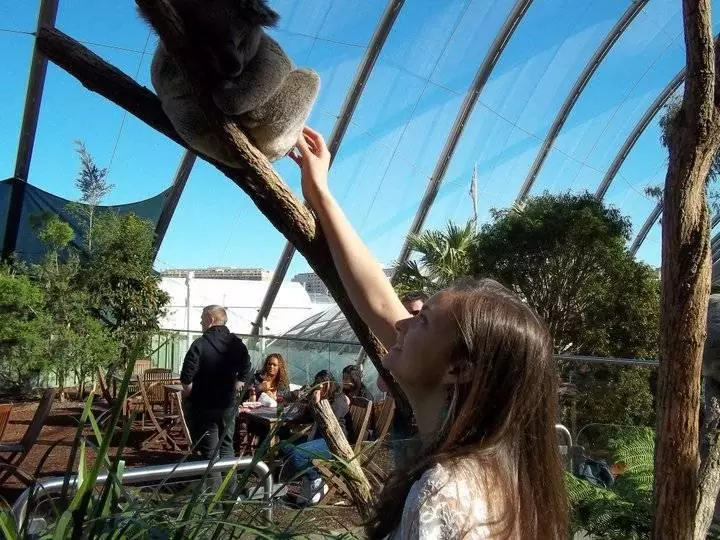 Thankfully, you don't need to go all the way to the outback to have your animal encounter. There's a place smack dab in the middle of Sydney that will allow you to do both–the Wild Life Sydney Zoo.
Its metropolitan location in Darling Harbour is central, easy to reach and perfect for travelers on a budget.
The zoo houses a variety of animals, from boa constrictors to butterflies. They also have animals indigenous to the region, including a wallaby and the most dangerous spider in the world.
*Note, every animal, insect or reptile in Australia is the most dangerous in the world. It's a marvel anyones lives past infancy with so much danger lurking here.
As far as inner city zoos go, this one is spectacular. There are many different activities for families and older travelers alike, but the real highlight is the koala experience.
About Wild Life Sydney Zoo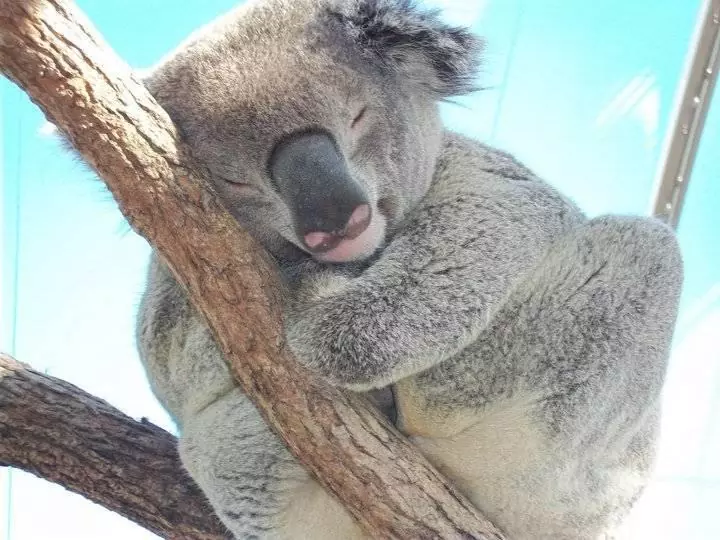 On the rooftop of Wild Life Sydney Zoo, guests can get up close and personal with these beautiful creatures. It's slightly intimidating to be around a koala in real life (especially if you've ever seen YouTube videos of koalas when angry) so it was nice to have a guide facilitating the interaction.
Pictures are taken and provided afterwards in print and on a CD for a price. The experience includes breakfast.
The koalas are so soft, and so cuddly! You're not supposed to call them koala bears because they're marsupials. This is something the team at Sydney Wild Life had to keep reminding me of since old habits die hard.
I can see why so many people unconsciously associate them with stuffed animals — they look just like the teddy bears you'd find on a store shelf.
Be warned though, koalas are wild animals, not pets, and should be handled with caution under supervision by a professional.
RELATED POST: FREE AND CHEAP THINGS TO DO IN BYRON BAY, AUSTRALIA
Kangaroos at Wild Life Sydney Zoo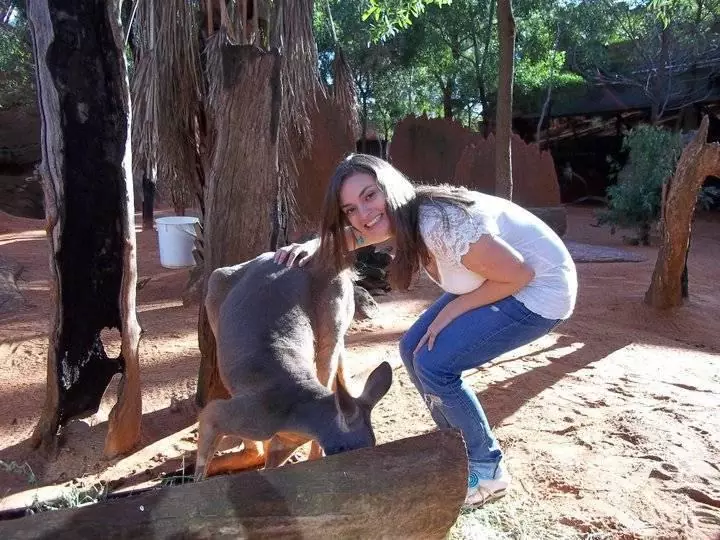 After I made my koala dreams come true, I headed straight for the kangaroo area. At the time, there were limited viewings a day and you had to win a ticket via lottery. Thankfully, I managed to snag a ticket.
There I was, the sole 5'2″ adult in a single file line of children set to pet the kangaroos, with a smile bigger than all of them. And while my kangaroo didn't look up to take a good shot, I figured it was best to just let him enjoy his lunch.
Overall, my day at the Wild Life Sydney Zoo was one I will never forget, and well worth the visit.
I highly recommend passing by facility if you're ever in the Sydney area. You can stay at one of these Sydney accommodations or check out these amazing Sydney views.
I hope you found this post helpful and that you too can have your own koala and kangaroo encounter on a future visit to Australia. Till next time, safe travels!
Liked this post? Pin me below!