Interested in visiting Back Alley Arctic in Winnipeg, Canada? Read on for everything you need to know.
I recently had the pleasure of visiting Winnipeg, Canada and was impressed by their street art. The most unexpected pieces, however, were found where I least expected — right in the artist's backyard.
While on a trolley tour of the city we stopped in a residential neighborhood to disembark, the one and only stop of the tour. I was confused.
We'd passed monuments, famous buildings and other landmarks but we were stopping to look at random houses?
Turns out, that's where you can find Back Alley Arctic, a series of paintings meant to raise awareness about climate change and Arctic animals.
Here's everything you need to know to plan your visit!
RELATED POST: WHERE TO EAT IN WINNIPEG, CANADA
What is Back Alley Arctic?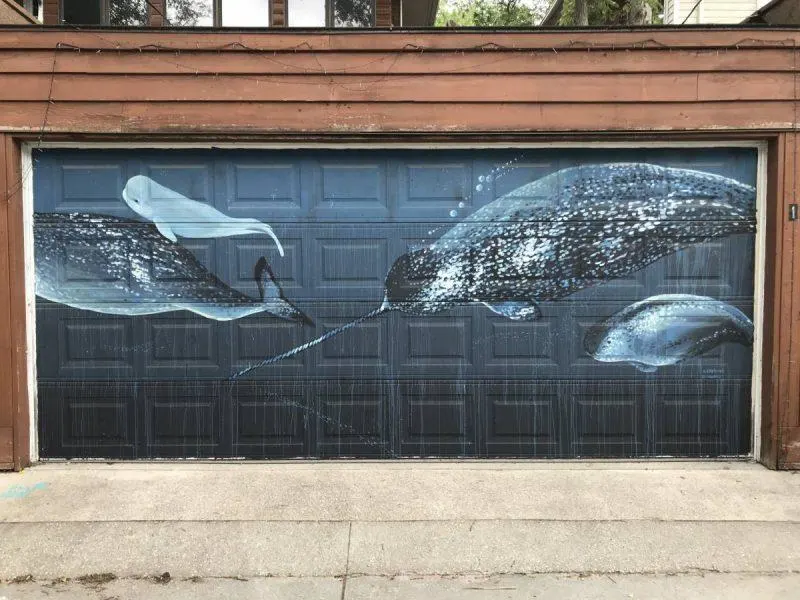 Back Alley Arctic is a fantastic street art series adorning commonplace items like garage doors, fences and pavement in the back of houses in Winnipeg, Canada. The alley is both walkable and bike-able and free to enter. On Nuit Blanche, an annual all-night arts festival taking place at the end of September, it is lit up with twinkle lights.
Each piece features an animal impacted by climate change and is uses exterior latex paint that is expected to last for 10 years. Still, not all of the original paintings remain — some are revised or redone altogether so make sure to admire it when you visit since it might not be exactly the same when you return.
Who is Kal Barteski?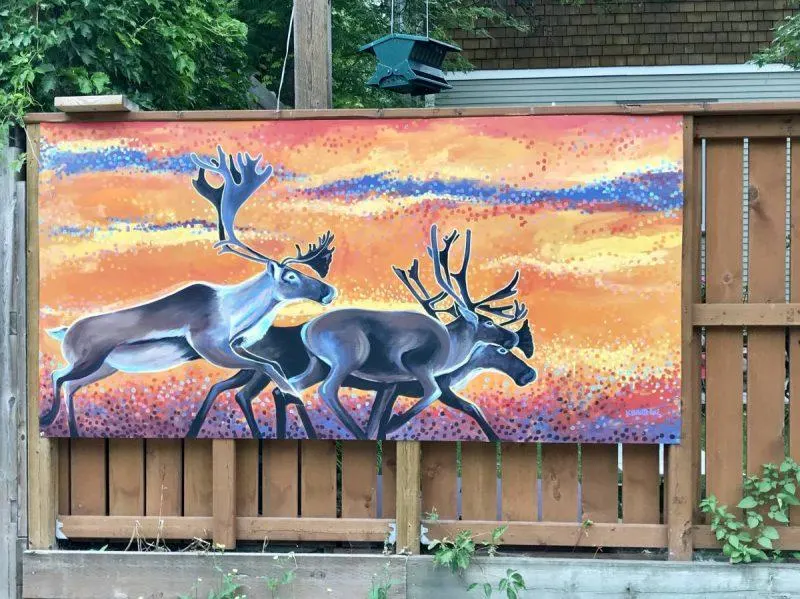 Kal Barteski is a renowned artist who is passionate about the environment and is an advocate for the wild. She is also a published author, award-winning fashion designer and TEDx speaker. When she was commissioned for a big project in Churchill focusing on ocean health and the community, she decided to practice to her home turf –literally.
Kal painted a polar bear on her garage door and it was breathtaking. Suddenly, all her neighbors were asking her to decorate their property as well. She agreed to do so for free, with the caveat that she would only paint Arctic animals, otherwise each piece would cost $10,000. Her neighbors readily agreed.
More than 400 hours of work have gone into creating the alley you see today. Hal has not been paid for her work but does accept donations to the Winnipeg Foundation-hosted Polar Bear Fund. All donations are tax deductible.
Kal has transformed a space previously utilized for trash collection into an artistic and political attraction that has become a must-see when in Winnipeg.
Back Alley Arctic Address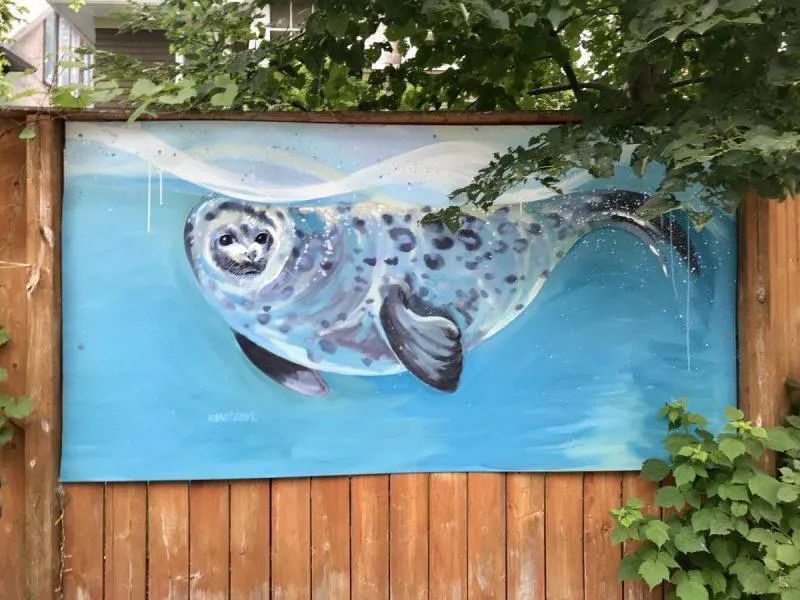 You can find the alley at the corner of Canora Street and Westminster Avenue, in the space between Wolseley and Westminster Avenues. The alley runs from Canora Street to Ethelbert Street.
If you need a nearby landmark to plug into your GPS, try the "Westminster Tot Lot" or "St. Margaret's Anglican Church." There's plenty of street parking nearby.
The neighbors are proud of the influx of tourists that come to admire the artwork and serve as unofficial ambassadors so feel free to interact with anyone you see here.
Featured Animals
There are 41 animals featured in the art series, including but not limited to polar bears, caribou, beluga and white whales, foxes, owls, puffins and a walrus. Sadly, many of these beautiful animals are going extinct.
The animals featured in the murals are listed as "vulnerable" by the International Union for the Conservation of Nature since their natural habitat is under threat from climate change. The effects of global warming in the Arctic include rising air and water temperatures and loss of sea ice. As a result these animals are unable to find adequate food and are perishing at an alarming rate.
Why is the Melting of Polar Ice Important?
Ecosystems are fragile, and interconnected. Arctic sea ice keeps the polar regions cool and helps moderate global climate. The melting of the polar ice caps can have serious consequences for all organisms, including rising sea levels and loss of salinity in our oceans.
This, in turn, increases coastal erosion. Warming air and ocean temperatures create more frequent and intense storms like hurricanes and typhoons. Industries that thrive on fishing will be affected as fish change where and when they spawn. Flooding becomes more frequent, especially for big cities at sea level, and wildlife losing their homes are forced to spend more time on land, increasing the rates of conflict between people and animals.
In short, climate change is a very real problem that affects everyone. The first step is admitting there's a problem, and Back Alley Arctic does an excellent job of bringing awareness to the issue in a palatable way.
Street Art in Winnipeg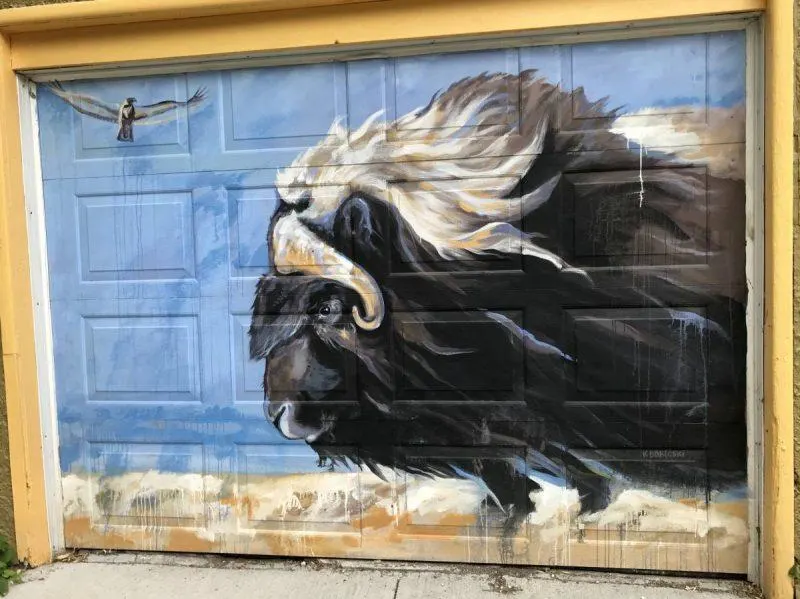 Did you know there are more than 600 murals in the city of Winnipeg? That number has been rapidly growing in the past few years as local artists and collectives gradually reinvigorate the city with murals that capture the essence of the people inside the buildings.
Organizations like Take Pride Winnipeg, West End Biz and Graffiti Art Programming Inc. are all using street art as a way to engage the community, provide a platform for talented local artists and spread a message with their pieces. I highly recommend taking a street art tour while in Winnipeg to scope out the highlights with a knowledgeable guide.
Know Before You Go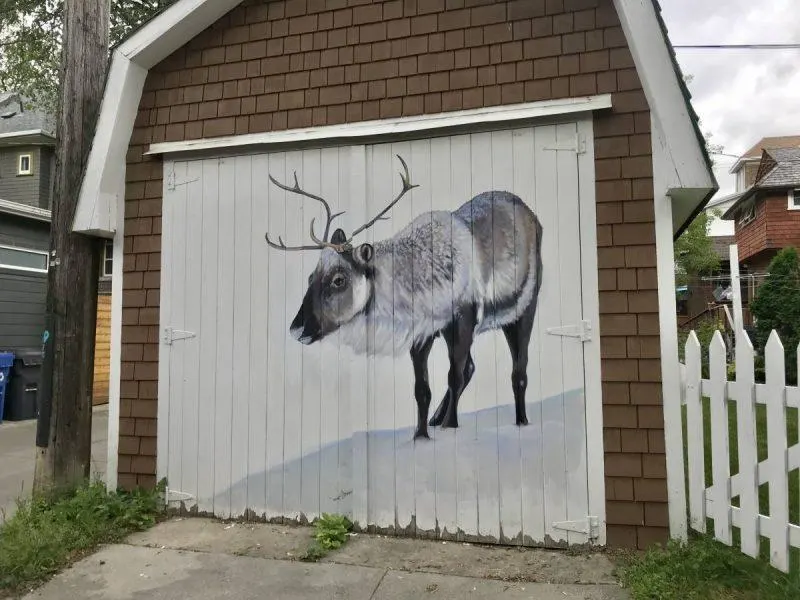 While the neighbors are friendly, it is still their homes so please be respectful. I do not recommend driving in the alley as its reserved for local residents parking their cars and there are a lot of pedestrians.
I suggest visiting on a weekday during work hours when everyone is at work if you want the space to yourself. You'll want to take your time strolling and taking pictures.
Till next time, safe travels.
RELATED POST: BEST THINGS TO DO IN WINNIPEG, CANADA
*Note: This post was created in collaboration with Tourism Winnipeg. All opinions are my own.
Liked this post? Pin me below!