Trying to figure out where to eat in Winnipeg, Canada? I got you covered with these local businesses!
Winnipeg, Canada is a foodie's dream.
It's a city with one of the most restaurants per capita in North America and offers a variety of meal options to meet all your cravings.
I was only in Winnipeg for a few days so it was impossible for me to sample all of the restaurants in the area.
These are some of best, however, and a good place to start if you're trying to get a taste of food in The 'Peg.
RELATED POST: VISIT BACK ALLEY ARCTIC IN WINNIPEG, CANADA
Here's where to eat in Winnipeg depending on what you're hungry for.
Breakfast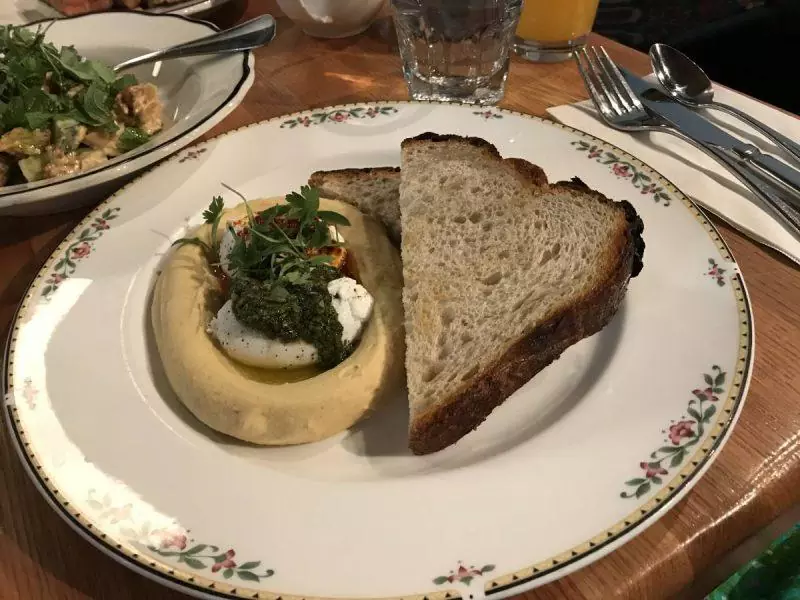 1. Clementine
Clementine is a favorite for breakfast and brunch, located in the middle of the city.
They close at 4pm on weekends.
Their menu includes items you don't see every day like Turkish eggs and a chorizo verde tostada.
The atmosphere is cozy and they're known for their breakfast cocktails.
2. Forth
This cafe prides itself on having gourmet products and is a great place for breakfast if you want something a little quicker than a sit-down restaurant.
They have counter service and pre-prepared items like scones and baked goods.
Start your day off right with one of their and have a breakfast sandwich and try one of their lattes, complete with coffee art.
3. Stella's
Stella's is a local cafe and bakery that has expanded to 7 locations, including one at the airport, and has become a Winnipeg staple. You can't go wrong at any one of them.
Their bakery has fresh artisan breads, cakes ,pies and desserts and their breakfast menu is served all day and includes hits like maple caramel French toast and bacon & egg croissant.
Lunch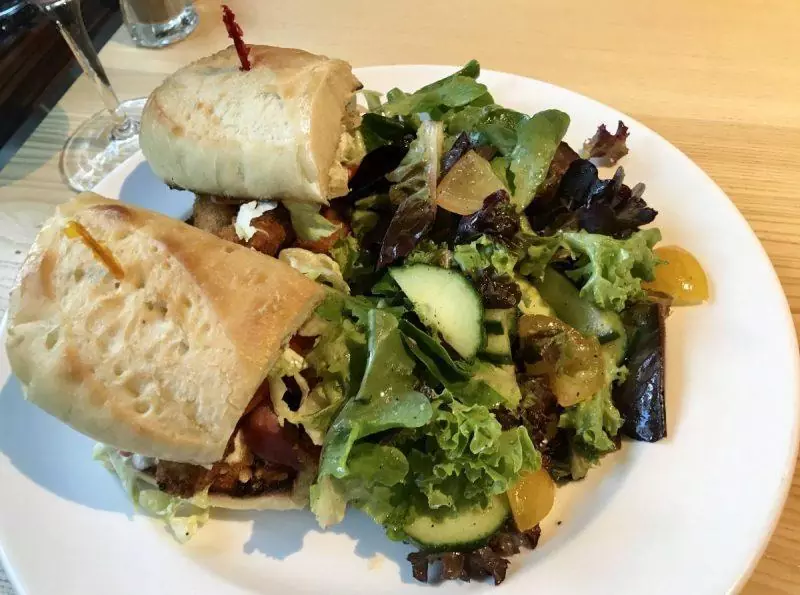 4. Red Ember Common
Located in The Forks, Red Ember Common's main attraction is a traditional stone hearth oven shipped over from Italy that can reach 850 degrees Fahrenheit and cook a pizza in just a minute and a half.
It's the first of its kind in the city. They also have a food truck.
The Twist & Sprout pizza may just trick the pickiest eater in your group into liking Brussel sprouts.
5. ERA Bistro
Located in the Canadian Museum for Human Rights, this is a great spot to come for a business lunch.
The setting is professional and private. The facilities are new and impeccably maintained. It's meant to be a place to relax and connect.
Not to mention, the food is savory with dishes like a pickerel po' boy and harvest gnocchi and they have a large selection of drinks.
6. King + Bannatyne
This is a premium sandwich shop in the downtown area.
Their sandwiches are large and filling and served on a wooden cutting board, keeping it casual but charming.
Their river city brisket is brined 7 days in house and the Carolina BBQ braised beef features their own homemade BBQ sauce.
There are specials every week and they serve beer and wine.
Dinner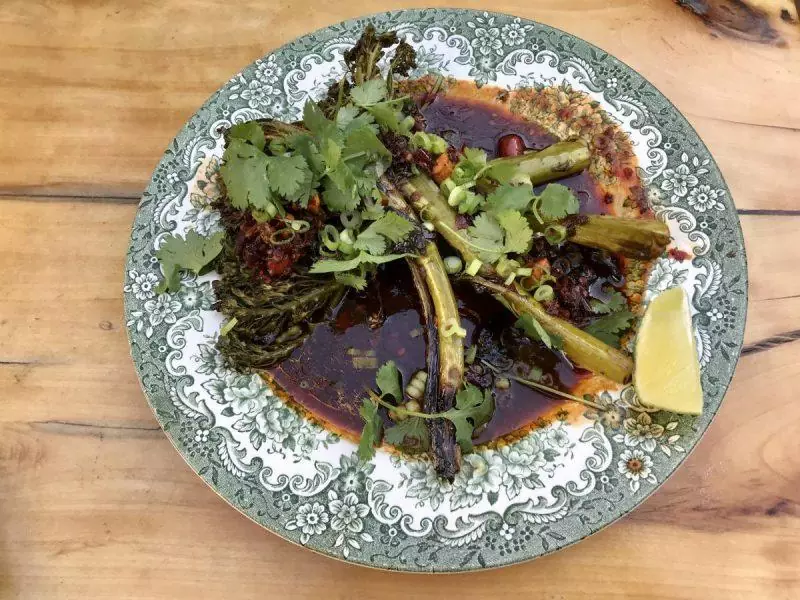 7. Deer + Almond
This place gets packed for dinner so I recommend you make reservations.
It's homestyle coking that gets creative with its use of ingredients.
There's no dish titles — just a glimpse at the flavors you can expect, like "risotto, portobello, kewpie, raw macadamia, manchego."
Even their popcorn was elevated. They have delicious cocktails and are the perfect spot for a date night.
8. Máquè
Maque serves small plates with Asian flavors and is owned by Chef Scott Bagshaw who is highly regarded in the culinary arts.
The menu includes ingredients like Mongolian lamb, 24-month prosciutto di parma and Nagano pork belly.
This is a high-end place with limited seating so you definitely need to make a reservation.
The outdoor patio is a lovely place to dine on a nice evening.
9. Passero
Also owned by Chef Bagshaw, Passero is located in The Forks.
It's a fine place to dine in it's own right but also a great backup to keep in mind if you're not able to be seated at Maque.
They offer a lot of the same ingredients and have a similar cooking style although the dishes are intended to be more Mediterranean than Asian. Make sure to try the tuna tartare.
Drinks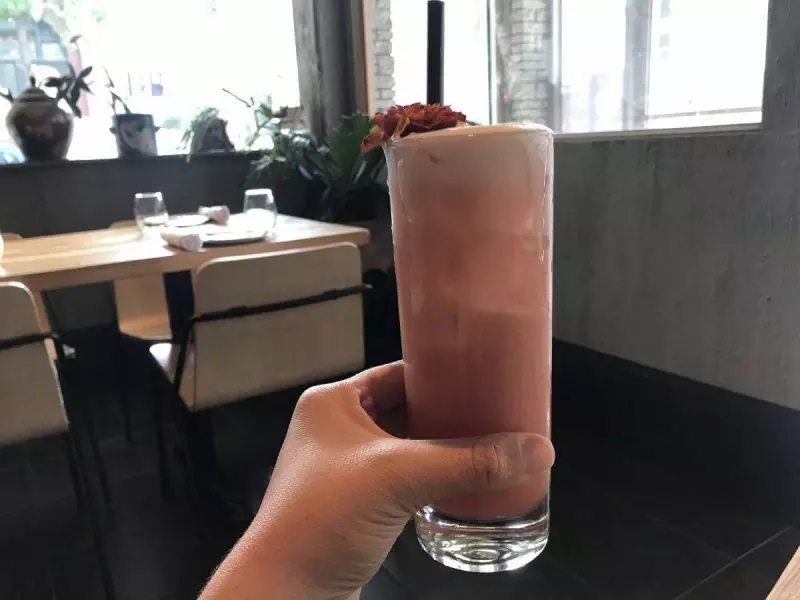 11. The Roost on Cryodon
This is the cutest place to head for drinks. Not only do they have an expansive cocktail menu, they get points for the aesthetic.
My first drink was served in a ceramic cat and they have rooftop dining available.
If you're meeting friends for happy hour after work, this is the place to be.
12. King's Head Pub
If you're looking for an authentic pub experience where you can try dozens of different draft beers, you'll love King's Head Pub.
They have giant flat screen TV's, live music, wooden decor, live music and a pretty hefty food menu for a bar.
Don't worry about getting hung over when you have a solid base of Shepard's pie to hold you down.
13. The Good Will Social Club
This is meant to be a community hangout and has something going on practically every night, from karaoke to trivia.
They open at 11am and don't close until "late."
They serve local beer, as well as food and coffee. This is a fun place to come with a group of friends.
Dessert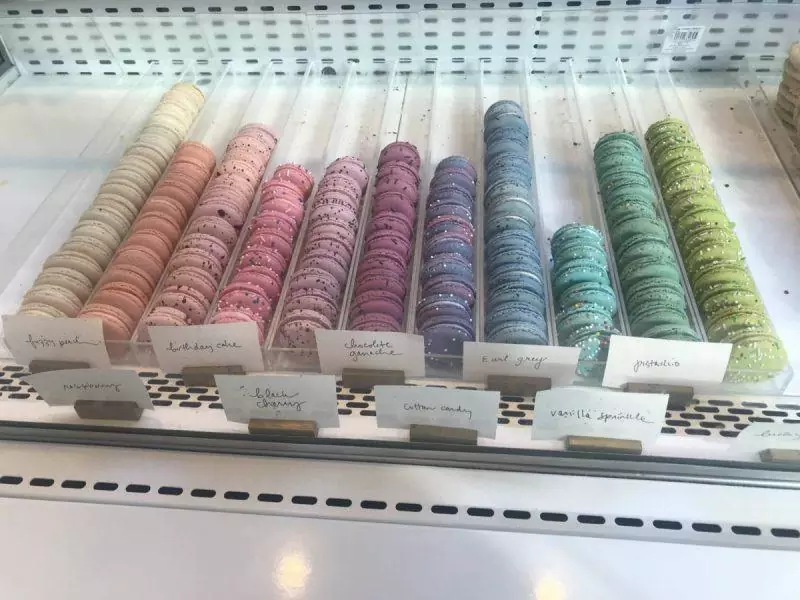 14. Jenna Rae Cakes
This dessert shop was featured by Martha Stewart magazine and has since become wildly popular.
You can find a counter at The Forks with cookies and baked goods you can take to-go.
I especially loved picking out a half dozen macaroons from their lineup of flavors ranging from pistachio to cotton candy.
15. Snow & Moon
This is a unique dessert concept that uses crystallized milk flakes meant to taste like snow as a base and then customizes each dish with different flavors like mango, triple berry or matcha. They are 100% natural and homemade.
16. Cinnaholic
This is a gourmet cinnamon roll bakery that removes all the guilt from a classic dessert.
They're 100% vegan, dairy & lactose-free, egg-free and cholesterol-free and were featured on Shark Tank.
Flavors include hot cocoa dream roll and spices praline roll.
17. Kawaii Crepe
This shop opened in 2010 and has since grown to 3 locations in the city.
It was inspired by Japanese street food and the word "kawaii" means "cute."
The crepes are sweet or savory and come delicately folded.
They can accommodate vegan and gluten-free dietary restrictions.
For a selection sure to satisfy your sweet tooth try the s'more crepe with Nutella, marshmallows and graham wafers.
RELATED POST: 12 BEST THINGS TO DO IN WINNIPEG, CANADA
When trying to decide where to eat in Winnipeg, you can't go wrong with any of these restaurants. Till next time, safe travels!
*Disclaimer: I visited Winnipeg as part of a collaboration with Tourism Winnipeg. All opinions are my own.
Like this post? Pin me below: