Florence has everything a tourist could possibly want–incredible music, a walkable city center, world-class art and a never-ending supply of delicious Italian food.
Somehow, despite eating carbs constantly during my trip, I returned slimmer than when I left. It could be the 5th floor walk-up apartment. Lifts are few and far in between in the old city, but you enter through giant castle doors, so there's a certain give and take.
It could be because every worthwhile view of the city was prefaced by a 450-step climb. The Bell Tower, Duomo Cupola, Piazza San Michelangelo, Boboli Gardens–you work for your views here!
RELATED POST: 9 PHOTOS TO MAKE YOU WANT TO VISIT FLORENCE, ITALY
Whatever the reason, I felt free to indulge my inner fat kid during a 3-day exploration of Florence, knowing whatever I consumed would be worked off soon after.
And boy, did Florence provide. If you're visiting one of Italy's most dynamic cities, then you can't leave without trying these 5 distinctly Florentine food items.
Also, as a bonus, click here for a free 4-day Florence Itinerary! 
Here's your Florence food guide:
1. Gelato
Gelato is by far the most popular treat in the Florence. You can't walk down the street without seeing at least a dozen people carrying a cone in hand, day or night. There's a shop on every corner, and even the most touristic spot will offer a far superior product than what you have available at home.
Do yourself a favor–eat it often, try different varieties, and don't feel any guilt whatsoever about this frozen indulgence while you're on vacation.
2. Pasta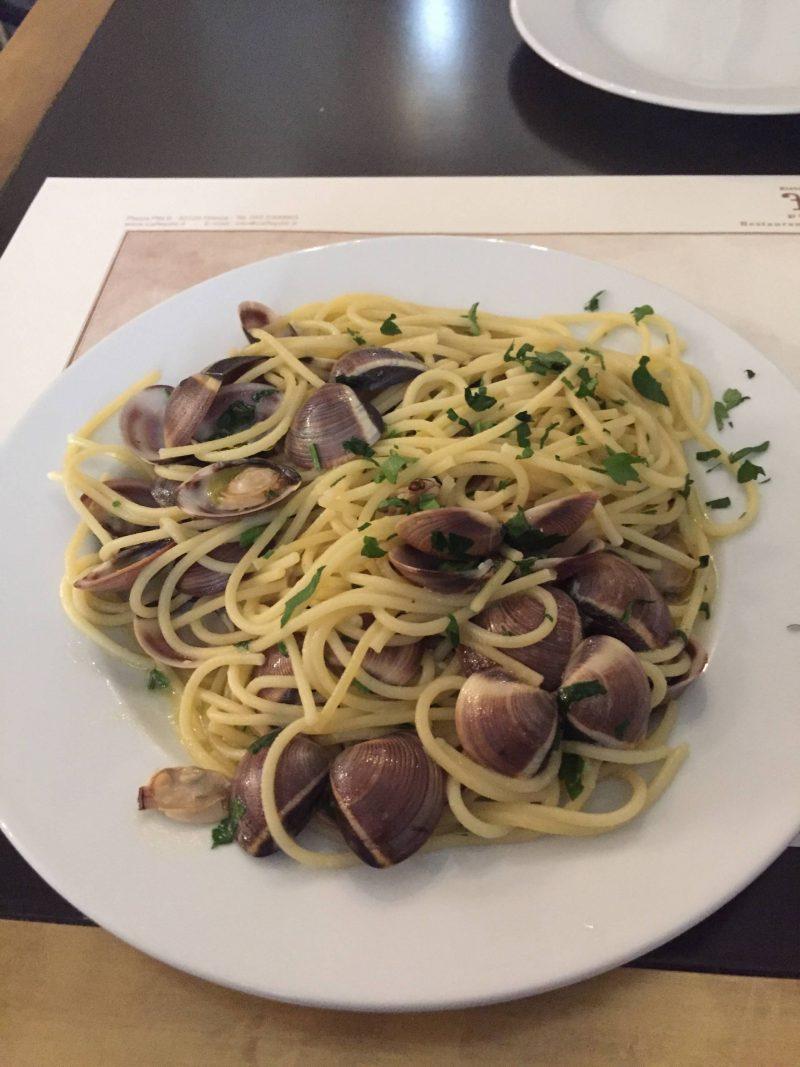 There's nothing like freshly made pasta to fuel your day before an afternoon of walking. Italy is the best place in the world to have pasta, and the restaurants take pride in the dishes they offer. You can order noodles with red sauce and have it taste gourmet.
Pictured above is a clam pasta dish. Don't be shy about loading up on parmesan cheese by asking for extra formaggio!
3. Pizza

The great thing about pizza in Italy is that it doesn't have to try so hard. It's naturally delicious. This is your standard shop, offering everything from a margherita pizza to prosciutto and vegetable medley creations.
Many shops are open late, making pizza the perfect late night snack in Florence. It's also equally delicious cold so make sure to bring any leftovers back to your hotel.
4. Florentine steak
Surprisingly, one of the best places to get steak is Florence, Italy. Who knew? I had the pleasure of being hosted by Trattoria Vecchio Mercato. Their steak (pictured above) was topped with truffle sauce and paired with butter potatoes.
Also great with steak? Wine. Once it hits your lips, it's so good!
RELATED POST: AUTHENTIC FLORENTINE STEAK AT TRATTORIA VECCHIO MERCATO
5. Cannoli and hot chocolate

Peanut butter and jelly have nothing on this pairing. The hot chocolate in Italy is so rich and thick you could eat it with a spoon, conveniently provided at most shops. A steaming mug in a coffeeshop in Florence makes a welcome treat on a fall or winter day. The cannoli, stuffed on the spot and garnished with orange zest, is just the right accompaniment.
I hope you enjoyed this post. Till next time, safe travels and happy eating!
Do you want a free 4-day Florence itinerary to help you see all the best sites the city has to offer with none of the prep work? Click Me!
Liked this article? Pin me below.