After two years of teaching with the company, here's my honest and unfiltered VIPKid review.
I've been a teacher with VIPKid for the last 2 years. Like many others, I was looking for remote work as a way to supplement my income and make a little extra cash from home.
I started teaching online every morning before work, from 6am-8:30am, in order to fund my travels. When I quit my full-time attorney job to travel and write instead, VIPKid went from being my side hustle to being my steady source of income.
RELATED POST: HOW I MAKE $800/MONTH TEACHING ENGLISH ONLINE WITH VIPKID
To date, I've taught more than 2,000 classes and my average parent feedback score is a 5 out of 5. I'm booked solid every week, with multiple requests outside of my available hours. Clearly, I'm doing something right.
Nevertheless, I've had issues with VIPKid that makes me feel like they don't value teachers and regard them as disposable.
This is my honest and unfiltered VIPKid review, with all the pros and cons of working for this company.
Pro: Flexible hours
The biggest pro of working for VIPKid is the flexibility. You can work remotely from anywhere in the world, set your own hours and open or close your available time slots as needed. This is the main reason I still teach with them.
Con: You're booked 2 weeks out
Your schedule is set two weeks out so if anything in your life changes at the last minute, it's hard to cancel classes. You have a limited number of cancellations available and they're not the most receptive to personal or technical issues.
I've gotten into car accidents or had a weather-related power outage that have prevented me from teaching that day. While you can apply for a "soft cancellation" to not be financially penalized, those cancellations still count against your record with the company.
As an example, I'm returning home from Asia earlier than anticipated due to family issues and it's too late to change my classes even a week in advance, so I'll have to teach at night, from 7:30pm-3:30am on Saturday and Sunday.
With the time change, this would have been 8:30am-4:30pm in Asia. Unfortunately, I can't cancel that many classes now and am stuck with the schedule as is.
Pro: The kids are cute
The children that you teach are adorable. For the most part, they behave very well and make a diligent effort to learn.
Some of the parents are overly strict, correcting pronunciation even after they child has said a word right, and you start to feel bad for the younger children especially.
At the end of the day, none of the negatives associated with teaching for VIPKid are the children's fault.
Con: VIPKid's support is lacking
The VIPKid support system is lacking, to put it mildly. At first I thought it was a language barrier, but their refusal to answer or even properly address your questions is mind boggling. It's like talking to your grandma who has dementia.
They decide what question they want to hear, make errant responses that have nothing to do with your inquiry and then cut you off with a somewhat infuriating, "thank you for understanding!" and close your support ticket without giving a satisfactory response.
There's no phone number to call. There's no point in reaching out to them via social media, an otherwise effective customer service tactic for me. I posted a grievance on my Instagram stories tagging them and got a "heart" in reply.
If you're in the classroom and having technical issues, you can call for the firemen to come and help you. Sometimes help doesn't arrive until 22 minutes into your 25-minute class.
RELATED POST: HOW TO SET UP YOUR VIPKID CLASSROOM
Pro: You don't need a TEFL certification
Since teaching long-term isn't among my career goals, I'd rather not invest additional time and effort into passing a TEFL course or even take the free partner course offered through VIPKid.
To teach with VIPKid, you just need a college degree. My law degree made up for my lack of teaching experience or credentials. I now have two years of experience under my belt.
This is another reason I've stuck it out with VIPKid instead of pursuing other online teaching programs.
Con: VIPKid pay is low and teacher raises are hard to get
If you are an educator with experience, the money you make with VIPKid is a pittance compared to what you could be making with private tutoring. Many of my referrals realize this and opt out of the process, knowing they could be getting paid far more for one-on-one sessions.
VIPKid offers $14-$22 an hour, all incentives included, and their annual raise (should you meet the requirements) is only an increase of $.50 to your base class rate.
Although you're qualified for a raise after the end of your 2nd 6-month contract with them, I didn't ask until the end of my 4th contract. I got a response saying that I met nearly all the criteria, but unfortunately was 9 classes short of their 1,200 classes requirement.
That same day, I taught 12 more classes and asked them to recalculate to reflect the most updated numbers. They replied:
"Please note that the previous 12 months are from the last month of your second contract to the fifth month of your forth contract. Thus, that why we can't recalculate your 12 classes yesterday into the data. Hope you can understand. Plus, we sincerely suggest you read the rule of Base Rate Adjustment Process in support center carefully. Thanks for your cooperation."
Here are their rules on teacher raises:
There are 5 indicators that VIPKID will assess during its 'Base Rate Adjustment' process.
Each indicator will generate The 'Base Rate Adjustment' resolution will depend on the total amount of points from the last 12-month period.
One of the indicators is compulsory. The number of finished classes needs to be higher than 1,200 in the previous 12 months, in order to be eligible for a favorable adjustment.
Points accumulate according to the following table: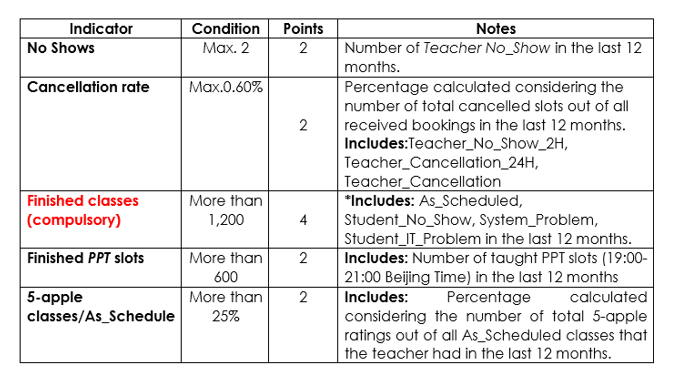 Again, this is all to get a $.50 raise to your base rate.
Pro: They provide a roster of students
While you could certainly make more money tutoring privately, you would need to find your own students. One good thing about VIPKid is that they already have a clientele base, and the parents will find you.
You don't need to go market yourself or otherwise hunt down clients. Once you get a few good reviews under your belt, their audience is large enough for you to have a steady schedule of classes booked.
Con: VIPKid actively tries to deny referral fees
Despite vehemently encouraging you to go out and recruit new teachers, dangling referral fees and bonuses on the homepage and weekly emails, there's a likelihood VIPKid will deny you the referral credit even after your recruit passes the multi-stage interview process. VIPKid actively finds reasons to say that the referral cannot be attributed to you.
They're like an insurance company that's trying to deny coverage. They put strict stipulations on referrals, including that the recruit must sign up through your link or contact VIPKid themselves saying that you were their referral source before the first mock interview.
Using these tactics, they've denied me credit for at least 3 recruits that have gone on to become successful teachers.
Pro: They provide the curriculum
Unlike other online teaching programs where you need to sustain conversation or come up with your own curriculum, VIPKid provides you with 25-30 slides per course including all of the target materials and instructions.
You don't meed to come up with your own lesson plans, they do this for you.
Con: Lackluster incentives
I once got an email saying that if I opened 20 PPT slots on Christmas week (PPT being the most in-demand times) I would be entered into a raffle to win a $5 gift card.
Let me get this straight — teach an extra 20 classes on Christmas week and maybe I'll win a $5 gift card? Is this a joke?
One other things to keep in mind is since you're hired as an independent contractor, there are no benefits and you need to pay taxes on what you earned come April.
Pro: They're legit
For those with limited options who are just looking for a way to make easy income online, or even get some ESL experience before switching to a better company, I can attest to VIPKid being a legitimate service.
My money comes in on time, the 8th or 9th of every month with the time change. Even though my payments are sometimes missing referral fees, I do get paid.
If you're new to the ESL sphere or looking to try out remote work in general, go ahead and give them a shot. Just be aware that they can be tough to work for, and after a while you might be looking for a better alternative.
CLICK HERE FOR A LIST OF VIPKID ALTERNATIVES FOR TEACHING ONLINE
I hope this post is useful to you. Feel free to reach out with any questions.