Want to plan a day trip from Las Vegas to the Valley of Fire? This guest post by Monique Cordier from My Perfect Itinerary will tell you everything you need to know!
Valley of Fire is hands down the best park near Las Vegas, far superior to the more oft recognized Red Rock Canyon.
Whether you want to see gorgeous slot canyons, enjoy a scenic drive or hike to 2000 year old petroglyphs, adding a Valley of Fire Day trip to your Vegas itinerary is a MUST!
In this detailed guide I will go over everything you need to know before planning your trip to Valley of Fire State Park including how to get there, what to pack and all the best sights that shouldn't be missed.
Since most of the popular things in the park are hikes, it is not possible to do everything in the park in only one day.
I have listed the most popular hikes along with viewpoints that are close together so you can squeeze as much as possible into your Vegas to Valley of Fire day trip.
Okay, let's dive in!
How to Get to Valley of Fire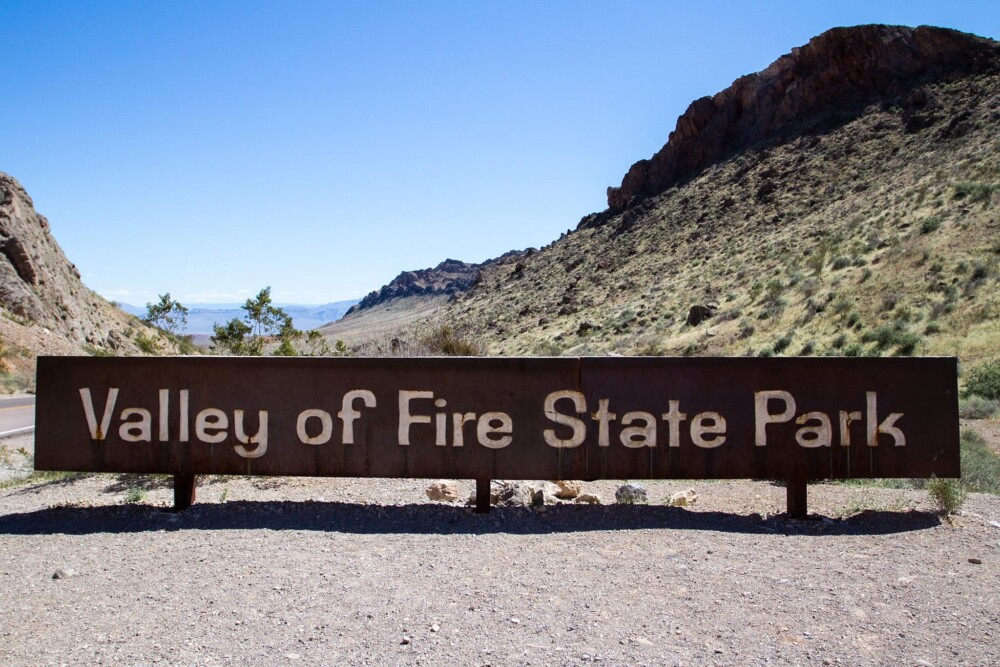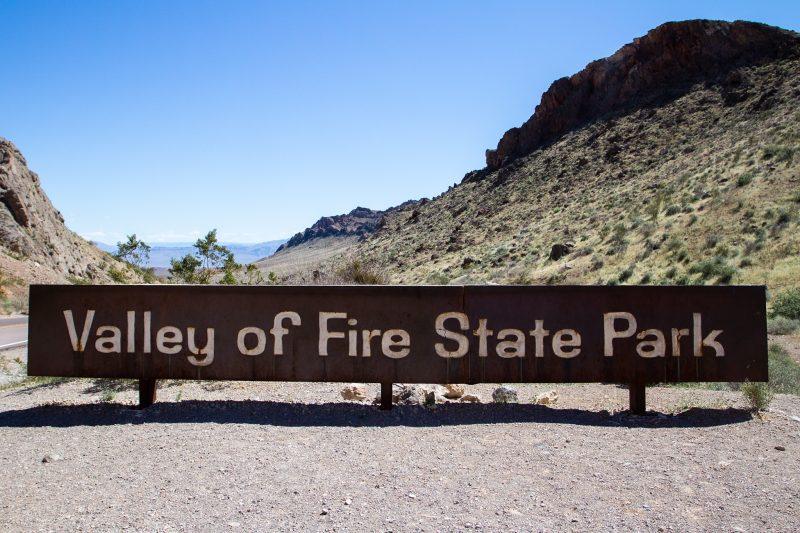 Valley of Fire is located only 1 hour outside of Las Vegas, making it the perfect day trip.
From Las Vegas, you will drive in the direction of Utah until you reach the small town of Crystal where you will turn off the highway towards Valley of Fire.
Immediately, you will begin to see the vibrant rock formations form and they will only get more beautiful as you get closer to the visitor center.
When you enter the park, there will be a spot to pay for your park pass ($10.00) and you will get access for an entire week.
If you don't want to drive to Valley of Fire, you can also sign up for a tour that will pick you up from your hotel and take you to some of the famous sites in the park.
Click here to browse Valley of Fire Day trips!
TIP: Make sure you bring the exact amount in cash to put into the self-pay envelopes. A lot of the times there is not a ranger at the pay station to take a card.
What to Pack for Valley of Fire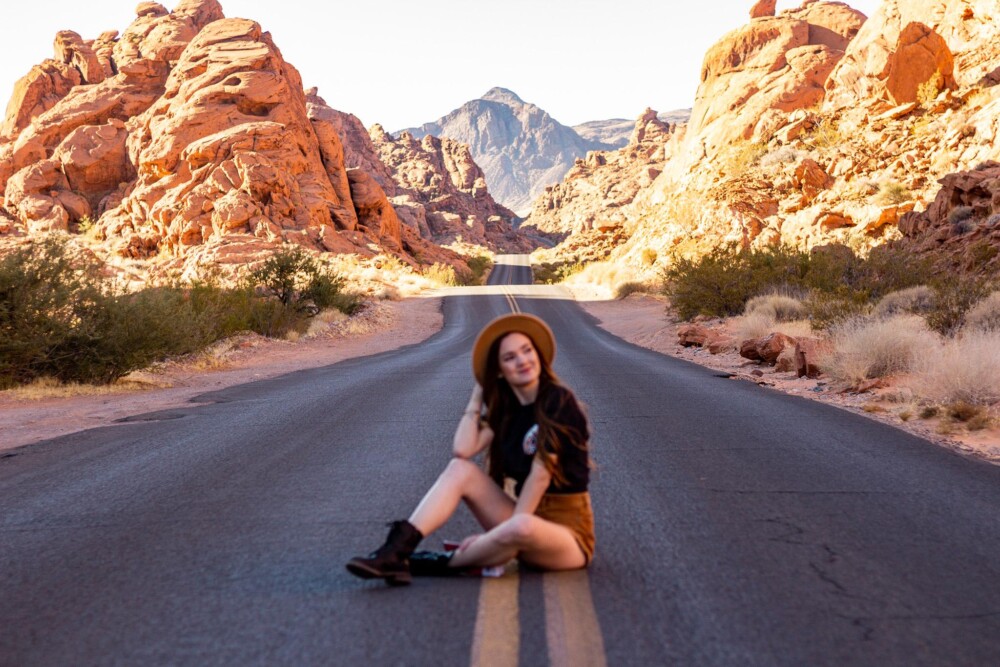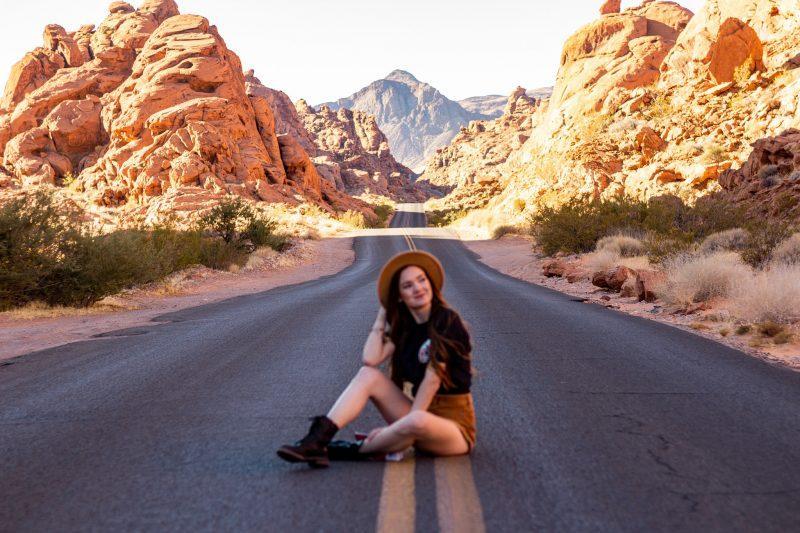 I am sure you could've guessed by its name, but Valley of Fire is HOT.
During the summer months, you can expect to see heat warnings all over the park.
Even during the spring/fall months, you can still expect temperatures as high as 90 degrees.
I would plan to pack light, airy clothes for hiking and tons of sunblock to protect your skin!
Here are my top 3 recommendations for what to pack:
Sunblock to protect your skin from the sun. Majority of these hikes / viewpoints will not be shaded!
Light & breathable hiking clothes to help keep you cool.
Water bottle that keeps your water cool and easily clips onto your backpack.
TIP: The climate in Valley of Fire is extremely similar to Las Vegas! I have an extremely detailed guide on what to pack for Vegas, click here to check it out!
Valley of Fire Tours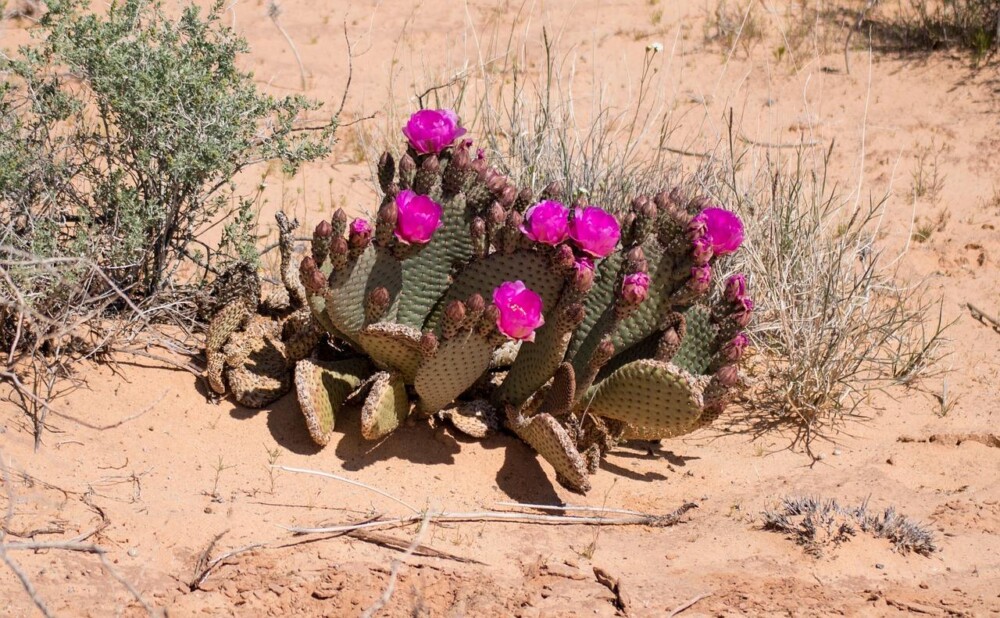 Like I mentioned, there are tons of tours that will pick you up from your hotel in Las Vegas, drive you to Valley of Fire and take you to see all the famous sites.
What is really great about taking tours is all the knowledge & history you get from the tour guides.
I always say that knowledge of the location is the best souvenir for you to take home 🙂
Another perk of taking a tour is you won't have to worry about researching the popular spots, finding them on the map, parking at the small parking areas in the park or even renting a car.
All of the stress is on the tour guides so you can focus on enjoying your time in Valley of Fire.
Click here to browse all the Valley of Fire tours!
Things to do in Valley of Fire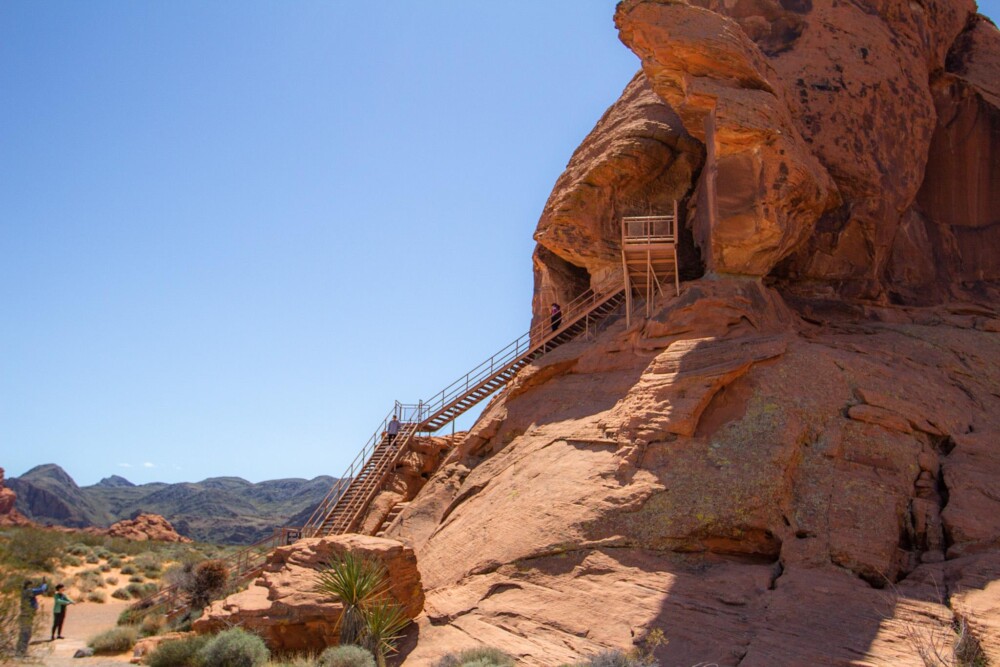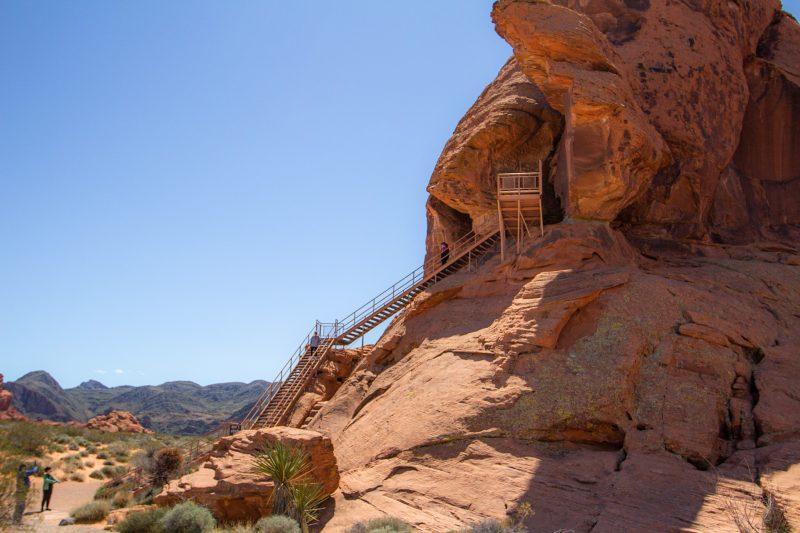 Visitor's Center
The Visitor's Center is where you can learn about the history of the park, buy souvenirs for home, and pick up some maps/brochures.
To find the visitor's center, signs will be leading to it from the entrance of the park and you will also see it when turning onto Mouse's Tank Road (the main road of the park).
What makes the center worth the stop is you can see the exhibits on geology, ecology, prehistory and history of the park.
The landscape of Valley of Fire is so unique that it will make your experience throughout the park better if you know why it is the way it is.
RELATED POST: DAY TRIP FROM VEGAS TO BRYCE CANYON
Mouse's Tank Road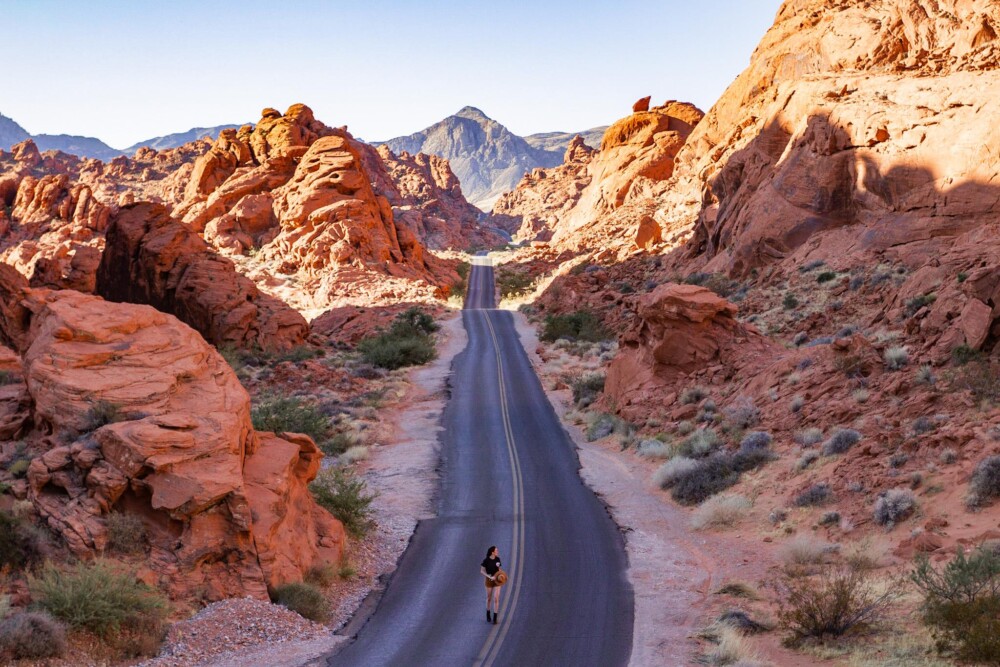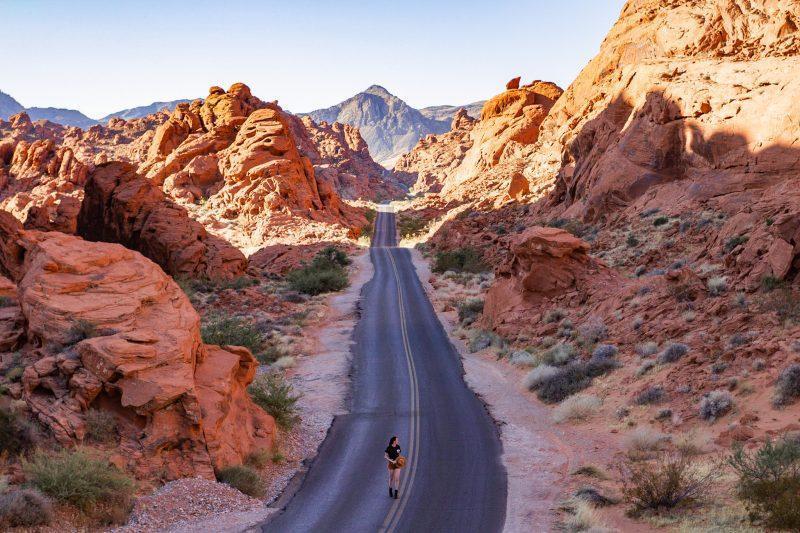 Mouse's Tank Road is the picturesque road that leads from the visitor center to the majority of the hiking trails.
Driving from the visitor center to the end of the road only takes about 15 minutes, so I would definitely recommend driving to the end and back to soak in all the beautiful scenery.
The most picturesque spot is found between Mouse's Tank Trail and Rainbow Vista, looking back towards the visitor center.
You will see the vibrant red rocks with a mountain peaking in the distance.
Even though this is mostly a scenic drive, you are able to pull out on the side of the road and hike up the rocks to get a better view.
You will see plenty of people doing this to get a great shot of the best view in the park.
Fire Wave Trail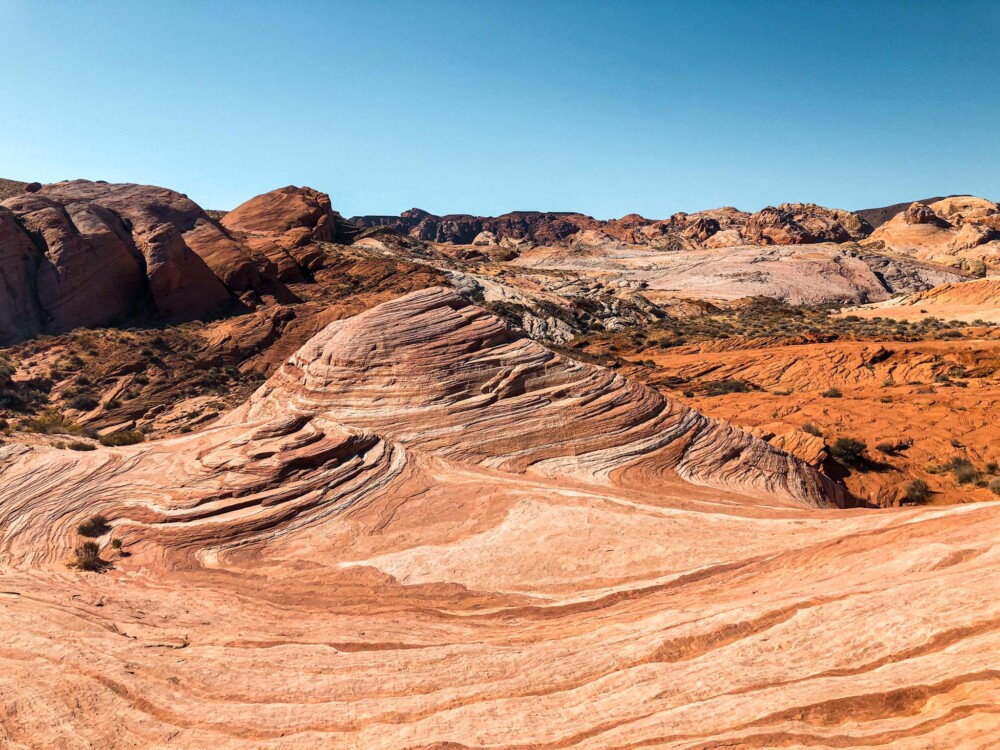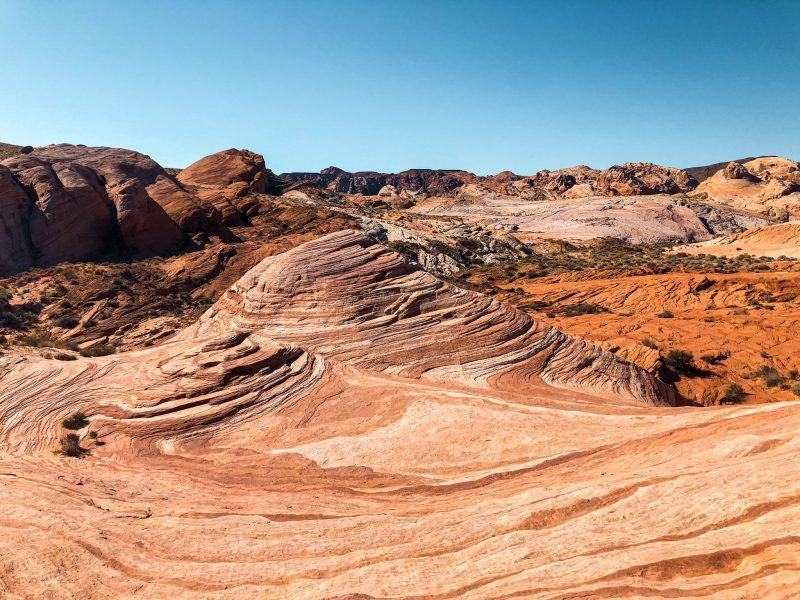 Fire Wave Trail is easily the most popular hike in the park, and for good reason.
I am sure you have heard of "The Wave" in Arizona, which is an extremely famous hike that only allows a few permits per day.
Think of the fire wave trail as a smaller and more accessible version of "The Wave."
To access the trail, park in lot #3 (which will be cleared marked) and follow the trail signs to the viewpoint. The hike is only 1.5 miles round trip and is extremely easy and flat.
Note that there is almost no shade on this trail so it is not recommended in the summer months.
White Domes Loop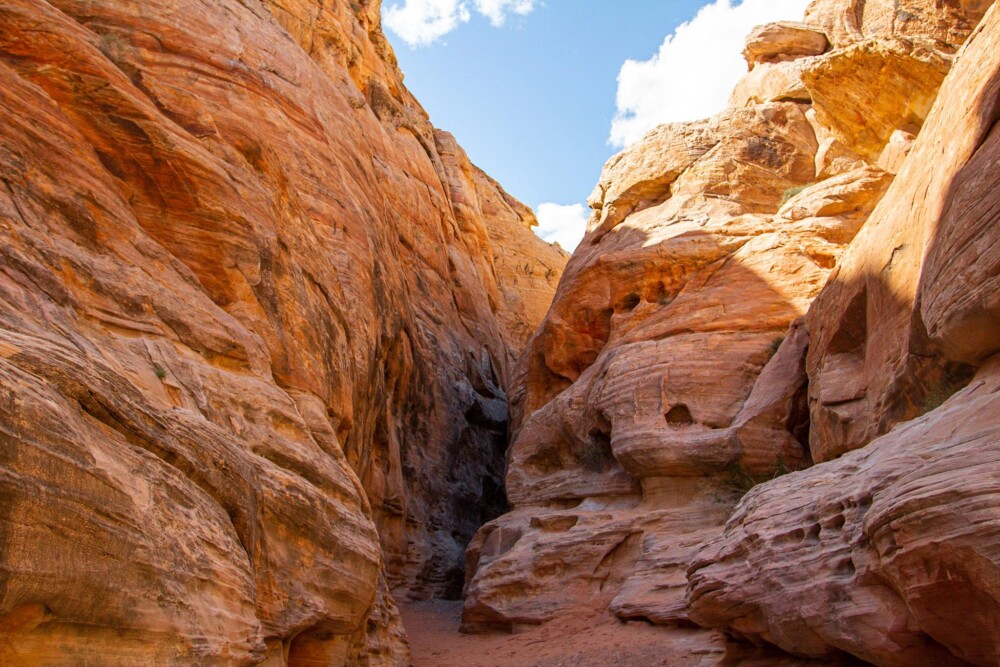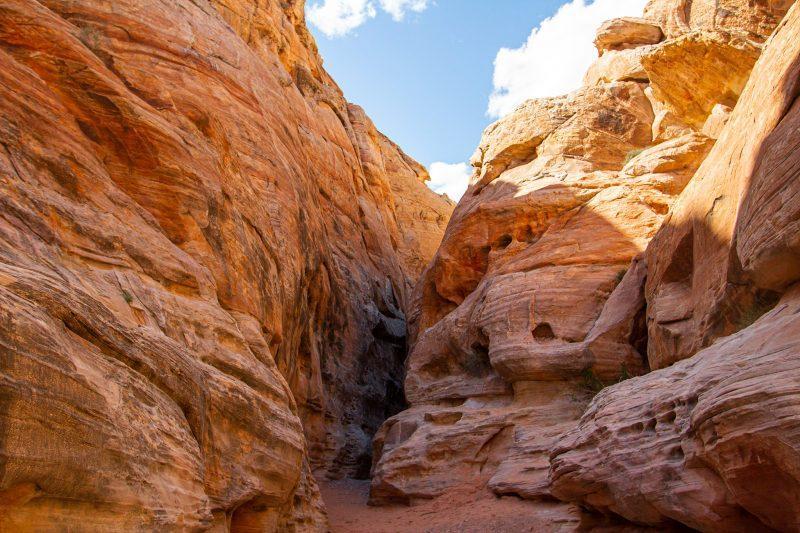 My all-time favorite trail in the park, White Domes Loop.
In just over a mile you get a perfect mix of red rock views, slot canyons, and history (there's a historic movie site along the trail).
To access this trail, you will drive along Mouse's Tank Road all the way until the road ends.
Since it is a popular hike, there will be picnic grounds, a large parking lot and bathrooms before you begin your hike.
This trail is fairly easy but does have a lot of loose rock so be careful with the kiddos!
The Beehives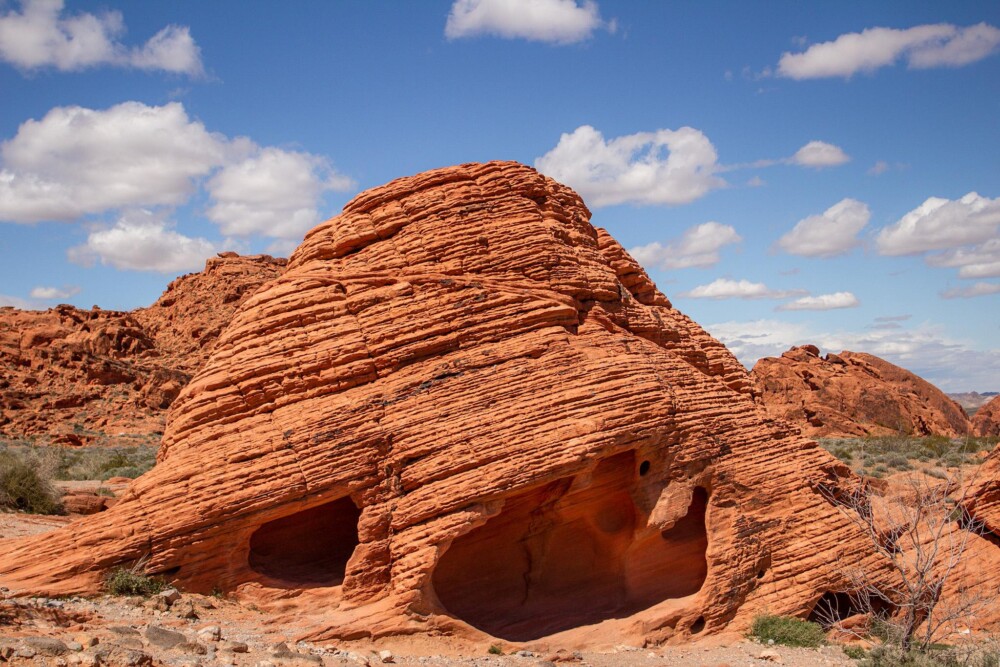 The Beehives are the first site when driving into the park, so I would recommend doing this either first or last before leaving the park.
What is unique about these is they are the perfect representation of geological cross bedding.
Ummm… what on earth is cross bedding?
In English, it means that there are multiple layers, going in different directions that are caused by wind or water.
This is also the term used for sand dunes or streams/rivers.
Once you arrive, you will be able to walk around the area and hike up the larger "beehives."
This is an amazing stop if you have kids because there are small caves in the beehives that they would love to run through! 🙂
Atlatl Rock + Arch Rock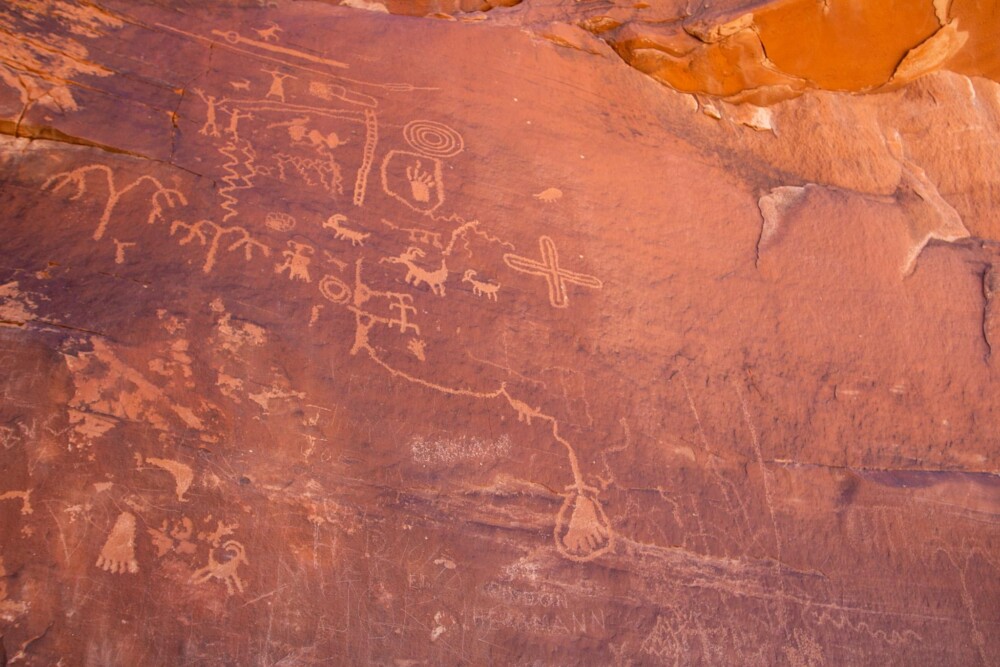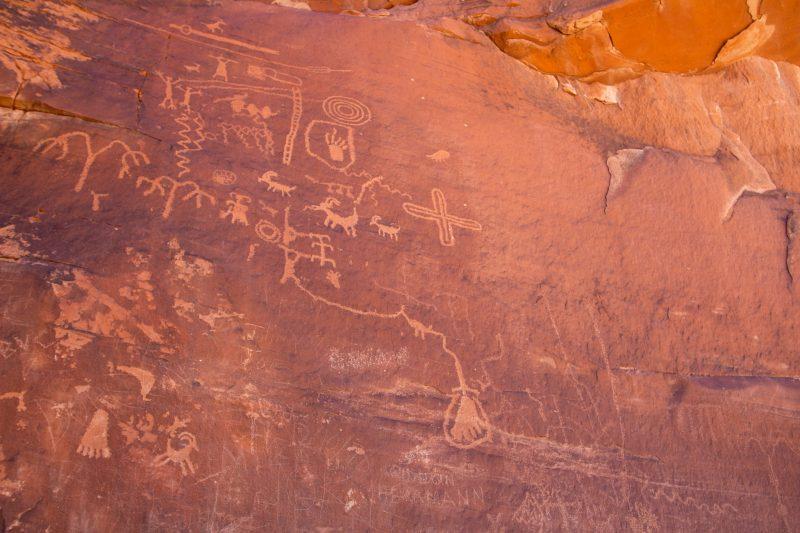 Atlatl Rock and Arch Rock are extremely close to the Beehives so it is best to do all three of these at the same time.
Atlatl Rock is where you can see ancient petroglyphs from indigenous tribes that used to live in the area.
You will need to climb up a few flights of stairs to see the carvings but it is definitely worth the hike once you reach the top and catch the expansive views of the valley as well.
Arch Rock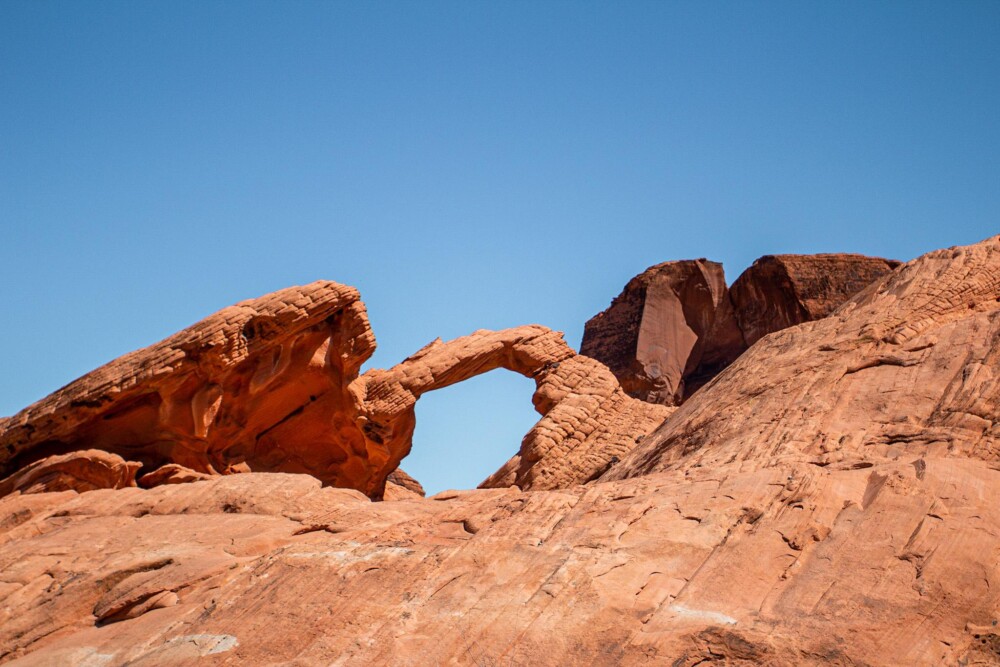 Arch Rock is a natural arch that has formed over millions of years by wind and water.
The thing that is so neat about natural bridges and arches is that these will not be around forever.
Eventually they will become too heavy and break, which means you should see it while it lasts.
You are not able to climb on or near the arch because it is so fragile, but you are still able to get a great shot from the viewpoint.
Valley of Fire or Red Rock Canyon?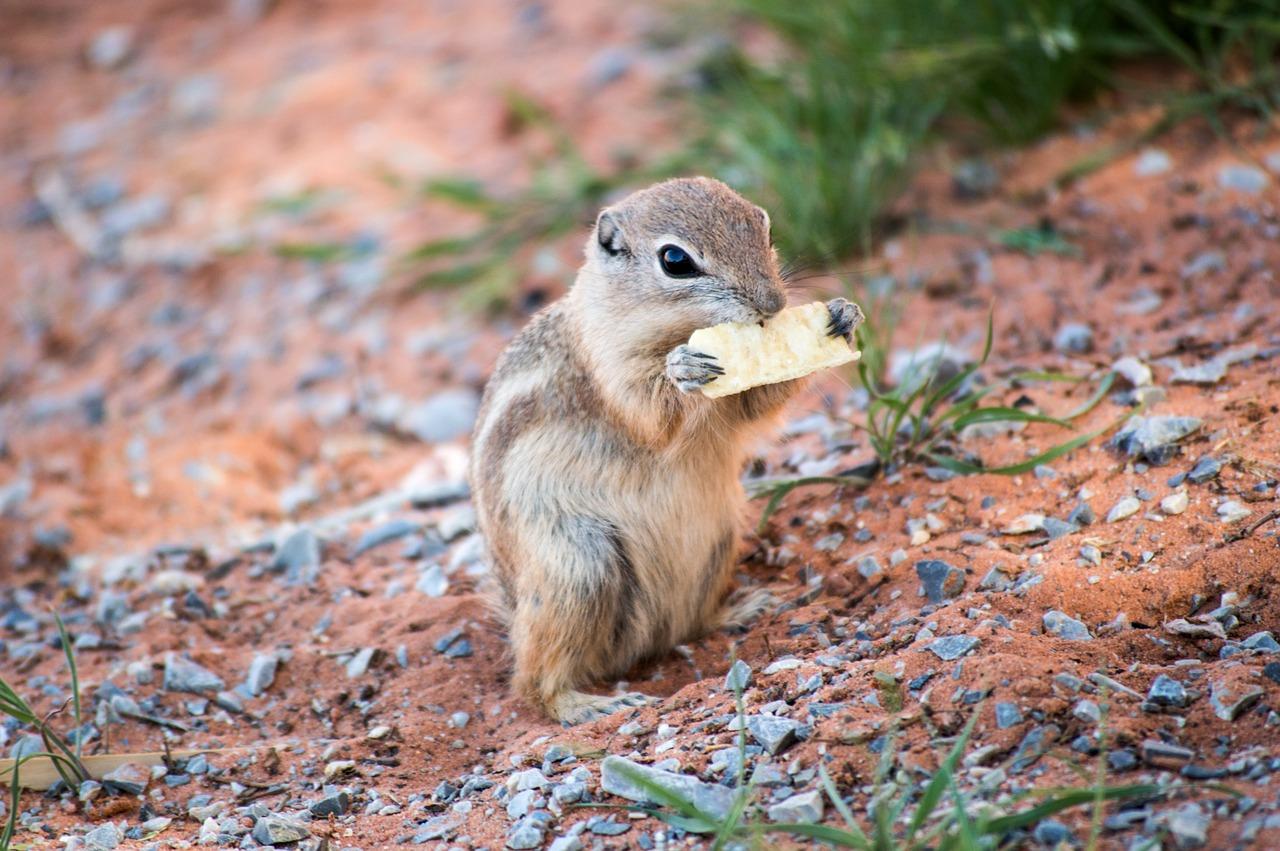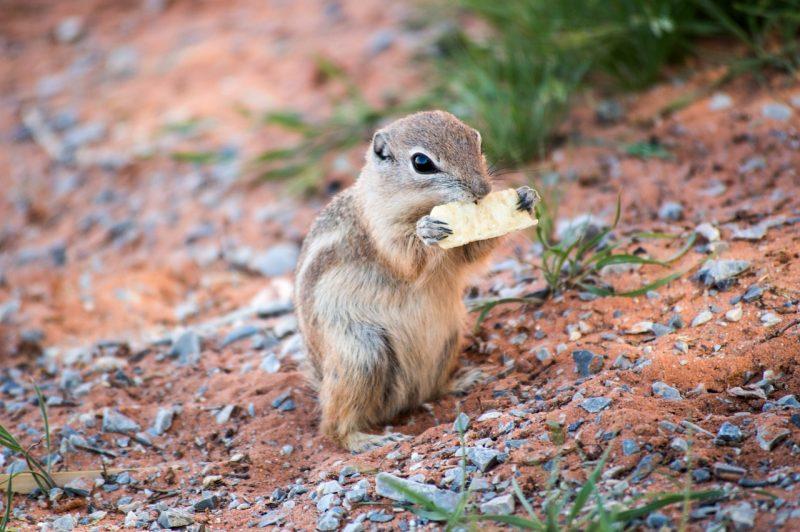 Like I said above, if you have to choose between this park and the popular Red Rock Canyon, DEFINITELY pick Valley of Fire.
There is far more to do & see, the colors are far more vibrant and the area is home to more history to learn about.
That's a wrap! A Vegas to Valley of Fire day trip is so easy to accomplish and since it is so close to the city, you have plenty of time to see many of the sites.
I hope you have a wonderful time (which, I know you will), enjoy your day in the Valley of Fire!
RELATED POST: WHAT TO SEE ON A 4-DAY ROAD TRIP FROM LAS VEGAS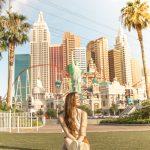 About Monique:
Monique is a Las Vegas native who doubles as an HR Manager & travel junkie (contradictory, I know). Her love for travel has taken her all over the world at only 23 & she strives to share her travel knowledge to inspire YOU to see this beautiful world we live in! When she is not traveling, she is watching Gilmore Girls for the 13th time, making itineraries she has no immediate plan to use, and drinking wine while writing for her travel blog, My Perfect Itinerary. You can follow along on her journey on Instagram & Pinterest!
Liked this post? Pin me below: