The Unicorn Cafe in Bangkok, Thailand is one of the city's most unique attractions. Admittedly, it is frequented more by tourists than by locals, but that's because this place is Instagram heaven.
From rainbow-colored cake to unicorn onesies for rent and sale, you won't find a better place to indulge your imagination and discover once and for all that unicorns do exist.
Guests are estimated to spend anywhere from a half hour to an hour here, since the food is served cafe-style and most people grab a picture and go. Lured by the free wifi, A/C and endless photo opportunities, I found myself spending more than 3 hours here, and loving every second of it.
RELATED POST: TAKING AN EVENING TUK-TUK TOUR OF BANGKOK
If you are planning a visit to Thailand and love over-the-top, feminine picture stops, then this is the place for you! Here's everything you need to know before you go to the Unicorn Cafe in Bangkok, Thailand.
Unicorn Cafe Bangkok Location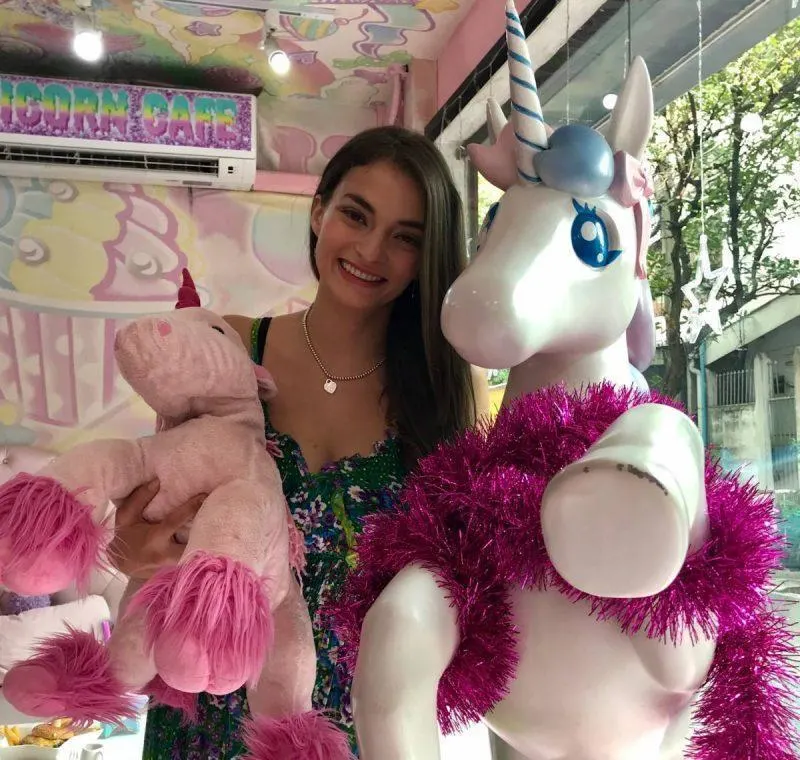 The address for the Unicorn Cafe Bangkok is 47/2 Soi Sathon 8, Bangkok. You can take the BTS Skytrain to the Chong Nonsi station and it's a five minute walk from there. You can also take an Uber, which is available in Bangkok, or choose to take a taxi or tuk-tuk instead. There's also a local alternative to Uber called the Grab app, which allows you to choose from various modes of transportation and can sometimes come out the cheapest. The Grab app accepts credit cards.
Getting around in Bangkok in the middle of rush hour can be difficult, and this cafe is right in the middle of the action. Keep that in mind if you're heading anywhere during that time–it took me an hour and a half to go on an estimated 20 minute ride per Uber back to my hotel and I was almost late for my next activity. If you're going between 4pm and 7pm, you're better off taking the Skytrain.
.
Note that there are two locations: Zone A and Zone B. The address I gave you will lead you to Zone B, the better zone in my opinion. Zone A is the original and is right around the corner. It's worth a visit to both, but in my experience Zone A was overcrowded and much louder, which didn't lend to lounging and photos as much. It's worth a stop by Zone A to take a picture with the giant unicorn out front. Otherwise, the two areas offer the same menu and souvenirs so you're not missing out anything by going to one over the other.
Unicorn Cafe Bangkok Menu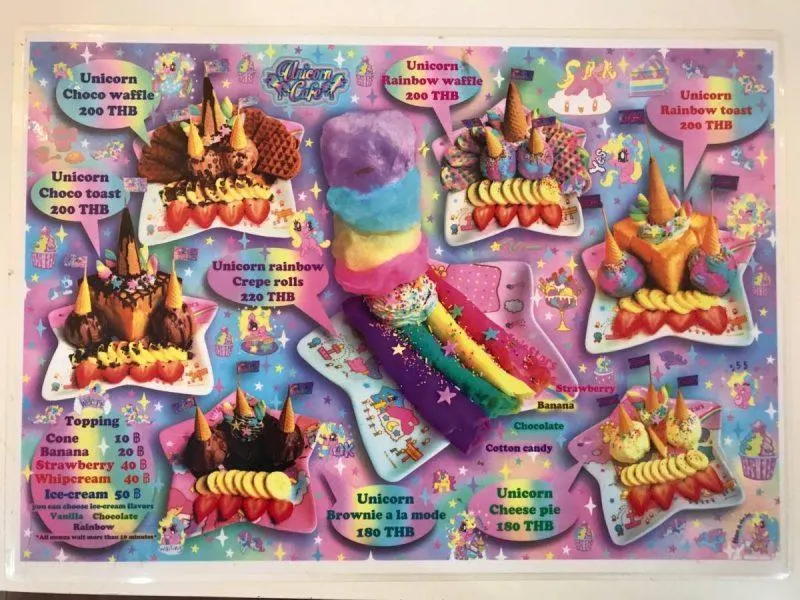 You have no shortage of colorful food options. If you come hungry, they do have substantive food available, including a rainbow cheeseburger with a unicorn cone on top. Their specialties, however, are dessert. The plates are massive and made to be shared. They also have colorful shakes and frappes, many with a milk base so be sure to ask if you have any allergies or intolerances. With so much to choose from, it was hard to make a decision.
Thankfully, prices are so low that you can order a variety of items. While the cake I tried was really pretty, it wasn't very flavorful. I would probably opt for the waffle or french toast creation on a future visit.
The food here is not authentic Thai. Quite the opposite, it's more reminiscent of American fast food, but that might be a welcome change of pace if you've already been in Asia for a while. For me, the combination of a hamburger and top 100 pop music in the background made it feel strangely familiar and homey.
RELATED POST: VISITING A FAMILY-OWNED COOKING SCHOOL IN CHIANG MAI
Unicorn Cafe Bangkok Instagram
This is a great place to get Instagram photos or video footage. Surround yourself with unicorns, record the rainbow colored swirls of the food or even span over the hundreds of "My Little Pony" horses on display.
If you want variety, I recommend that you move around. I took a tripod with me and had no problem setting it up in Zone B, where there was more space and not as much movement to make me worry about someone knocking it over. There were some kids stopping by after school that even wanted to take pictures with me.
If you look like a foreigner, you'll find this is common in Thailand. Many locals will ask to take photos with you, especially if they see you using professional photography equipment. I think some bloggers get annoyed at this but I was flattered and obliged everyone who asked, so somewhere out there are at least a dozen photos of me in this cafe with random people from all over the world. I think that's a beautiful thing!
Unicorn Onesies and Other Accessories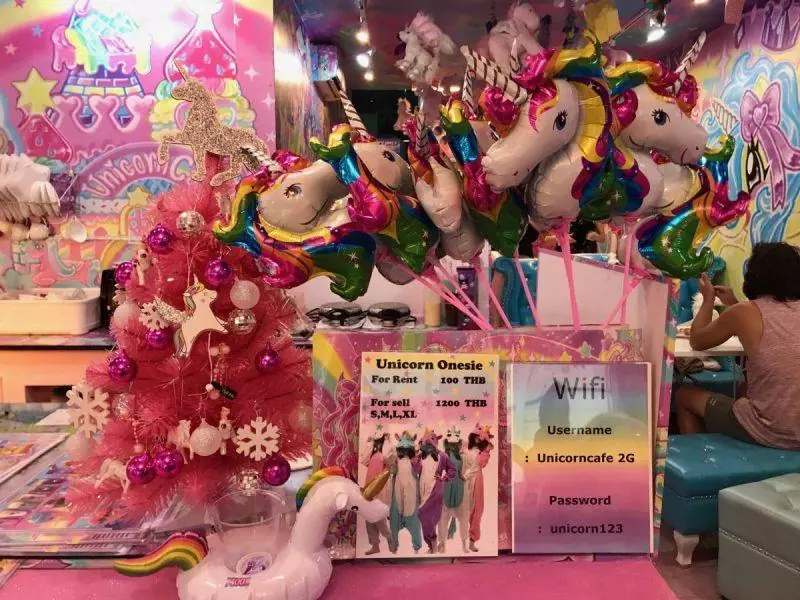 There are many accessories and souvenirs for sale here, from stuffed animals to unicorn pool floats, but by far the most popular accessory is the unicorn onesie. You have the option of renting or buying it outright, and you can choose your color. I saw so many people embracing this trend, from little girls to grown men, that you shouldn't be embarrassed or nervous about what others might think.
If you ever wanted to dress up like a mythical creature in public and get zero judgment, this is the place to do it.
Here, and Comic-Con.
Know Before You Go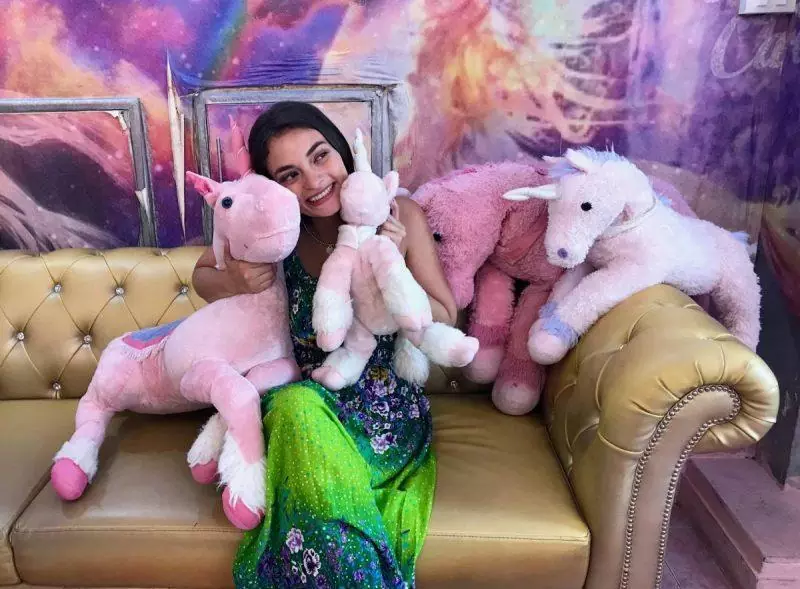 The cafe is walk-in only and does not accept reservations. If you Google it, you can see peak hours for the day of your visit and plan around that. There is free WiFi, just ask the cashier for the password. It wasn't working initially when I arrived and they have different usernames and passwords depending on which zone you're in. They also accept cash or credit cards.
Unicorn toys and stuffed animals are sprinkled liberally throughout the seating areas. Don't be afraid to move them around or ask to borrow a specific one if you need it for a picture. The Unicorn Cafe Bangkok is closed on Mondays, otherwise the hours of operation are from 12pm to 8pm daily. This is a great activity for your first or last day in the city since it doesn't take up much time and can be easily planned around a flight.
Unicorn Cafe Bangkok Review
While this will certainly not be the most cultural activity you do while in Thailand, it's one of the most entertaining and well worth a stop, even if you're just passing through for a quick bite and photo opportunity.
If you're ready to embrace all things pink and girly, and eat some of the prettiest food you've ever seen, then don't miss the Unicorn Cafe Bangkok on your next visit to Thailand.
Have you ever been here? I'd love to hear what you thought! Feel free to comment below.
Want more interesting sites in the area? Check out these day trips from Bangkok. Also, if you're heading to Koh Phangan, one of Thailand's most popular islands, see if one of these cafes suits your fancy.
Till next time, safe travels!
RELATED POST: VISITING THE JAMES BOND ISLAND IN PHANG NGA BAY, THAILAND
Liked this post? Pin me below!