Toronto has some of the best street art in North America, and Graffiti Alley is a great place to start if you want to see that work on display. Located just off the ever-trendy Queen Street W., it's an Instagram lover's dream.
If you need a pop of color in your life, you will get more than your fill in this 1 kilometer long span of urban art that thrives behind local businesses. It's locally referred to as Mercer's Alley, since Rick Mercer used the walls as backdrop for his tv commentary.
The level of artistry is due in large part to a championing of street art by various organizations in the city, and a push to beautify the area with local pieces.
Today, Graffiti Alley has taken its place as one of Toronto's most iconic stops and offers enough visual intrigue to keeps kids and adults alike entertained for an hour or so of strolling.
Here's everything you need to know to plan a visit to Graffiti Alley in Toronto, Canada!
RELATED POST: TAKING A FOOD TOUR OF TORONTO'S KENSINGTON MARKET
Canada 150

2017 marks the 150th anniversary of Canada, dubbed "Canada 150" for short. The country has seen a renewed burst in tourism, even offering a Canada 150 pass to allow free entrance to certain national parks.
Attractions like Banff are famously known and frequented, while lesser known Canadian pastimes like dog sledding and maple tree tapping have also gained in popularity. If you're looking to explore America's neighbor to the north, there's no better time to go than now.
Directions to Graffiti Alley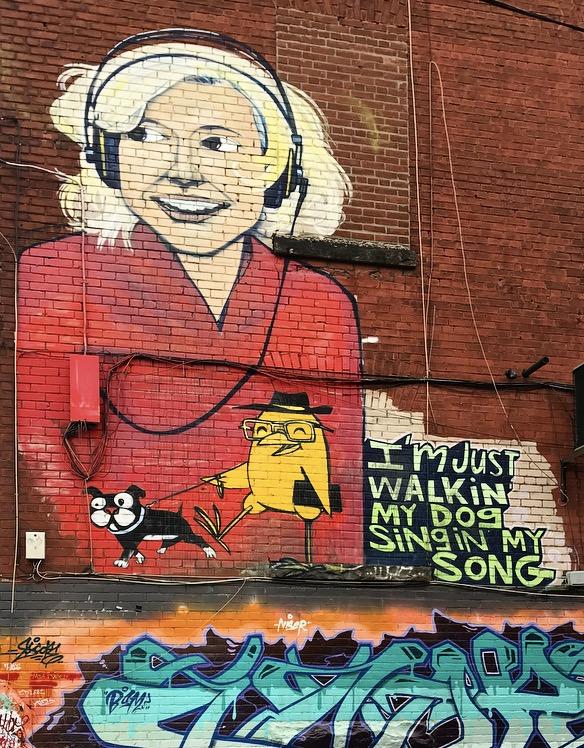 Graffiti Alley is located between Queen Street and Richmond Street and runs west from Spadina Avenue to Portland Street. You can access it any number of ways, just head for the colors. There's also art in the surrounding streets and alleys leading up to the alley itself.
You'll find a ton of tourists here, all hoping to snag pictures of the walls. Generally, everyone is respectful and allows others to take shots as needed. You'll also see plenty of art students coming here for inspiration. There are events held here at times–the weekend I went there was a festival taking place in the alley.
Aside from well publicized events, however, I wouldn't advise being here at night. It's best to see the art with sunlight anyway, so aim for first thing in the morning to avoid crowds and get soft lighting for your pictures.
RELATED POST: THINGS TO DO IN WINNIPEG, CANADA
History of Graffiti Alley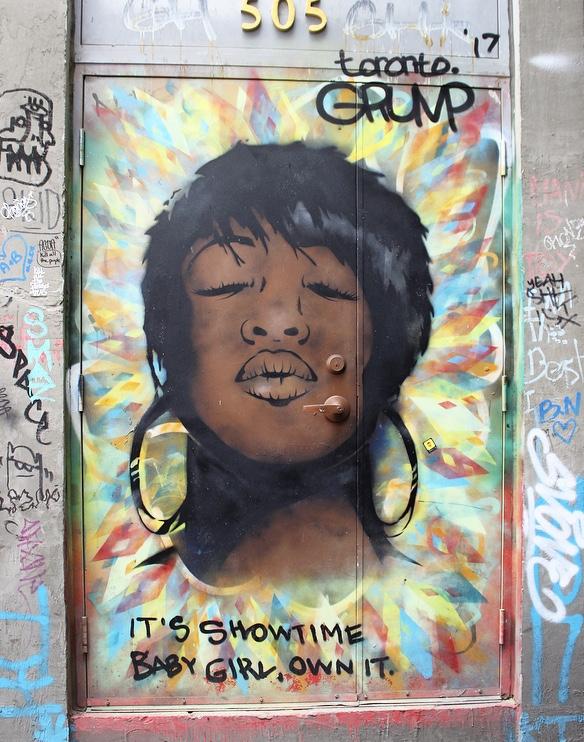 Graffiti Alley is significant in its history for being the first stretch of legalized graffiti in Toronto. Owners were being fined for not removing the art (who can blame them?) and the legislature decided to change that by legalizing this otherwise prohibited means of creative expression. Currently, if there is street art on your property you can petition the city to be allowed to keep it or paint over it at your expense.
While graffiti is traditionally associated with the painting of one's name in bubble letters, street art is much more elaborate and constitutes a mural. It can help beautify a space. While the art is not expected to be permanent, it does need to be replaced by a superior piece, and it's disrespectful to partially paint over an existing mural.
The famous fish wall seen throughout the alley is painted by Uber5000, one of the most prolific street artists in the city. Clearly, no one has been up to the task of out-painting him, as this masterpiece has stood since the early 2000's.
RELATED POST: TAKE A HISTORICAL WALKING TOUR OF TORONTO
Graffiti Alley on Instagram
You may already recognize this place from Instagram–it's blowing up as one of the most colorful backdrops to take photos. It's hard to find a bad place to pose here. I recommend going when the weather is nicer to enjoy the walk and not have a lot of bulky outerwear in your photos. I went in early August and it was perfect.
I took this picture with a DSLR camera on a timer and a tripod. I tried to have random strangers take pictures of me as they were passing by, but I wanted to have time with the shot and really experiment with angles and positioning. It worked out! My pictures from here were a huge hit. The things we do for the 'gram.
RELATED POST: FOOD BY CHOPPED CHAMPION KEITH PEARS AT SOCO KITCHEN + BAR, TORONTO
Know Before You Go
Most of the parking in this area is city parking that requires payment by the hour. You can risk leaving a vehicle for a short period of time, but it's so affordable I would pay and take your time exploring. Graffiti Alley is still an alley, so avoid wearing open-toed shoes if you can.
There are places to eat and shop in the area. This is a fashion/arts district so it will seem more industrial than other areas of the city. It's not exactly family-friendly, but you will see people of all ages enjoying the artwork. It's also completely in the open so be prepared to brave the elements. The morning I went I had about 45 minutes before it started to rain and I had to move my equipment indoors.
You can easily spend an hour taking pictures and exploring this place, or see it in a quick 5 minute stroll just walking by. The area is largely unregulated or monitored, so feel free to linger.
Other Graffiti Spots in Toronto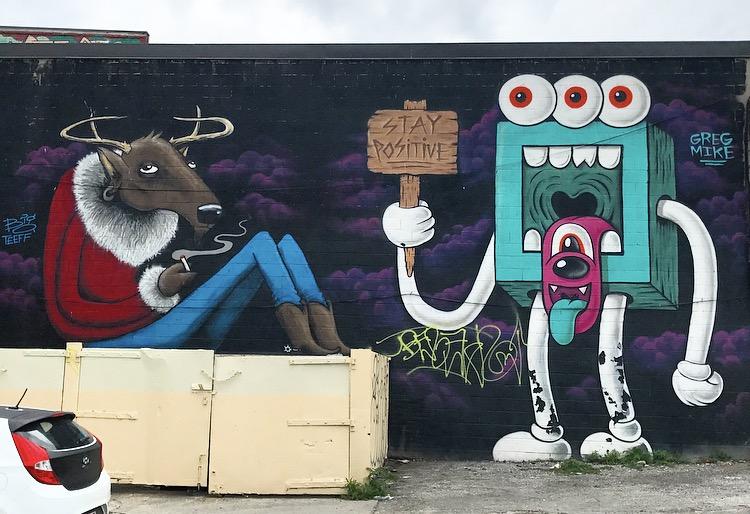 You can find street art all over Toronto, just walk down any city street. Kensington Market is a great place to go for unexpected pop-up murals and delicious food along the way. You can also see some great sculptures and art installations at the distillery district.
RELATED POST: NUGATEAU, AN ALL-ECLAIR PASTRY SHOP ON TORONTO'S TRENDIEST STREET
Till next time, safe travels!
Liked this post? Pin me below: