Looking for the best things to do in Durham, North Carolina? You've come to the right place.
I visited North Carolina several times before landing in Durham. I always associated the city with Duke University campus and, as such, made the mistake of assuming it was a "college town."
Having gone to school in Florida, I figured Durham would be like Gainesville, where the campus itself is the main attraction.
I could not have been more wrong.
Sure, a lot of attractions are under the "Duke" umbrella, but I was surprised by the life of the city independent of the university. I found small businesses, shops and restaurants that were thriving. I appreciated the sense of local pride and community.
Most of all, I enjoyed how welcoming and inclusive Durham felt. I visited during pride month and saw rainbow flags everywhere. I noticed statements on cafe boards like "the future is feminine." It felt like a diverse city and safe for solo female travelers like myself.
In short, I highly recommend visiting Durham, North Carolina on a road trip or long weekend getaway. Here are some of the best things to do once you get there!
1. Sarah P. Duke Gardens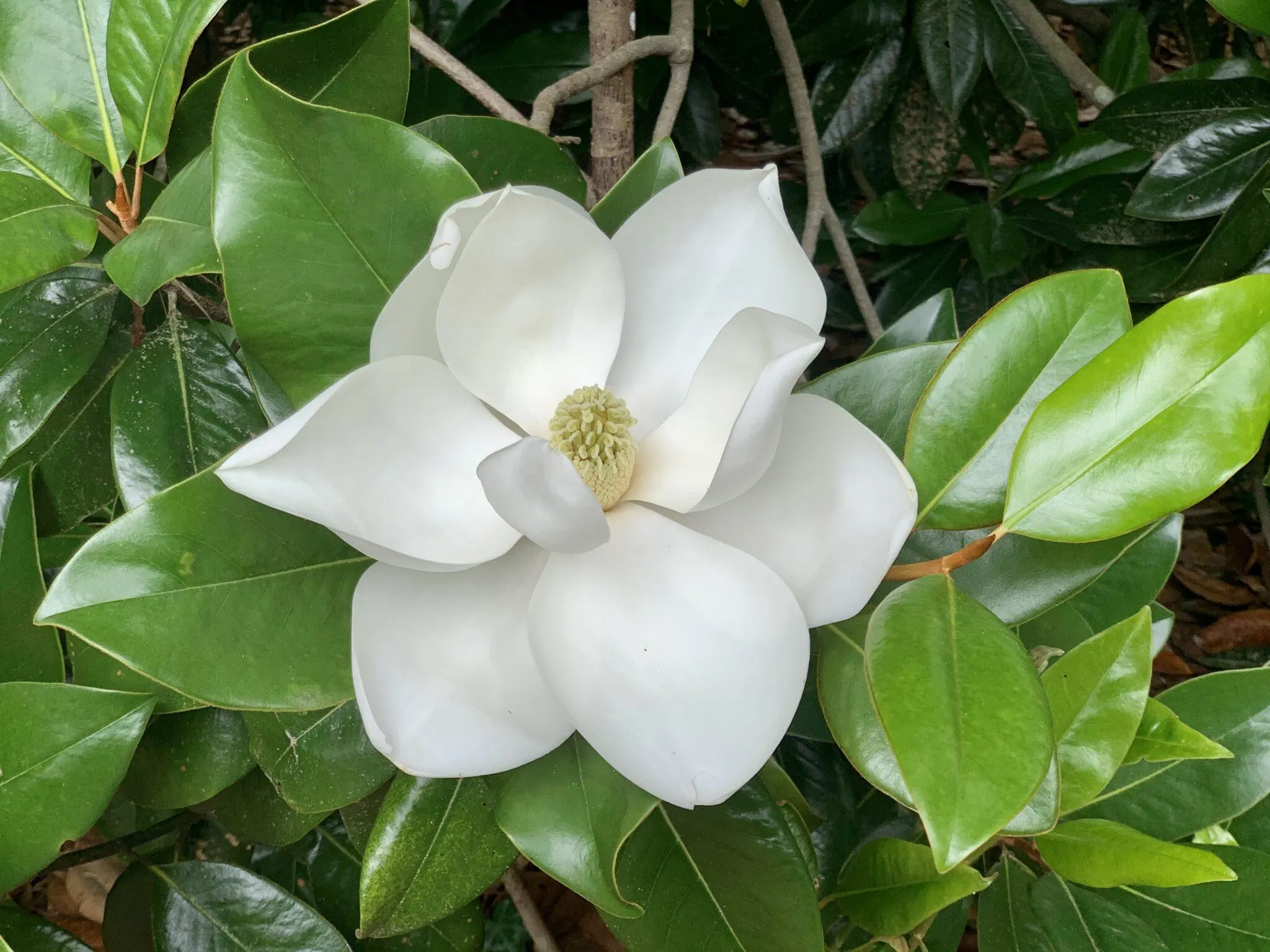 Voted one of the top gardens in the United States, the Sarah P. Duke Gardens are reminiscent of the expansive castle gardens you'd see in France or Italy.
There are 55 acres and 5 miles of trails. I appreciated the variety in flora and birds we saw throughout. There are designated areas like a Japanese Garden with a scenic bridge and bamboo forest.
You need to pay for metered parking when you arrive and I recommend going in the early morning or late afternoon to avoid the brightest sun on hot days.
2. American Tobacco Trail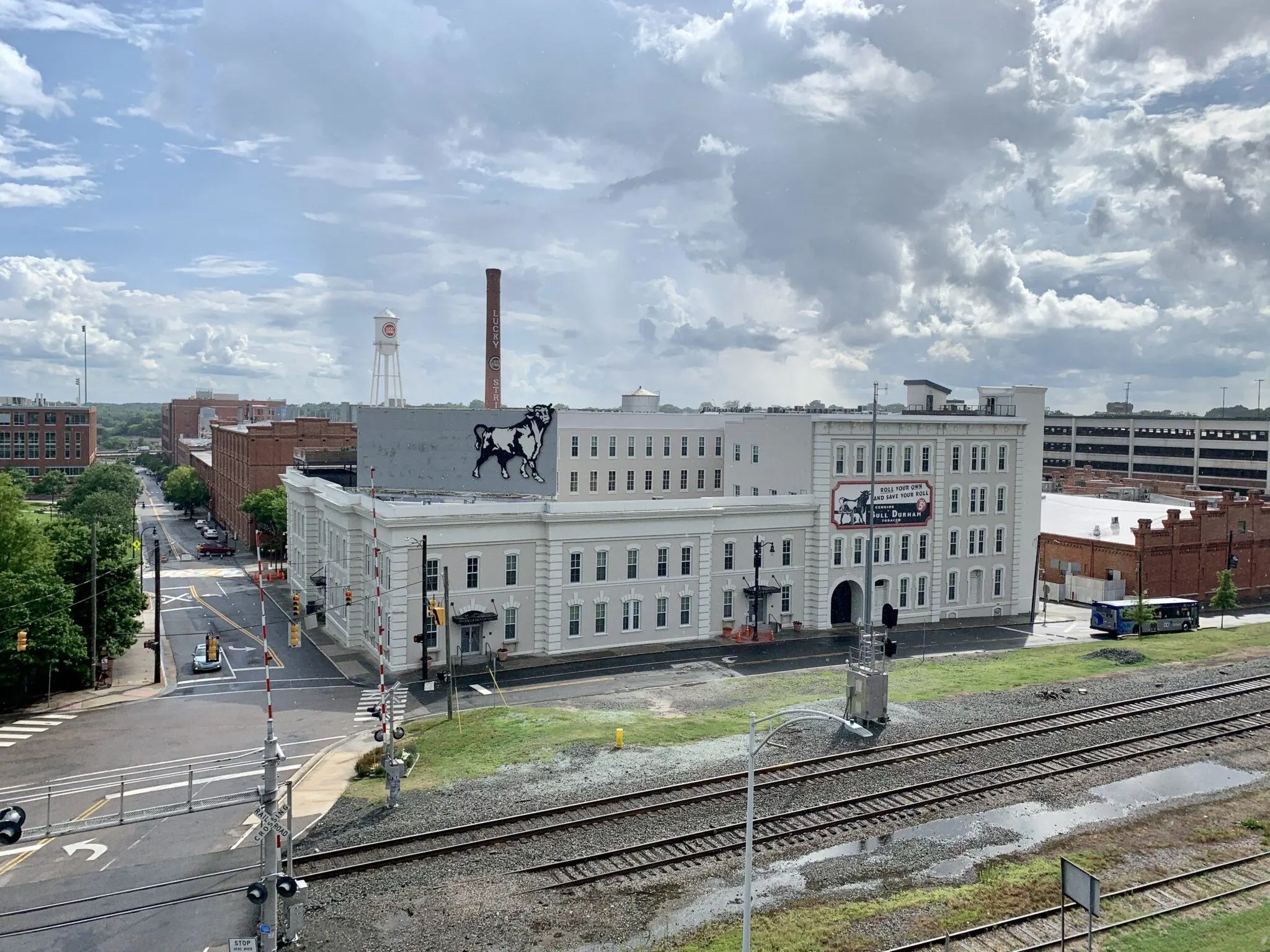 The American Tobacco Trail is parts of the rails-to-trails project, aiming to turn old railroad tracks into biking trails.
It spans 22 miles and crosses through the city of Durham.
3. Eno River State Park
This state park is lovely place to come for a hike with almost 30 miles of trails along the Eno River. I saw many families during my visit.
There's a suspension bridge that's a big draw for pictures and anyone thrilled by the feeling of the bridge moving beneath them. The water is also great for a refreshing swim on a hot day.
4. Watch a baseball game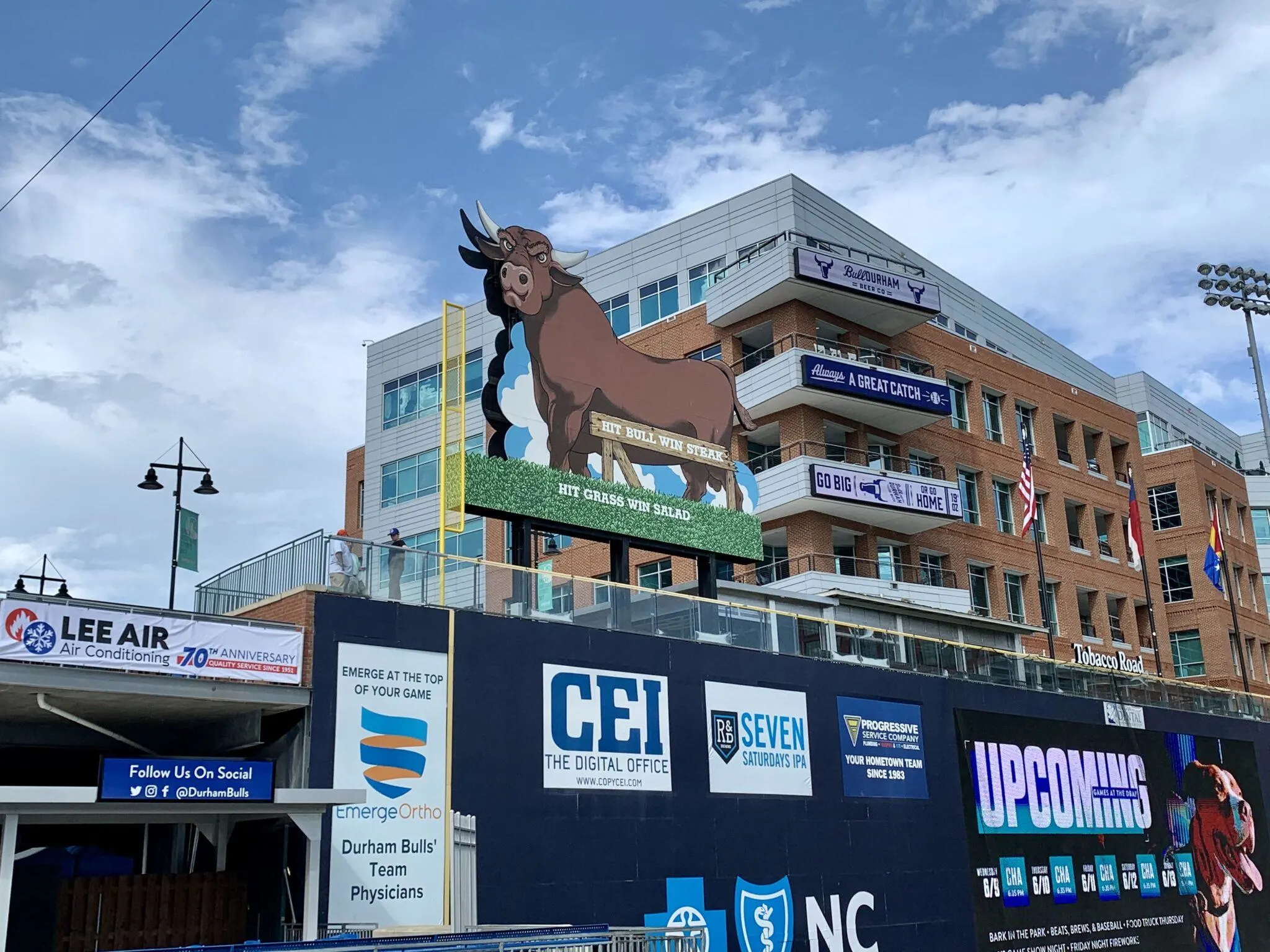 The Durham Bulls Athletic Park hosts a minor league baseball team and games are held regularly throughout the summer.
The stadium was designed by the same architects that created Camden Yards in Baltimore. If you're lucky, you may be there on a night being catered by Boricua Soul, a locally owned Puerto Rican restaurant with a southern twist.
5. Bennett Place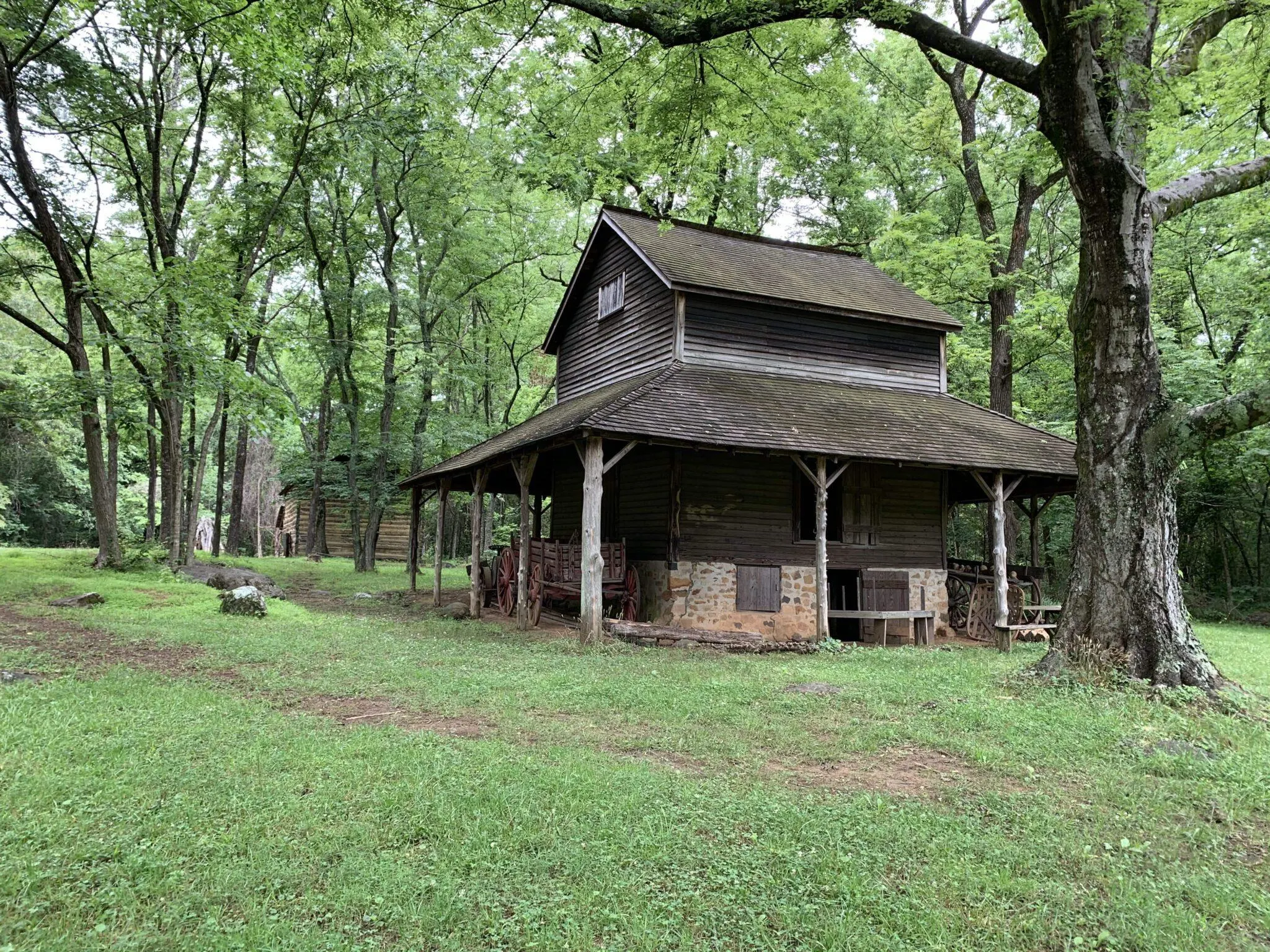 This site is a must for Civil War and American history buffs. Bennett Place was the site of the last surrender of a major Confederate army and served as neutral ground for troops while the surrender was finalized.
The original buildings burned down but there are replicas and some original features, like the stone fireplace, remain. They have living events like reenactments and an annual commemoration of the surrender.
There's also a great gift shop here if you're looking for Civil War memorabilia.
6. Stagville State Historic Site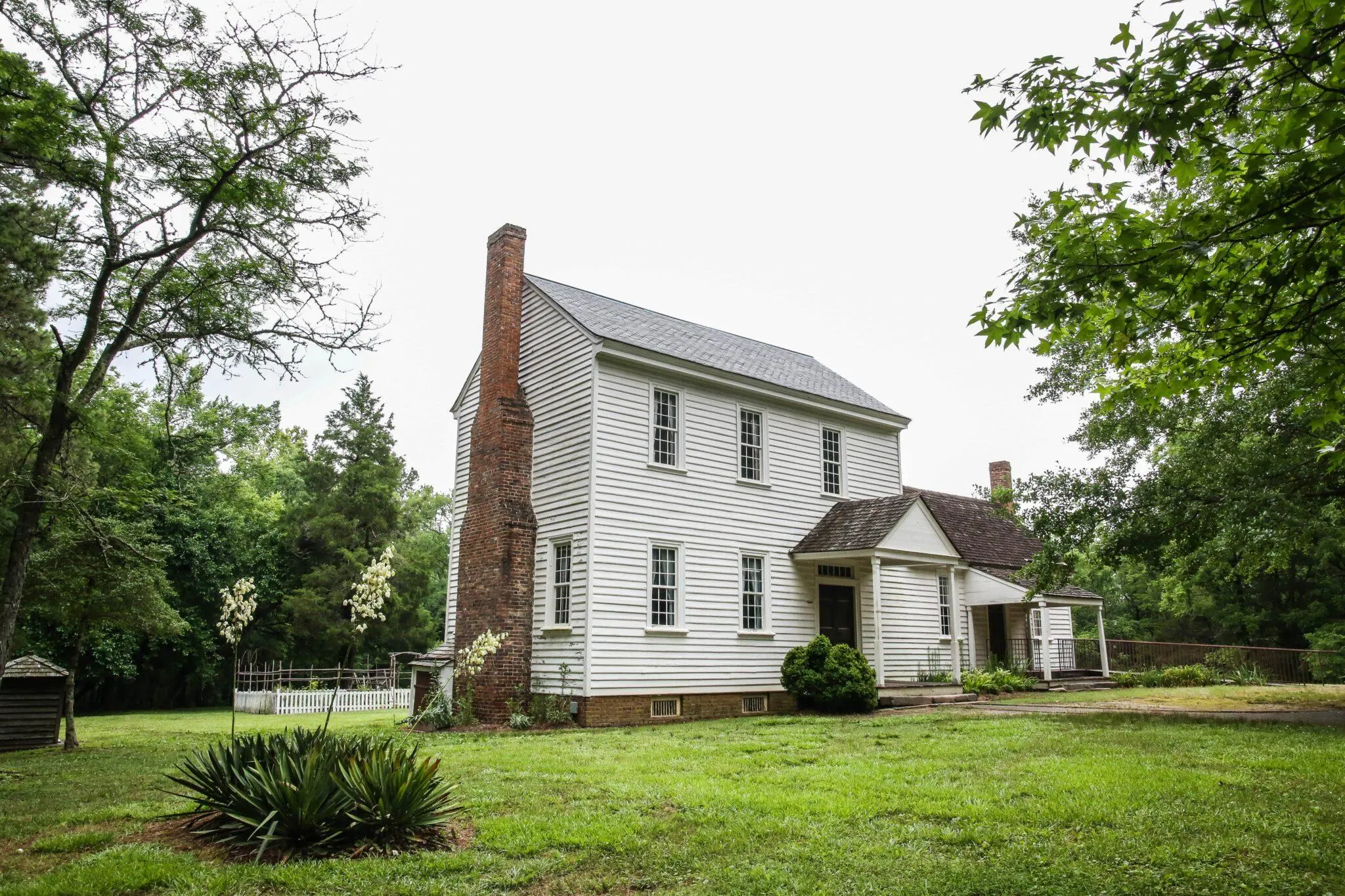 Historic Stagville is a former plantation that is dedicated to educating visitors about the history of slavery and the lives of the enslaved people on the plantation.
They have special events like a reading of Frederick Douglas' works for the Fourth of July.
7. Duke Homestead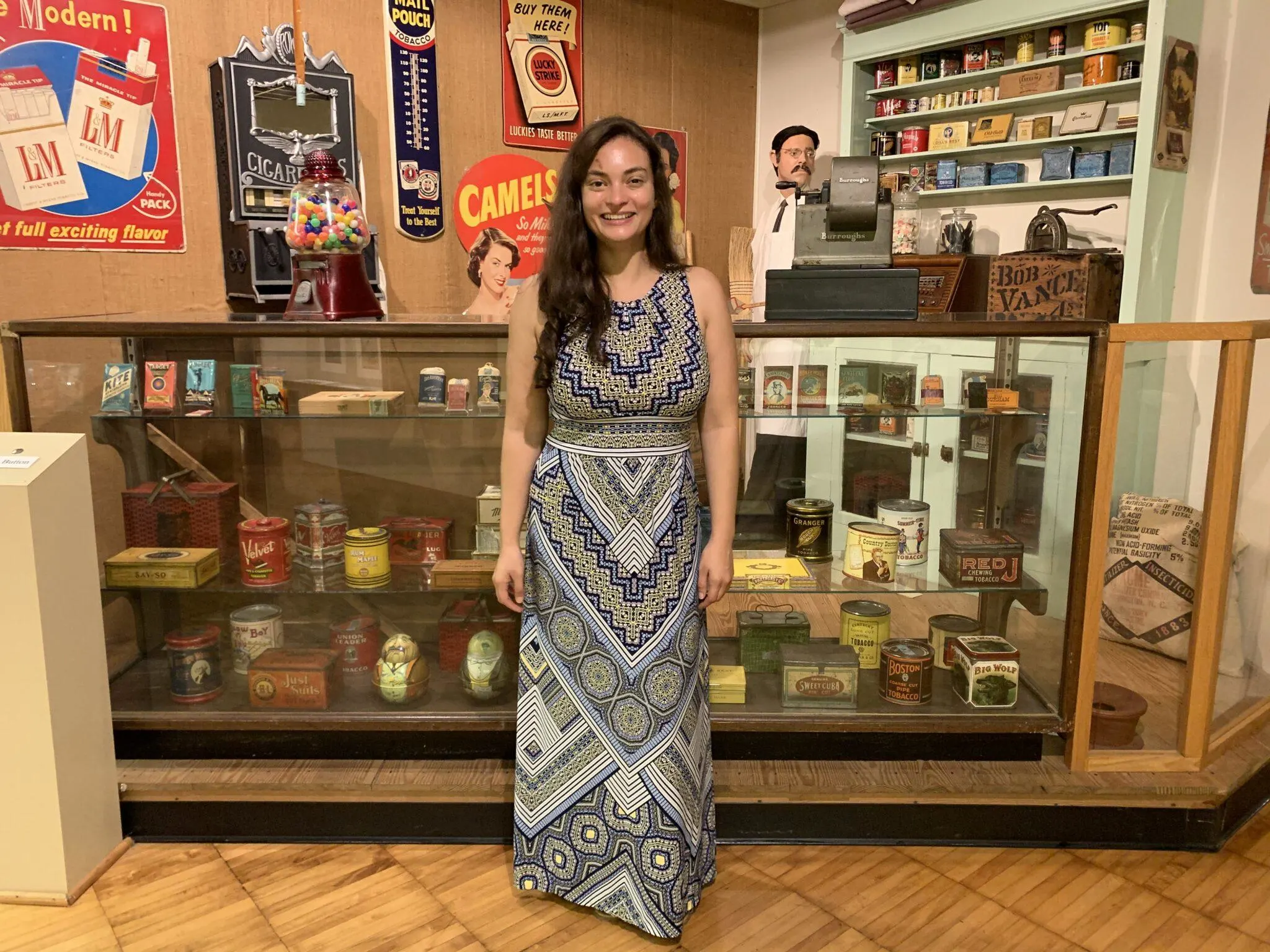 Once the home of the Duke family, this estate also doubles as a tobacco museum. You can take a 45-minute guided tour or explore on your own.
The Duke family made their fortune with tobacco manufacturing. Today, Durham has embraced its history while looking forward, even having former tobacco factories serve as cancer research centers.
8. Black Wall Street
This term is used to describe a 4-block area of historic Parrish Street which thrived in the late 1800's and early 1900's. It was lauded by Booker T. Washington and W.E.B. Dubois as the national model for a Black middle class.
This was the site of the first Black-owned insurance company in the country, as well as two banks offering mortgages and small business loans to Black city residents.
In 2004, the City of Durham started the Parrish Street Project to commemorate the street's history and honor the legacy of the people and businesses that were significant to its success.
9. Museum of Life and Science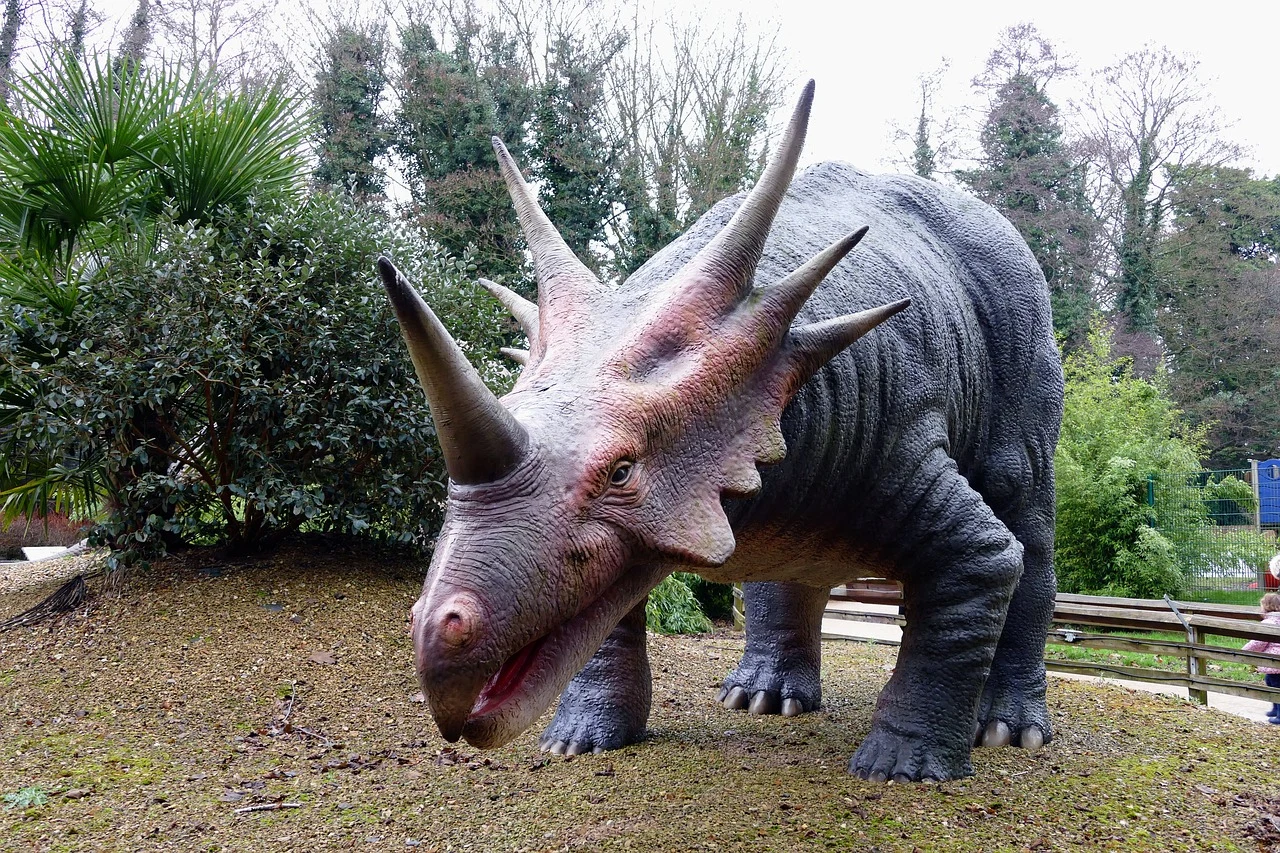 This 84-acre science museum makes a great stop for families. They have a butterfly house and treehouse that are fan favorites.
There is a train with rides available but it sells out quickly so make sure you buy your ticket first thing upon arrival.
They have both indoor and outdoor activities. Guests can spend half a day here easily without running out of things to do.
10. Museum of Durham History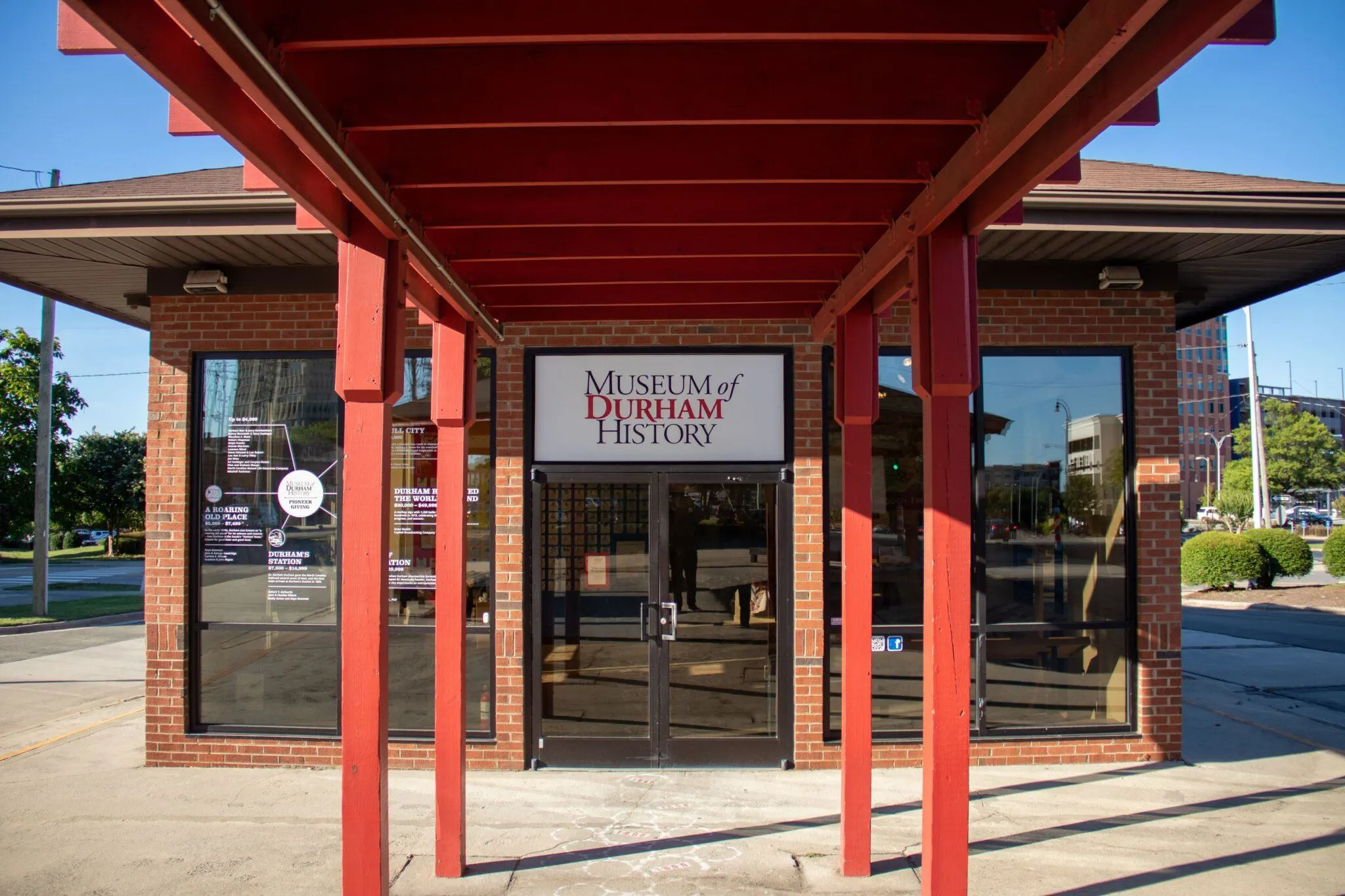 This museum is free to enter and showcases the city of Durham. The exhibits change routinely, every few months, and they usually throw exhibit opening parties.
There is a library here with books on Durham as well as old high school yearbooks if you know anyone who grew up in the area.
11. 21c Museum Hotel
This is a museum/hotel that is located in a former bank. It was designed by the same people who designed the Empire State Building and has a similar look from the outside.
Inside, you'll find artwork throughout and several floors that have been turned into a 24/7 free public museum, including the former bank vault.
12. V & E Simonetti Tuba Museum
With over 300 instruments spread across 5 rooms, this collection is a must-see for music lovers. It is the largest privately held tuba museum in the world.
The owner, Vincent, is usually on site and gives the tour himself.
13. American Tobacco Campus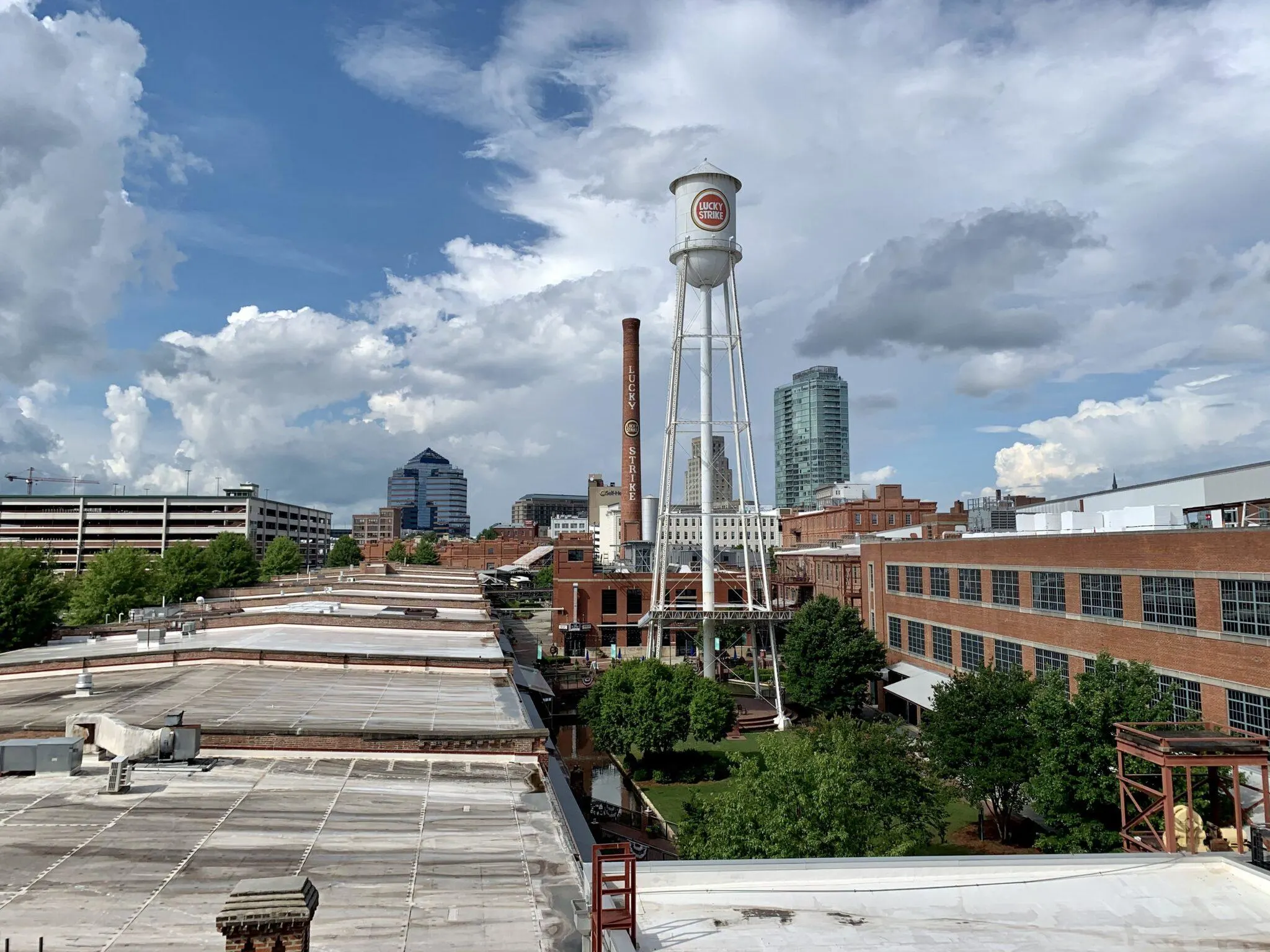 The American Tobacco Campus used to be the center of tobacco manufacturing in the city. As the main companies moved away, the industrial spaces began to be repurposed for small businesses.
It's now a shopping and dining area that serves as a main attraction in the city. There are also residential apartments here.
14. Major the Bull
The city of Durham got the nickname "Bull City" when J.R. Green, a tobacco manufacturer, adopted the bull from Coleman's Mustard label as its trademark. The tobacco later became known as "Bull Durham."
While the city's tobacco industry has waned out, the bull nickname stuck.
Today, students looking for a bit of luck will visit Major the Bull, located right in the middle of downtown, and cup his ::ahem:: jewels.
15. Catch a show
You have options for entertainment in Durham. The Carolina Theater is an iconic structure and the last remaining of thirteen vaudeville-era theaters in downtown Durham. It was built in 1926.
Just a few blocks away you'll find the Durham Performing Arts Center, where you can see broadway musicals.
16. Self-guided mural tour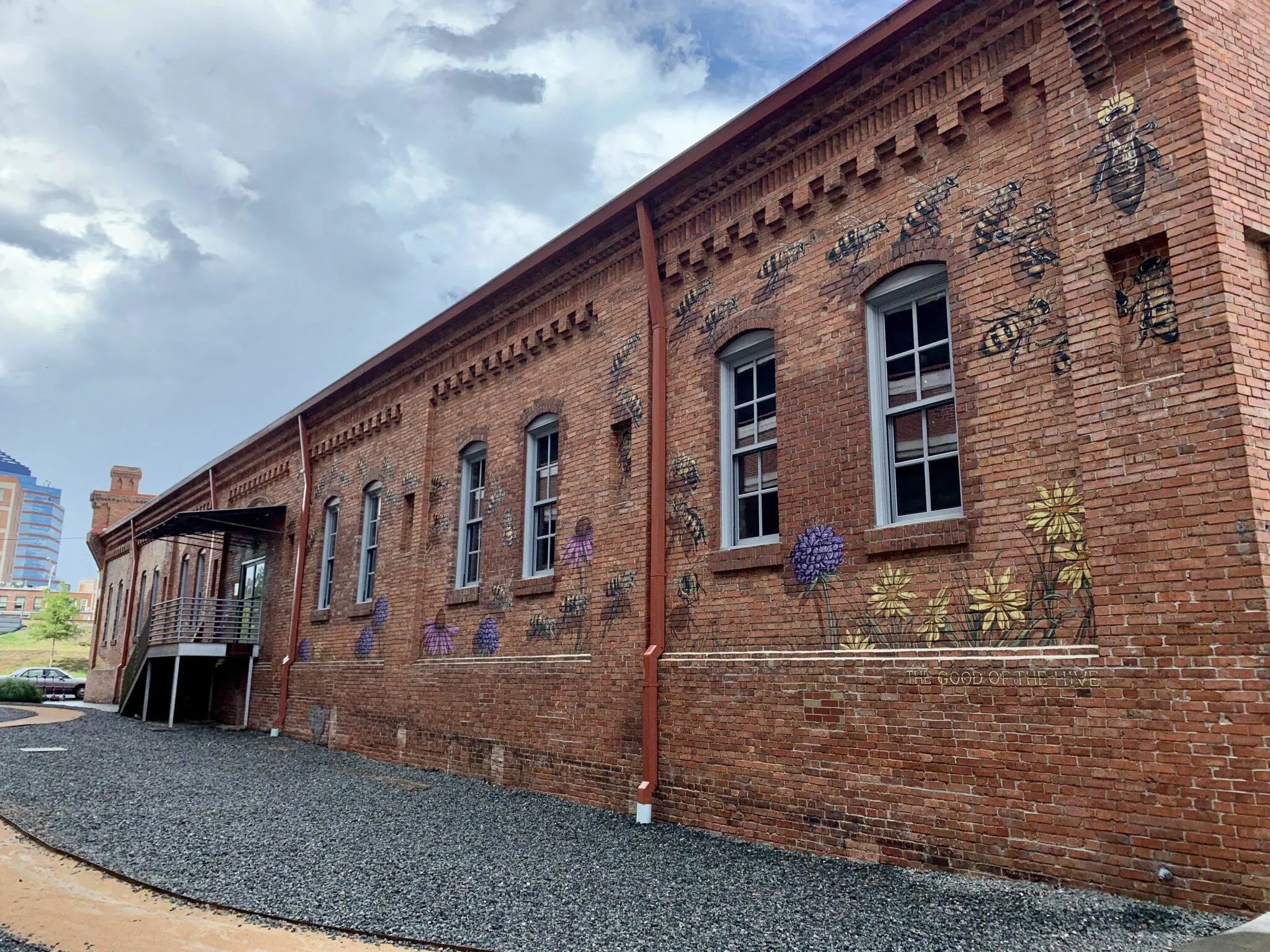 There are murals all over Durham, and you can do a self-guided tour with a little help from my friends at Discover Durham.
They have a complimentary book available at their downtown location so you can scout out the most photogenic spots. You can also download a digital copy prior to your visit and plan your route.
If walking isn't your thing, be on the lookout for bike tours and happy hours that allow you to appreciate the artwork in a new light.
17. Go shopping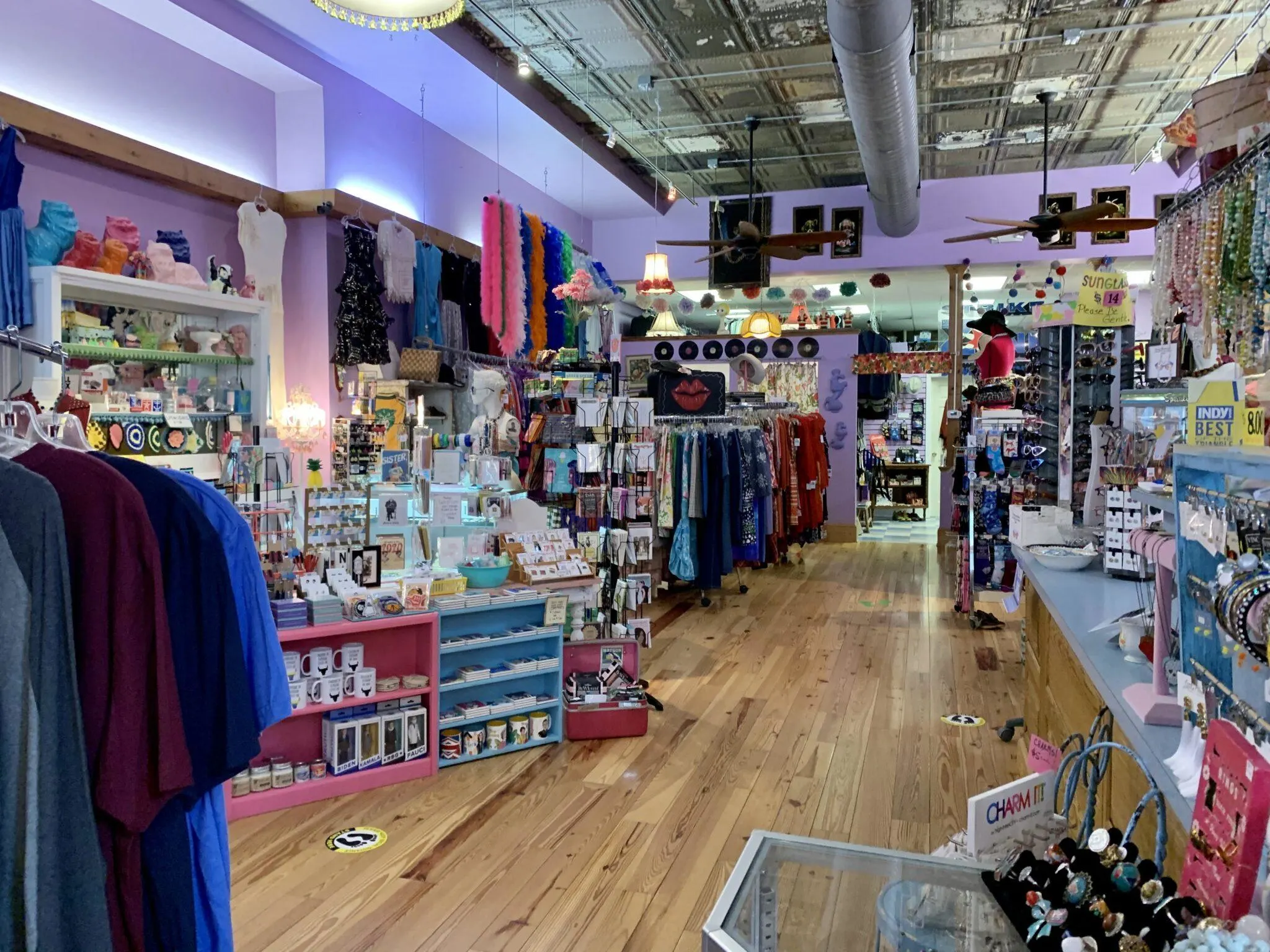 I loved shopping on W. Main Street in downtown. They had tons of cute shops. I particularly enjoyed Dolly's Vintage, featuring thrift clothing and sassy knick knacks.
I also can't rave enough about Exotique, with its vibrant prints and holistic oils and medicines. I bought a gorgeous dress there that I can't wait to wear on future photo shoots.
If you're looking for handcrafted items I suggest visiting The Artisan Market at 305 and Cecy's Gallery and Studios. Both will provide unique souvenirs and your money goes to support local artists.
18. Burt's Bees Headquarters
Did you know Burt's Bees is headquartered in Durham? They even moved Burt's cabin down on a trailer and placed it in front of the main building.
Stock up on your favorite skincare goodies and learn about bees. I enjoyed seeing pollinator gardens all over the city, as if the city embraces this and wants to help their insect population.
19. Duke Chapel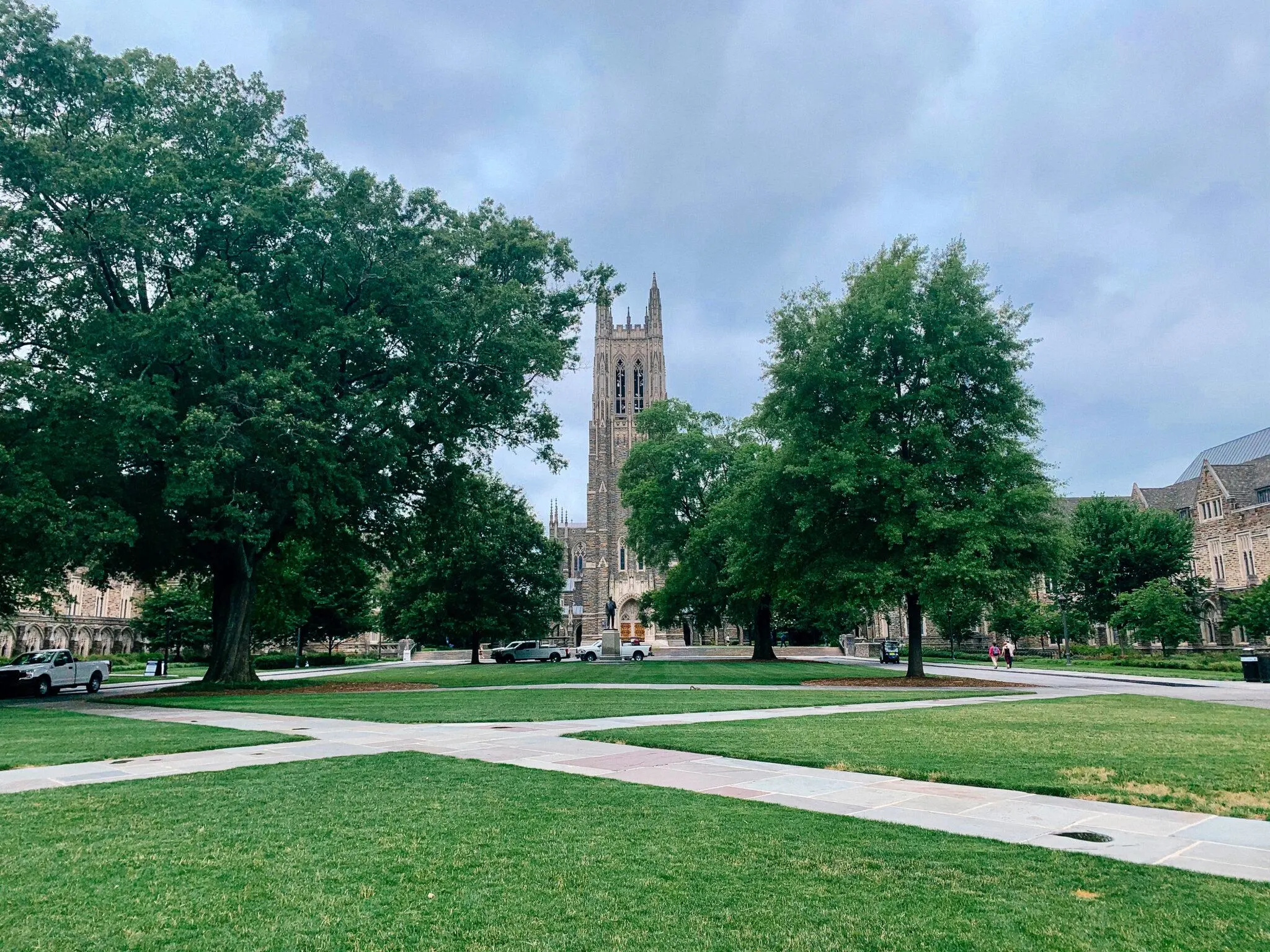 Duke Chapel stands at the center of campus and greets visitors when they arrive. It is a neo-Gothic style building and you'd almost expect the Hunchback of Notre Dame to take up residency in one of the towers.
You are able to attend church services here, though plenty of people simply walk around the perimeter. It is a common backdrop for photoshoots.
20. Nasher Museum of Art
The Nasher Museum of Art is Duke's on-campus museum. They have an impressive permanent collection of contemporary art, with a focus on artists of African descent.
There is an outdoor sculpture garden if you want to take a stroll around the grounds. They have free admissions on Thursdays.
21. Duke Lemur Center

Did you know the world's largest population of lemurs outside Madagascar is in Durham, North Carolina? Lemurs are part of the primate family but they're different from monkeys and humans.
They're also critically extinct. The work done here helps preserve the species.
You need a reservation in advance to visit the Duke Lemur Center, and you're not allowed to touch any of the lemurs in order to keep them wild and not disturb their natural habits.
RELATED POST: HOW TO PLAN A VISIT TO THE DUKE LEMUR CENTER
22. Durham Distillery
The Durham Distillery is the first distillery in the United States to make vacuum distilled cucumber vodka. They are the makers of Conniption Gin, an award-winning brand. The difference between gin and vodka is the use of juniper in gin.
They're also the first distillery in North Carolina to come up with the idea of canned cocktails, making classic elixirs like a gin and tonic.
Eager to taste for yourself? Visit the Corpse Reviver Bar downstairs, featuring cocktails made with their signature spirits.
23. Eat BBQ
Did you know Eastern North Carolina BBQ is known for its unique sauce, using vinegar as a main ingredient? Instead of tomato, vinegar and pepper take the lead and serve more as a marinade than a sauce.
If you want to taste it for yourself, make sure to stop by Picnic Durham. They have juice cuts of meat that have been cooked for 24+ hours and will have your mouth watering.
Other options include The Pit Durham and The Original Q Shack.
24. Durham Food Hall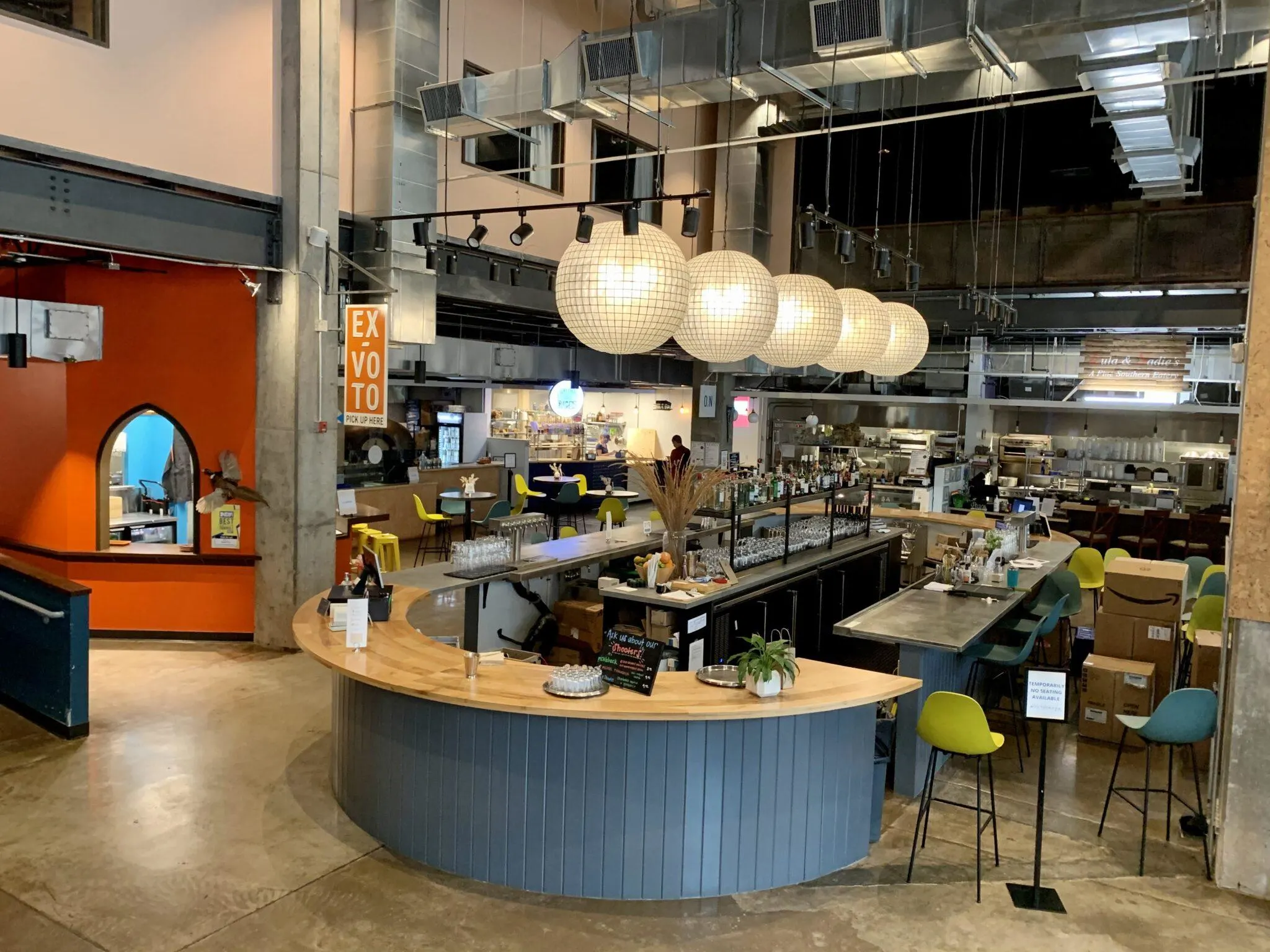 Durham Food Hall is a food cooperative that opened in 2020 and allows guests to sample a variety of local vendors in one spot. From Mexican food to bagels to sushi, you can find food here to please everyone in your party.
The vendors often collaborate with each other, so you'll see a specialty dish in one stall made with another's signature product.
The building also doubles as an event venue and you can rent the upstairs for a wedding or shower.
25. Hang out at a rooftop bar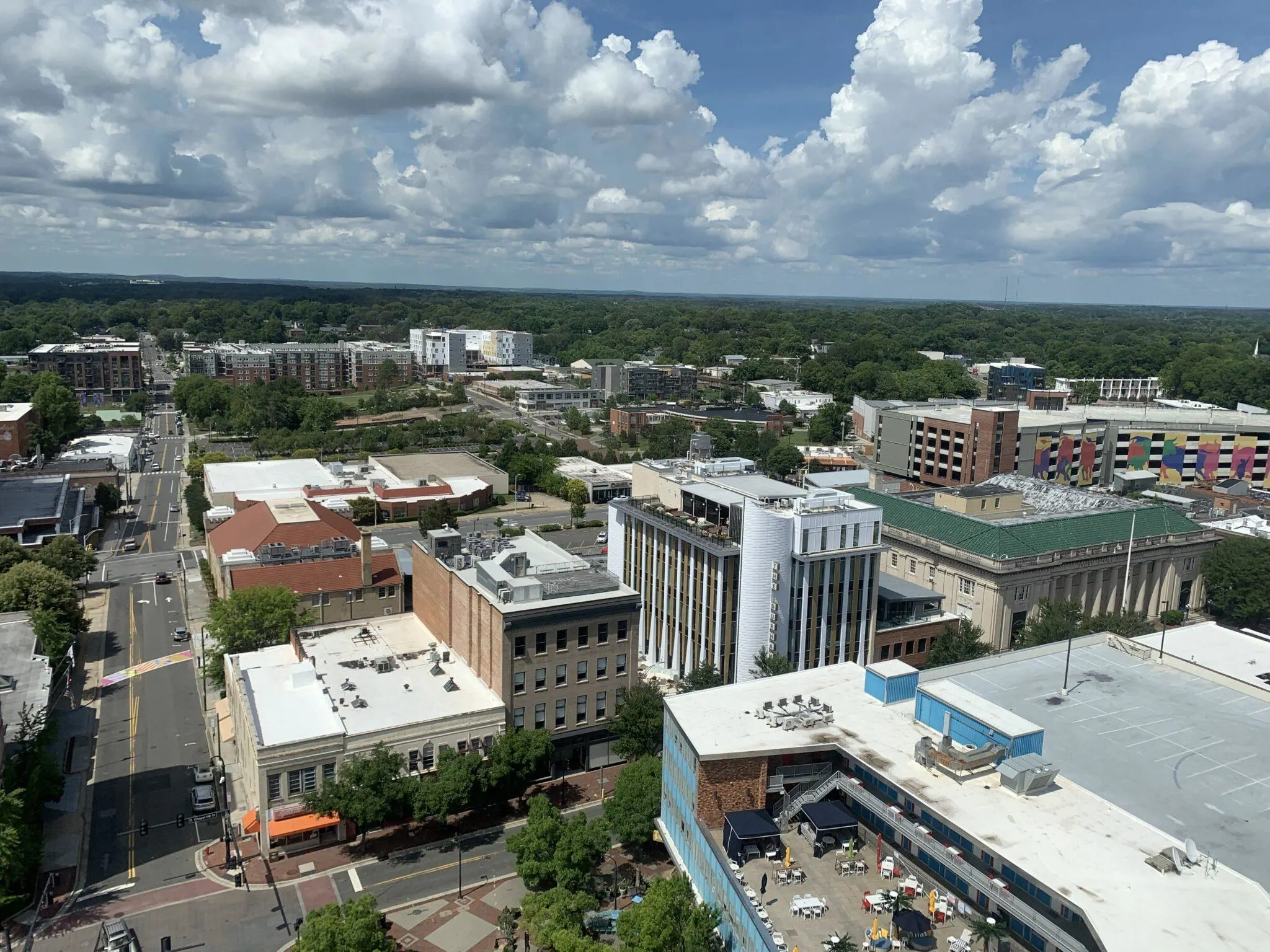 Rooftop bars are the place to be seen nowadays, and two of the hottest options in Durham are right next to each other. The Unscripted Hotel rooftop has a 70's mod vibe, with colorful outdoor furniture and a pool.
Meanwhile, the Durham Hotel is more of a formal vibe with lounge seating and panoramic views of downtown. During the winter months they provide heaters and Pendleton blankets.
These are some of my favorites things to do in Durham, North Carolina. Till next time, safe travels!
Note: This post was sponsored by Discover Durham. All opinions are my own.