Looking for the best things to do in Almaty, Kazakhstan? I got you covered!
Almaty is the former capital of Kazakhstan and is the perfect starting point for anyone visiting the country for the first time.
This modern metropolis has arts, culture, historical attractions, museums galore and plenty of food and shopping to keep guests entertained.
Flying into Almaty is easy.
Almaty International Airport is the largest airport in Kazakhstan and is less than 10 miles from the easy, making transport to and from the airport quick and affordable whether you're going by public transport or hiring a taxi.
There's no Uber here yet but you can use the Yandex taxi app if you need to summon a driver from your mobile device.
The city is well connected through various metro lines and is sunny and pleasant to walk around in the summer months.
Almaty is widely regarded as an oasis because of its lush greenery. The scenery has a thorough irrigation system that keeps it looking less like a concrete jungle and more like a countryside getaway.
The currency used here is tenge and there are plenty of ATMs around the city should you need to withdraw cash.
For the most part, restaurants and stores are equipped to accept credit cards.
Almaty, Kazakhstan is a destination that will welcome, delight and excite you for your trip throughout Central Asia.
Here's 12 of the best things to do in Almaty during your stay.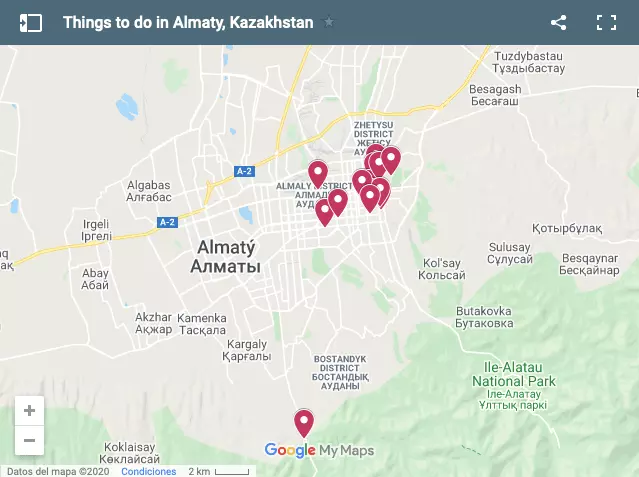 1. Take a cable car ride up to Kok-Tobe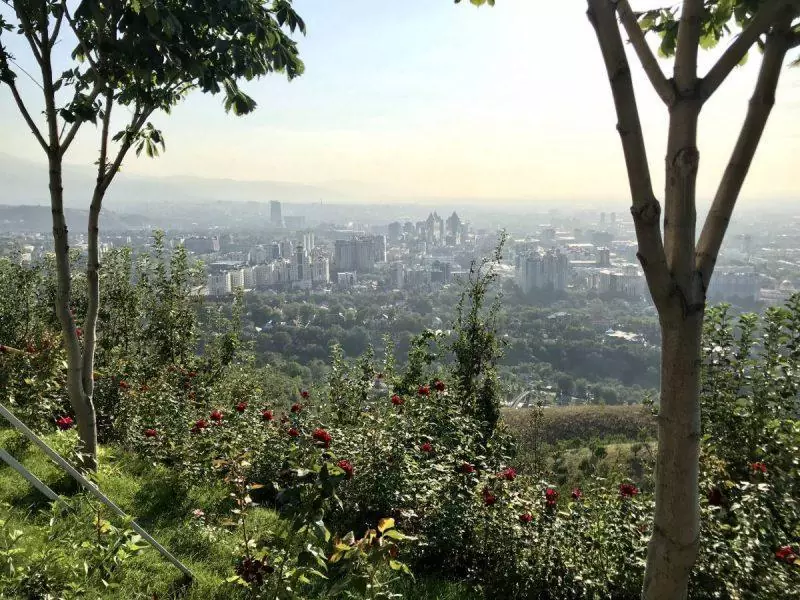 Kok-Tobe is a mountain in the middle of the city that stands 1,100 meters tall.
There's a Ferris wheel, shops, luging, a fancy overlook restaurant and various activities at the top.
One popular photo spot is the Beatles Statue, featuring all members of the band in gold waiting for you to join them on the bench.
If you look closely, you'll see their features look more Armenian, a nod to the artist.
When I visited, there was a fun umbrella project display that was great for photos, though I'm not sure if it's a permanent installation.
This is also a nice place just to relax and take in the sunset.
The best way to access the top of the mountain is via cable car.
The ride is affordable at roughly $5USD per person roundtrip and takes 6 minutes.
In the alternative, you can ride a special bus up the mountain for about $1.50 or walk.
2. Visit the Ascenscion Cathedral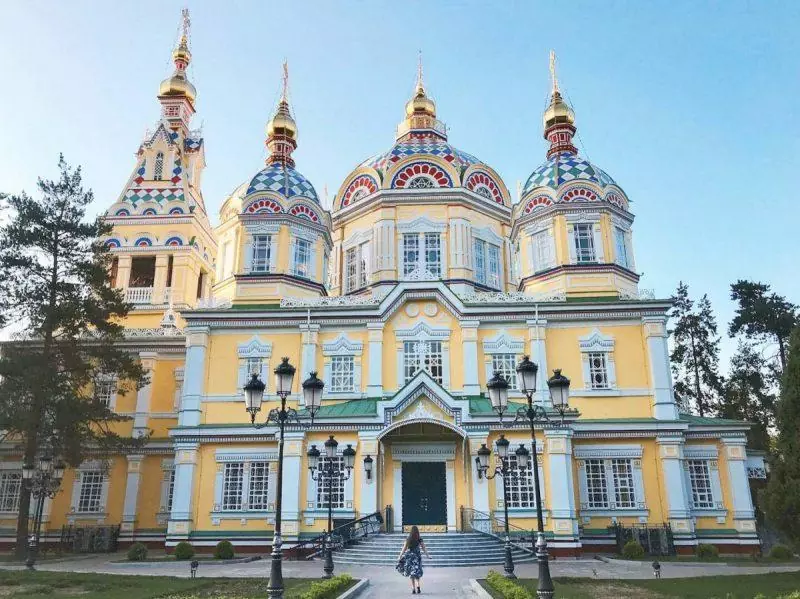 Also known as Zenkov Cathedral, this ornate and vivid Russian Orthodox design is the perfect IG spot.
It is one of the tallest wooden buildings in the world and is located in Panfilov Park.
The park is a popular stop place for families and people who want to relax and have a picnic.
Men cannot wear hats inside the cathedral and women must cover their heads with a scarf.
There are no photos allowed inside. You're free to take photos of the exertion to your hearts content — I sure did.
There was also drone flying in the area without issue but as always, double check drone laws before any trip as they're constantly changing.
Outside the church there's a wide open concrete square.
A resident group of chubby pigeons are constantly fed here and you'll see vendors selling things like bubbles makers or toy cars.
3. See Big Almaty Lake
This is the only recommendation I'm giving you that's not technically inside Almaty but it's worth a visit if you're looking for a short half-day trip and are a fan of nature.
Kazakhstan has dramatic landscapes with crystal blue waters that stand out in sharp contrast to the surrounding neutral colors of the earth.
The lake is located in the Tian Shan mountain range and is only 15 km (9 miles) from Almaty.
The easiest way to get there is to hire a private driver at a flat rate for 2-3 hours early morning.
The whole trip should cost you roughly $20USD and can be arranged for you by the staff at your accommodation.
You can also get there by bus or shared shuttle but I do not recommend this for first-time visitors to the area as it helps to be able to speak the language and have some idea where you're going.
Note that even with a local SIM card in your phone, you're not guaranteed to get service when you leave the city.
If you do go this route and need a map, locals recommend downloading Maps.me which can be use offline.
4. Explore the Metro Tunnels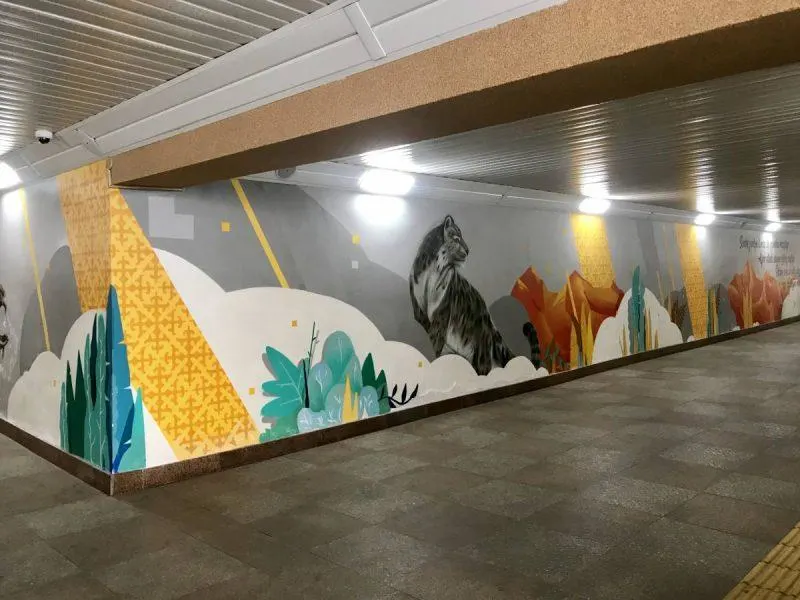 Almaty's metro tunnels are architecturally intriguing and occasionally covered in fun street art.
We went into the Abay metro station, named after a famous Kazakh poet, and found paintings illustrating his work as well as quotes attributed to his.
If you like urban art, you'll love the metro stations in Almaty.
Other photogenic stops include the Baikonur metro station, deemed one of the prettiest in the world by Afar Magazine, and Zhibek Zoly metro station.
Note that at times there can be a no photography rule enforced inside the metro tunnels.
It depends on who's monitoring it at the time and when you go. I had no problems during my visit.
The metro stops are also a great way to shield yourself from the elements or if you need a moment to orient yourself.
They're free to traverse through and are generally clean and safe.
5. Go on a walking tour of the Golden Quarter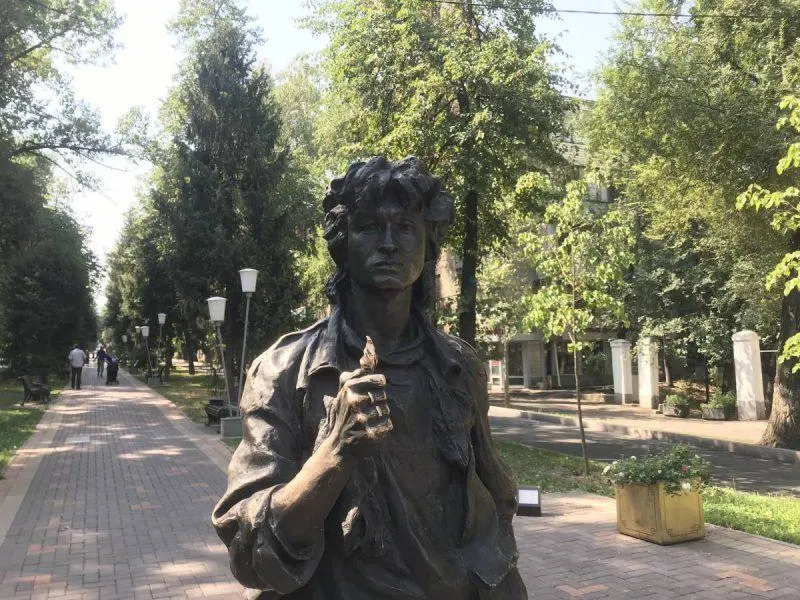 If you want a tour led by a knowledgeable English speaker and local celebrity, I recommend spending an afternoon with Nick from Walking Almaty.
Nick is an expat who was so intrigues by Kazakhstan that he studied it in college before moving to Almaty and marrying a Kazakh woman.
When you take a tour with Nick, you'll quickly realize that everyone knows him. He's frequently making television appearances and is well connected in the community.
As a result, his guests always get the star treatment. There are several itineraries and tour options available, and they're well worth your time and money.
You won't find a more knowledgeable guide.
Nick took us around the Golden Quarter, the neighborhood built to house the city's elites.
He pointed out different architectural styles and elements ranging from Constructivist to Stalinist Empire.
We saw a zodiac fountain featuring statues representing an extended version of the signs.
We also saw a stunning Soviet mosaic at the Hotel Almaty that told the story of a Kazakh Romeo and Juliet an said hi to rock star Viktor Tsoi.
6. Have a drink at the Kazahkstan Hotel
The Kazakhstan Hotel is arguably the most prestigious hotel in the city, built to house ambassadors, diplomats and celebrities.
The top of the hotel resembles a crown, and it's there that you'll find Barfly, the in-house restaurant.
This establishment offers floor to ceiling windows and unobstructed views of the city at night.
They have a trendy cocktail menu here featuring their signature drink, pictured above. It's a posh atmosphere so dress to impress.
We arrived around 9pm on a weekday and found it wasn't crowded but I can imagine it gets packed on the weekends.
There isn't a bad table in the house and the food is reasonably priced. I highly recommend this as a happy hour spot.
7. Enjoy the Kazakhstan Museum of Arts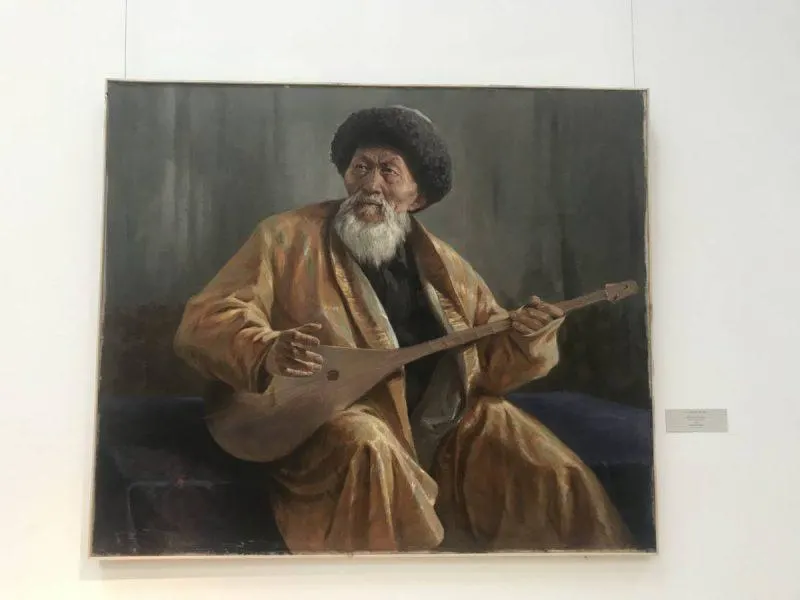 This museum features an impressive permanent collection of Kazakh art and includes everything from rugs to prints, clothing, paintings, statues, furniture and horse gear.
It has two levels and special exhibits that vary throughout the year. The space is air conditioned and temperature control, making it a great stop on a sunny afternoon.
The artwork is curated beautifully and takes you through different periods of time in Kazakh history.
The placards include an English translation and there's also a museum app you can download to access a free audio guide. Bring your own headphones for courteous listening.
The entry fee is 500 tenge ($1.28).
8. Delight your senses at the Green Bazaar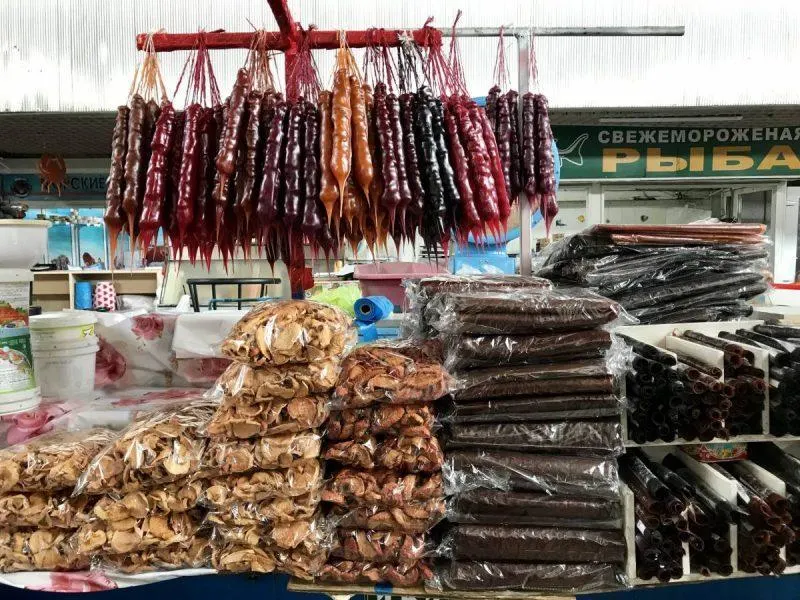 Also known as the Zelenyy Bazar, this is a local farmer's market in the city center where you'll find meat, fruit, spices, butter, coffee, home goods — you name it.
You'll find vendors trying to get you to sample their products — don't do so if you don't intend on buying. Look with your eyes and you'll find a feast for the senses.
The stations are methodically set up by product, and goods are piled high in an assortment of colors and textures.
You can find everything you need here and I recommend purchasing snacks to take with you for the road.
The food is fresh and if you happen to have a rental where you can cook, there's no better place to stock up on supplies.
If you're a vegan, be aware that the meat section can be graphic.
You'll be better served heading up to Bowler Coffee Roaster for a little caffeine and getting an aerial view of the scene first so you can decide which rows you want to head down.
9. Explore the Academy of Sciences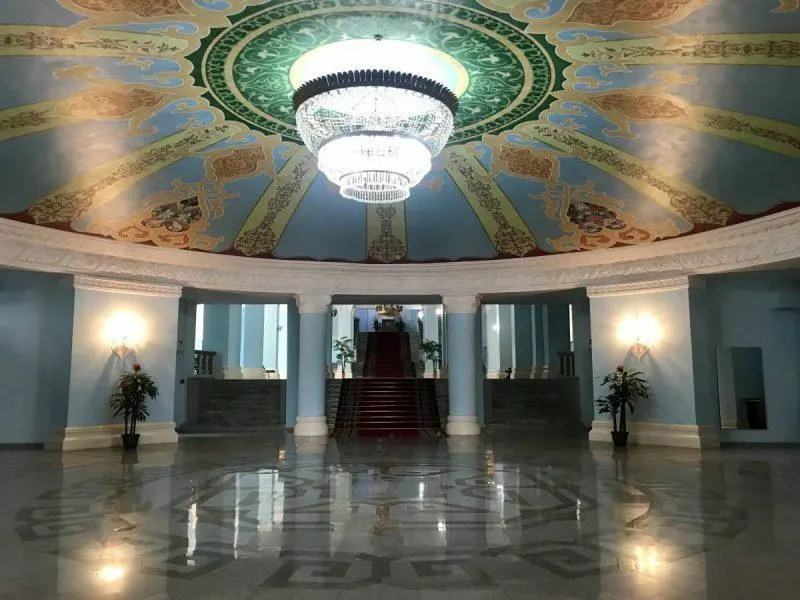 This is one of Almaty's best-kept secrets. It has 5 different museums including a rare book, archeology, natural history, science and Satpaev museum in honor of the Academy's first president.
Each museum boasts rare artifacts and an affordable entry fee.
You can purchase just one ticket or enter all 5 for 310 gent, less than $1USD. Tickets are sold not at the front but in the middle, to the left of the columns in a small office.
You may have to hunt to orient yourself here so it's worth it to hire an English-speaking guide.
The building itself is magnificent and feels like a palace. It was built to be a palace for the people, and remains accessible by all to this date.
If you like opulent spaces, don't miss the opportunity to walk the red carpet in the lavishly decorated Academy of Sciences.
10. Catch a show at the Opera and Ballet Theatre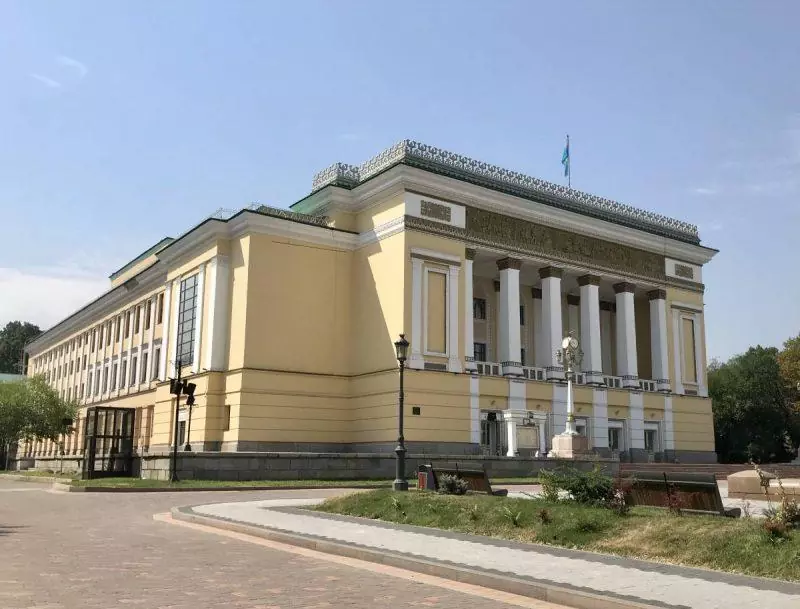 The Soviet Union placed a strong emphasis on art and brought with it the introduction of opera and ballet houses.
The Abay Kazakh State Academical Opera and Ballet Theatre is a stunning venue that still holds shows regularly.
The Russians wanted to preserve local culture so many of the performances are done in traditional Kazakh song and gear.
You can find tickets for 2000 tenge per person ($5!) and have a classic night out on the town in what is deemed by many as the finest theater in the country.
There is a dress code so come dressed to impress. You can book online, though be aware that the checkout procedure is not in English.
11. Learn about Panfilov's 28
This memorial commemorates a group of Kazakh soldiers that heroically halted and destroyed German tanks headed for Moscow before perishing together on the battlefield.
A movie was made about their experience titled, "Panfilov's 28 Men." They were commanded by General Ivan Panfilov.
The men became legends memorialized through poetry, song and stories.
Today, there's a flame that burns for them and a stunning memorial found in the plaza behind the Ascension Cathedral, also in Panfilov Park.
This is a somber space that's very impactful.
12. Sample the local cuisine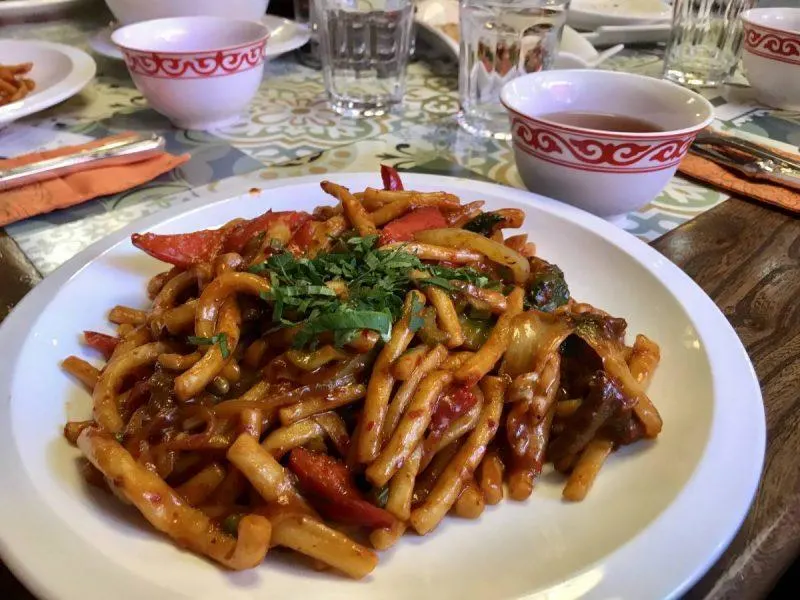 The Kazakh diet is hearty, with many different courses in a single sitting and plentiful portions.
You won't go hungry here. It's also common to serve hot tea at every meal.
We started our time in Almaty with a meal at Navat and it was very tasty, although some may say it's more Kyrgyz than Kazakh.
That said, the decorations can't be beat and it's the perfect place to launch a group trip.
Other recommendations include Restaurant Vechnoe Nebo, featuring local food and live shows from Friday to Sunday or Marakanda, a cafe with great lunch specials.
You can also take a stroll down Panfilov street at night, around Pomodoro, to find more restaurants, food trucks, street vendors and delicious treats like ice cream and hand-spun cotton candy.
RELATED POST: HOW TO VISIT KAINDY LAKE IN KAZAKHSTAN
Till next time, safe travels!
*This publication is made possible by the support of the American People through the United States Agency for International Development (USAID) Competitiveness, Trade, and Jobs Activity in Central Asia. The contents of this publication are the sole responsibility of Jen on a Jet Plane and do not necessarily reflect the views of USAID or the United States Government.
Liked this post? Pin me below.