Want to know how to visit Kaindy Lake? Read on for more information.
Kaindy Lake is unlike any place you've ever seen.
It's a destination straight out of a fairy tale (perhaps a dark one) with a submerged forest perfectly preserved in an eerie lake.
It's a one-of-a-kind landscape and backdrop that is a lure for photographers and nature lovers.
When I first got my Kazakhstan itinerary, this was the place that stood out the most.
I wasn't sure what to expect, and it was every but as fantastic in real life as it looked in the picture.
I did some research and there's a handful of other places on earth that slightly resemble Lake Kaindy, like in Alaska and New Zealand, but none that mimic the stillness and awe this place inspires.
Kaindy Lake definitely needs to be on your bucket list!
Here's everything you need to know to plan a successful visit.
Where is Kaindy Lake?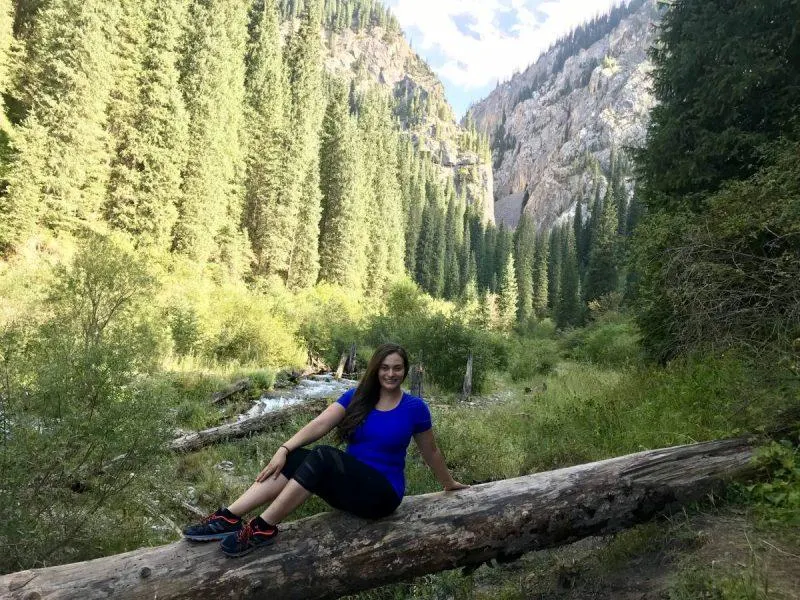 Lake Kaindy is secluded, but well worth the journey. It's the seclusion that helps keep the area clean and not feeling like a tourist trap.
To get there, it's a 4 1/2-hour drive from Almaty.
Generally the roads are well paved until you hit the final stretch, at which point you need a 4-wheel drive, off-roading vehicle.
You can try to drive to the parking lot without one but it will be challenging, particularly if you're driving yourself.
We had experts drivers and there were places where we got stuck.
It's not practical to hire a cab. Public transportation does not reach the park.
You can perhaps take a bus to Saty Village and then hire a car to take you into the park from there, but I doubt the headache would be worth the money you'd be saving.
You need a driver for the day, and most likely overnight, to be able to make this trip.
The lake itself is inside the Tian Shan Mountains, considered the gems of the area.
The lush green flora and throwing rivers make this a draw for nature lovers and the dramatic landscape of Kaindy Lake specifically makes it unlike any other in the world.
Parking and admission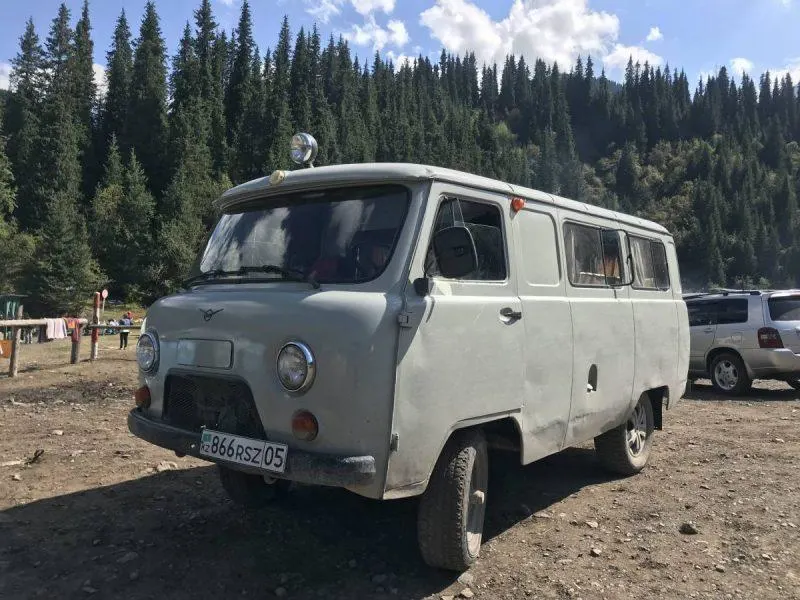 The entrance fee for Kaindy Lake only is 727 tenge ($1.90). You can also enter Kolsai Lakes here if you choose for 753 tenge ($2).
There's a checkpoint at the entrance where a guard takes your payment and opens the barrier to let you pass.
You'll see people walking along the path but you can drive to the main parking lot about a mile from the lake.
It's first come, first serve.
You'll see many Soviet vans there still in use; they made things to last back then.
Kaindy Lake Hike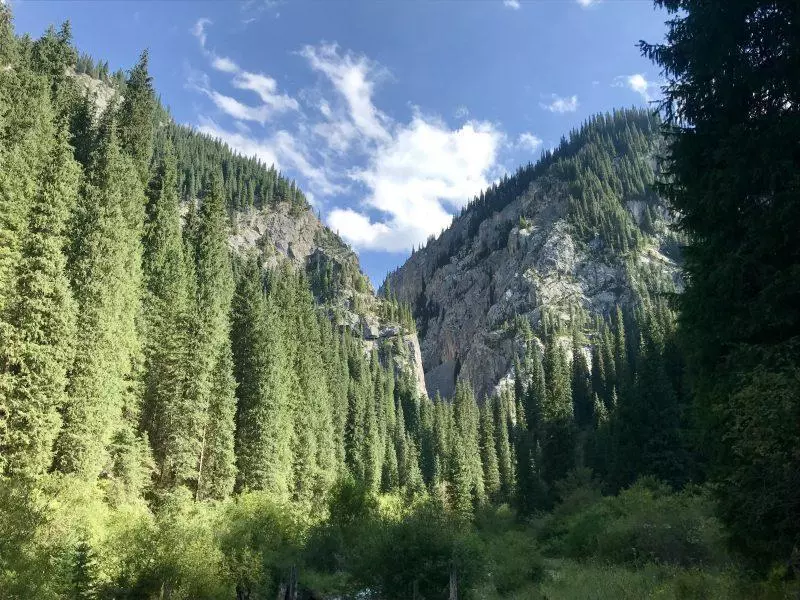 The hike to Kaindy Lake is about a mile long and takes between 15-20 minutes walking to reach the shore from the parking lot, mostly downhill.
Prepare yourself because you're going to need to take that same trail back uphill when it's time to leave and the path can be muddy and slippery.
The good news if that the most scenic viewpoint occurs immediately when you reach the bottom, with the tree trunks visible above the water.
No cars are allowed on the foot path to reach the lake.
They used to be allowed but there was an accident involving tourists so now they're prohibited. Occasionally you may see a car or two but these are likely people who work there.
Also, you'll see horses on the path.
If you're so inclined, you can pay for a ride down and back and avoid the hike altogether, though you'll need cash to do so.
Why is the forest submerged?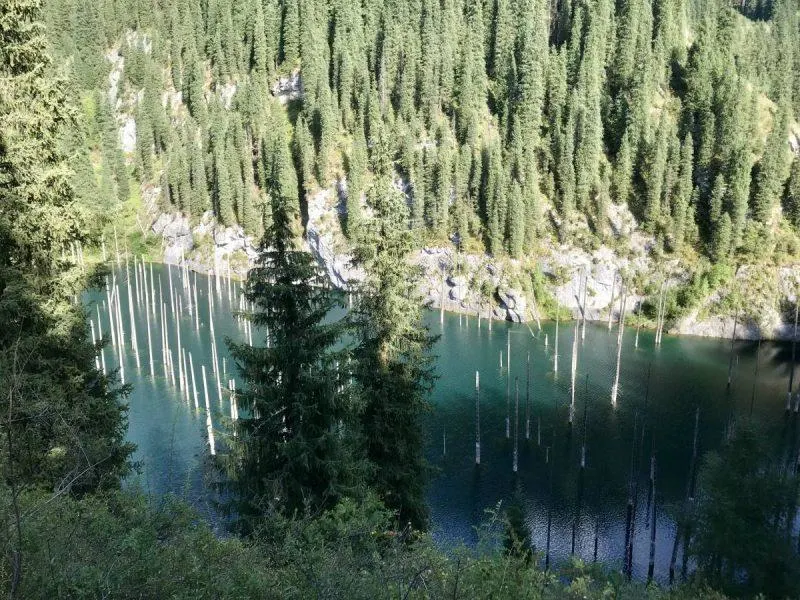 In 1911 there was an earthquake that formed Lake Kaindy.
The trees have died but the trunks are perfectly preserved in the water, which is eerily cold year-round.
Legend has it a village was flooded and destroyed in the earthquake but our guide wasn't eager to discuss the tragedy that formed this geographical wonder.
Suffice it to say this is a location of mystery and intrigue.
Today, the park is widely used by locals as a recreational area.
You can have a picnic along the banks of the water or explore the surrounding mountains on longer trails.
There were 4 lakes affected by the earthquake: Kaindy and Kolsai Lakes 1, 2 and 3. This is the only spot where you'll see the tree trunks jutting out from the water.
The other lakes also have the same trunks but they're completely submerged.
On occasion they pop up to the top of the water so canoeing and recreational activities on the lakes are restricted.
Can you swim in Kaindy Lake?
Unfortunately because of the landscape you shouldn't swim, kayak, canoe or otherwise engage in water sports at Lake Kaindy.
You never know when you'll hit a tree trunk and also the water is freezing cold.
In the past, people have gone scuba diving here but those were trained professionals and it's not something that occurs on a regular basis.
It's not a dive spot open to the public, no matter how cool that would be.
It's also hard to get underwater footage here with a GoPro because the trees are further out and the water doesn't have enough visibility.
This is a great space enjoy the surrounding nature, unplug and gaze at the clouds.
Some people choose to camp in the area and you can opt to stay overnight for an additional fee, approximately 350 tenge ($3) per tent.
Accommodations in Saty Village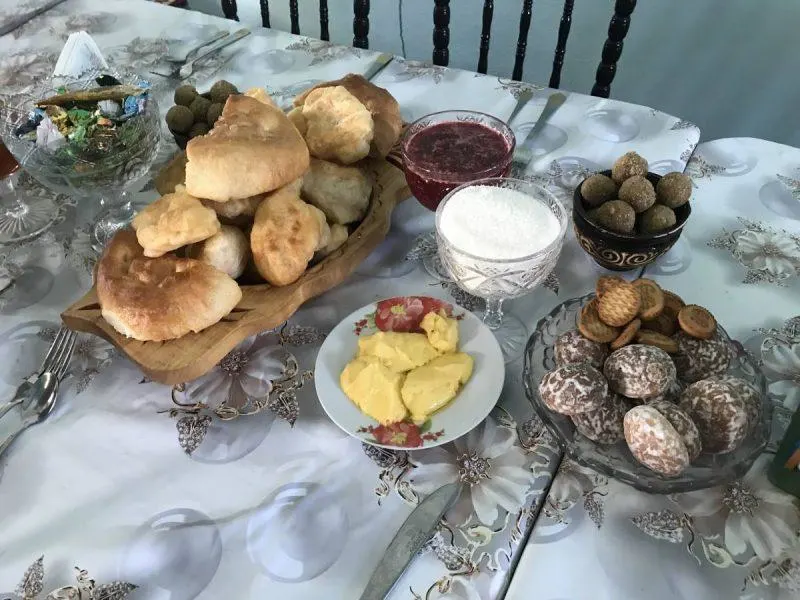 If you don't want to stay in a tent you can head to Saty Village, the closest town to the lake.
There you'll find an assortment of guest houses and accommodations to meet all budgets.
We stayed with a local host who prepared dinner for us every night and breakfast before we hit the road.
I appreciated that our place had an indoor bathroom with a flush toilet and shower as well as limited WiFi. Connectivity will be sparse in this area even if you have a mobile hotspot.
The guesthouses are primarily dorm-style accommodation, sharing rooms that accommodate 3-4 people in someone's actual house. This is an example of a traditional guesthouse.
Our guesthouse also had a fire pit out front where they made a campfire upon request, beer and cold beverages for sale and a yurt people could stay in. Some places include shuttle service and have private rooms.
Make sure to read the room and lodging descriptions carefully before you book so you know what you're getting.
Know Before You Go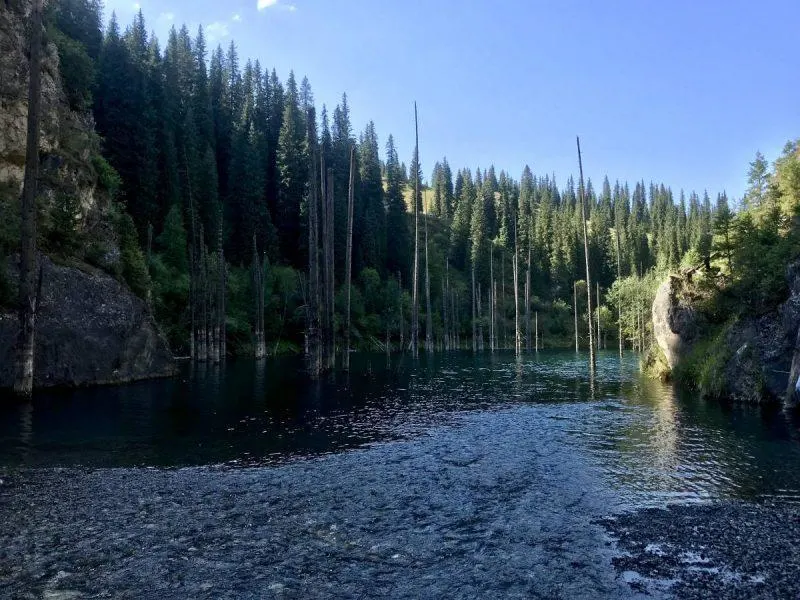 You'll want to be here at least an hour before sunset so you can still get sunlight over the tops of the trees. Bring proper hiking shoes as the path can get slippery.
Feel free to come with animals; you'll see many people with their dogs here.
As always, if you're bringing any food or outside products take your trash with you.
Restroom facilities are limited to squat toilets near the parking lot (none on the trail) so make sure you come prepared and bring your own toilet paper and hand sanitizer.
There is no food on the trail so bring your own snacks.
It was recommended by my driver that you use Maps.me here, which is supposed to help you navigate even when you don't have cell service.
If you need a guide, I highly recommended Nurlan.
He was knowledgeable and saw us through the hikes safely. His phone number is +7 700 522 0313 and you can reach out to him on WhatsApp.
RELATED POST: 12 BEST THINGS TO DO IN ALMATY, KAZAKHSTAN
Till next time, safe travels!
*This publication is made possible by the support of the American People through the United States Agency for International Development (USAID) Competitiveness, Trade, and Jobs Activity in Central Asia. The contents of this publication are the sole responsibility of Jen on a Jet Plane and do not necessarily reflect the views of USAID or the United States Government.
Like this post? Pin me below: