Thinking about shipping a car to Puerto Rico? Read this post before you do!
I recently moved to a Puerto Rico and it became quickly apparent that you need a car to get around. For a few months during hurricane season I managed to use rental cars, which were then at a low price of around $13/day. But then December rental rates skyrocketed to $100/day, putting pressure on me to secure a vehicle.
There are no car leases in Puerto Rico because the roads aren't great and it's unlikely you'd return the car in mint condition, so you have two options if you're purchasing — buy a used car or buy a new car. The platform of choice for buying and selling on the internet is Clasificados Online, the island's version of Craigslist.
In any case, you're looking at a minimum of $5,000 for a decent vehicle. Much lower than that and you end up with a vehicle with an unknown history or unreported damage.
For me, the rental car price hike coincided perfectly with the end of my financing agreement on an old 2010 Chevy Malibu with Capital One. I wanted an upgrade but keeping my fully paid off car and shipping it to the island was my cheapest (albeit not easiest) option.
They are so many expenses associated with moving that I decided to go this route and try to save money.
If you're thinking of doing the same, here's everything you need to know.
Shipping locations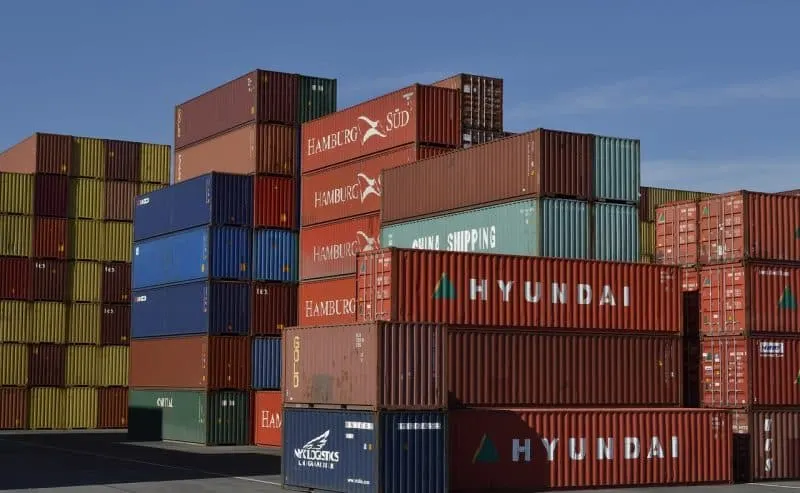 Cars ship to San Juan from two major shipping ports in the US — Philadelphia and Jacksonville. You can deliver your car to the port yourself or have the shipping company pick it up for an additional fee.
The car doesn't arrive in San Juan immediately. The ship takes a few days and then the port needs to process your vehicle. Expect to wait anywhere from 10-14 days from the time you leave your car at the port, longer if it has to be transported to the port still.
Puerto Rico car shipping prices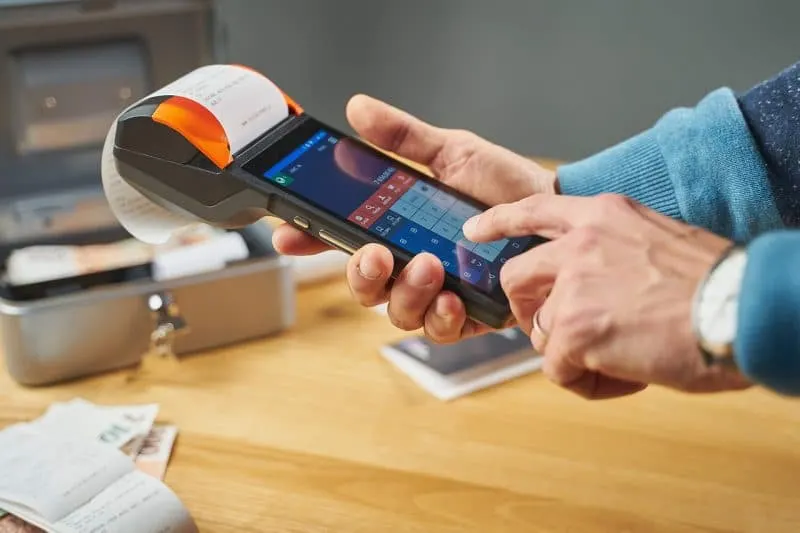 Jacksonville is the cheapest port to ship your car from since it's the closest. Once you drop off your car you can catch a direct flight to San Juan from Jacksonville International Airport.
I paid roughly $1,200 to ship my car from Jacksonville to San Juan.
I was given an estimate of $1,600 for shipping from Philadelphia and $2,100 for home pickup from Upstate New York. These prices will vary depending on the company you use, distance for pickup and model and age of your car.
Credit cards are accepted for payment of shipping costs, including American Express. You don't pay until you drop the car off.
When you get to Puerto Rico you'll need to pay taxes on your vehicle. On the island the tax collector's office is called the Hacienda.
They have a page on their website where you can input your vehicle information and get an estimate of the taxes that will be due upon arrival. My estimate was $930. I ended up paying $850 and a $75 processing fee so that was pretty accurate.
You can skip the $75 processing fee by going to the Hacienda directly to pay versus using the express station located across from the building. Chances are, after seeing how involved of a process the pickup is, you'll opt to pay the fee.
Puerto Rico Car Transport review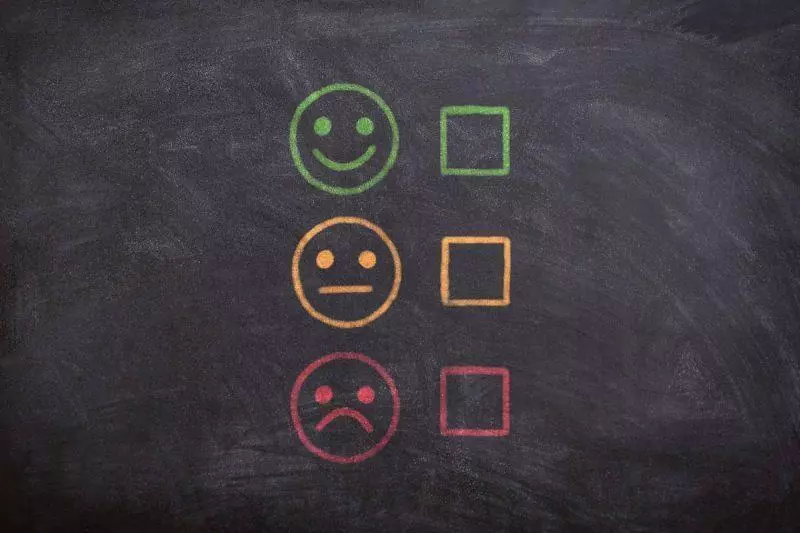 There are multiple shipping providers. I went with a Puerto Rico Car Transport because they were the first to appear in a Google search.
The booking process itself was relatively painless — I put in my vehicle information, got a quote via email and then the company followed up. Since this isn't my first rodeo and I'd previously made TJ mistake of getting quotes from moving companies only to receive constant phone calls after, I entered in a fake number. This gave me time to mull over my options in peace.
Ultimately, I decided to book with them because they seemed to have a well developed system. Notably, they don't actually ship the vehicles — for that, they contract Crowley Maritime Services.
This is problematic because you have to go to Crowley's shipping docks and deal with Crowley's staff on picking up your vehicle. They resent it if you don't book with them directly and will often tell you to take any issues up with Puerto Rico Car Transport Directly.
For those reasons I would caution you in dealing with Crowley and reiterate that if you book with Puerto Rico Transport, they will be your sole contact in the event of a problem.
The good news is they have a responsive customer service team. I had the misfortune of picking up my car shortly after the earthquakes in Puerto Rico and was able to reach them over phone and email.
I found them to be a well run company, I just wish they handled their own shipping directly or had staff on the ground to assist in person when needed.
Preparing your car for shipping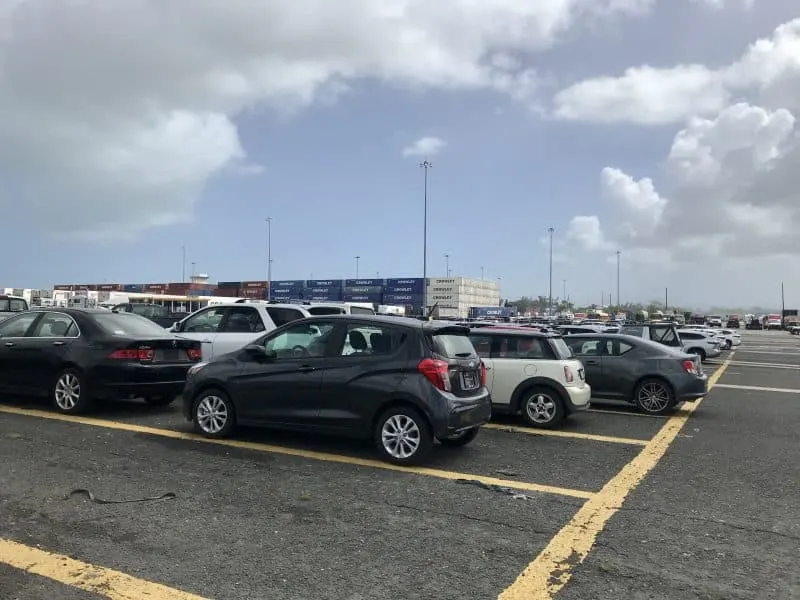 If you're going with Puerto Rico Car Transport or Crowley, your vehicle must be completely empty in order to ship it. You cannot use it to pack items. You are only allowed a spare tire and jack. Also, your gas needs to be at under a quarter tank or you'll have to pay a fee for them to empty your tank.
When you drop off your car, make sure to have your title with you. If your car is financed, you will need special permission from the bank before shipping it.
How to pick up your car in San Juan
Pay close attention here, because this process is not explained anywhere else and it is convoluted.
Before you do anything, call ahead, ask for the "car division" and make sure the "tasación" is complete on your vehicle. This is an extra process whereby a government employee needs to inspect your car at the port and prepare papers for you to then take to pay.
Even if you're given a set pick-up date and receive an email saying that your vehicle is ready, call to confirm as that may not actually be the case. You will need your booking number.
1) To pick up your car at the port, you need to head to Crowley's offices at Calle Lindbergh, San Juan, 00904. There is a free parking lot there and you'll have to provide your ID and sign in with the outdoor guard.
2) Depending on whether you park right in front of the building or in the lot across the street, you'll pass a man with a chair set up on the sidewalk who'll try to convince you to use the express tax payment service. He gets a commission for referring people. Thank him for the information and move on.
3) Walk into the Crowley building, a big yellow building. They open at 7am, then close from 10am-12pm, and then close again at 3:30pm which means they stop admitting people into the line at 2pm.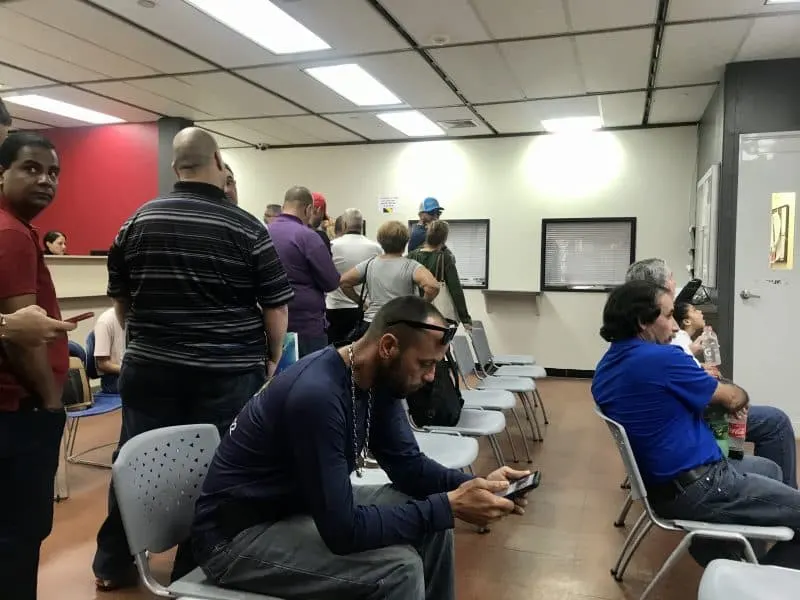 4) You will need to sign in again and provide your license to the indoor guard, who'll write a name tag for you. Then you wait in line. For a while.
5) Once you get to the window, provide your booking number and hopefully they will hand you your paperwork provided the tasación is complete.
6) Then you take those papers and either go across the street or to the Hacienda in San Juan to pay the taxes on your vehicle. Note that the shop across the street charges $75 in addition to the taxes and you can only pay for the taxes with a Visa or Mastercard.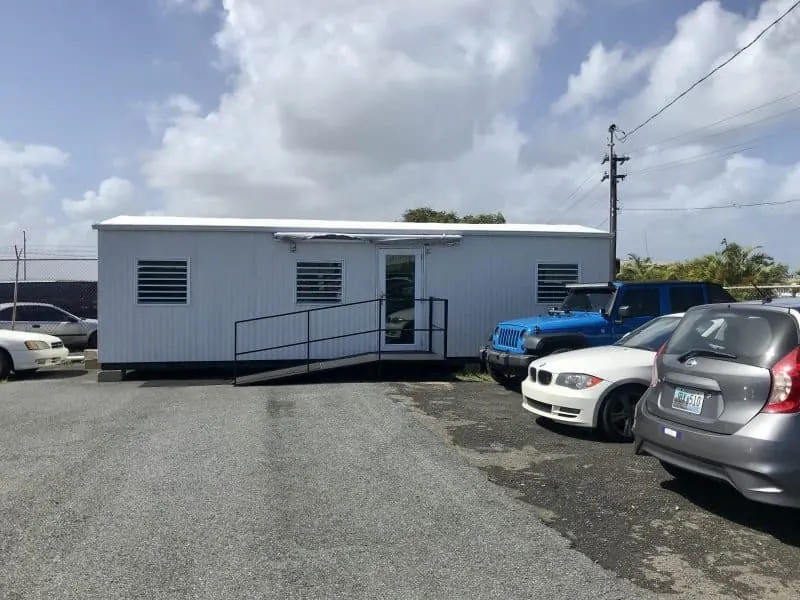 7) If you have more than one person in your party, send them back to the yellow building to make the first line again while you wait for your tax payment to be processed. This will expedite things for you as you will need to head back again and make the line once more when your tax payment confirmation comes through.
8) Make the line in the yellow building for the second time, show the person at the window that you paid your taxes and they will release your vehicle and give you a yellow slip.
9) Take that yellow slip to a third guard to the right of the yellow building, show him your yellow slip and put on an orange safety vest.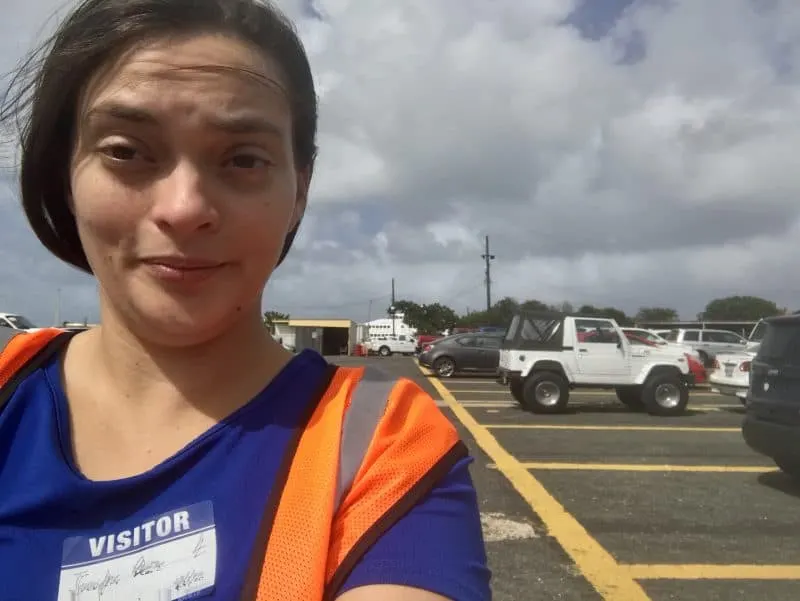 10) Once you're granted access to Crowley's parking lot, search hundreds of vehicles until you find your car. Your keys will be inside. You may need to find an attendant to help you move any other car which is blocking you in.
11) Drive your car out of the lot, presenting your yellow slip to one last guard on the way out.
But wait, there's more!
It's possible that the shipping company will take your license plates. Mine were gone, but I saw other cars with them still on. I tried to ask about this, and the only response I got was "I didn't take your license plates" because everyone in Puerto Rico immediately tried to point a finger instead of solving an issue.
So what happened to my license plates? The world may never know. The point is you have 3 days to register your vehicle in Puerto Rico, a deadline that becomes doubly urgent when you're driving around plate-less. I'll write a whole other post on the registration process.
However, before you leave you really shouldn't be driving without insurance, so you need to make one last stop…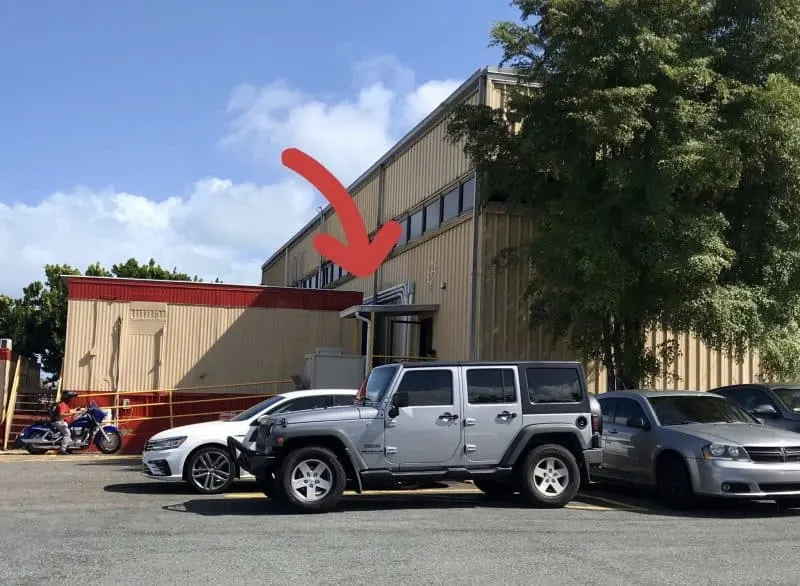 12) Around the corner from the entrance to the yellow building is another small government office that will issue your temporary insurance, allowing you to drive legally for three days. It's roughly $37 and you will be asked for proof of this when you're registering the car so don't neglect to buy it.
Some agents will tell you that you're only "supposed" to buy it, implying you can leave without buying it. Don't do that. It will add more time and visits to CESCO during car registration time and trust me, you don't want any more hurdles.
Note that this office is closed from 12pm-1pm so if you manage to get your car out by 12:30 you'll need to stick around a half hour before they leave.
Is it worth it to ship your car to Puerto Rico?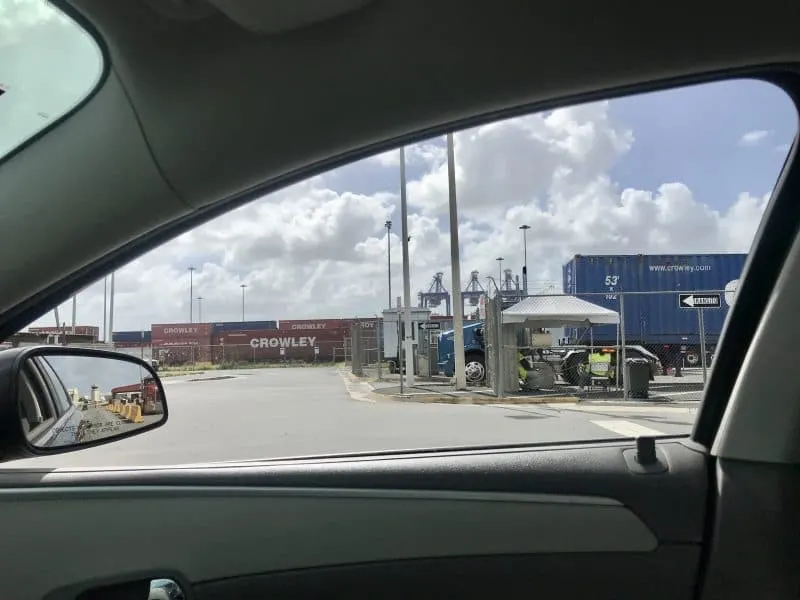 Whew! I know that was a lot guys. Trust me, I wish I wasn't. It took me multiple visits on 3 separate days before I finally managed to get my car out of that hostage situation.
So, knowing all of this, when is it worth it to shop your car to Puerto Rico?
Basically, only when you're in my exact situation — you have a car that's paid off, several years old, not a high-end make or model and you wouldn't mind if it gets dinged up on the road in Puerto Rico.
Shipping your car to Puerto Rico does not make sense if you have a new car, if your car is financed or if your car is really nice. The taxes alone on a 5 year-old Jeep Wrangler, for instance, will run you between $7,000-$8,000. For that, you'd be better off buying a car on the island.
Otherwise, if you're in my shoes, you can get away with shipping your car for less. Since I drove my car to the cheapest port and it had a few dings on it already, my grand total came out to:
$1,125 shipping costs
$888.26 taxes
$75 convenience fee
$37.92 insurance
$167.91 (registration fees not discussed in this post)
$300 (approximate cost of gas and hotel for Jacksonville road trip)
________________
Grand total: $2,594.09 (not including the cost of gas to drive from Humacao to San Juan three time and a $133 car rental for 5 days to cover the unanticipated delay in getting my car out.
Given the choice, I would do it again and likely still book with Puerto Rico Car transport given that Crowley doesn't offer any discernible difference in price and has subpar customer service.
If you have any questions about Puerto Rico Car Transport or the process in general, comment below and I'm happy to help. I know there's a dearth of information out there and the agents aren't exactly tripping over themselves to help. I got you, babe!
Till next time, safe travels.