Fusterlandia is a hidden wonderland of mosaic tile and recycled art just 20 minutes outside the city center in Havana, Cuba. I first learned about Fusterlandia while doing preliminary research about the best places to see on the island and was surprised to find there were some local residents who didn't even know the place exists.
I'm a big fan of art, especially art that is proudly outside the box. In Cuba, very few things are new so artists are forced to make do with what they have. This leads to unexpected pieces, each with their own unique story.
Also, unlike other cities or countries, the artists in Cuba are often found working at their own galleries, either in a studio or mingling with potential buyers. This means that most attendees can actually meet the person behind the artwork and take the time to discuss their message.
If you're looking for a place that's unlike any other you'll see in Cuba and captures the true resilience and spirit of the Cuban people, look no further than Fusterlandia.
RELATED POST: HOW TO VISIT HAVANA, CUBA AS AN AMERICAN
About Jose Fuster
Jose Fuster is one of the most celebrated artists in Cuba. He was classically trained at the Escuela Nacional de Instructores de Arte in Havana and his work has been across the island and around the world, from Paris to New Delhi, in more than 600 collective and individual exhibitions.
I had the pleasure of meeting the mastermind behind Fusterlandia, who explained to me not only the inspiration behind his paintings (which reminded me of Miami favorite Romero Britto) but was also kind enough to dedicate a book to me and include a special drawing. The subject of choice? A rooster, which he says signifies joy, life and sunshine.
Jose Fuster, like his artwork, knows how to make an impression.
Location and Hours of Operation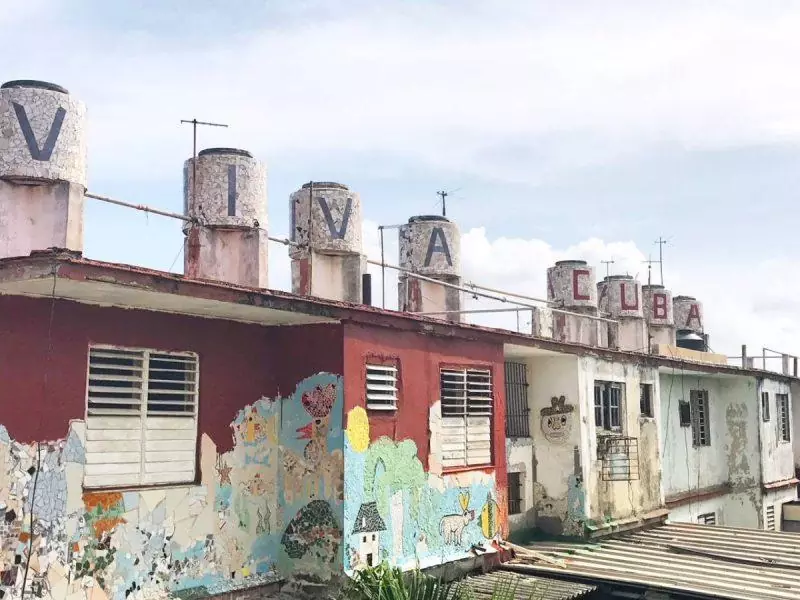 Fusterlandia is tehcnically in Havana, but is located on the outskirts in a little fishing neighborhood called Jaimanitas. The location is residential and home to Jose Fuster. Regarded as more than just a place to display his work, Jaimanitas is a collection of people who interact with the artist to bring his collective projects to life.
The project expands beyond Fuster's home to encompass the whole Jaimanitas neighborhood, with more than 80 neighbors allowing Fuster to decorate their homes.
You can enter Fusterlandia generally between 9:30am and 4:00pm, Wednesday to Sunday. Be aware the gallery sometimes closes for private events. Even if you can't enter the premises, you can still drive through the neighborhood at any time and see a good chunk of the artwork.
How to get to Fusterlandia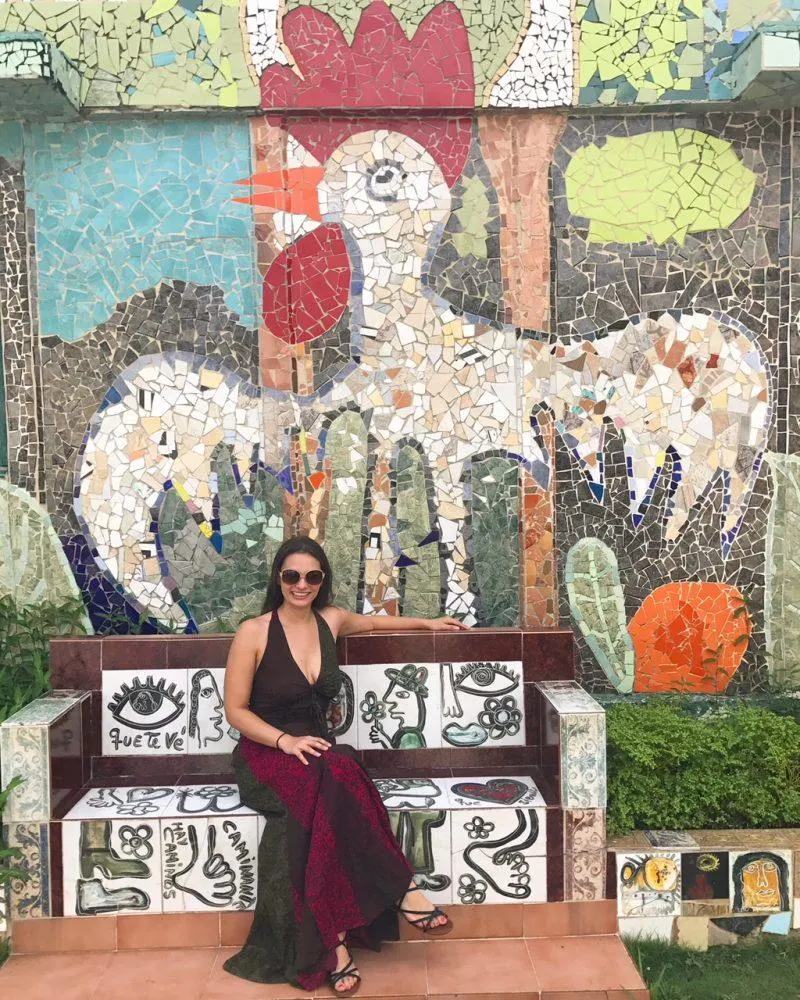 There are several ways to get to Fusterlandia. The first and most economical way is to take a bus, either the P-1 or P-10 to Playa then the local bus to Jaimanitas, or the T-1 and T-2 while asking the driver to leave you at "Casa de Fuster."
I would not recommend walking from Old Havana as it is very far. If possible, a taxi is your fastest route and will cost you around $20 each way. For a better deal, book a taxi by the hour (price negotiable) and they'll be able to show you interesting stops along the way as an added bonus.
Tour of Fusterlandia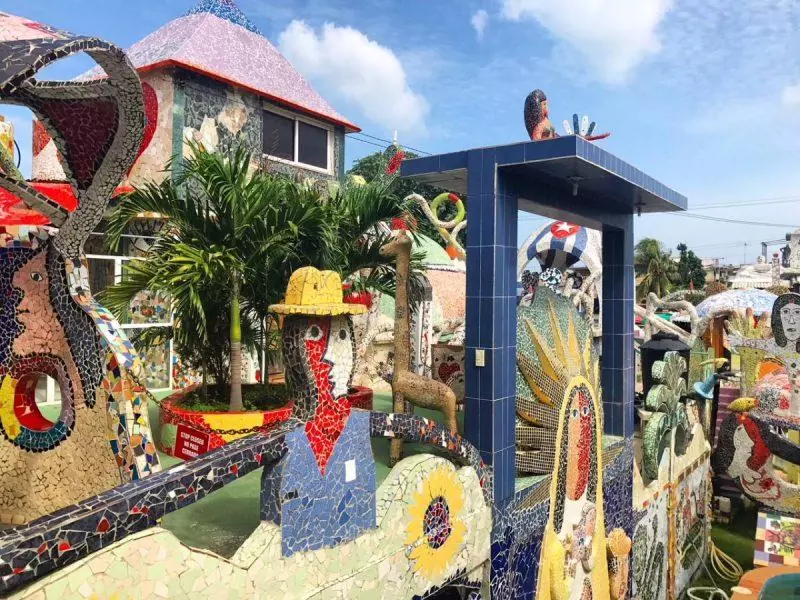 There are no audio guides or tours offered of the property. My guide, Antuan Ugarte who can can be reached at (53) 5294 4154, walked with me throughout the property and explained the symbolism in the artwork. For instance, I would not have been able to recognize the figure of San Lazaro without him, and would never have known of the deep devotion the people of Cuba have towards him.
As I mentioned, Jose Fuster himself is occasionally available to answer questions you may have, though that's not guaranteed. You can always walk the property alone without context, or stop and ask any of the assistants that are helping with sales if you have a question about a particular piece.
Cost of Admission
Here's the best part–Fusterlandia is completely free! You pay nothing to enter, and simply leave a donation with the kind fisherman pictured above if you enjoyed your experience. Your donation goes to fund future projects and the expansion of Fusterlandia.
There is also artwork available for purchase, from giant paintings for your home to tiny souvenir pieces. The surrounding properties all sell artwork and souvenirs as well, so the area has become like a little market during hours of operation.
Know Before You Go
Make sure to double check closing hours and dates before you go. Share the cost of a taxi if possible should you choose not to hire a driver by the hour.
Pictures are allowed with or without flash, except in the small galley displaying the more expensive paintings in the back. You can touch the artwork and even sit on select pieces. There are three floors total to be discovered.
There's no air conditioning, and Cuba gets hot so bring your own water or better yet, hydrate with a fresh coconut purchased from across the street.
Till next time, safe travels!
Liked this post? Pin me below!