Looking for fun things to do in Tempe, Arizona? Here are some of my top picks!
Tempe, Arizona is the perfect long weekend destination.
It's warm year-round, the food is delicious and the sunsets can't be beat.
This is a college town, with ASU Tempe contributing more than 40k students to a population of roughly 180k total.
There's always something fun going on (and hot cookies sold after midnight!).
In contrast to most other college towns, however, Tempe has a large population of adults that were once students and have chosen to call the city home.
There are sophisticated attractions, jobs in the technology and healthcare space and a community of young professionals and entrepreneurs that tempts visitors into becoming full-time residents.
Be warned — once you get to Tempe, you won't want to leave!
Here are 22 fun things to do in Tempe, Arizona.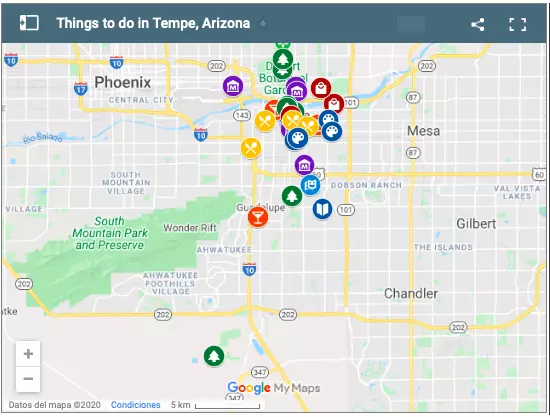 1. Climb "A" Mountain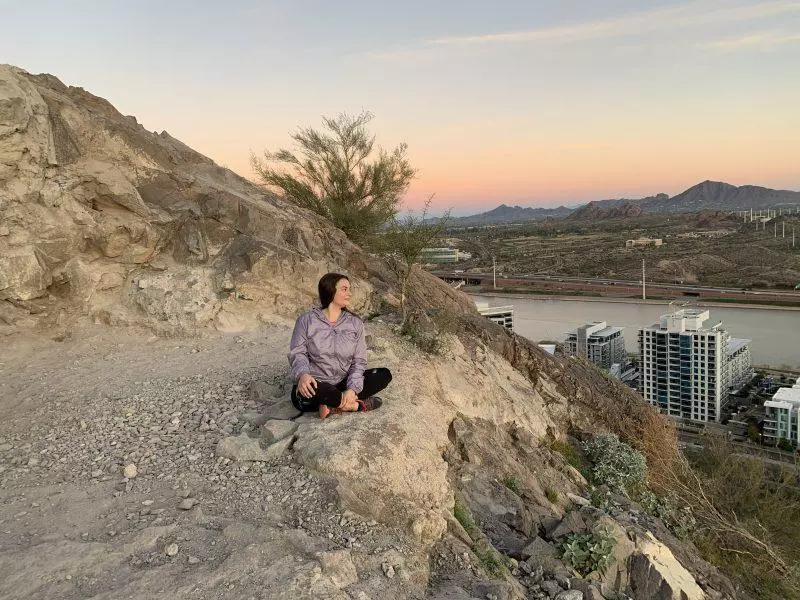 "A" Mountain, aka Hayden Butte Preserve, is easily identified by the giant "A" on the side painted yellow for ASU.
Rival teams have been known to repaint the letter at night in their colors so during season students take turn patrolling the site at night.
This is your perfect intro to Tempe. It's located right downtown and is easy to reach.
The hike should take you approximately 10-15 minutes, and you'll get views of the downtown area and surrounding landscape, like Camelback Mountain.
You can also see petroglyphs on the rocks along the way, a remnant of the indigenous peoples that first found this place.
It's completely free and is a great spot to catch the sunrise around 7am.
2. Go horseback riding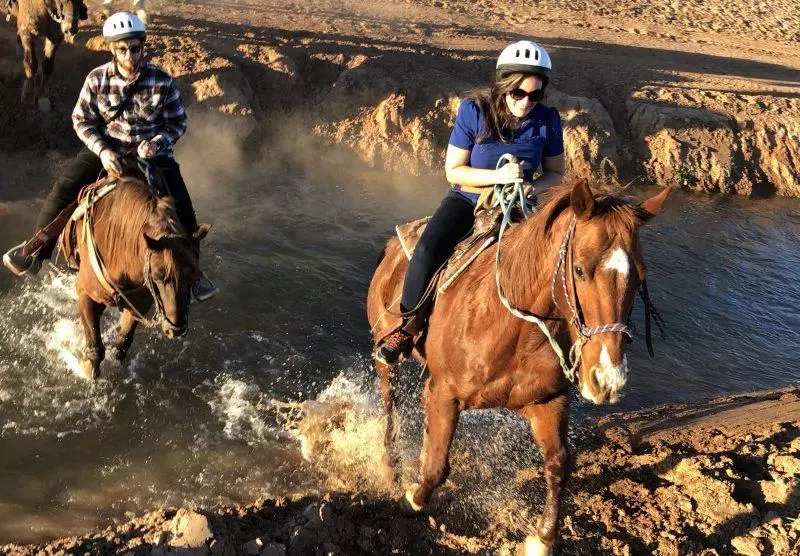 If you want to feel like an authentic Arizonan, there's no better way to do so than on horseback in the middle of the desert.
I recommend the Koli Equestrian Center.
It's run by members of the Pima and Maricopa tribes, two distinct tribes that became allies in the 1800's and now form the Salt River Pima-Maricopa Indian Community.
There are several options available including daytime rides, sunset rides, birthday parties, trail rides ending with margaritas and more.
RELATED POST: MY KOLI EQUESTRIAN CENTER REVIEW
3. Enjoy Tempe Town Lake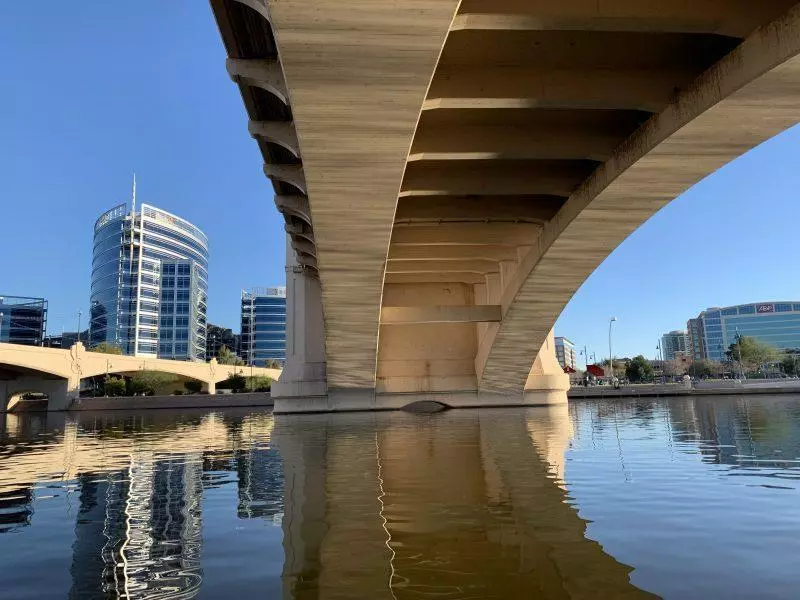 Tempe Town Lake is a man-made reservoir that serves as a city center and is always bustling.
If you want to get out on the water, you can rent a pedal boat, kayak, electric boat or SUP from Boat Rentals of America – Tempe Town Lake.
Prices range from $15-$75 depending on the type of vessel you rent.
Go alone or with family and friends — either way you'll have a relaxing time on the water.
4. Stroll the 6th Street Market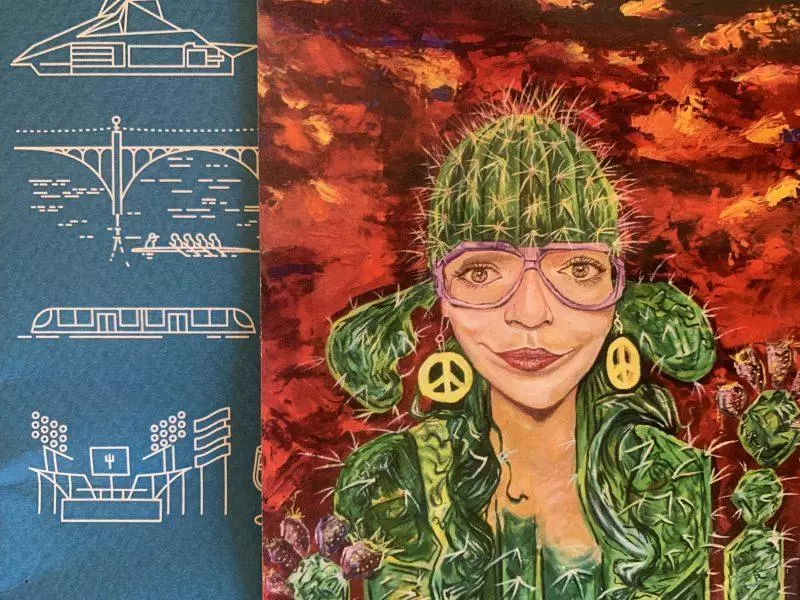 The 6th Street Market is held every Sunday from November to April and showcases local artists and Arizona-made goods.
It's located in 6th Street Park downtown, by Tempe City Hall.
They have over 50 vendors in attendance with live music and food options.
Bonus — street metered parking is free in Tempe on Sundays.
5. Explore a secondhand bookstore
If you're a book nerd (guilty!) then you can't leave Tempe without visiting the Changing Hands Bookstore.
This place is expertly curated and has some really cool finds.
I fell in love with a journal where the lines are made from the text of a Jane Austen novel, and a coaster with a picture of Princess Leia that reads "well-behaved women rarely defeat empires."
You can trade in your used books here so you always have something new to read.
Another option to get your used book fix is Old Town Books, though note that they are cash only.
6. Admire the Desert Botanical
Garden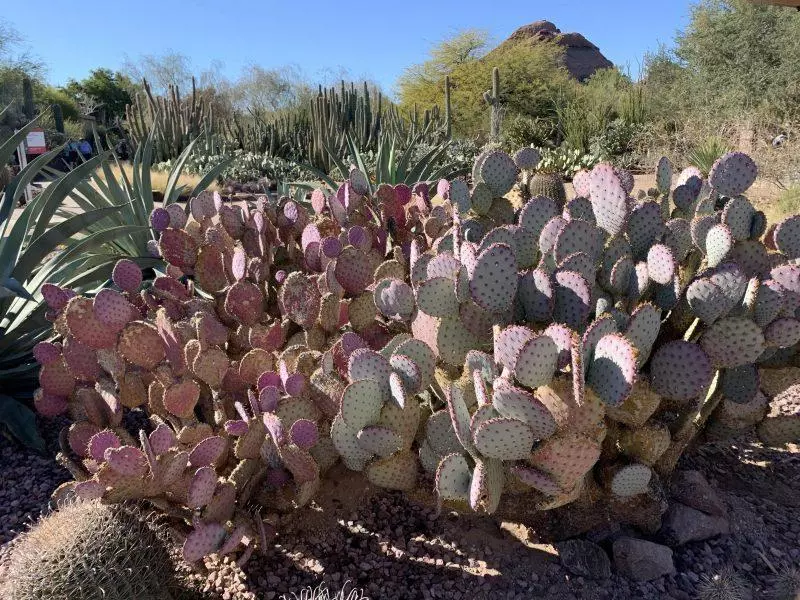 While technically in Phoenix, this place is a draw for all nearby towns.
The Desert Botanical Garden the best place to go to admire the diversity of desert scenery.
Featuring a wide variety of cacti species and trails meant to help you understand the local ecosystem, it's a fun stop for students and educational trips.
There's always a cool exhibit going on.
I went during "Wild Rising," where over 1,000 sculptures made from recyclable materials were displayed throughout the grounds.
They have concerts, evening events, classes, panels and discussions.
Check the events calendar to see what's happening during your visit.
7. Spend a day at the museum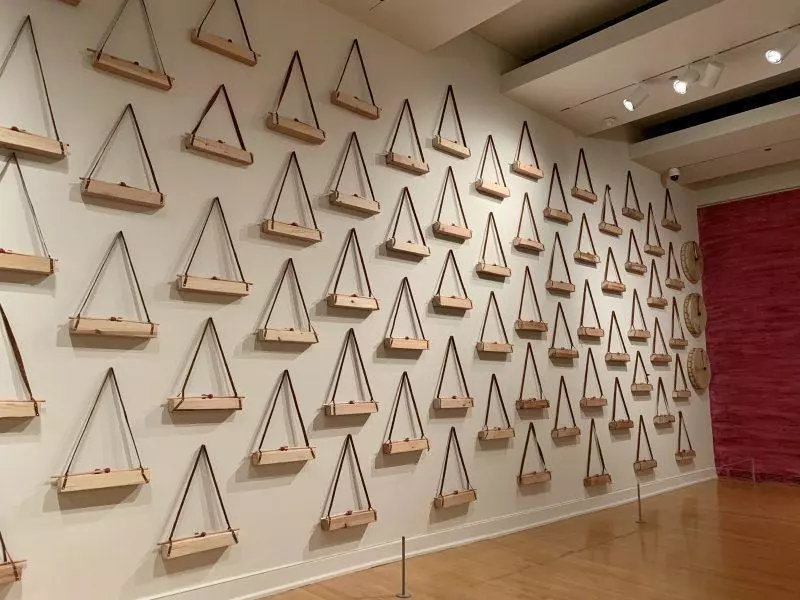 Tempe can get toasty so if you're looking for a reprieve from the sun where you can linger in A/C, head to a museum.
There are plenty to choose from.
The ASU Art Museum has two locations — one at the Nelson Fine Arts Center and the other the Ceramica Research Center at Brickyard.
There's also the Tempe History Museum, a collection of items telling the story of the city. There are several interactive exhibits, making this a good for families.
The ASU Art Museum and Tempe History Museum are free to enter.
The Arizona Heritage Center at Papago Park is a local favorite and showcases the state's history more broadly.
This site requires paid admission but there's 2-for-1 First Tuesdays and free parking.
8. Hike to Hole in the Rock
Already at Papago Park? You should definitely hike to Hole in the Rock.
This natural rock formation features two large holes and was used by the Hohokam tribe to signal when it was time to harvest or sow.
The hike is surprisingly easy as you can park right at the bottom of the rock.
It takes 5-10 minutes depending on your speed.
The views are stunning — the panoramic desert scene interspersed with palm trees and modern buildings makes Tempe look like an oasis.
9. Learn about Native American culture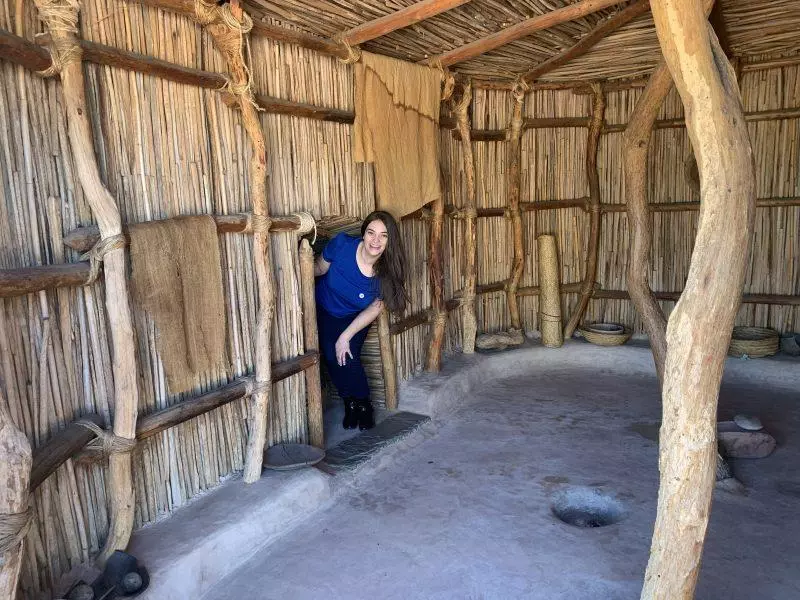 There are 21 federally recognized Native American tribes in Arizona.
While in Tempe, the names you'll hear the most are Hohokam, Pima and Maricopa.
The Pueblo Grande Museum is a great first stop if you're just starting to learn about the culture.
It is located at a Hohokam excavation site and showcases artifacts from the dig.
Even better, they have a program called S.A.L.T. which stands for "Study of Ancient Lifeways and Technologies."
Every month they put on class where you can learn skills like how to start a fire, roast agave or make a cutting tool out of stone.
Everyone is welcome, just inquire and sign up ahead of time.
Those wanting to actually see and tour an Adobe Pueblo-style building should head to the Eisendrath House.
This is a popular spot for special events and weddings because it's so scenic.
It's part of the Carl Hayden Campus for Sustainability and, apart from being a tourist attraction, aids on water conservation efforts.
RELATED POST: VISITING ANTELOPE CANYON IN ARIZONA
10. Shop at Tempe Marketplace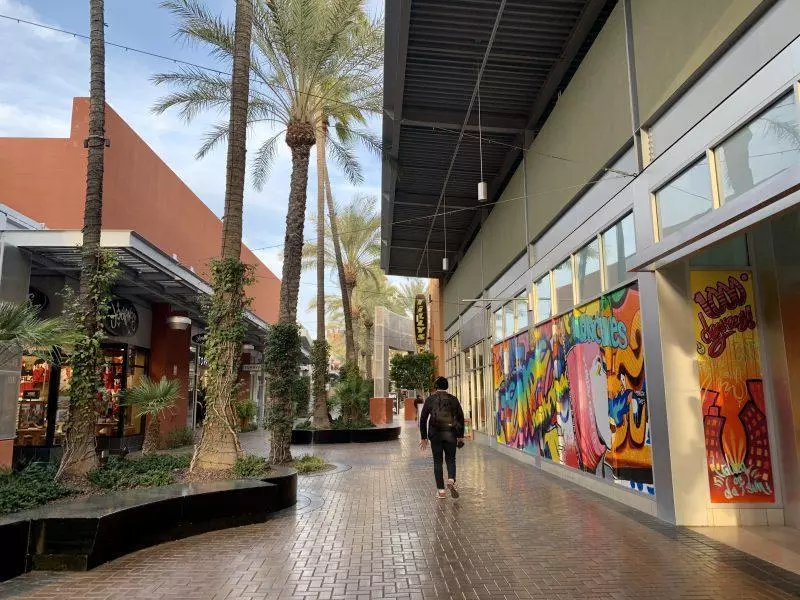 Tempe Marketplace is a sprawling outdoor shopping complex with more than 100 shops and restaurants.
They host more than 300 events a year, from motorcycle shows to pottery classes.
They also have free concerts on Fridays and Saturdays, featuring local bands from 7pm to 10pm.
Tempe Marketplace is also an unexpected hub for street art.
Currently, there's a project called "The Greats Wall: A Mural of Musical Masters," which features 10×10 feet murals of famous artists like Elvis Presley, David Bowie and Tupac.
11. Catch the Arizona sunset

Arizona's sunsets are legendary.
If you're looking for a romantic spot with unbeatable views, head to Top of the Rock, a restaurant at the Marriott Resort in Tempe at the Buttes.
For sunset by the water, check out Tempe Beach Park.
12. Tour ASU Gammage
ASU Gammage is a Frank Lloyd Wright design and looks a lot like a wedding cake.
Take advantage of the free half-hour guided tour on Monday afternoons between 1pm-4pm.
You'll get a behind the scenes look and thorough history of the building.
ASU Gammage also serves as an active performing arts center for students and touring broadway companies so feel free to catch a show while you're in town.
13. Admire Palm Walk
Also on the ASU Campus, Palm Walk is a pedestrian street lines with more than 100 palm trees.
It is the most photographed place on the campus and has become emblematic of the school.
Stop by during dusk, aka the golden hour, for stunning pictures.
14. Unwind at Singh Meadows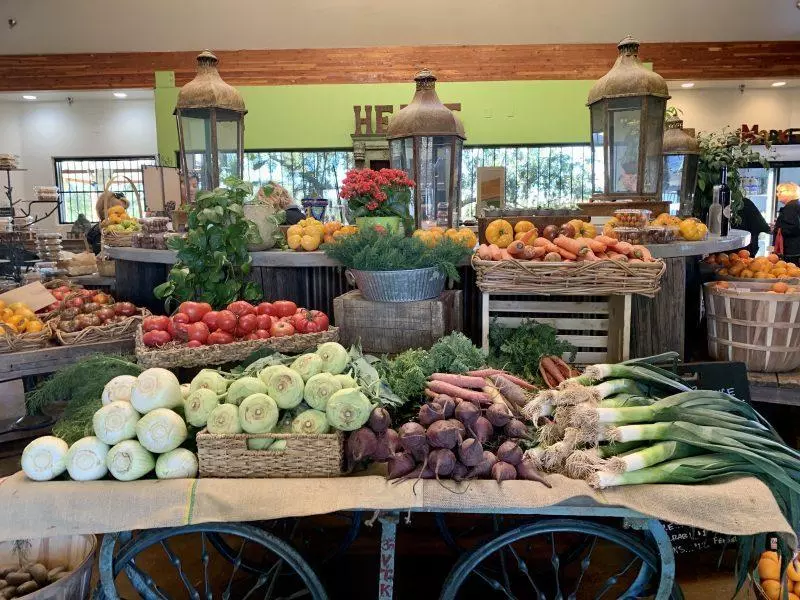 Singh Meadows is a market and cafe that's quick becoming a community gathering place.
With 72 acres, a manmade lake and plenty of recreational activities, it's an oasis in Tempe' desert landscape.
You can borrow a book to read while you're there, lounge in a cabana bed on the grass or watch your kids play with the hula hoops.
There's plans for even more development of the land in the future and the grounds are pet-friendly.
15. Search for street art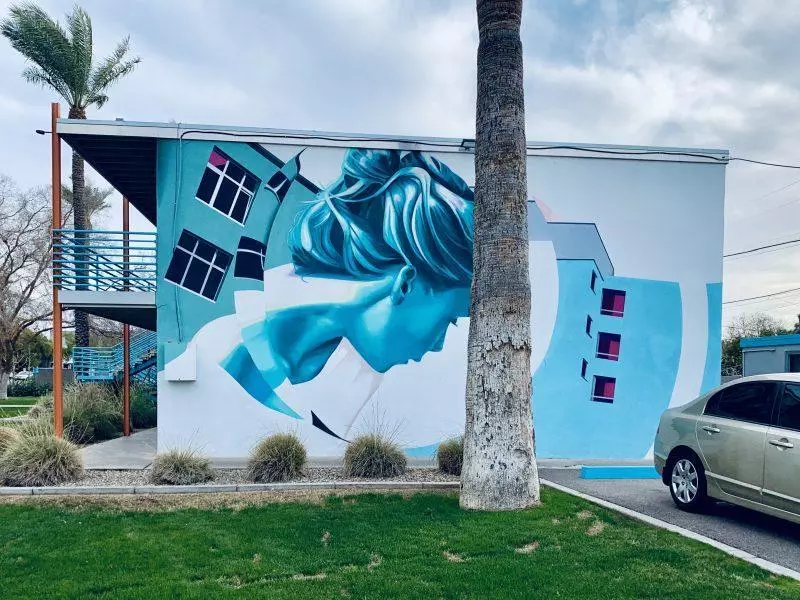 There is so much good street art in Tempe!
This one is at the Montage Apartments, an unexpected find, and is called "Girl in a Dream III" by Clyde Thompson.
Right across the street in Daley Park you'll find "Meet me at Daley Park," a piece by Jake Early showcasing Tempe's history, landmarks and economy.
At Social Hall you'll find "Get Together Tempe," a piece by Morgan Delaney that will let the world know where you are.
Perhaps the most colorful of all, you'll find "Rangoli Sunrise" by Kylian Maney at The Dhaba.
16. Taste local brews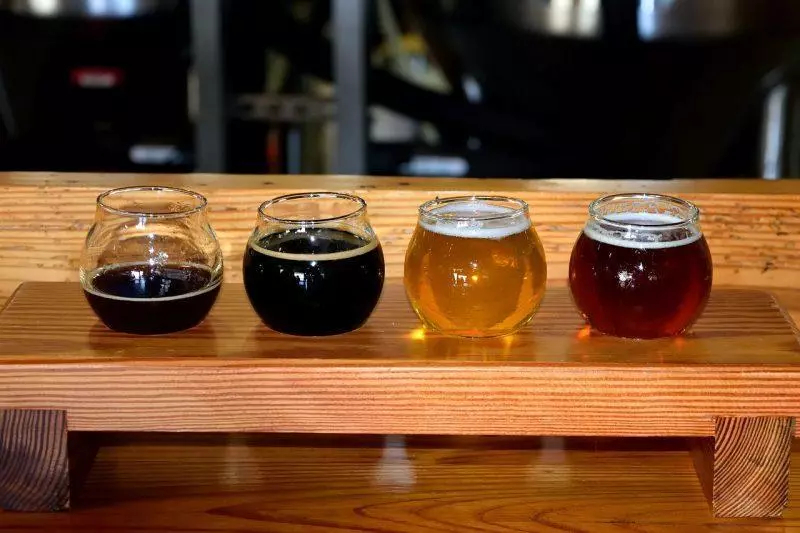 Want to have a good time with friends in a relaxed setting? Stop by a local brewery.
Huss Brewing Company is a fan favorite. Try the Magic in the Ivy, a pale ale. This place is BYOG — bring your own grub.
There's also The Shop Beer Co.
They have limited releases like "Passion Punch" and "Bohemian Sunshine" and a food truck from Wednesdays to Sundays.
For a Tempe institution visit Four Peaks Brewing Company, named America's Favorite Craft Brewery by the Travel Channel.
17. Visit the Sandra Day O'Connor House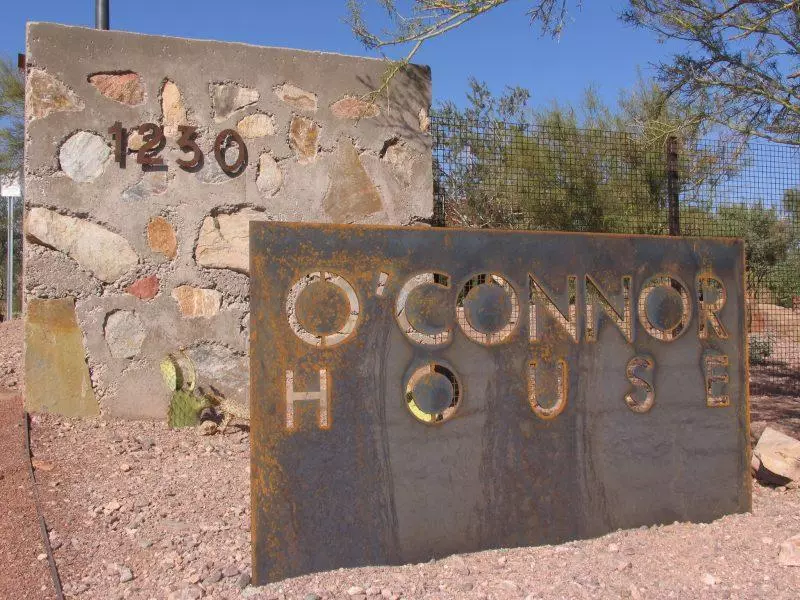 Home to the first female Supreme Court Justice, the Sandra Day O'Connor House was recently added to the National Register of Historic Places.
It is built out of adobe brick and was highly influenced by Frank Lloyd Wright's designs.
With floor-to-ceiling windows and an effort to bring nature inside the living space, it's a beautiful home to visit.
Tours are offered the third Friday of the month from August to May.
18. Indulge your sweet tooth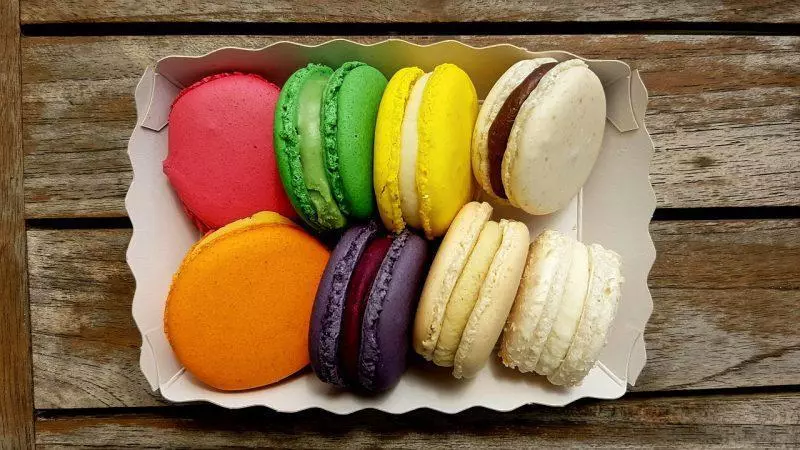 Tempe knows how to do sweets.
For a decadent treat yo'self moment, head to Tracy Dempsey Originals.
Aside from the delicious desserts, there are cooking classes and the sale of local products and wine.
Craving cookies at midnight? Insomnia Cookies has your sweet fix.
If you want an IG-worthy bite, head to Bubbleology Tempe where they serve massive ice cream creations wrapped in a fluffy bubble waffle that serves as a cone.
RELATED POST: BEST PLACES TO EAT IN TEMPE, ARIZONA
19. Take an e-bike tour of the city
Tempe is an active community and e-biking can make you feel like you're getting exercise, even if you're not necessarily "in shape."
I rode 6 miles and barely broke a sweat!
The motor helps you go uphill and accelerate, covering a longer distance in a shorter time and with less effort.
The folks at Tempe E-Bike Tours will make sure you have a smooth ride and see much of the city in a short time.
20. Catch a flick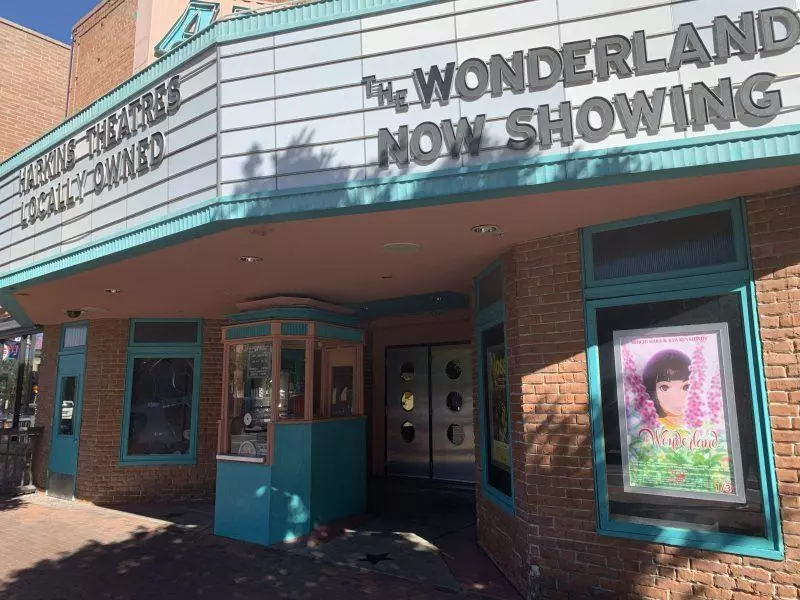 If you're into historic theaters, check out Harkins Valley Art Theatre in downtown Tempe.
It is one of the last remaining single-screen theaters in Arizona and has nostalgic elements like a free standing ticket booth and wood-framed movie posters.
If you're looking for a more modern experience head to Alamo Drafthouse, with cocktails and wait staff bringing meals straight to your reclining seat.
21. Have family time at Kiwanis Park
The Kiwanis Recreation Center has a batting cage, indoor seasonal wave pool, tennis courts and gym.
There's also Kiwanis Park, with lake that has pedal boats, fishing, walking paths and picnic areas.
This is an affordable way to spend the day with large groups or young children.
22. Attend a special event
When it comes to events, Tempe always has something going on.
During my visit, the PGA Tour was in town. I'm told they don't even attempt to quiet the audience and understand Tempe is the "party" stop.
If you're a baseball fan, come during mid-February to mid-March for spring training.
The Tempe Festival of the Arts is held in the spring and fall and showcases over 350 vendors from around the country.
These are just some of the many fun things to do in Tempe, Arizona.
Till next time, safe travels!
RELATED POST: HIKING THE GRAND CANYON'S SOUTH KAIBAB TRAIL
Note: This trip was sponsored by Tourism Tempe. All opinions are my own.
Liked this post? Pin me below: