Looking for the best flower bath in Bali? Read on for my review of the Udaya Resort and Spa in Ubud!
I spent a month in Ubud, Bali and was blown away by the lavish spa treatments and abundance of affordable luxury. If you want to feel like royalty at a price that won't break the bank, then Bali is the place for you.
Many travelers and digital nomads set up shop beachside, in Canggu or Seminyak, but I spent the majority of my time in Ubud. Ubud is the busy city center on the island and regarded as the cultural capital of Bali. I loved the array of waterfalls, hiking trails, spas, restaurants, museums and shows just a 5-minute tuk-tuk ride away.
One of the things I wanted to splurge on was a flower bath. I'd seen pictures of people soaking in large tubs filled to the brim with flower petals and immediately added it to my bucket list.
RELATED POST: THE 10 MOST BEAUTIFUL PLACES IN BALI TO GET IG-WORTHY PHOTOS
Finding the best flower bath in Bali wasn't easy. Here's my story and recommendation!
Searching for the Best Flower Bath in Bali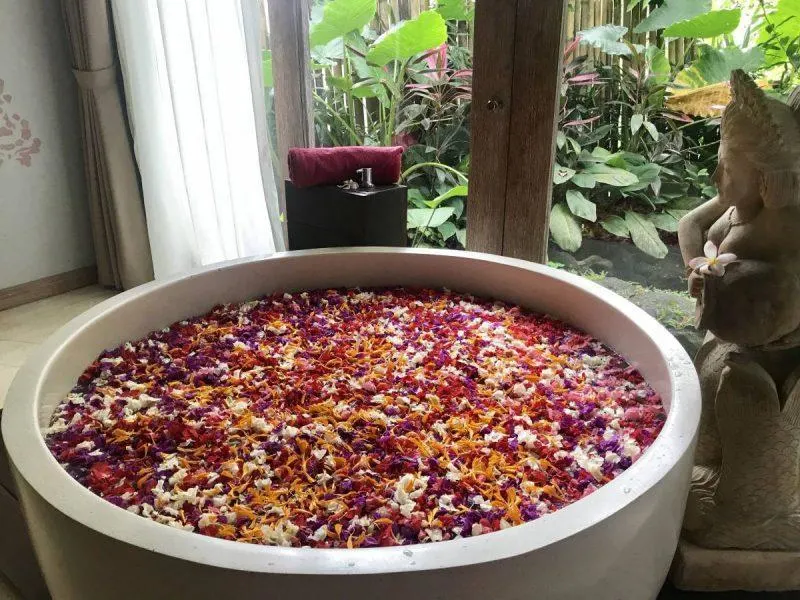 I spent hours online before my visit researching all the best flower baths in Bali. I read reviews, compared photos, dissected the spa menu and ingredient list. I wanted to find the most lavish experience because it was part of my birthday festivities and I have a thing about ringing in a new year of life in style.
My search ultimately led me to Karsa Spa, the #1 rated spa in Ubud in TripAdvisor. I made an appointment online for the day of my birthday, one month out. I was so excited that I'd secured a space and everything was going according to plan.
When I arrived, however, things started to go awry. There was no water so they couldn't do my bath.
They offered an alternative massage and sat me in a waiting room with 2 dozen other people also being offered a conciliation prize, with no idea when I'd be seen.
I didn't want to settle and I definitely was looking for a bath not a massage, so I went back to my research and decided to try my alternative instead, the Celebration of Flowers treatment at the Udaya Resort and Spa.
About the Udaya Resort and Spa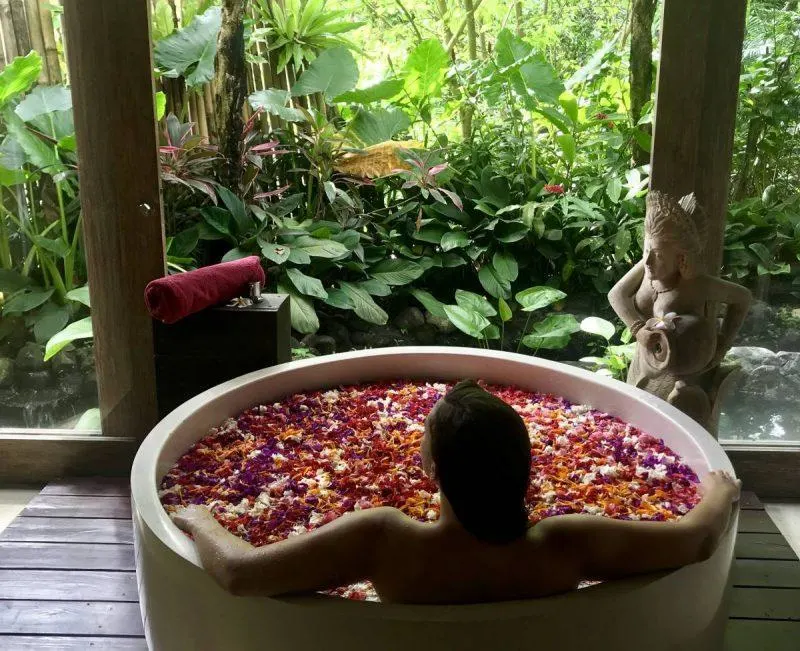 The Udaya Resort and Spa is a popular destination for honeymooners. It is located about 10 minutes outside of the city center and has a free shuttle service that drops you off and picks you up just behind the main shopping street, running hourly.
There are 27 rooms in total, each featuring soaking tubs and a private balcony. The spa, called the Kaveri Spa, is open to the public and has 3 private rooms, each with a maximum capacity of 2 people.
In contrast to the Karsa, the Kaveri Spa felt secluded and not overrun by people. It was a relief to get away from the frantic energy of the Karsa waiting room and reach a tranquil environment complete with wood furnishings, soothing fragrances and soulful decorations.
I was greeted by the front desk staff at the hotel when I arrived and escorted down to the spa area, which can be a little tricky to find on your own for the first time. At the end, a spa attendant also escorted me back to the front. I appreciated the attentive service. I was also given tea upon arrival.
Although I stayed at a homestay and truly enjoyed the experience, the Udaya is great if you're looking for a more formal hotel that is still within budget. I liked it so much I visited the spa twice.
The Celebration of Flowers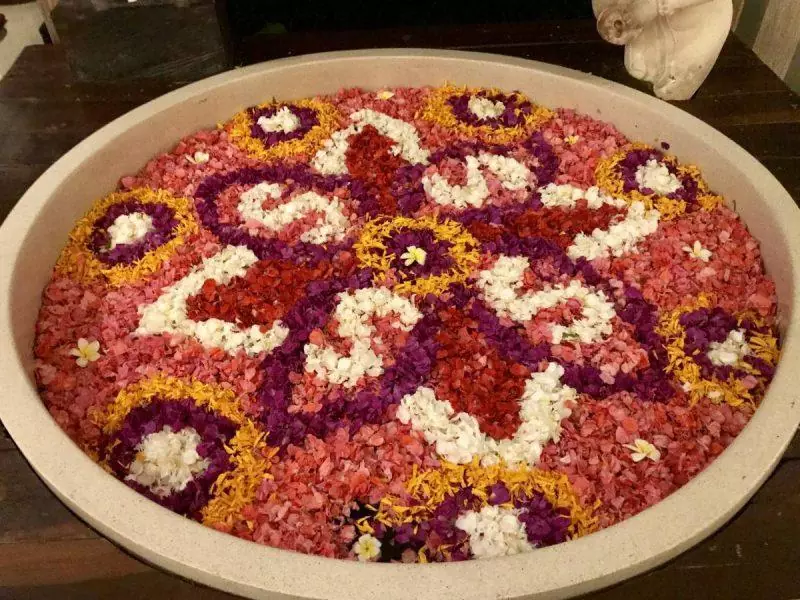 The Celebration of Flowers is the spa's most famous treatment. It lasts 45 minutes and has luxurious oils in the water so your skin can soak all that goodness in.
There are other flower bath options but this is the grandest, with more than double the normal flowers and an elaborate design created in the water. It's IG heaven and the staff will be more than happy to help you take pictures.
You're able to get in fully nude or utilize the disposable underwear they provide.
You'll also be given a slipper and robe as well as access to a bathroom and shower facilities. The time flies so I recommend getting pictures out of the way and just taking in the moment.
If you go at night it's likely to be more quiet as people who work nearby have gone home for the day. If you go during the day you'll have the benefit of natural light for your pictures but may have to deal with city noises or construction.
There's a garden out back that shields you from prying eyes. It feels private despite being in a busy setting.
Price & Tipping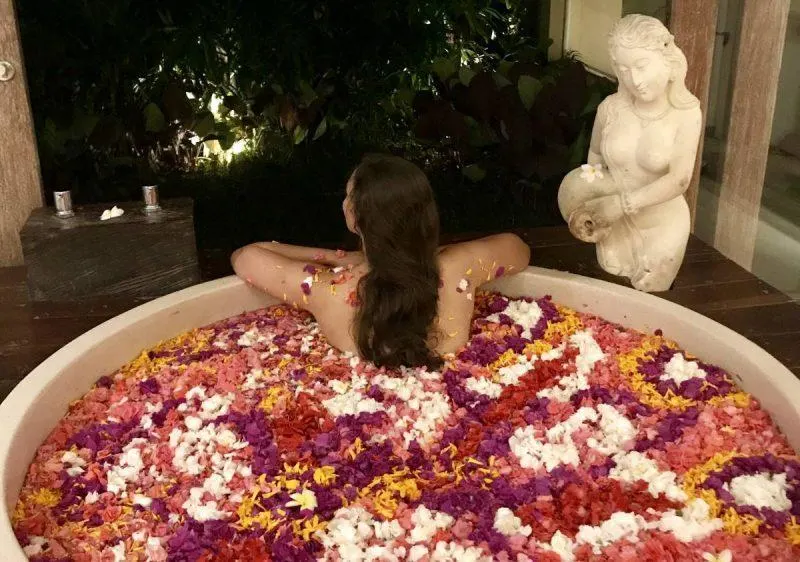 At the time of my visit in 2017, The Celebration of Flowers started at 350,000 IDR, approximately $25.
Now, it's about double, starting at IDR 875,000, approximately $60. It is still a steal compared to most spa prices but definitely more expensive than what an experience typically costs on the island.
Still, I cannot recommend it enough!
Note, treatments usually require a 50% deposit at the time of reservation to hold your spot.
Tipping is not expected but much appreciated. I recommend at least 100,000 IDR to your attendant, more if they take pictures of you. It comes out to roughly $10 but can go a long way for local residents.
If you want to splurge even more, you can get the Kaveri Indulgence Treatment, a 2.5-hour package that includes a massage, body scrub treatment and mask and celebration of flowers. It costs around 1,875,000IDR ($130) but is so luxurious and will melt your cares away.
Make sure you clarify if you'll have the grand celebration of flowers at the end (design and all) or just a normal flower bath since the former includes a small up-charge.
Know Before You Go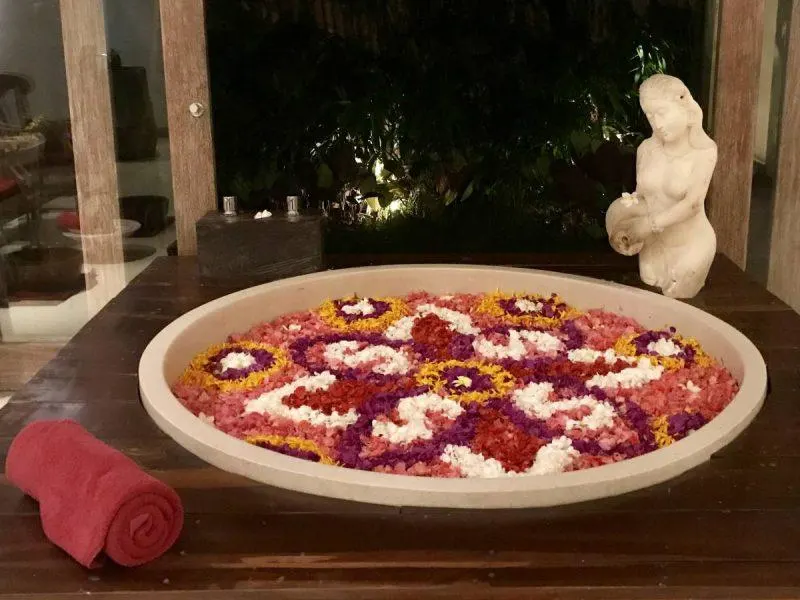 You can pay with credit cards here although cash tips are appreciated. Make sure to let the front desk know when you arrive that you want to be on the list for the next shuttle back to town once your treatment is over.
Flower baths aren't your only option — there are milk and citrus baths available too. You can also get a facial and mani/pedi. They have couples treatments for those here on a romantic getaway.
To make a reservation, you can go online and email the staff or call directly.
I called the same day when I was looking for a place to go on my birthday and they were very accommodating.
I do recommend you make a reservation at least a week ahead of time in normal circumstances to make sure you secure the time and treatments you want.
Till next time, safe travels!
RELATED POST: 15 THINGS TO DO IN UBUD, BALI FOR FIRST-TIME VISITORS
Liked this post? Pin me below.