It doesn't escape me that some of my readers get nervous about visiting states like Oklahoma.
Questions come up like, is it safe? Will anyone look like me? Will I feel comfortable there as a solo female traveler or a minority?
When I partnered with Chickasaw Country, I went with the intention of finding answers to these questions, and was pleasantly surprised.
Upon arriving, one of my first stops was the ARTesian Gallery & Studios, where I had the pleasure of interviewing two Chickasaw artists.
My host at the Chickasaw Country Tourism Department told me they're referred to throughout the state as First Americans. Already, we were being cognizant of language and off to a good start.
About the ARTesian Gallery & Studios

The ARTesian Gallery & Studios is located in Sulphur, Oklahoma, across the street from the Artesian Hotel, Casino & Spa.
It is a studio space for 5 artists, a gallery, a shop for both art supplies and handmade crafts, and a place to take art lessons, from painting to weaving.
They have "meet the artists" sessions where you can ask questions directly and show your support.
About the Tribal Nations of Oklahoma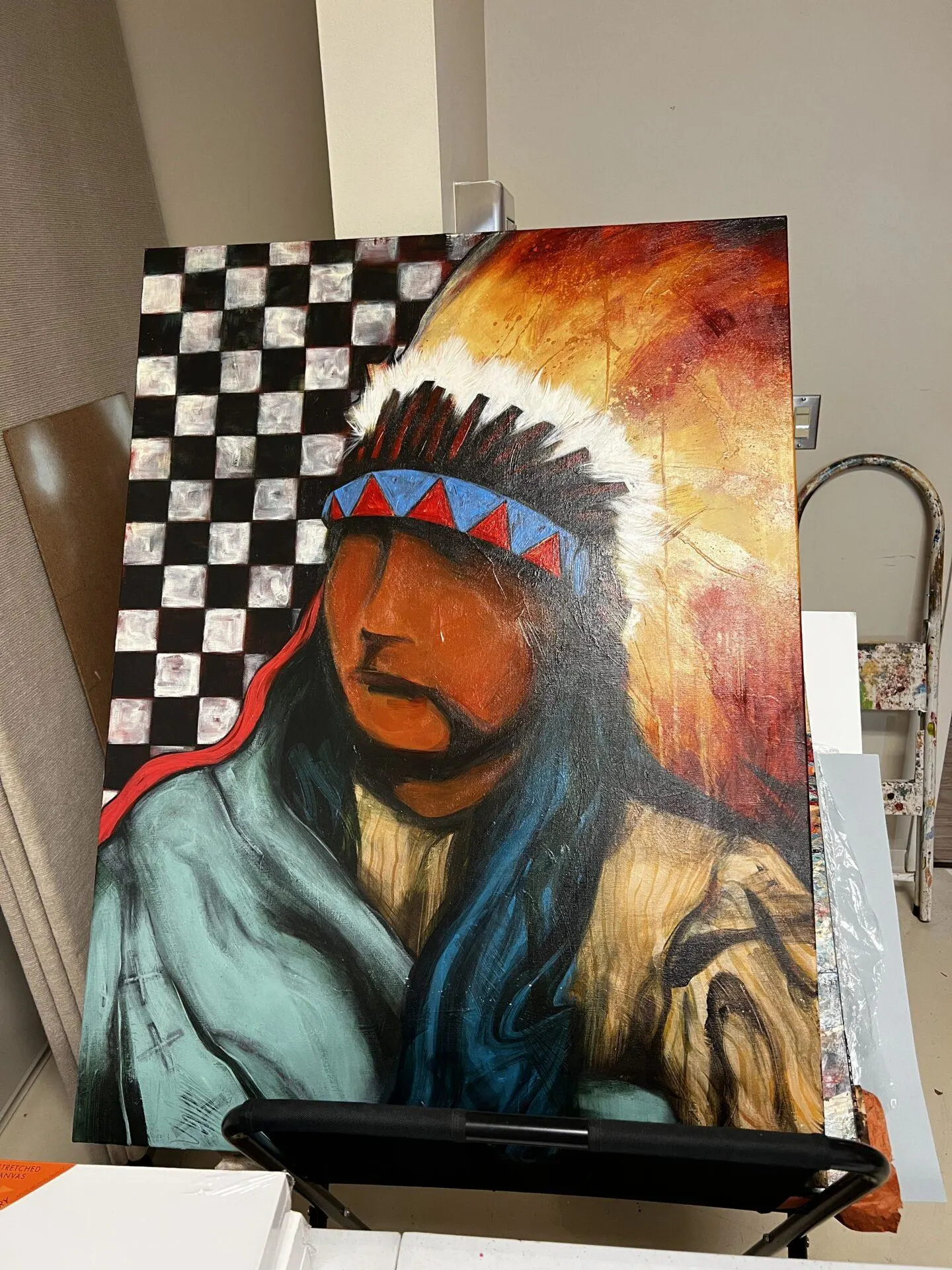 There are 39 tribal nations that call Oklahoma home. Those wanting to learn more should stop by the First Americans Museum in Oklahoma City.
I was visiting Chickasaw Nation, which has its own ruling body.
Bill Anoatubby is the Governor and has been in office since 1987. His son, Chris Anoatubby, is the Lieutenant Governor.
Chickasaw Nation hosts many programs to encourage the advancement of its members, from scholarships to grants.
The ARTesian Gallery & Studios are meant to assist and promote Chickasaw and other First American artists.
Meet Brent Greenwood

Walking into Brent Greenwood's studio was the definition of organized chaos. Paint tubes lay scattered everywhere and art sat wherever there was a place for it, in all different orientations and sizes of canvas.
Every corner was covered with his creations, and yet, you could tell he knew exactly where everything was.
He stood tall, wearing a button down shirt and rocking a salt and pepper goatee. His eyes were kind and smile wide as he greeted us.
Brent is half Chickasaw, half Ponca. His mother's maiden name is Buffalo Head.
Perhaps that's why he's drawn to depictions of the animal, in many forms. Bison images surrounded us and were clearly a prevalent theme. Granted, bison and buffalo are distinct, but for our purposes we'll use them synonymously.
Brent showed me some of his works, including a bison he painted on the spot during a live paint session. I couldn't believe he put this together in one sitting.
He explained, "This is my go-to style for Bison, it's like a profile but a 3/4 view. I just love painting Bison."
He motioned to the details on and around the subject and elaborated, "This is the kind of energy moving that I create with all the line work, splatters. And this is all acrylic on canvas, with some charcoal and other markings. Markings made with my paintbrush and pencils — things like that."
The bison was readily distinguishable, and yet there was a fuzziness about it, as if it were out of focus. Brent talked about how he was influenced by Mark Rothko, an abstract artist that utilized this technique on purpose.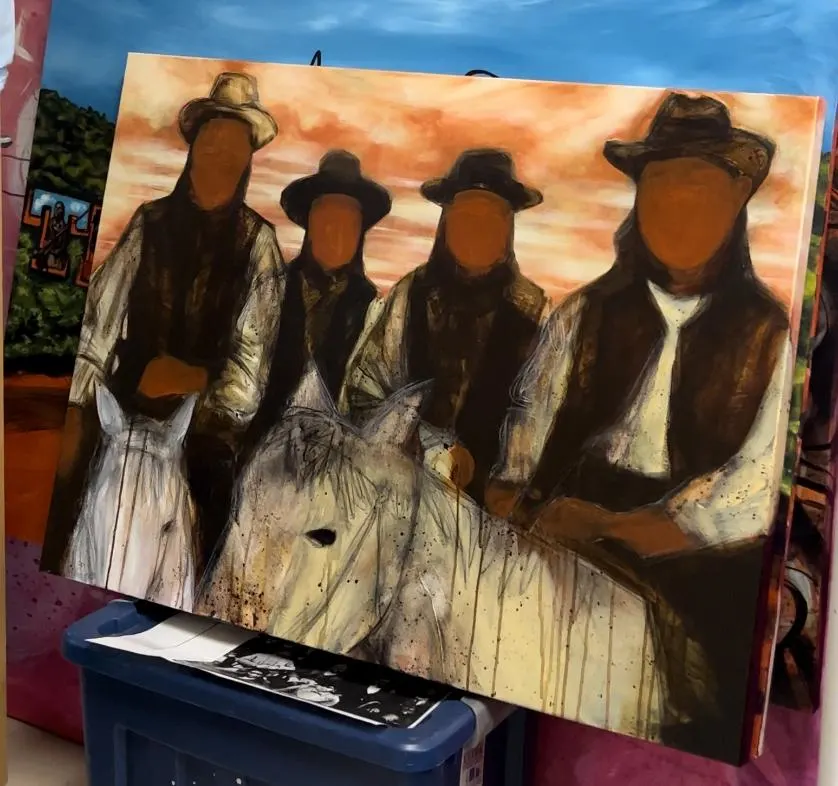 He showed me a painting depicting 4 riders on horses, wearing hats and vests but their faces indistinguishable.
"I just love how Mark Rothko was able to accomplish that, just that feeling of it not being about the color theory. It's more about the emotion that can be evoked by seeing how these colors blend into one another," Brent explained.
"Is it the sunrise or sunset? It's up to the feeling and mood of the viewer and that's what I leave open for interpretation, for them to decide and get that engagement."
He joked that at an art exhibit he overheard someone talking about one of his pieces and was about to approach them when they said, "he must not be able to draw faces."
Contrary to that assertion, Brent's face drawing skills were clear when he showed his sketches of Baby Yoda on ledger paper. Star Wars is a personal favorite of his, and Brent explained the meaning and value behind ledger art.
First Americans had limited access to materials but had a long history of documenting their culture through painting.
When traditional methods weren't available due to displacement and settlement, they painted on what they could find, including paper from ledger books. Today, it's a valuable art from.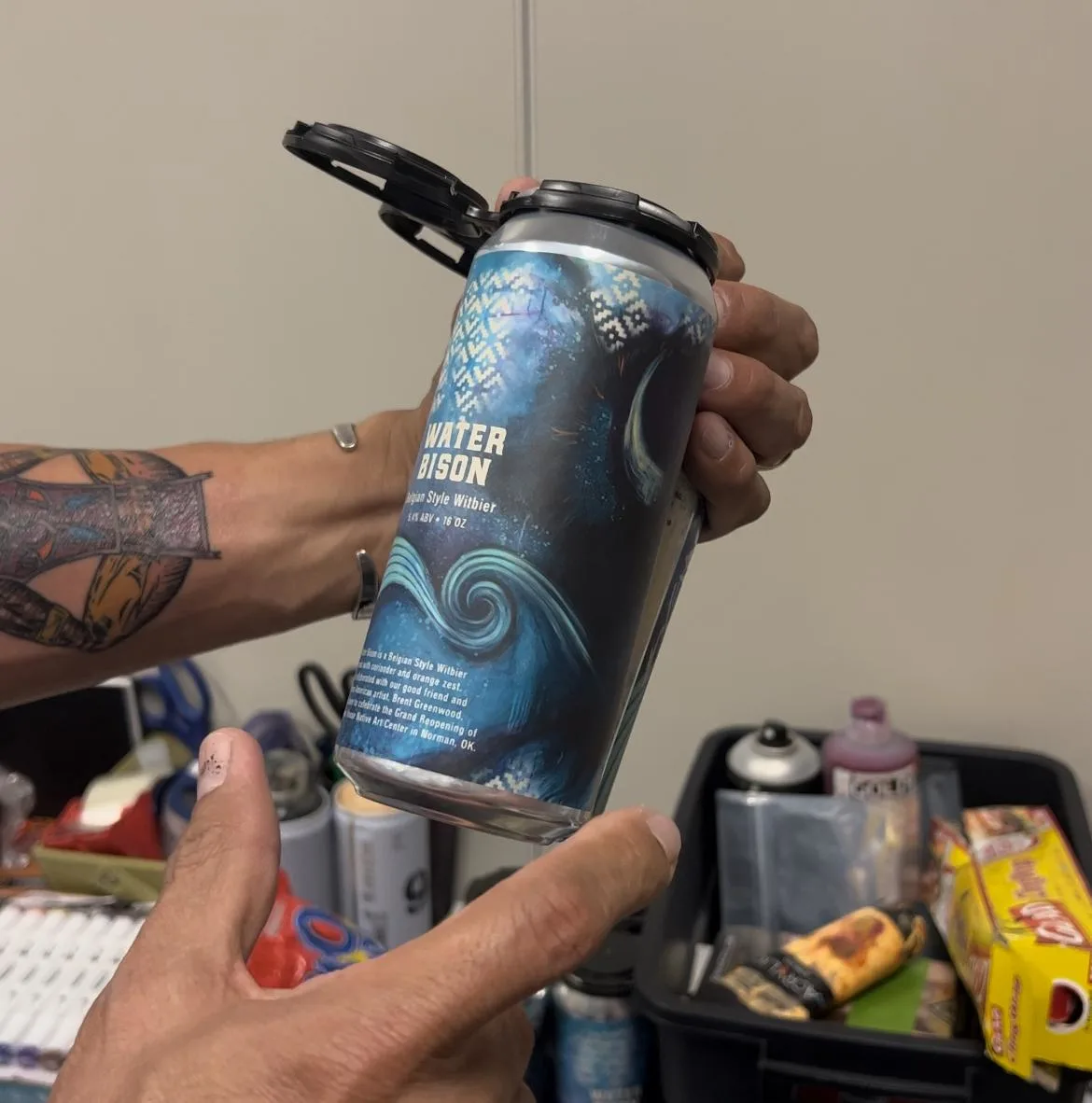 Brent also showed me a beer can he designed for Skydance Brewing Company in Oklahoma City, where he grew up.
It was the prettiest beer can I ever saw, and it was in Brent's signature style. This particular beer was called "Water Bison" and you saw a bison front and center, with repetition of stenciling in the background. Brent pointed out a swirl underneath the bison, representing its lifeline.
What impressed me most about Brent wasn't just his talent, which was evident, but his commitment to the community.
Supporting a First American owned brewery was just the tip of the iceberg — he's painted multiple murals throughout town and is active with the Arts and Humanities division for Chickasaw Nation, partaking in after school arts programming for middle and high school children.
He aims to encourage and educate a new generation of artists. "It's all about sharing knowledge, and it makes me feel good when I see young people that have mentioned me onstage."
My time with Brent flew by, and I went to the studio next door for a very different experience…
Meet Mary Wilds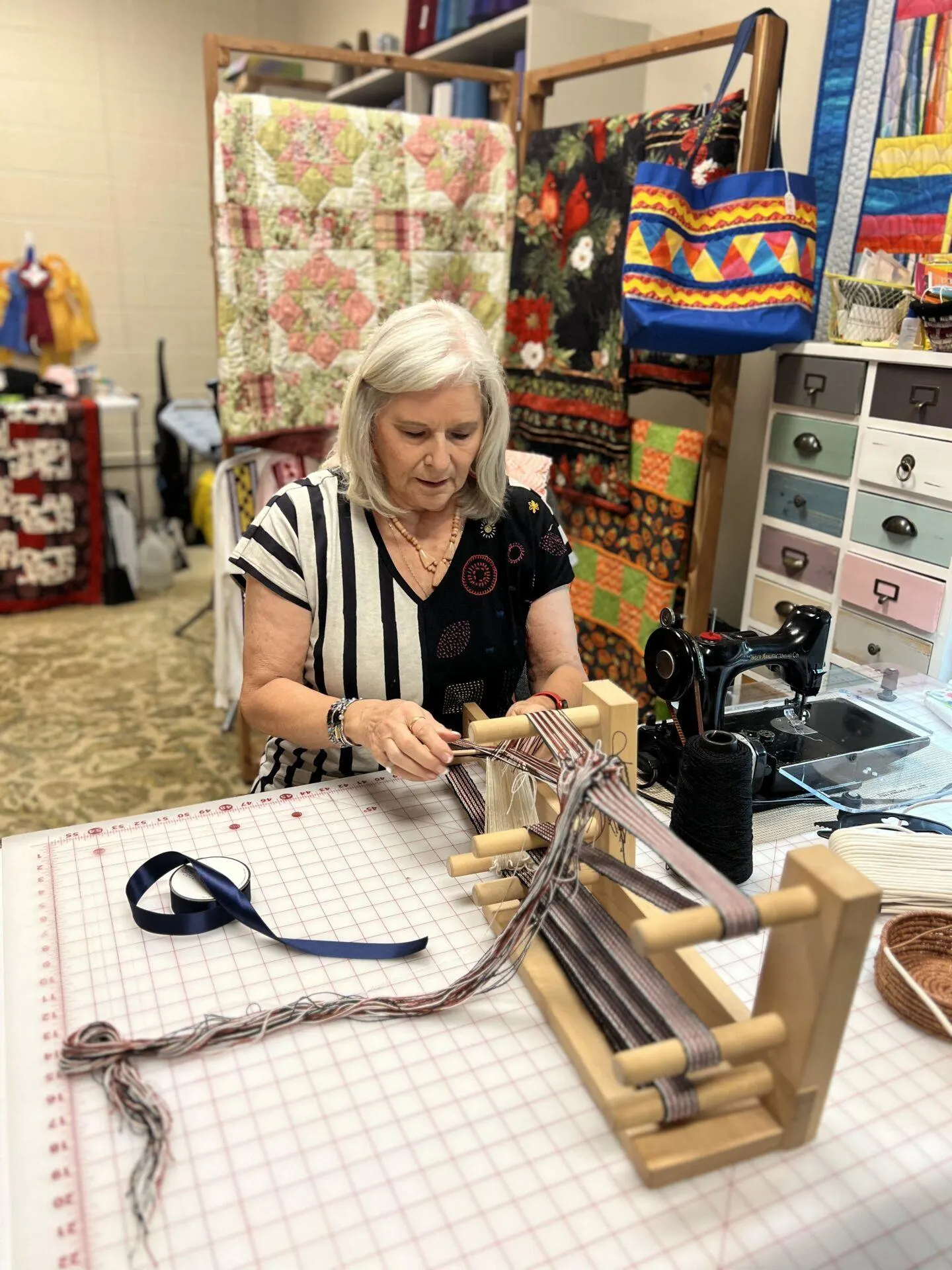 Mary Wilds' studio was the opposite of Brent's. Not a single item was out of place — everything was immaculately displayed. Like Brent, her preferred medium was evident — Mary was an expert in textiles.
On the table when I walked in were dozens of framed pieces — like embroidery, but more of a 3D version. The subjects ranged from butterflies to owls to teddy bears.
Each was textured in a way that made you want to reach out and touch it, feeling your way around the design.
The walls were draped with colorful quilts and mannequins in the corner donned Chickasaw ribbon dresses and skirts used for stomp dancing.

"I'm weaving belts to go with each one of the skirts," Mary said. She stood behind her working table, her fingers gingerly touching the surface.
A black sewing machine was set up on top and the tablecloth looked like it was used for measurements.
Mary was elegant and professorial, with silver hair and a beaded stone necklace.
I learned that she was a special education teacher in Virginia for 40 years, teaching students with disabilities how to use assistive technology to see, hear, and use their hands to speak.
"My mother taught me how to sew, and my grandmother taught me how to quilt," she said. Mary is half Chickasaw on her mother's side.
"Most of my pieces start with a fabric or pattern or topic," she said. She recalled finding bits and pieces of old fabric and incorporating them into her work.
"This is a 9-patch that [my mother] had done by hand, and I can even see some of the dresses that she made me, some of the scraps in that," she said while pointing to a patchwork design on a vest.
In reference to a nearby quilt she chuckled while saying, "the bicycle has like 15 little pieces of fabric on it, so that one was fun."
She pulled back one quilt made to represent the four seasons and said, "My grandmother taught me the back has to be as pretty as the front. I never make anything the same, so they're all one-of-a-kind. That's one thing I don't like to do is repeat things."
Mary noted that her friend, Margaret Wheeler, has a studio at the end of the hall where she specializes in weaving, and that Mary begun learning this skill late in life.
She was both an educator and a student, through and through.
We quickly popped into Margaret's studio and Mary showed me some of the recent pieces she'd made, on a loom that looked very intimidating with 8 or more pedals.
I admired her dedication to continuing to develop her craft and evolve as an artist.
But I hadn't seen anything yet.
We saved the best for last as she took me outside to see her award-winning quilt, dedicated to the stolen sisters.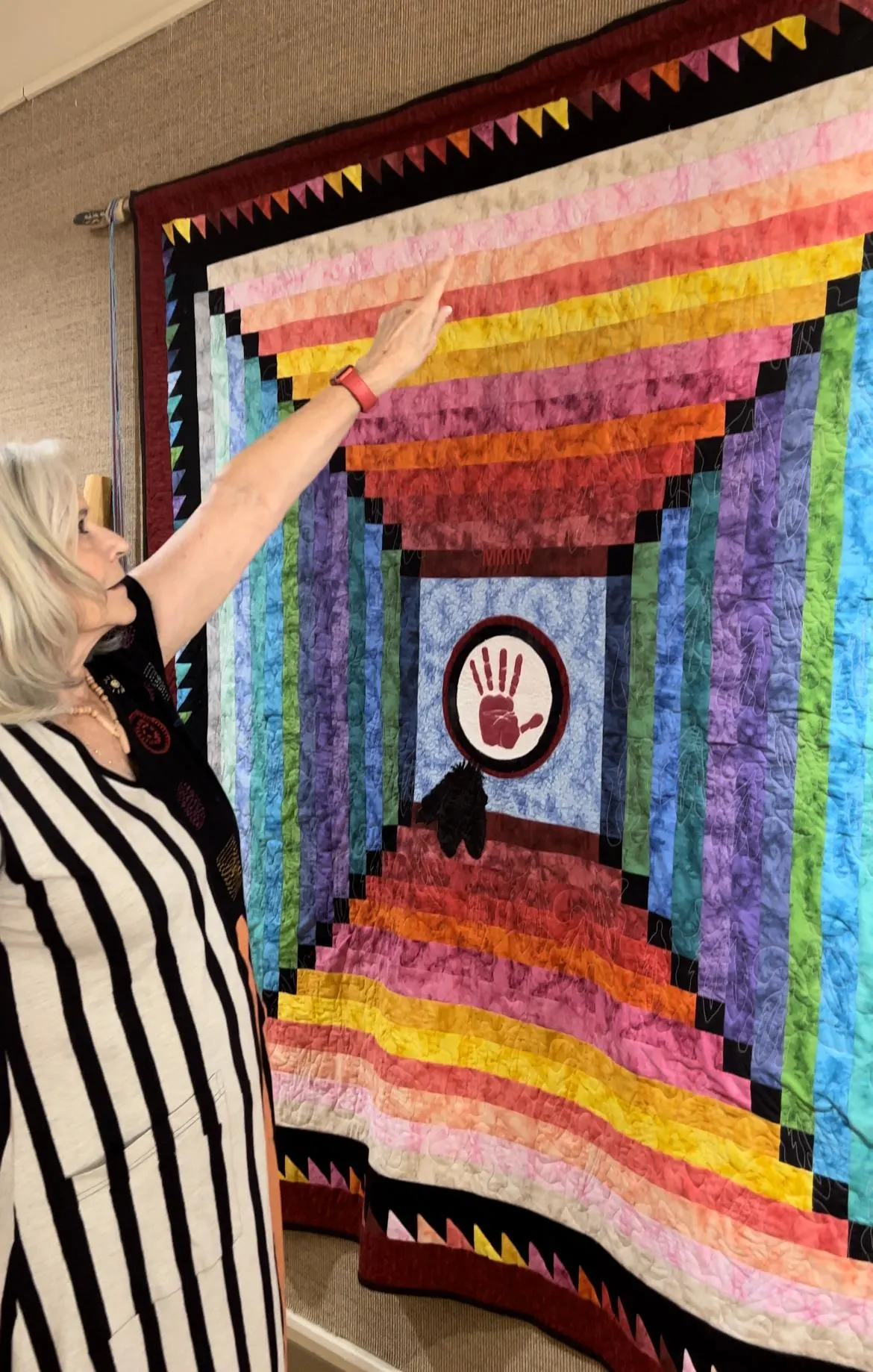 Missing and murdered Indigenous women is plague on our nation, and one that's not talked about nearly enough. Mary's piece began in honor of Faith, a missing Chickasaw woman.
"I started with the international symbol, which is the red hand," she stated, placing her hand over the red hand in the center of the quilt."
"To me, it sort of grew and I started with Faith and she was born in lots of love and lots of beauty that's represented in the colors of the rainbow. Until the monsters get the sisters with their sharp pointy objects and they're gone." Mary pointed at the triangles along the border of the quilt, resembling teeth.
"But they grow feathers, and they fly up to their ancestors so they can still be with us. So I've quilted feathers all over the quilt to represent that. And then on the outside there are red hands that I've represented with the hearts."
Her piece donned a ribbon on the corner, second place in the Artesian Arts Festival. I struggled to think of a piece that would be more meritorious for first place.
My time with these artists was short but impactful. It showed me the diversity of Oklahoma and the richness of its history and people.
So if you're wondering if Oklahoma is for you, Chickasaw Country is a great place to start.
Till next time, safe travels!
RELATED POST: UNIQUE THINGS TO DO IN CHICKASAW COUNTRY
This post was sponsored by Chickasaw Country. All opinions are my own.