It's not easy to get from Vegas to Bryce Canyon and back in a day, so I was hoping to avoid having to make that drive myself if possible.
The thought of renting a car, navigating winding mountain roads and possibly coming back at night after a full day of hiking sounded miserable to me.
I stumbled upon Detours American West while looking for a tour company leaving from Las Vegas, and I'm glad I did. They came through and took care of everything, allowing me to see one of America's most unique national parks with minimal effort on my part.
Bryce Canyon is often the fan favorite amongst Utah's Mighty Five parks.
There's a lot of talk about Zion, and they average nearly twice the number of yearly visitors, but you'll find many people confessing that if they had to choose between the two, Bryce Canyon would win hands down.
RELATED POST: HIKING THE SOUTH KAIBAB TRAIL IN THE GRAND CANYON
Needless to say, I had high hopes for this park, and it did not disappoint. It is possible to go from Vegas to Bryce Canyon and back in a day, here's how!
Getting From Vegas to Bryce Canyon
Bryce Canyon is located in Utah, about an hour and a half northeast of Zion National Park and 4 hours from Vegas. If you want to make this trip in a day, you'll need to hit the road by 5am or so.
It's an early wake-up call, and that's why sleeping on the drive over is the more tempting option.
If you, like me, don't have a family member or significant other to chauffeur you around, or you want to be kind and make sure everyone in your party arrives well rested, going on a tour is your best option.
About Detours American West
Detours American West is a tour company focusing on full-service trips. Not only did they arrive on time, they came with breakfast and since there were only 3 of us on the tour that day, we got to take the Lincoln Navigator with the beige leather interior.
It was like being on a road trip with friends, only our driver was a wealth of information and knew all the best places to go.
We stopped along the way to use the restrooms, have a look at the hoodoos up close and even spot Zion from above. Our guide had binoculars at the ready and it was surprisingly easy to spot.
Lunch was provided, and we had the option of going to the lookout points upon arrival or embarking on a longer trail. My team in particular was kind enough to wait for me to change into a dress and take pictures, since that's blogger life.
We got back around 8pm, and frankly after a day of exploring I was wiped and happy to not have been making that drive myself.
The road in Utah and Nevada are one of two extremes; either stick straight and liable to lull you to sleep, or windy roads around the mountains that you navigate at 5mph while tightly clutching the wheel.
Some roads are even closed off in the winter because they're so dangerous. I for one felt safe driving with someone who knew the area!
From start to finish, Detours American West took care of everything. It was an incredibly easy trip, and I'd recommend it for anyone looking to explore with minimal exertion.
What are hoodoos?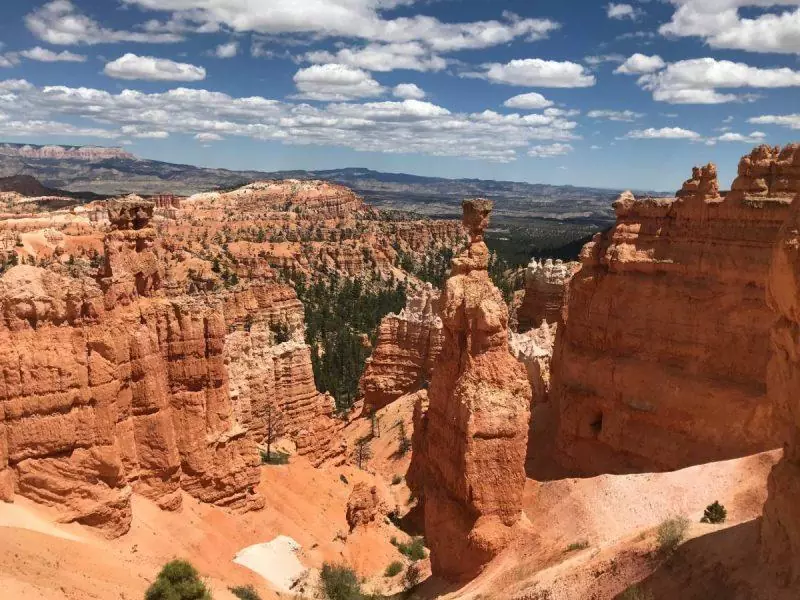 Hoodoos are what they call the rock formations that you'll see at Bryce Canyon. They're tall, skinny rocks with weird shapes on top. They sometimes look like mushrooms and are somewhat creepy looking, hence the name ,In fact, if you read the caption from my IG post above, you'll see that the Native Americans thought the hoodoos were actually an army of shapeshifters turned to stone as a punishment for bad behavior.
The more you look at them, the more they suck you in, and the more shapes you're able to identify. It's actually hard to look away, and does have a mystical feel to it. Isn't nature awesome?
The hoodoo pictured above, standing alone, is referred to as Thor's hammer because the shape on the top resembles Chris Hemsworth's favorite tool. Do you see it?
Most popular trails at Bryce Canyon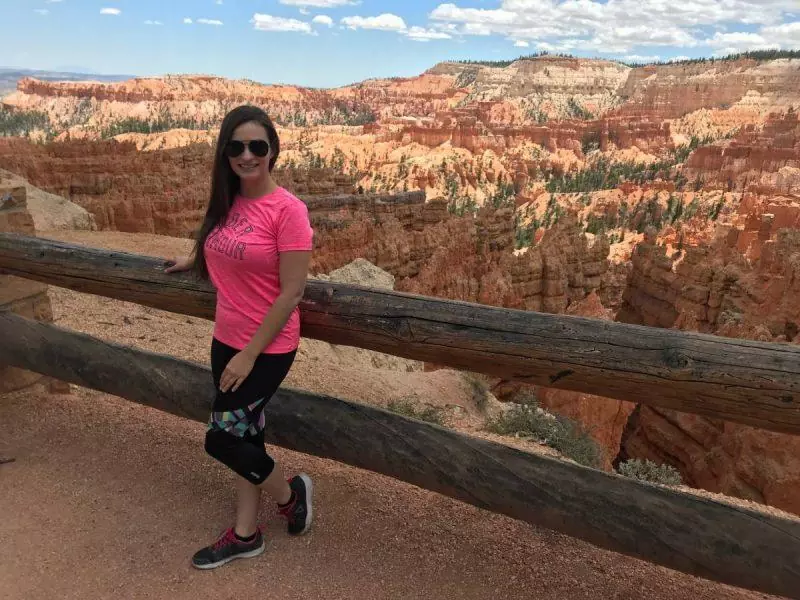 You can walk from Sunset Point to Sunrise Point without need to descend into the canyon, and still get amazing views. The Navajo Trail takes you past Thor's hammer and into the canyon itself. You can turn back at any point if it becomes too strenuous.
There's very little shade in the canyon, and the sun will beatdown on you as you walk. Make sure you bring plenty of water and sunscreen.
If you want a longer hike, Fairyland Loop is 8 miles long and the change in elevation alone will provide you with a serious challenge.
Know before you go
Bryce Canyon is open year-round and has a dramatic landscape no matter when you choose to visit. It's the perfect stop on a Utah road trip. I went in May, and it was still chilly with the elevation, so wear layers. There are bathrooms and picnic tables but not much by way of shops/food so come prepared for the day. You do not need a permit to enter and there is ample parking to accommodate you if you drive.
It is without a doubt one of the most interesting landscapes you'll ever witness, and you can reach it from Vegas in a day without a problem. Strongly consider Detours American West if you're looking to replicate this experience.
Do you have a hiker enthusiast in your life?
Till next time, safe travels!
RELATED POST: VISIT THE GRAND CANYON AND HOOVER DAM ON A DAY TRIP FROM VEGAS
*Detours American West provided me with a complimentary tour in exchange for my review. All opinions are my own.