Want to know more about Bridge Day West Virginia? Read on for your ultimate guide.
I'd never heard of Bridge Day before my trip to West Virginia. Despite having grown up on the East Coast, I hadn't visited the state and was unfamiliar with much of what it had to offer.
I hadn't even heard John Denver's iconic song, Country Roads, which features West Virginia prominently. Well, that's all changed now and frankly, I'm not sure what took me so long to discover the gold mine of adventure that is West Virginia.
I was invited to visit Fayetteville for Bridge Day, an annual event with BASE jumping, rappelling and spectators admiring the stunts.
This is a once in a lifetime experience, even for a self-proclaimed chicken like myself. If you're planning a visit, here's everything you need to know to ace Bridge Day in West Virginia!
Where is Bridge Day held?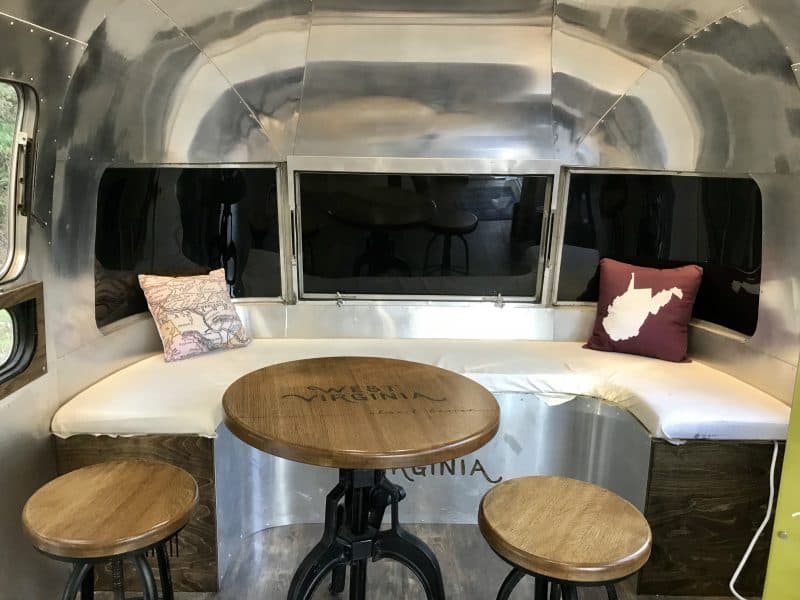 Bridge Day takes place in Fayetteville, West Virginia on and around the New River Gorge Bridge. The entire highway gets shut down and re-routed on Saturday for the event.
The bridge that would normally have highway traffic becomes a pedestrian walkway with tents lining the sides where you can get food, souvenirs, freebies and enter promotional vehicles like the West Virginia Tourism airstream.
Make sure you try a pepperoni roll, a West Virginia staple. Buy them early because they were sold out by 1pm when I tried to get them from multiple locations. Bring cash with you and be prepared to stand in long lines. More than 100,000 people are estimated to attend the event every year.
When does Bridge Day take place?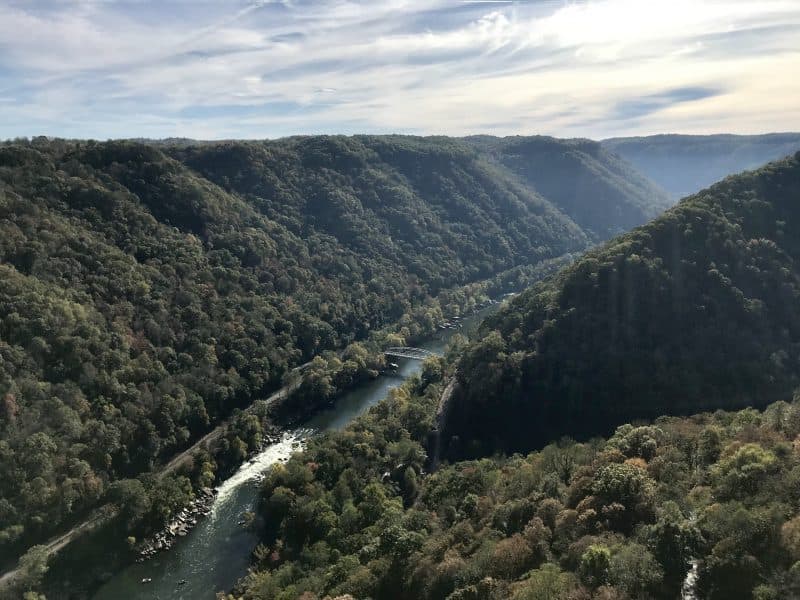 Bridge Day was founded on October 22, 1977, coinciding with the opening of the New River Gorge Bridge. It is 876 feet above the river, making it the third highest bridge in the US and the second-longest single arch bridge in the world.
Today, Bridge Day is held the third Saturday of October and runs from 9am to 3pm on Saturday with the highway being shut down to traffic from 7am to 5pm.
There's a full schedule of events that weekend, including Taste of Bridge Day on Friday, a 5K run Saturday morning and a chili cook-off and beer festival in the late afternoon/night on Saturday.
Shuttle and parking information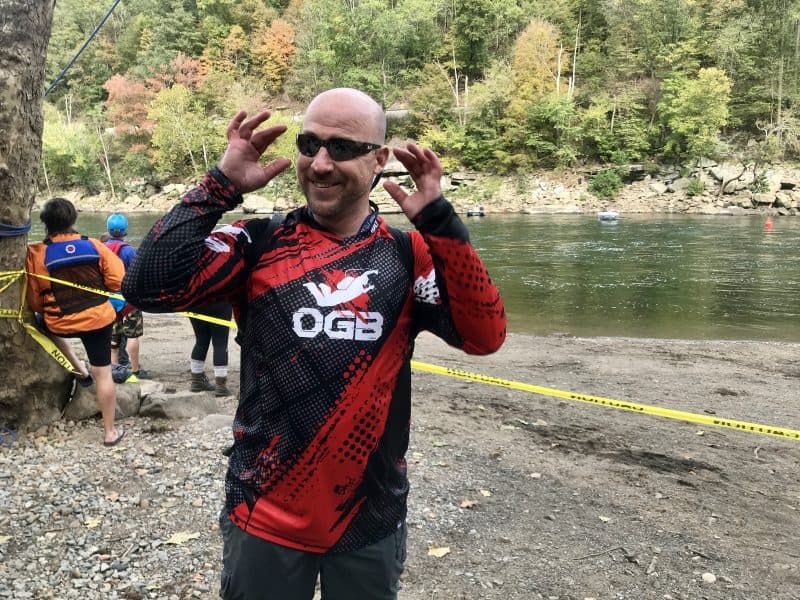 There is dedicated free parking near the bridge for attendees. From there, you can walk to the site or get a parking shuttle for $3. There's also shuttles bringing in attendees from select locations in and around Fayetteville
At the event there's a shuttle that takes you from the top of the bridge to the landing point at the bottom of the gorge. This is where you'd go to meet a friend, photograph the scene from a different angle or catch a media boat out on the water.
The shuttle costs $25/pp and you get a band to take you on unlimited rides up and down for the day. It's recommended you book your spot ahead of time by calling the Fayette County Chamber of Commerce at 304-465-5617. All jumpers will be utilizing this bus.
You can also ride your bike or walk down into the gorge, keeping in mind that it's 4+ miles each way.
BASE jumping & rappelling
Nearly 400 BASE jumpers participate every year, coming in from all over the world for the event. You need to have parachute jumped, skydived or BASE jumped at least 100 times to qualify. Tickets are $75 and registration begins July 1st.
The number of times someone jumps is really up to them. They need to make the line to jump, land, pack up their chute, take the shuttle, repack their chute properly on the bridge at the designated prep area, make the line and do it all over again.
If someone gets there early, they can fit in as many as 10 jumps. The average is 3-4.
Jumping off is one way to go, and some people get fancy with it and do somersaults or cartwheels off the platform, but those wanting to be violently propelled into the air should check out the human catapult. With a 10-second countdown and even higher elevation as you're shot up into the air, it's as big as you can go at the festival. There are limited spots available for $50 each.
If BASE jumping isn't your thing you can rappel 851 feet off the bridge. There's no number of prior rappels required but you're expected to be experienced and assume responsibility for your own safety. Team registration starts at $277 for 12-16 people (costing more the less people you bring) and registration opens April 1st.
New River Gorge Bridge Walk & High Line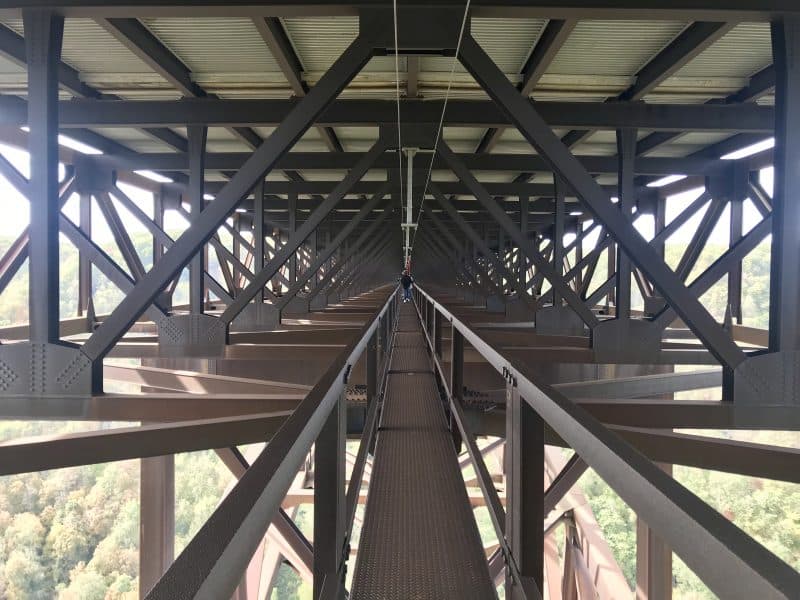 For those looking for a more tamed adventure where you're strapped in and feeling secure at any given point in time should consider the Bride Walk or zipline.
The Bridge Walk runs year-round, allowing visitors to traverse underneath the bridge and get a unique viewpoint of the surrounding landscape. It's a safe thrill — my first time out on the plank I was ahead of an elderly couple that was knocking things off their bucket list. They loved it.
During Bridge Day you can only ask to the halfway point, but you can pause and catch the jumpers on the way doing, seeing everything from a totally different perspective and getting some killer boomerangs for your IG stories.
You can also do the Bridge Day High Line on Friday. It's similar to a zipline only you descend instead of going straight across while maintaining the same height. It's slower as the speed is controlled by the people operating the lines. It's also $160/pp.
This is meant to be an activity that anyone can partake in regardless of their age or prior experience. Both activities are run and operated by the Bridge Walk tour company. Make sure you book online ahead of time as spots are limited and sell out quickly.
Taste of Bridge Day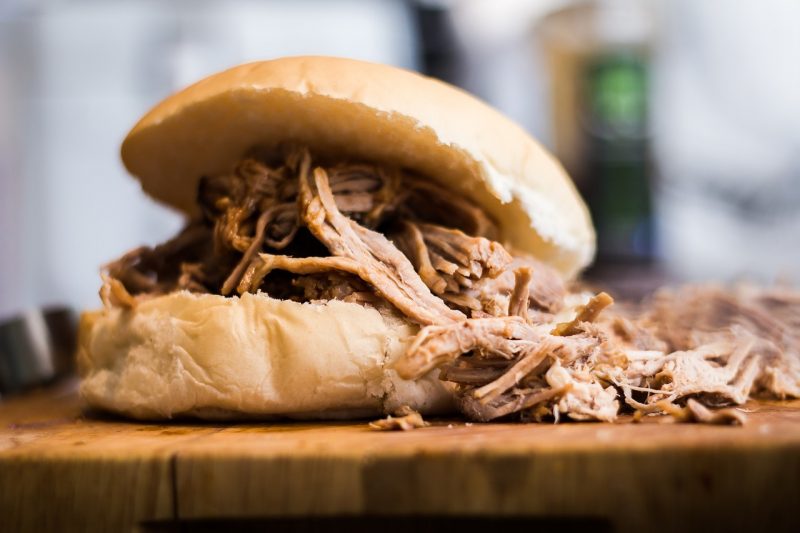 Taste of Bridge Day is a local event held the Friday before the big day at Adventures on the Gorge. About a dozen vendors set up tents and have a limited menu of of their best dishes available for guests to taste. At the end of the night awards are given like "Best Dessert" and "People's Choice Award."
Guests need to buy tickets and each item is given a different ticket redemption value. Lines can be long and the food does run out so if you know there's a particular vendor you're dying to sample then get your food first and your drinks later.
All proceeds from Taste of Bridge Day go back to the community, funding service projects, scholarships and charitable organizations.
Chili Cook-off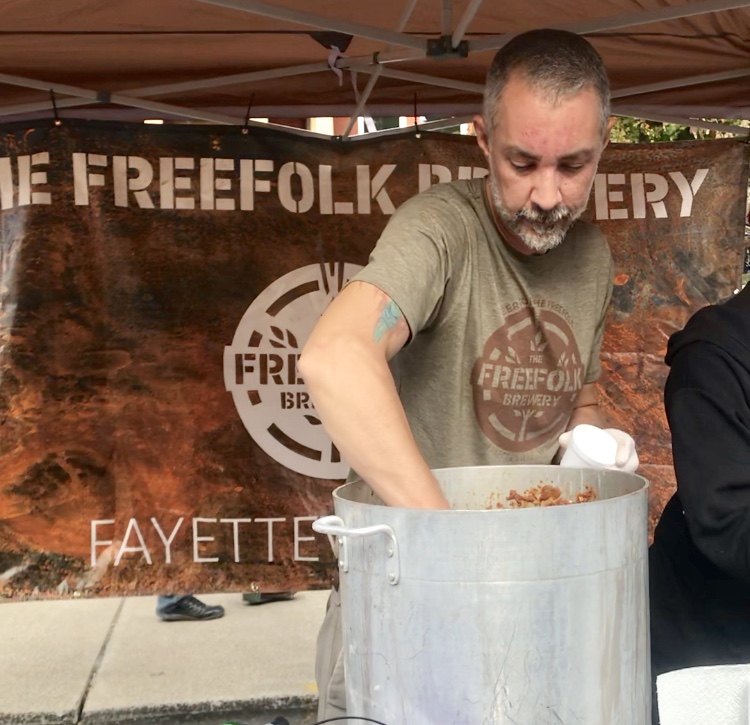 After the day is over you need to celebrate at the Chili Cook-off and Craft Beer Festival. I'd been to chili cook-offs before but they were always more about the alcohol — this one was really about the food.
Some of the best restaurants in town try their hand at winning your vote, and you reward them by placing beads around your favorite's restauranteur's neck.
I loved that there was a mix of recipes, including a white chicken chili that was my favorite at the end just by virtue of being different. Admission and parking are free but you pay for chili tasting and beer tickets.
There were two breweries there when I went, each with 3 craft beers on tap. The beers ran out quicker than the chili so for this event, get your drinks first. You're also limited to drinking beer in the beer pavilion so you can't take your beer with you to the chili tasting tents.
Bridge Day deaths and safety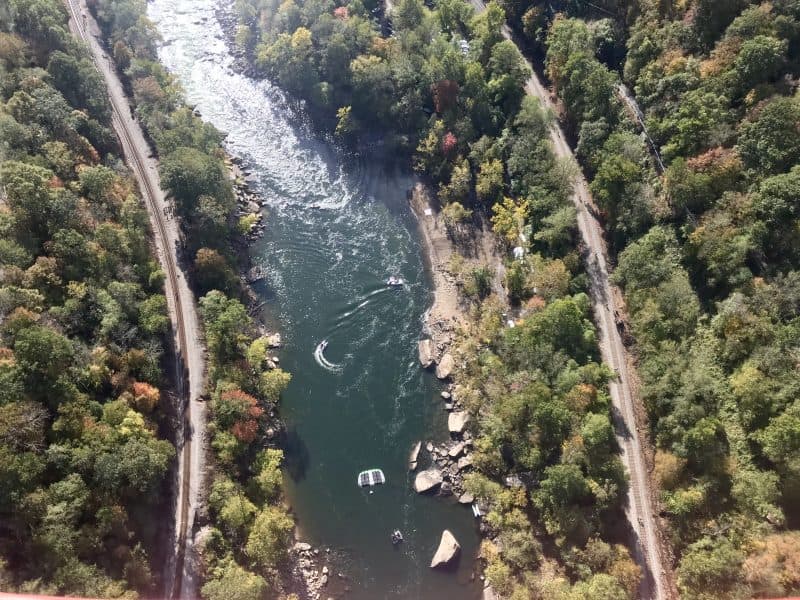 I include this section in the guide because it's one of the most Googled search terms when it comes to Bridge Day. There have been 3 deaths associate with Bridge Day in 1983, 1987 and 2006. for an event that's been running more than 40 years and centers around people throwing themselves off a bridge, that's impressive.
The staff and event organizers take safety seriously. Certainly as an observer there's no risk and BASE jumpers are properly trained and prepared.
On the shuttle, I took the time to ask a few of the jumpers why they did this. These were some of the responses I received:
"I have always wanted to jump off a bridge and survive."
"It's that feeling of plummeting to your death before the immediate arrest and avoiding suicide."

"Who says it's perfectly good? Bridges collapse all the time."

"Everyone and then you gotta break the rules of nature and do something different."
"Because it's fun, and that's the best way to live."
If you want to experience the best of what West Virginia has to offer, don't miss out on Bridge Day! It's a one-of-a-kind event that is fun whether you're jumping or just counting down the catapult.
RELATED POST: 12 FUN THINGS TO DO IN CHARLESTON, WEST VIRGINIA
Till next time, safe travels!
*I was hosted on this trip by West Virginia Tourism. All opinions are my own.
Liked this post? Pin me below.