I have to admit that at the very last minute, while sitting in a hotel in Thailand 2 days before my visit, I found myself online researching the best tour of Angkor Wat, Cambodia.
My original plan was to find a guide upon arrival, since I knew many local guides offer tours on site, often at a discounted rate. My cash was getting dangerously low after visiting more markets than intended, however, and I still had another stop after Cambodia.
RELATED POST: BEST THINGS TO DO IN SIEM REAP BESIDES TEMPLE HOPPING
I was looking for a way to charge a tour on my credit card when I inadvertently stumbled on Tours by Locals, and I'm glad I did!
About Siem Reap
Siem Reap isn't the capital of Cambodia, but it's the most famous city and biggest tourist draw, thanks to Angkor Wat. More than 2 million tourists flock yearly to the world's largest religious complex. It's a UNESCO World Heritage Site and backpacker's dream, since it makes an easy and affordable stop when visiting southeast Asia.
As a female traveling alone in Siem Reap, I felt completely safe. I walked the streets at night or took a tuk-tuk tour and found that most people actually went out of their way to help me as a tourist. They value the added revenue that tourists bring and are generally very hospitable.
Of course, I exercised the normal precautions, like walking in populated streets and making sure I didn't look distracted and knew where I was going. Transportation is very reasonable here, with a tuk-tuk across the city costing you roughly $5 and $10 to the airport. Shopping was also great here, and I scored better deals than I did in Thailand with less haggling. Still haggle though, that's part of the game.
Overall, I was pleasantly surprised by what I found in Siem Reap, and encourage you to visit and see the city for yourself.
Tom from Tours by Locals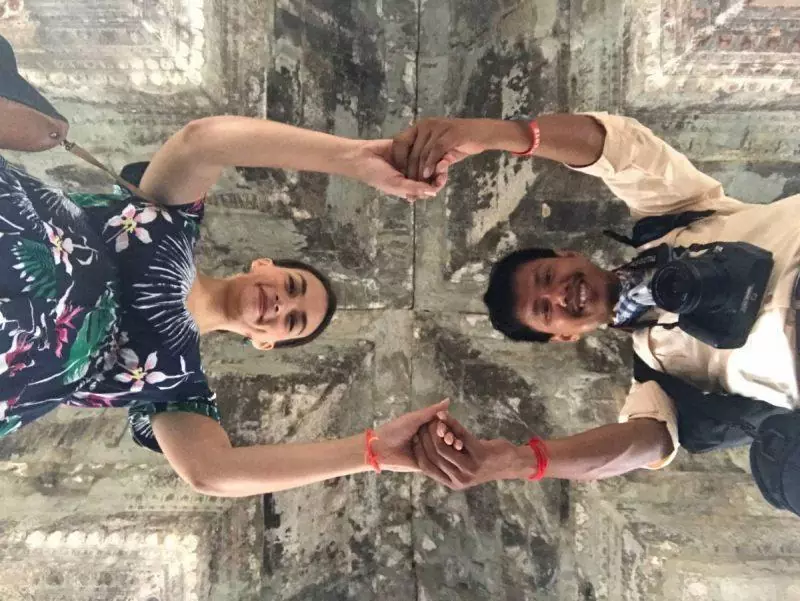 Sophon, aka Tom, is a local guide that you can contact and hire through the Tours by Locals website. Tom is one of the most knowledgeable guides you'll find in the area, with insider knowledge about the temples, flora and fauna, the political climate and religious significance of the sites. Not to mention, he has a Bachelor's degree in English and can converse like a pro, with visitors of all origins.
Let me briefly run through all the reasons this trip was 10x more awesome because of Tom:
I am always looking for ways to take good pictures, which can be hard when you're traveling alone. Tom not only knew how to expertly handle every piece of photo equipment I handed him, from a DSLR to an iPhone, he also knew the best spots to take pictures, showing me the ideal vantage points and making sure there were minimal people in my shots.
Tom picked me up in an a large SUV with beige leather interiors and tinted windows. We were driven to the entrances of the temples and the car would be waiting for us when we departed. It was like having a limousine service.
Not only was the transportation top notch, the service was incredible. After every temple, there were ice-cold cloths waiting for me, to wipe my brow or pass over my arms. This was so welcome on a warm Cambodian day. Tom also took into account when I would be tired, when I would need lunch, any breaks or bathroom stops. It was so nice not to have to worry about a thing.
For all these reasons and more, this was best tour of Angkor Wat. It is definitely possible to see Angkor Wat on your own, but I recommend getting a private guide if you can afford it. It was a splurge, especially by Cambodia standards, but given the service and personalized attention you get at a site that you likely took a multiple international flights to see, it's priceless.
Sunrise at Angkor Wat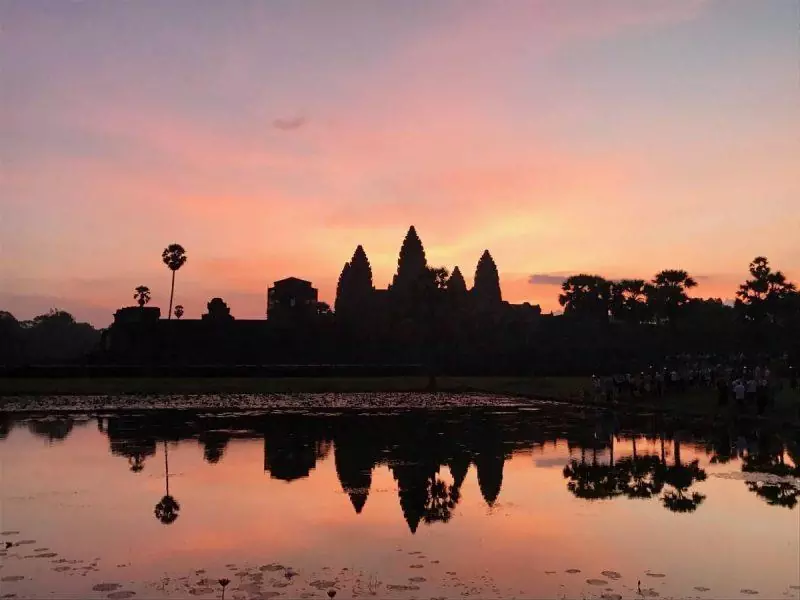 I decided to do a half-day tour of Angkor Wat, starting with sunrise and then hitting some of the most famous temples. I have experience with sunrise experiences, and when you're waking up at 3am you're pretty beat by noon. I try not to pack too much on days like that. The itinerary was perfect and started with the famous sunrise shot of the Angkor Wat Temple.
Angkor Wat is the large temple whose silhouette you see in photos. Basically, everyone comes here for that money shot, so it's wise to go early and claim your spot towards the front. Also be considerate of the people behind you. I had one person in front of me, but she had a blonde ponytail that kept protruding into my pictures and refused to sit down. Don't be that girl.
There are multiple spots to catch the spectacle, just follow the crowds. There's no best spot per se, just position yourself wherever you have the less smartphones in your view.
The sunrise itself lasts around 10 minutes. After that, everyone disperses.
You can buy your entrance ticket at the main office before you enter, and they accept credit cards. The ticket office is still a ways away from the site itself.
Angkor Wat Temple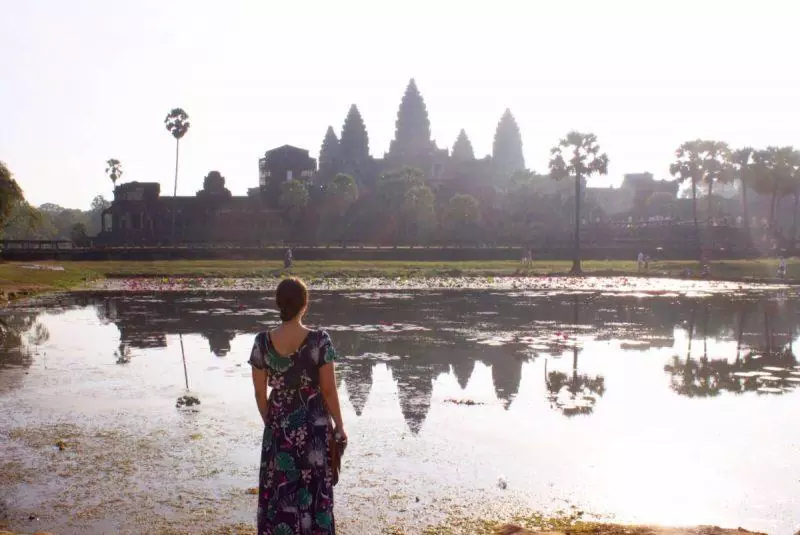 As I mentioned, the Angkor Wat Temple is the main temple, and the one you've likely seen in pictures. It was built to honor the god Vishnu and was once the largest city in the world. It is surrounded by a 650-foot wide, 3-mile long moat. It is the product of the work of more than 3,000 laborers.
Originally, Angkor Wat was built as a Hindu Temple and later converted to a Buddhist temple, based on the religion of the ruling monarch. Some of the carvings were changed, so that the arms of the gods pictured were altered to look like Buddha in meditation. Hundreds of Apsara dancers adorn the walls, and Hindu tales can be seen in the ancient carvings.
You'll also see some of the temples' wild inhabitants, typically long-tailed Macaques monkeys, hanging out throughout the day. Do not approach the monkeys, and under no circumstance should you feed the monkeys. They've been known to be aggressive and steal belongings so you're best to watch and photograph them from a distance.
There are also Buddhist monks on site. If you choose, you can get a blessing from them, and it's definitely an experience I recommend.
Bayan Temple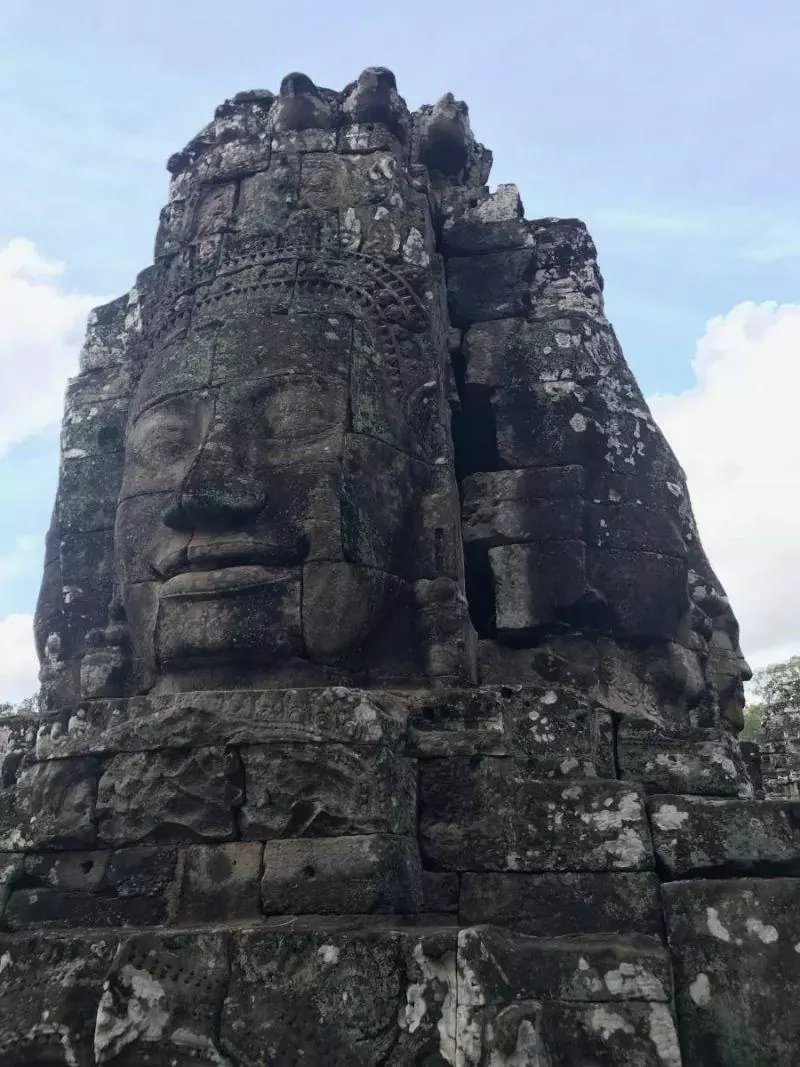 The Bayan temple was built more than 100 years after Angkor Wat. Bayan stands for 4 faces, and this temple is famous for the many faces you'll see carved throughout the towers, all in groups of four. The four faces are images of the Avalokiteshvara, the early manifestation of Buddha, and they signify the omnipotence and watchful eye of the king who built it.
The faces are spread across 54 towers, one for each province of the Khmer Empire, and more than 11,000 figures adorn the temple. You'll see the image of the snake depicted throughout the city. In Buddhist culture, the snake is a prosperous and powerful sign, since the snake helped Buddha reach nirvana by coiling around him and protecting him from evil.
The temple sits precisely in the middle of Angkor Thom, the name of the one-time capital city, and laid undiscovered for many years, camouflaged by its surroundings. Today, it's been extensively renovated thanks to help and funding from Japan and is one temple you can't miss.
Tomb Raider Temple
Ta Phrom is now commonly referred to as the Tomb Raider temple, and Angeline Jolie is practically a national hero here for having brought so much attention to the region. The really stunning part about this temple are the Banyan trees. They start as a fig, innocently landing on the ground. Then it germinates and before you know it, it's cracked through stone roofs or completely taken over a host plant.
The beauty of this temple lies in the fact that it's in disrepair. It has a romantic feel to it and is perfect for photos. Unlike in the movies, however, there is no underground element that you explore. Everything lies above the ground. This temple is also notoriously crowded at all times thanks to the fame of the movie.
Know Before You Go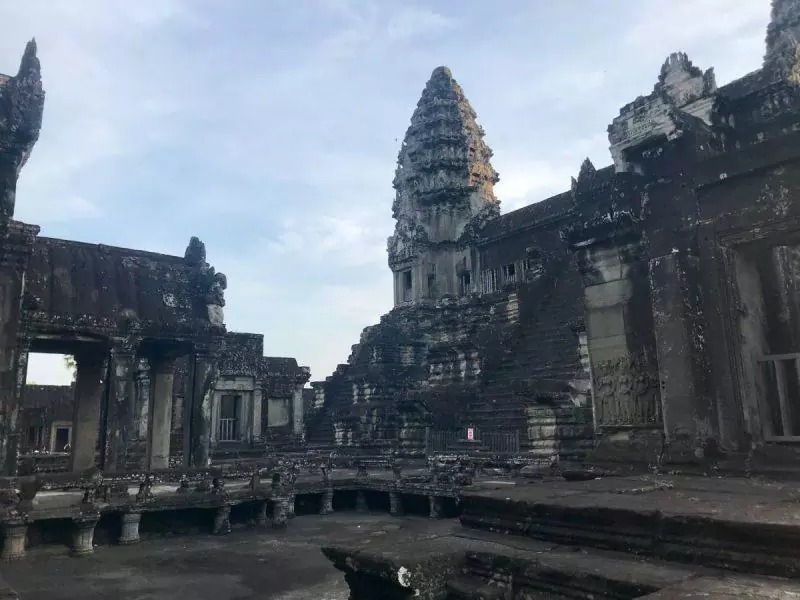 There are vendor stalls and souvenirs available at Angkor Wat, but you'll find better deals shopping the markets in the city. Also, it's burdensome to have to carry bags around in the heat.
I went in January and it was boiling so make no mistake about it–it will be hot when you go. Bring plenty of water and pace yourself. If possible, aim to split your temple exploration up over at least two days so you can take things at a more leisurely pace.
If you're looking for the best tour in Angkor Wat, consider dropping Tom a line. You won't regret it.
Till next time, safe travels!
RELATED POST: A DAY EXPLORING PHANG NGA BAY AND JAMES BOND ISLAND
Liked this post? Pin me below!