Want to know where to find the best lobster in Portland, Maine? Here are 12 top spots for your next trip.
I recently had the pleasure of visiting Portland, Maine for the Women in Travel Summit where I met some amazing female travel bloggers from around the country.
Naturally, when it came time to put together a post on where to find the best lobster in Portland, Maine, I thought of these lovely ladies and decided to ask for their suggestions.
I tried to eat as much lobster as I could during my time there but it wasn't nearly enough. The city is spoiled for choice, with amazing dishes found everywhere from food trucks to 5 star restaurants.
If you're wondering where to go to get your fix of Portland's favorite dish, here are 12 recommendations of places in and around Portland to help you indulge on your next vacation.
RELATED POST: A FOOD TOUR OF KENSINGTON MARKET IN TORONTO, CANADA
1. JS Oyster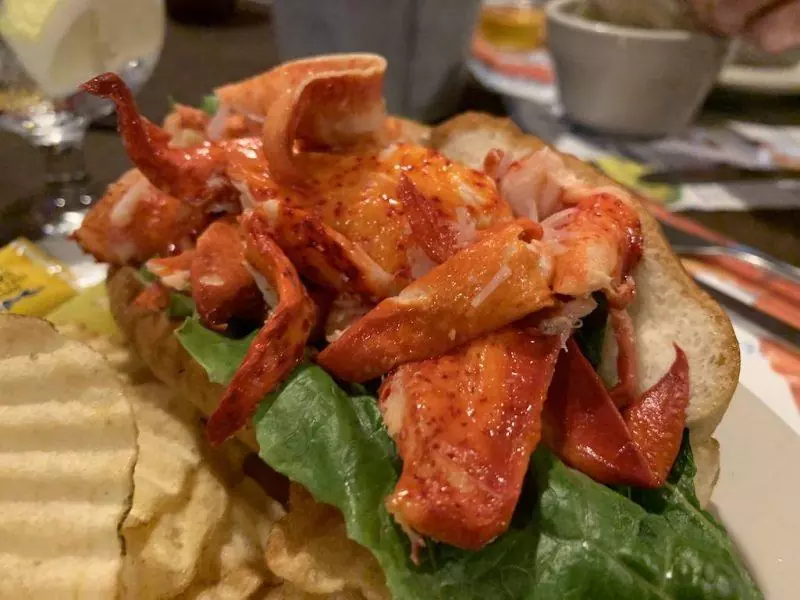 There's something special about walking through alleyways and parking lots to get to a hidden gem that calls itself a "joint." J's Oyster is a favorite of locals and visitors alike.
While the restaurant's namesake gets plenty of attention, the real star is the plentiful Maine
lobster
served several ways. Start with a
lobster
claw or decadent
lobster
stew. Then dive into the huge
lobster
salad plate or go all-in with the
lobster
dinner.
Lobster
gets the scampi treatment sautéed with garlic, butter, wine and angel hair pasta. Or try the
Lobster
Pernod in a mushroom and cream sauce over linguini.
But there's no greater joy than the delicious
lobster
roll brimming with sweet
lobster
in a soft bun. J's gets crowded so go early or late or hang out at the bar.
With or without a wait, J's Oyster is one Portland
lobster
joint you should not miss.
2. Little Tap House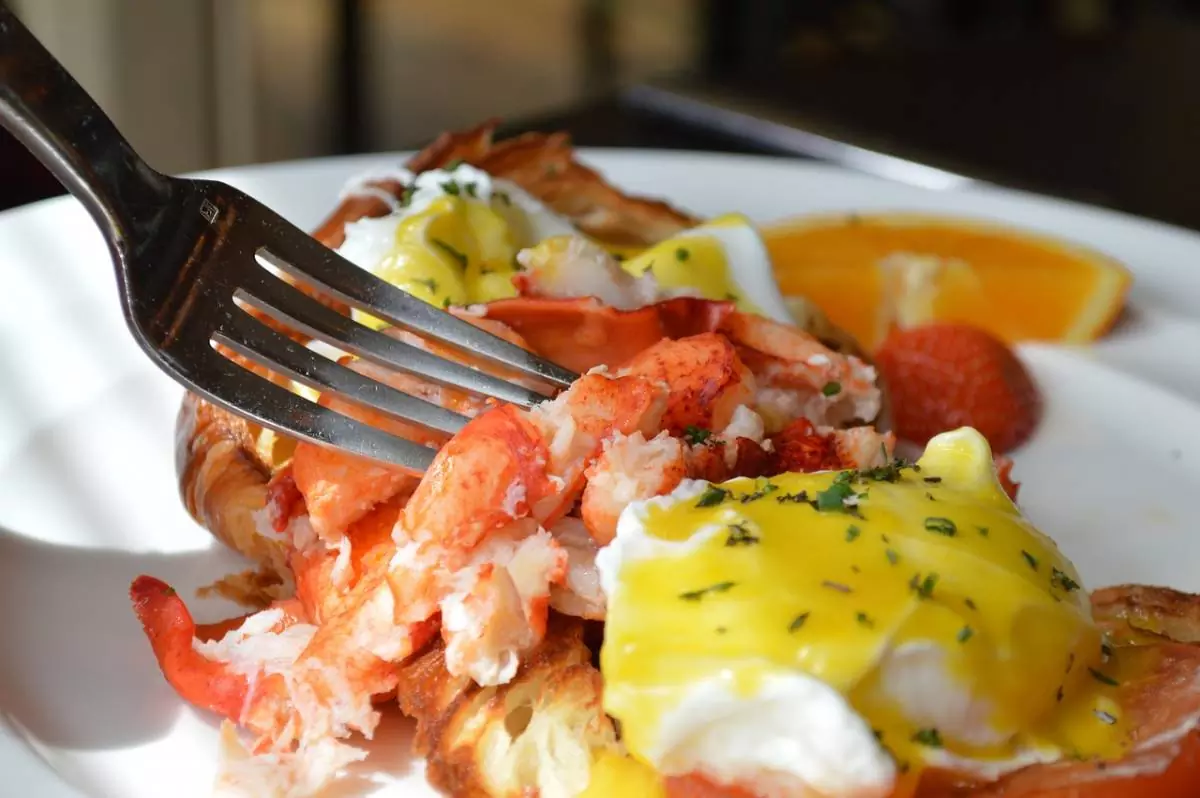 Recommended by Erin of Epicurean Traveler.
When in Portland, Maine, you can eat lobster any time of day, but my favorite lobstah-eating time is brunch. In particular, I fell hard for the lobster Benedict at Little Tap House.
Served from 11 a.m. to 2:30 p.m. Saturday and Sunday, the brunch menu at this charming gastropub features dishes, such as the quintessential lobster roll, crafted from locally sourced ingredients alongside rotating offerings of Maine-centric microbrews.
As for the Beneditct, it was absolutely loaded with fresh Maine lobster, perfectly poached eggs, and a creamy hollandaise atop a classic English muffin.
Each bite just melted in my mouth, and I didn't want this meal to ever end. I imagine this Benedict pairs nicely with a Bloody Mary, but I selected the tropically tart and locally-brewed Barreled Souls Brewing's Little Havana Gose.
Lobster and craft beer — it doesn't get any more Portland than this.
3. Highroller
Lobster

Co.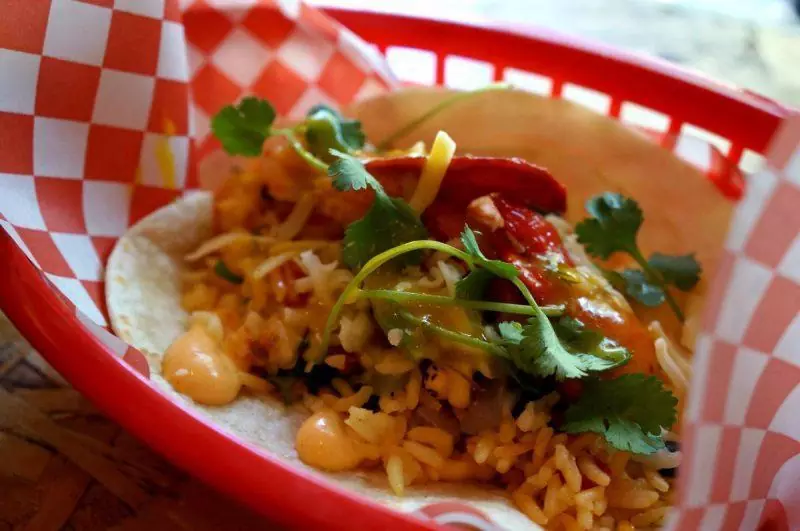 What started as a food truck has transformed into a low-key, diner-style eatery in the heart of Portland. Highroller
Lobster
Co is the perfect spot If you're looking for lots of amazing ways to eat
lobster
.
FOMO is real here, but if you love
lobster
and you love cheese, then you have to try the
lobster
taco. With a cheesy shell and plenty of
lobster
goodness inside, it's a treat for your tastebuds.
Make it your own by choosing one of their delicious sauces. Since it's a taco, I highly recommend the lime mayo but choose whichever one your heart desires! It may look small but trust me, all that protein makes it filling.
It also pairs well with a Fried Lobby Pop, a battered & deep fried
lobster
tail. Whether it's
your first time in Portland
or you're a repeat visitor, you'll agree that Highroller is a highlight of your trip!
4. Portland Lobster Co.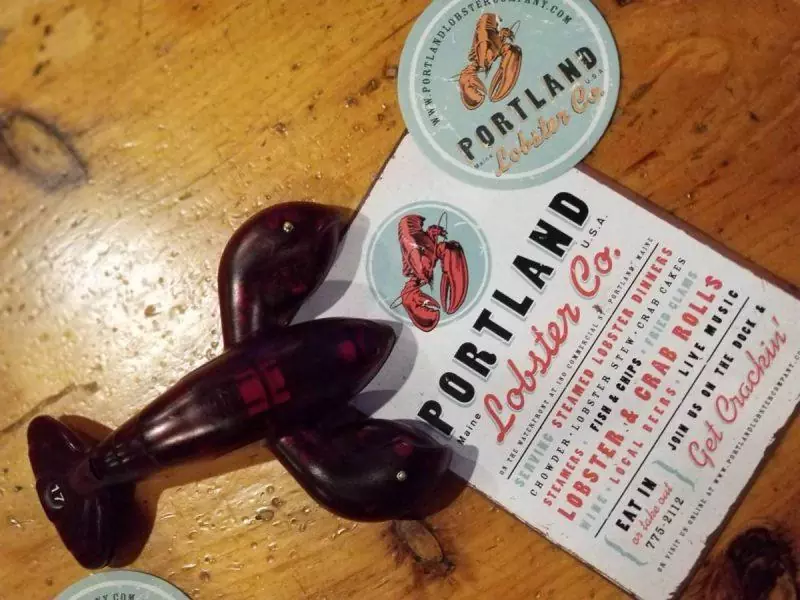 Overlooking the water and boats docked nearby, this small, unassuming restaurant on the wharf may get overlooked by many on the way to bigger spots, but locals coming and going through the door was a sure sign that THIS was where our lobster dinner should come from.
Stepping inside, we are greeted and encouraged to seat ourselves. With no wait staff, you order your meal at the counter and it is brought out to you when ready.
I ordered the half-pound Lobster Dinner, which came with fresh-caught lobster, corn-on-the-cob, cole slaw and a baked potato. I also ordered a bowl of New England Clam Chowder and to top it off, a delicious Lavender Lemonade Beer brewed by Maine Mead Works.
With overhead costs kept low to reflect that back to the consumer, prices were very reasonable and the meal was one of the best I have had in ages. Mmmmm….lobstah!!!
5. Harbor Fish Market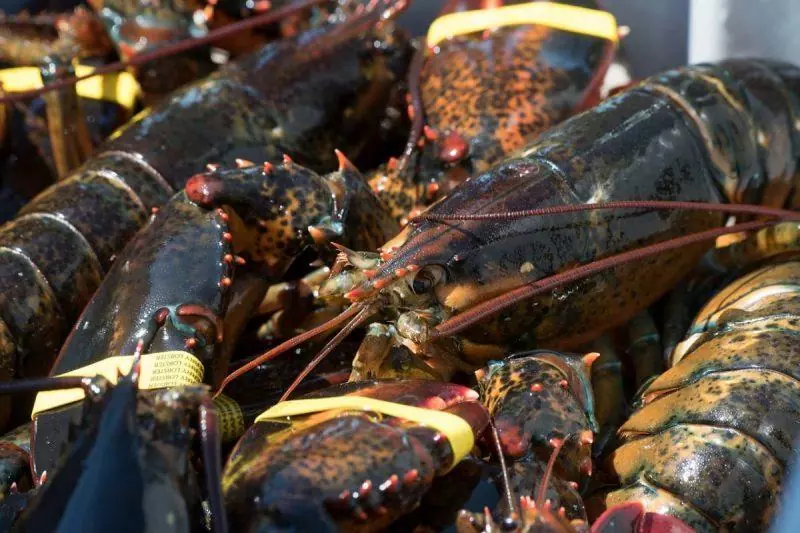 Recommended by Jeanette of Brave Pursuits
In my search for the best lobster in Portland, Maine, I had one word in mind — fresh.
I ended up at Harbor Fish Market out on a wharf, fully out of my comfort zone surrounded by leering fish heads, giant tanks of live lobster, and various shellfish full of slimy goodness.
Here's a little known secret about Harbor Fish Market: you can buy a lobster from the tank and have the staff cook it on the spot for you. They have all the supplies you need to dig in to your lobster at the setting of your choice (bib, wet naps, shell cracker, butter).
I bought a lobster, had it cooked, and went out to Maine State Pier to eat it. It felt authentic and adventurous, and was an absolutely delicious, juicy mess.
6. Eventide Oyster Co.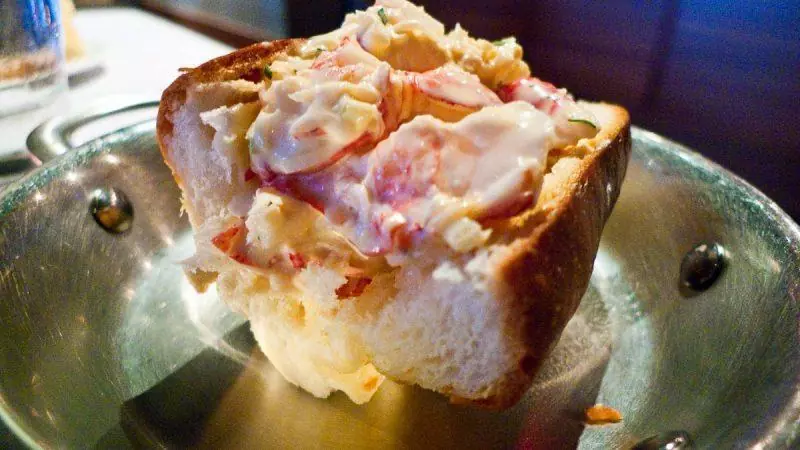 Recommended by Katherine Weiss of Worldwide Honeymoon
If you can only have one lobster roll for the rest of your life, this is the place to have it. Think of a perfectly crisped buttery roll topped with chunks of tender and meaty lobster, splashed with just a bit of sweet, brown butter and some chives. It is heaven on a plate.
After one bite, my fellow foodie companion literally said, "I could die of happiness at this moment and be fine." It's that good.
After tasting as much lobster in as many ways as possible while in Portland, Maine, the Brown Butter Lobster Roll at Eventide Oyster Co. took the [crab] cake.
It was the cherry on top of a perfect afternoon of sipping Portland's famous beers, trying the oysters at this spot, and finishing with this delightful delicacy. If you want to experience Portland's best lobster, this place is a real treat.
7. Lucky Catch Lobster Cruise
Recommended by Allison of Tour and Table
The best place to get lobster? How about catching your own? If you like a little adventure, board the Lucky Catch for a 90-minute cruise on Casco Bay, where you can be a lobsterman for the day.
After a quick introduction, you'll don a bright orange, full length apron and be offered gloves to protect you and your clothes during the "work" of setting up bait bags and securing them in the lobster traps.
Even the littlest members of the family can join in. Or you can just relax and watch the running of the boat from your seat. You'll be introduced to a bit of lobster anatomy, how to measure a lobster, and how Maine sustains the lobster population.
The sun, the sea air and the good humor of the crew will make for a pleasant time on the water. At the end of the cruise, buy your lobster at wholesale "boat price" and take them to the nearby Portland Lobster Co. to cook up for your dinner.
8. Gilbert's Chowder House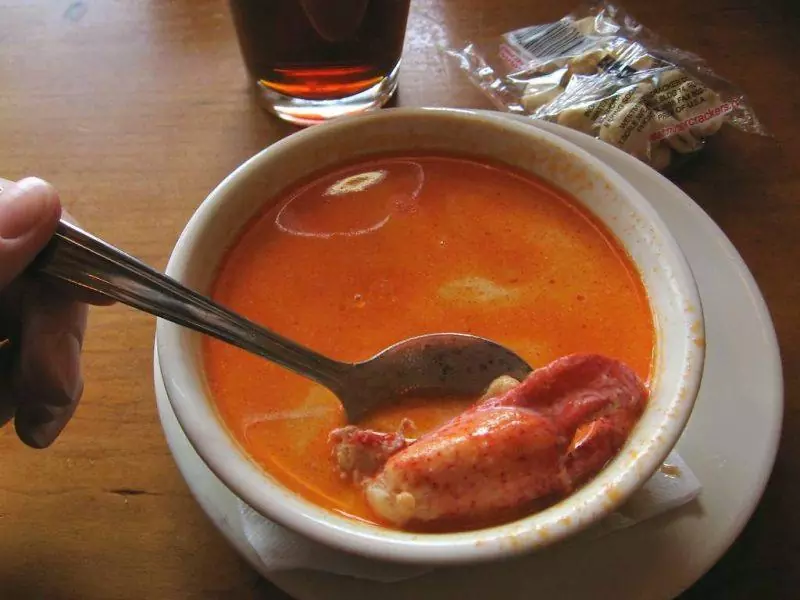 Recommended by Cindy of Near and Far AZ.
Forget everything you thought you knew about stew.
Lobster stew at Gilbert's Chowder House in Portland, Maine is a whole new experience for anyone who thinks of stew as a thick and filling meat-and-potatoes concoction.
Instead, think silky, succulent, and decadent.
Admittedly, I wandered into Gilbert's after a cold and windy ride on a lobstering boat. My boating excursion had come up empty-handed in the lobster department, but that certainly wasn't the case with my lobster stew at Gilberts. It was packed with tender chunks of lobster – all floating in a rich, but delicate, cream-based stock.
I learned that lobster stew differs from other stews and chowders in that it is not thickened. The ingredients, which include cream, milk, butter, seafood stock, sherry, and lobster, blend together into a velvety soup.
Gilbert's isn't fancy, but on that cool spring day in Portland, my large serving of lobster stew, coupled with a Shipyard brew, couldn't have been more perfect.
9. Bite into Maine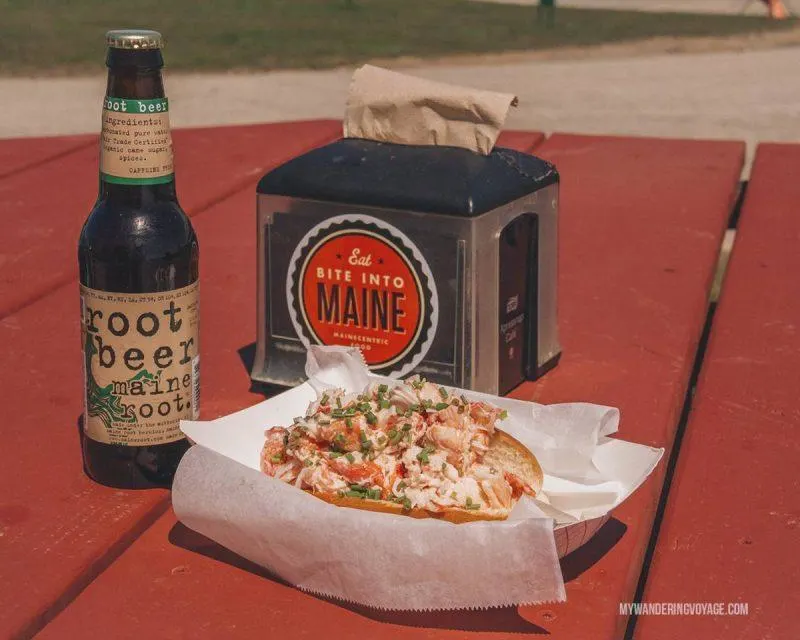 Recommended by Olivia of My Wandering Voyage
Get out of the heart of the city to find Bite into Maine, a food truck born from a passion for food and a love for Maine. Owners Sarah and Karl have concocted several takes on the classic lobster roll.
From the classic Maine style of mayo and fresh chives to the adventurous style of Wasabi mayo.
Want to try something other than a roll? They've got lobster grilled cheese, lobster mac and cheese, lobster BLT, bisques and chowders. It's one of the best places to find delicious lobster for a fair price with outstanding views.
They also serve Maine Root natural sodas. Add a homemade blueberry Whoopie Pie and you've got yourself a dish that just screams Made in Maine. I'm not surprised Bite into Maine was named in the top 10 lobster rolls in the United States from Food and Wine.
Bite into Maine has three locations. The Commissary location in Scarborough, Maine, is a small takeout style shop that's open year round.
The second is an airstream food truck serving up delicious rolls at Allagash Brewing Company in Portland. But the original location is where you'll find the best views, located at Fort Williams Park right next to the Portland Head Lighthouse.
Both food trucks are open from May to October.
10. Gritty's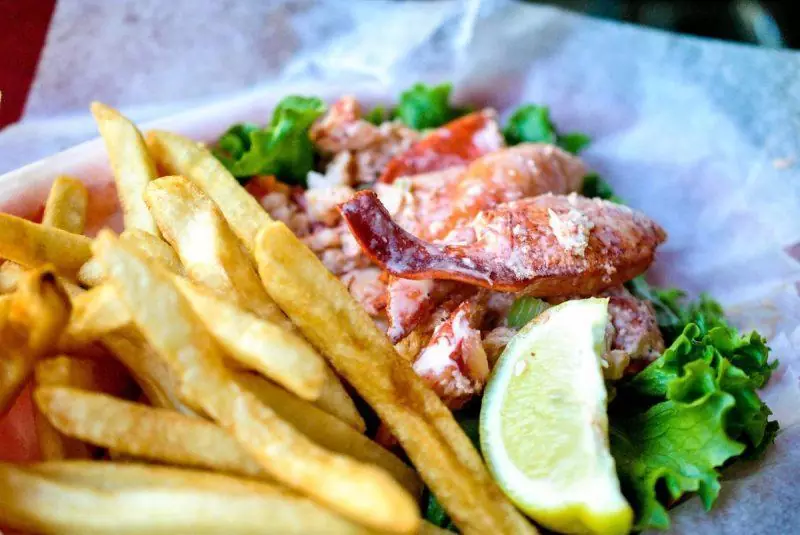 Recommended by Marcie of Marcie in Mommy Land
I was ecstatic when we stopped by Gritty's on the Maine Foodie Tour in Portland.
One of my Instagram followers actually recommended I try the lobster roll there. It was on my must-try list!
It was the first (of many) lobster rolls I tried in Maine and it was my favorite. The roll was lightly toasted and super buttery. And the fresh lobster was mixed with mayonnaise so it tasted like an incredible seafood salad sandwich.
It's one of those sandwiches where you want to lick your fingers when it's all gone! Plus, Gritty's brews their own beer in the basement, so you can get super local Portland ale to go with your lobster roll.
There's even a mural on the wall depicting the entire brewing process (just don't mind the naked people on the painting!).
If you want an authentic Maine lobster roll, head to Gritty's!
11. Harraseeket Lunch and
Lobster

in South Freeport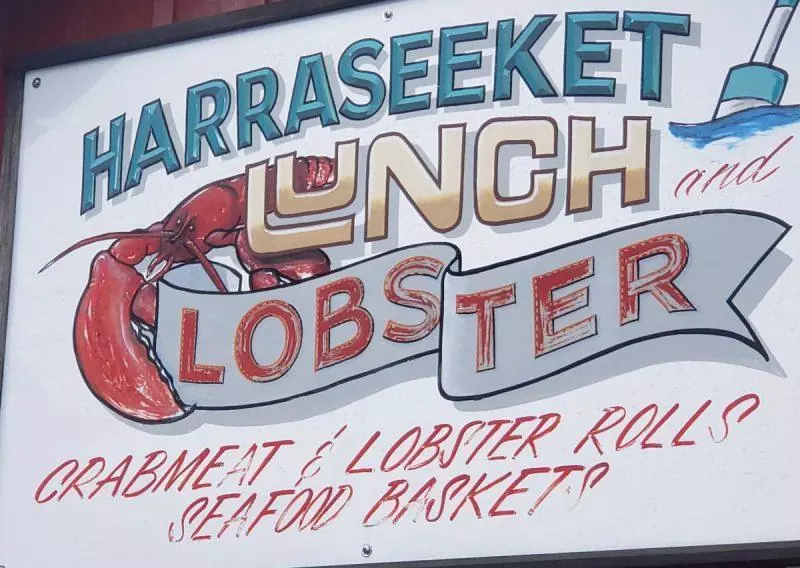 Recommended by Patricia King of Savvy Traveling.
This stop requires a road trip but you just can't go to Maine without making a pilgrimage to Freeport, home of L.L. Bean, and having lunch at the Harraseeket Lunch and Lobster, located at the Freeport Wharf in South Freeport.
You will know you're in the right place when you see the iconic red and white "shack." Nothin' fancy, but their
lobsters
are super fresh.
Lobsters
, crabs and clams are unloaded fresh daily from their boats. You can bring home a live one or they'll steam them for you, if you like. It's like your neighborhood hamburger joint, but with
lobster
rolls (among other delicacies).
Seating is indoors or outdoors, but I'd take advantage of the brand new rooftop deck. It's cash or check only and BYOB, so grab a six pack and take in the gorgeous view of the marina and the bay.
12. D'Angelo's Sandwiches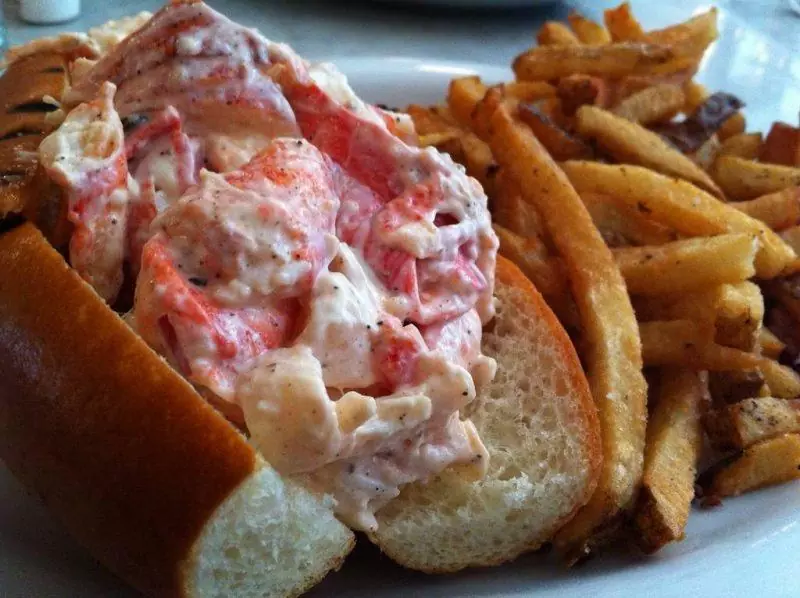 This is a sub shop that has several lobster options for affordable prices, like a classic lobster roll or BLT.
If you want a lobster meal that won't break the bank and is available quickly without having to wait for a table on a busy night, I personally recommend this place.
The helpings are generous, the lobster is fresh and the sandwiches come served on their signature bread, hot and buttery.
There's parking available on site and other sandwich choices to please even the pickiest eaters in your party. It's worth a stop on your way in and out of the city, to bookend a trip filled with the best lobster in Portland, Maine.
Till next time, safe travels!
Liked this post? Pin me below.