Are you looking for exciting adventures in Banos, Ecuador? Then you've come to the right place. Banos is widely regarded as the adventure capital of South America. It offers all of the thrills of bigger names in the space, like Costa Rica and New Zealand, at a fraction of the price.
To get to Baños you can drive or take a public bus. It does not have its own airport. The closest airport is Mariscal Sucre International airport in Quito. If you're on a tight budget, the bus from Quito to Banos is only 4 hours and $4 each way.
RELATED POST: 24 HOURS IN QUITO, ECUADOR
Banos is a great stop for anyone backpacking across South America. For those wondering about the literal translation of the name, the city is called Banos de Aguas Santas. The city is famous for its natural thermal pools, heated by the nearby active volcano, Tungurahua. Tucked away at edge of the Amazon rainforest, Banos is secluded enough to feel like you've stepped off the beaten path, but developed enough to provide you with all the essentials for a good trip, like restaurants and great shopping. I actually preferred shopping in Banos over Quito, since the products were handmade and less expensive.
You'll be pleasantly surprised by the cost of living in Banos. The taxi from the bus stop to my hotel was $1.50, and I paid for a three course lunch for myself a guide for $7 total, including tip. Another great selling point is safety. You can walk down the street alone at night and not feel threatened. People are friendly and there is a very low crime rate, making this the perfect destination for solo travelers.
If you're ready to have amazing adventures in Baños, these are the activities for you:
1) Pailon del Diablo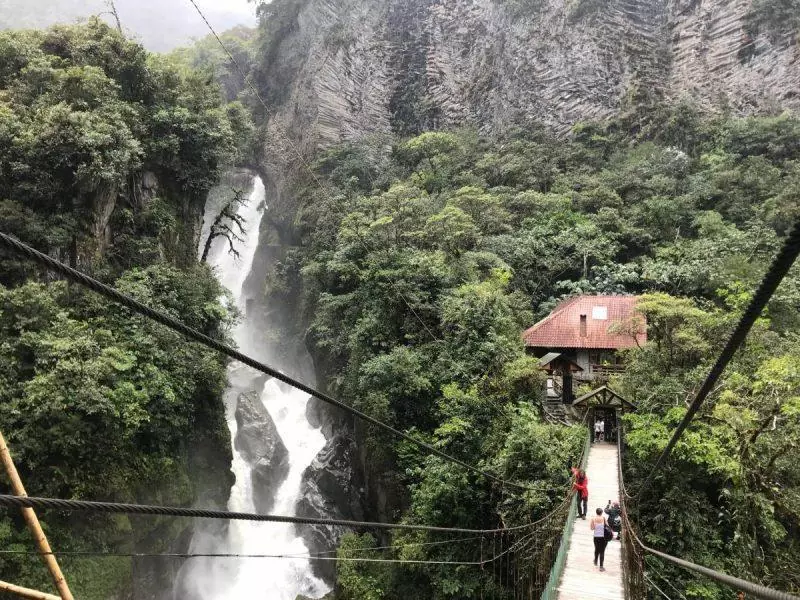 This waterfall is called "The Devil's Cauldron" and boasts a route of stairs that are considered among the most unique in the world. You can view the waterfall from the suspension bridge pictured above, or pay to go on a separate bridge and get a better view of the stairs. It costs $2 to go on the second bridge and payment is cash only. There are no ATMs in the town of Rio Verde so make sure you have cash before leaving Banos.
You can access the Pailon del Diablo by bus, it's a $.50 ride each way and the driver does not have change. I recommend you bring a bottle of water with you for the hike, and note that the waterfall carries a serious splash zone.
2) Ruta de las Cascadas
The Pailon del Diablo is actually the last stop on the Ruta de las Cascadas, a bicycle route that takes you past 8 distinct waterfalls. The main route is just over 11 miles long (18 km), and is advertised as being primarily downhill. While riders do experience a nearly 1,000 foot drop in elevation on the trail, they should not mistake this as an easy ride.
You can rent a bike for $5-$10 and go on our own, or pay more for a guide to escort you. My hotel was offering a private guide for $40. Done at a leisurely pace, the trail should take between 4 and 5 hours.
3) Casa del Arbol
Casa de Arbol is where you can find the swing at the end of the world, the photo spot that put Baños on the map. Recognized in 2014 by National Geographic in a worldwide photography competition, this epic swing lures guests from all over the world. Admission is only $1, and the memory of swinging carelessly into an abyss is forever.
RELATED POST: HOW TO GET TO THE SWING AT THE END OF THE WORLD IN BANOS, ECUADOR
4) Tungurahua Volcano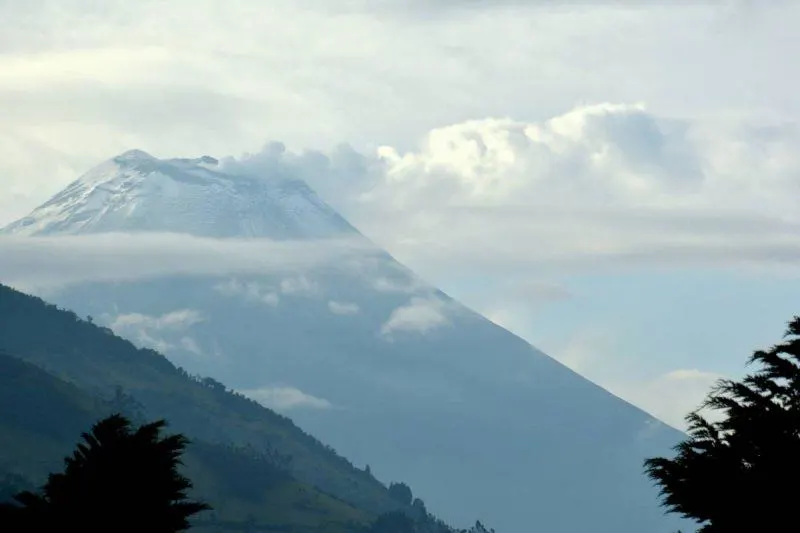 Anybody can hike a dormant volcano, but how do you feel about taking your chances with an active one? If you're feeling brave, Tungurahua is an active volcano in Ecuador that's calling your name. Volcanic activity started up again on August 19, 1999 and the last major eruption was in February 2014. A typical hiking tour takes you through Sangay National Park and includes biking back into Baños on the way down.
5) Canyoning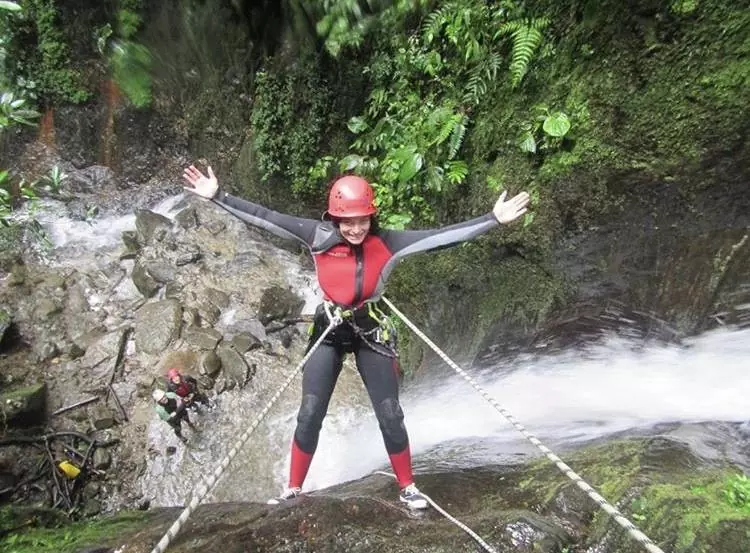 Also known as rappelling, canyoning is the process of strapping on a harness and throwing yourself down waterfalls. It is much more challenging than it looks. The force of the currents can make you lose your footing and you usually have to do a series of waterfalls, so you can't back out halfway through if you change your mind or don't want to continue.
There are several tour providers in the area. I went with Geotours at the suggestion of the hotel owner, whose son was a tour guide with the company. I liked that they took pictures for me and provided them to us after free of charge. I wish I'd had a GoPro on my helmet like the other people in my group. I also lucked out and got assigned to a group with only 2 other, so it felt like a more personalized experience. They provide all the necessary equipment and transportation. They even arranged for lunch after, taking us to a partner restaurant in town, all included in the price of the experience.
6) Rafting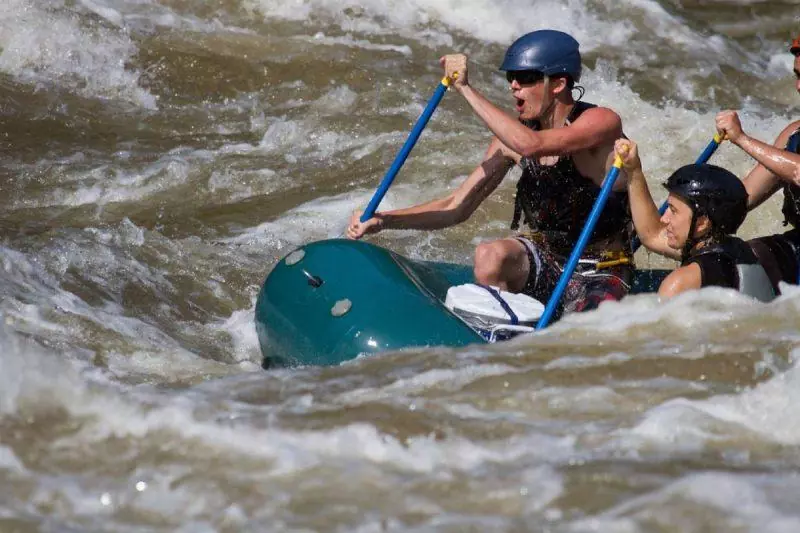 Rafting is another popular day trip for those wanting to experience adventures in Banos. The River Pastaza offers class III and IV rapids. Your tour guide will have all the necessary equipment, but remember to bring a swimsuit, towel, change of clothes and tip. If you choose to go with Geotours, lunch is included in the price of your trip as well.
The good thing about Geotours specifically is that they have full insurance and credentials to cover you in case anything happens. Not every guide is official, and regulations are lax here so that's something to be aware of and look out for. Another popular provider is Imagine Ecuador. Both of these companies offer a range of activities to cover all of your adventure needs. Since I went with Geotours for my rappelling excursion, I will continue to reference them for example, but just know you have options.
7) Ziplining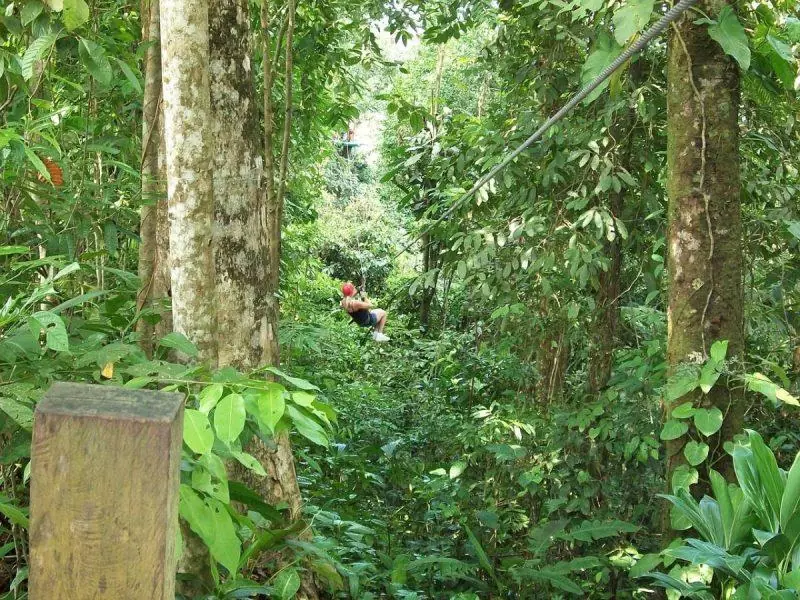 Want to soar over treetops and experience nature through your best Superman pose? Try ziplining. You can cover up to 1,000 meters in a minute all for under $30. The zipline routes are relatively new. The tour providers who decided to open up excursions in the area had to trek new trails and build the lines themselves. They are among the highest and fastest in South America. One popular provider is MTS Adventures in Banos.
8) Bungee jumping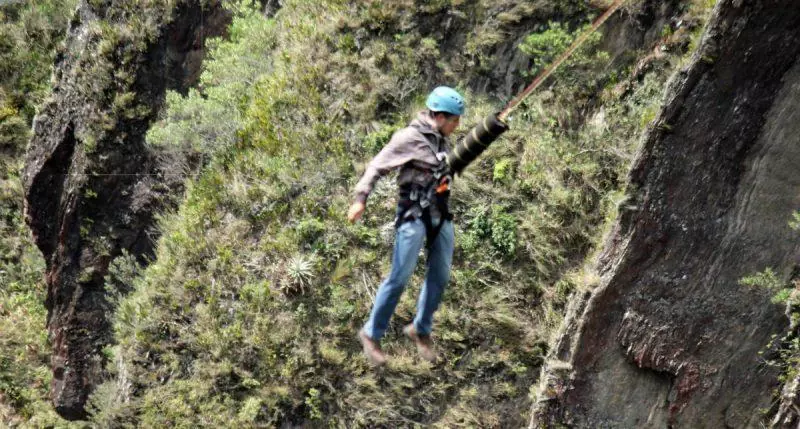 If you want to strap yourself to a giant rubber band and jump off a bridge, Banos has a place for you to do that as well. Geotours offers jumps off 2 bridges at 10am and 5pm daily. The experience takes about 30 minutes total, so you'll be back in time for lunch or dinner assuming you still have an appetite.
Personally, this is one adventure I'll pass on. The image of Trevor's untimely bungee jumping demise in The Fresh Prince of Belair is still vivid in my mind.
9) Horseback riding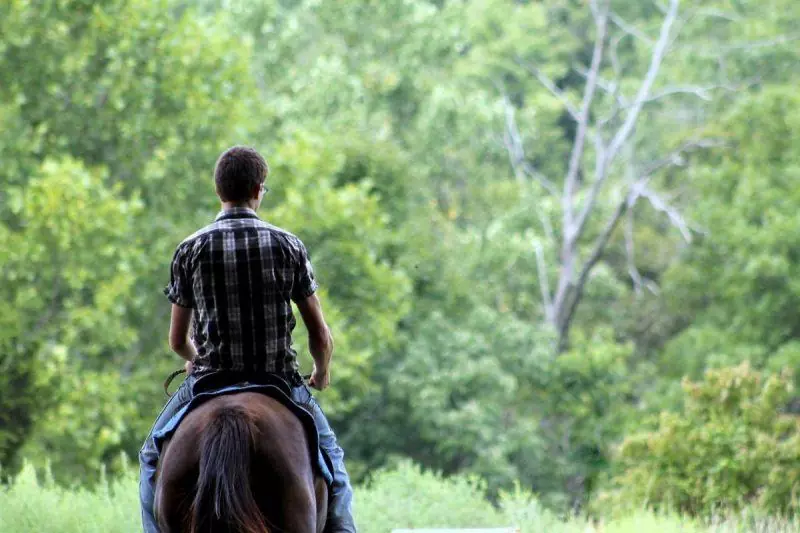 Horseback riding is one of the more relaxed adventures in Banos, but it's at high elevations and on little worn paths. This is not the typical, tame tour you'd find in other parts of the world. This area of Ecuador is rich with lush greenery, endangered wildlife and varied plants, making it the perfect place to go riding. You can take in the scenery on horseback, riding along the perimeter of the Tungurahua volcano. You can choose from rides lasting two hours, four hours or all day depending on your history with horses and preference.
10) Paragliding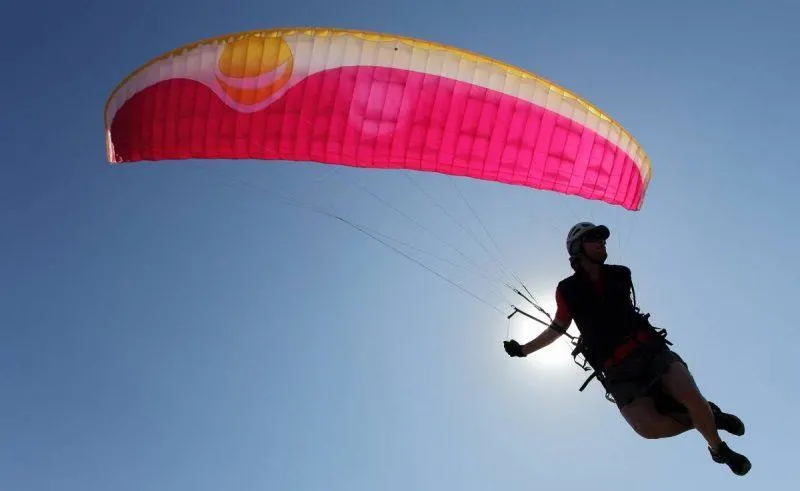 If ziplining isn't cutting it for you and you want to actually fly over the treetops, go paragliding. Geotours has trips departing at 2pm daily from Niton Mountain. The experience lasts 3 hours. There's no better way to admire the Ecuadorian Andes than by throwing yourself off of them.
11) Rock climbing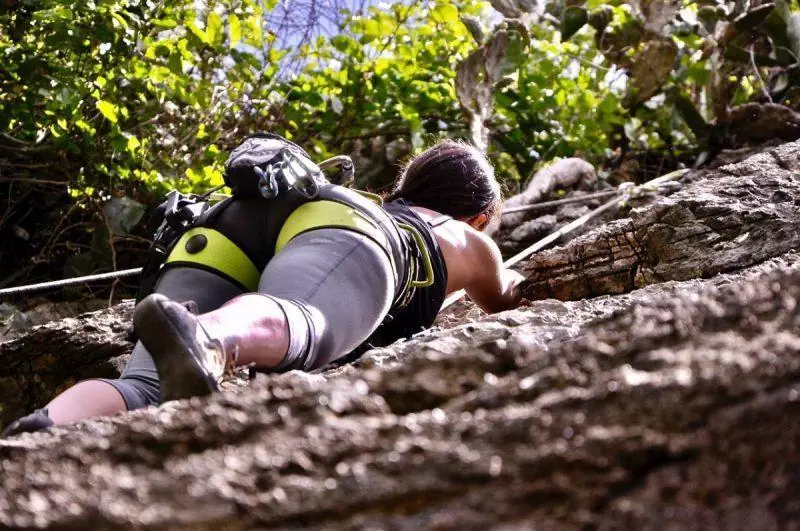 You can do a half day climb to test the waters or take a two-day climbing expedition. The rock surfaces are unique since they are made of basaltic rock, also known as an igneous volcanic rock, thanks to the Tungurahua volcano. The serrated black walls look like a scene out of Game of Thrones and are a challenge for even expert climbers.
12) Jungle trek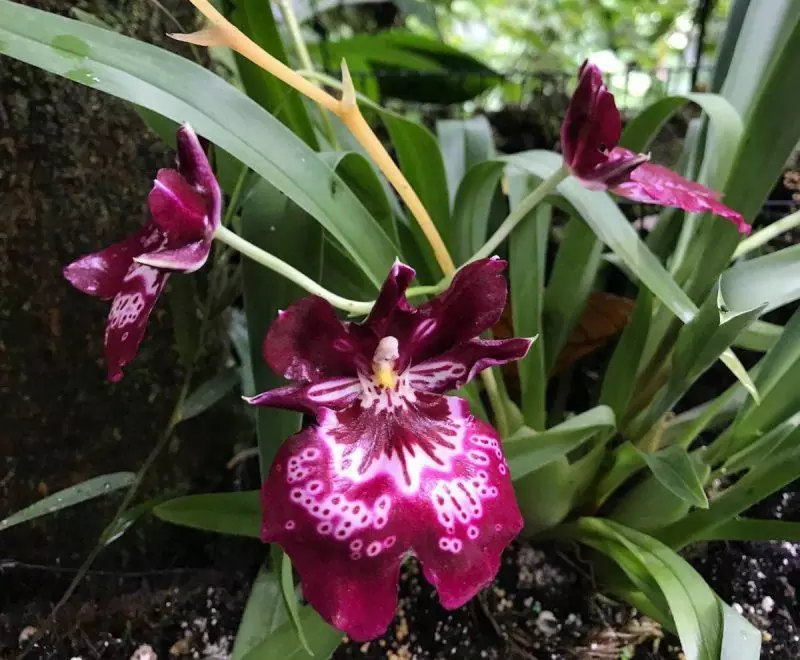 Ecuador's portion of the Amazon is considered one of the most biodiverse regions in the world, with more than 1,100 species of trees, 587 species of birds and 9 indigenous cultures. Some of the local tribes even welcome guests and the opportunity to share their traditions. Banos is the gateway to the Amazon and you can visit Puyo on a day trip. Discover what off the beaten path really means with a day in the jungle.
Those are some of the best adventures you can do in Banos, but the list is non-exhaustive. The area has developed so much in the past decade that I wouldn't be surprised to see it explode and offer three times the activities in the near future. Hurry up and experience this hidden adventure destination while you still can.
Till next time, safe travels!
Liked this post? Pin me below: