Want to know how to spend a weekend in Albuquerque, New Mexico? I got you covered.
I had the pleasure of visiting Albuquerque for a friend's wedding. It happened to coincide with the International Hot Air Balloon Fiesta, a long-time bucket list item for me.
I only had three days in this beautiful city but managed to squeeze a lot in. Now I want to help you do the same!
Here's what you need to know to hit the highlights and make the most of a weekend in Albuquerque, New Mexico.
How to Get to Albuquerque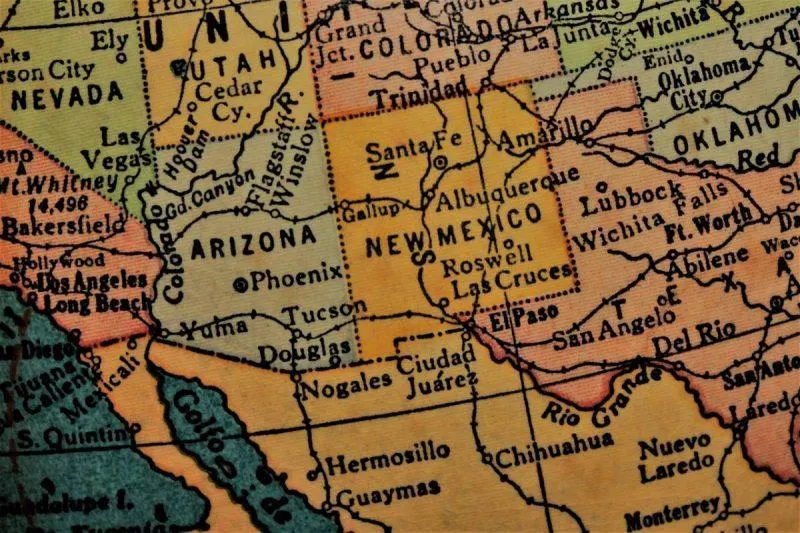 Currently, there are 10 airlines serving the Albuquerque International Airport (ABQ), the largest and closest airport in the area. I flew in with JetBlue.
You can opt to fly into Santa Fe Regional Airport (SAF) instead, a smaller airport with nonstop daily flights from Denver, Dallas and Phoenix. Another option is to drive in on a Route 66 road trip through the area.
The city is also a stop along Amtrak and Greyhound routes. While there is public transportation available, renting a car will be your easiest way to explore the area.
Where to Stay in Albuquerque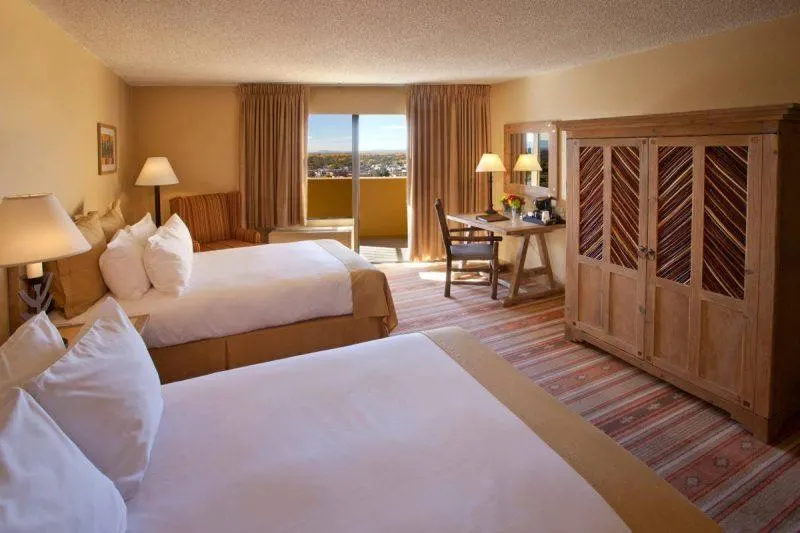 If you want a charming hotel with a distinct historical vibe, try the Hotel Albuquerque at Old Town. It has amenities like an outdoor pool and in-house flamenco show.
If you're looking to use points, the Hotel Andaluz Albuquerque by Hilton or Best Western Plus Rio Grande Inn are both highly rated options.
If you're looking for a place that's affordable but still close to attractions and comfortable, check out the Monterey Motel or Sandia Peak Inn.
In terms of the best region to stay in, Old Town will be the hotspot for tourists since it is distinctly decorated and has museums, shops and restaurants all within walking distance.
What to Eat in Albuquerque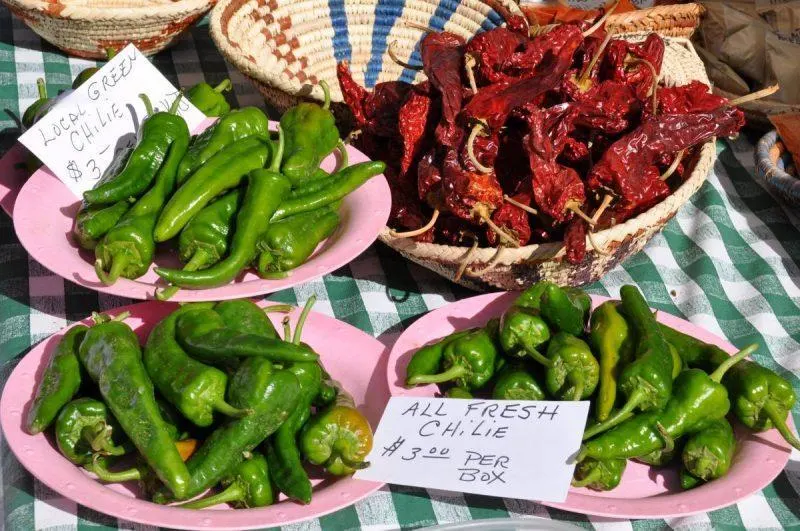 Green chiles are to Albuquerque as avocados are to Mexico and oranges are to Florida. It is the staple food in the area and you're missing out if you leave without trying them.
Mary and Tito's Cafe is a fan favorite. It's not presumptuous and remains affordable despite being multi-award winning. Try the stuffed sopapilla, fried dough packed with seasoned meat and topped with green tile salsa.
For breakfast check out El Patio de Albuquerque, offering dishes like chili-smothered breakfast burritos and huevos Mexicanos.
A guaranteed hit no matter the meal is Cocina Azul, a locally-owned restaurant with green chile cheeseburgers and the best green chile stew in town. This restaurant is also very affordable, serving large portions at low prices.
Another good place for New Mexico cuisine is Sadie's. Note that they have a full bar here.
If you're looking for fine dining then head to Antiquity Restaurant, specializing in steak and seafood. Also, Los Poblanos Historic Inn & Organic Farm has farm-to-table dining and offers breakfast and dinner in a lavish setting.
Day 1: Nature and Views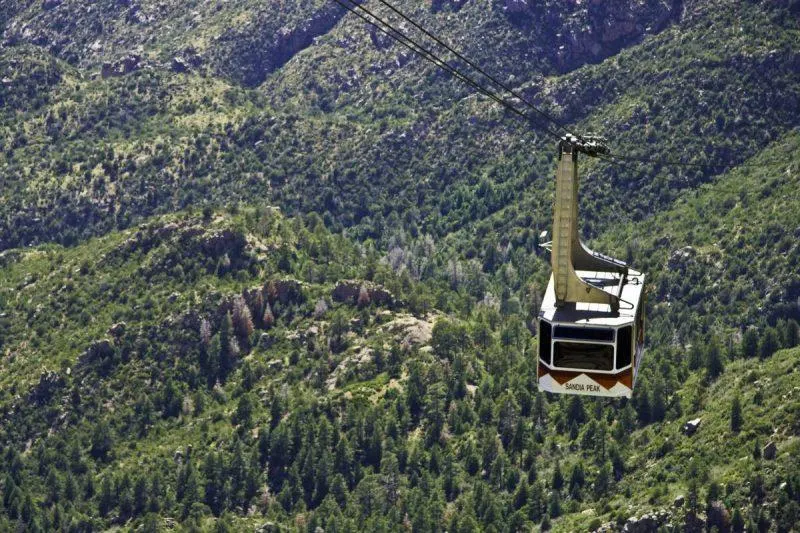 Your first day should have light programming since it's a travel day. I recommend getting to the outskirts of town and orienting yourself with a bird's eye view of the city at the Sandia Peak Tram. It's open from 8am-9pm and closed on Tuesdays.
It can be a little tricky to get airborne here since strong winds can shut down the tram and lines can be long but it's worth it.
If you're feeling up for a hike there are several trails in the immediate area, including La Luz Trail (13 miles roundtrip) and Piedra Lisa Trail (4.4 miles roundtrip). You can go as far as you'd like then turn back.
To catch the sunset head to the John B. Robert Dam, a uniquely designed structure that's in place just in case of flash flooding. The architecture of the dam itself is aesthetically pleasing and a brief walk to the top rewards you with 360-degree views of the mountains and city.
Day 2: Albuquerque Classics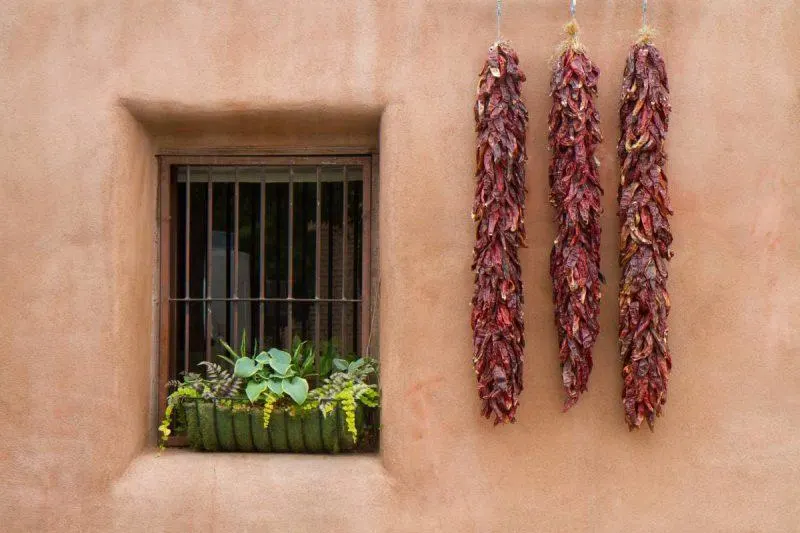 No weekend in Albuquerque would be complete without knocking out the classics.
First stop? Petroglyph National Monument. This is one of the largest petroglyph sites in the country, with more than 25,000 images found along the 17-mile stretch.
Admire centuries-old designs carved into volcanic rocks by Native Americans and Spanish settlers and learn about the history of the area. They're open daily from 8:30am-4:30pm.
Next, head to Old Town Albuquerque, a short 10-minute drive away.
This is the heart of the city, with adobe houses and narrow streets. There are over 150 stores selling everything from souvenirs to jewelry to antiques. Check out places like Old Town Emporium, Genuine Southwest Arts & Gifts, Wild Moon Boutique and Old Town Antiques.
Prices will vary and a lot of the stores offer the similar merchandise so make sure to shop around before making a purchase. You'll also likely hear live music while strolling the area.
For those interested in conservation efforts, check out the American International Rattlesnake Museum in Old Town. They have live rattlesnakes and ways for children to learn more and earn a "bravery certificate."
If you're a fan of the famous TV show "Breaking Bad," this is also where the Breaking Bad RV Tour departs from. It costs $75 per person, runs for 3 hours and 20 minutes and includes lunch. You'll visit locations like Jesse's house, Walt's and the car wash. Tours depart at 10am and 3pm. Additionally, they have a Better Call Saul Tour available.
Alternatively, there are history and ghost tours available through ABQ Tours if you still want to see more but aren't a fan of either show.
Day 3: Museums and Festivities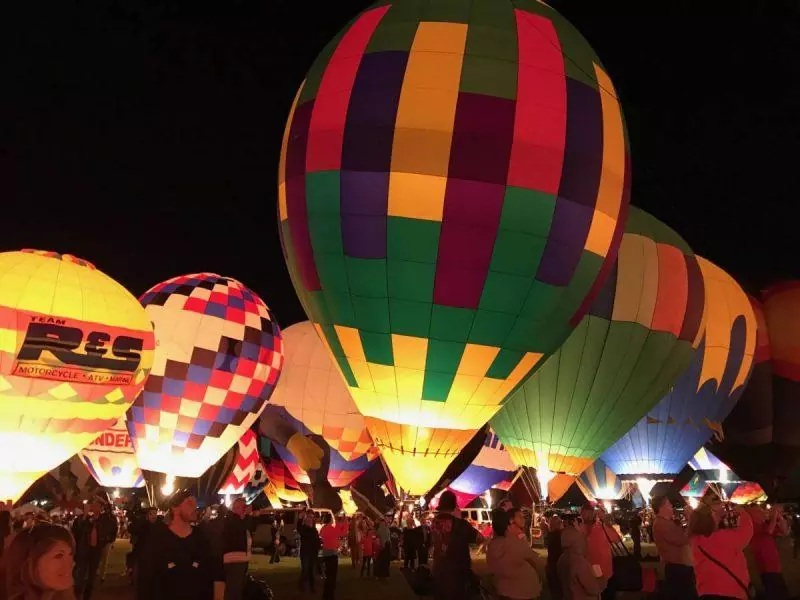 Your last day in Albuquerque, New Mexico can be spent enjoying some of the unique museums and festivities in the area.
If you're into the region's most prevalent gem, the Turquoise Museum makes a great first stop. It's located in a. castle and features rare pieces and collectibles. They'll also teach you how to spot a fake!
Did you know there are 19 Pueblos in New Mexico? The Indian Pueblo Cultural Center is where you should go to learn more about them. In addition to exhibits they have a library, book club, artisan store, harvest restaurant and annual student art show.
The National Museum of Nuclear Science and History is the only Congressionally chartered museum of its type in the country. It promotes the study of the atomic age and peaceful uses of nuclear technology in young children.
The National Hispanic Cultural Center is dedicated to promoting arts, culture and humanities. They are home to more than 700 performances a year, from theatre to symphonies.
They also host workshops, have dance lessons, display art, host seasonal exhibitions like during Dia de los Muertos and have special events like community stich-alongs and movie screenings.
Another quirky find is the Telephone Pioneer Museum in downtown ABQ. For only $2 you can see how phones have evolved over time. Their staff is composed of volunteers who are passionate about the topic. This is considered one of the hidden gems of the area.
Finally, if you happen to be in Albuquerque in October aim to attend the Albuquerque International Hot Air Balloon Fiesta. It's the biggest balloon festival in the world and easily the most anticipated event in the state.
RELATED POST: RIDING A HOT AIR BALLOON AT THE ALBUQUERQUE INTERNATIONAL FESTIVAL
Know Before You Go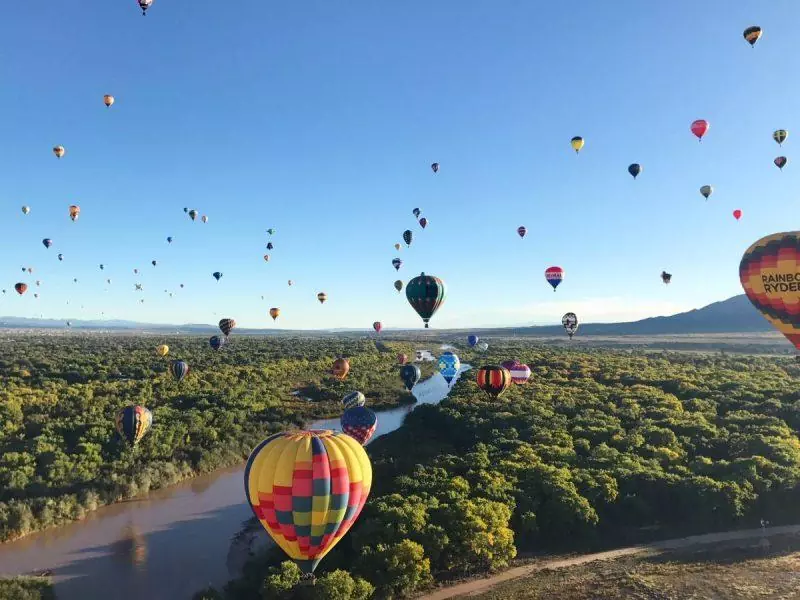 Albuquerque's coldest month is in January when it can drop into the 20's at night so don't make the mistake of thinking it never gets cold here.
Hands and lips chap easily in the dessert so bring plenty of lotion and chapstick and drink lots of water. If you're not a fan of spicy food then steer clear of the chiles since they pack a punch.
Aside from that, enjoy your weekend in Albuquerque. It'll go by quickly and leave you wanting more.
Till next time, safe travels!
Liked this post? Pin me below.