Looking for the best places to stay in Milan, Italy? I have a special roundup for you today from 12 travel bloggers, each weighing in with their advice on where you should stay during your next holiday in Milano.
From hostels to hotels to rentals, these digs come highly recommended. Milan is known for being a posh city, and where you stay should be equally as inviting as the city you're visiting. Thankfully, the city is easily accessible via public transport, taxi or Uber so you have a wide radius available when looking for where to stay.
Milan can experience temperature extremes, so you want your hotel to have A/C if you're visiting in the summer and a heater come winter. Rooms with a kitchen are a bonus and can help you save money on food if you're staying for longer than a few days.
Traveling in Milan is easiest by train. I recommend you book your tickets in advance through ItaliaRail for getting in and out of the city from the airport, and to any day trips you want to take from the area.
Without further ado, here are the 12 best places to stay in Milan, Italy.
RELATED POST: HOW TO GET FROM MILAN TO CINQUE TERRE, ITALY
By Natalie Deduck, Love and Road
We have traveled to Milan a couple of times and our favorite hotel there is the stylish and comfortable Camperio Suites & Apartment. Located a few steps from Sforzesco Castle and 10 minutes walking to the Duomo Piazza, this 4 stars hotel is perfect for couples and families who want to stay in the historical area yet in a quiet place.
There are many restaurants, bars, cafes, shops and public transportation near the hotel, and from there you can walk to some of Milan's top attraction. This hotel is the perfect place to stay for those who want to pack a lot of activities on a weekend or in 3 days in Milan.
Camperio Suites feels more like a home away from home, as some of the apartments have a double bedroom, bathroom with bathtub, fully equipped kitchen and a living space. We stayed at the Deluxe Suite and loved it. The building has a beautiful courtyard, a terrace and a restaurant on the ground floor where breakfast is served. If the weather is good you can enjoy your morning coffee in the garden just beside the restaurant.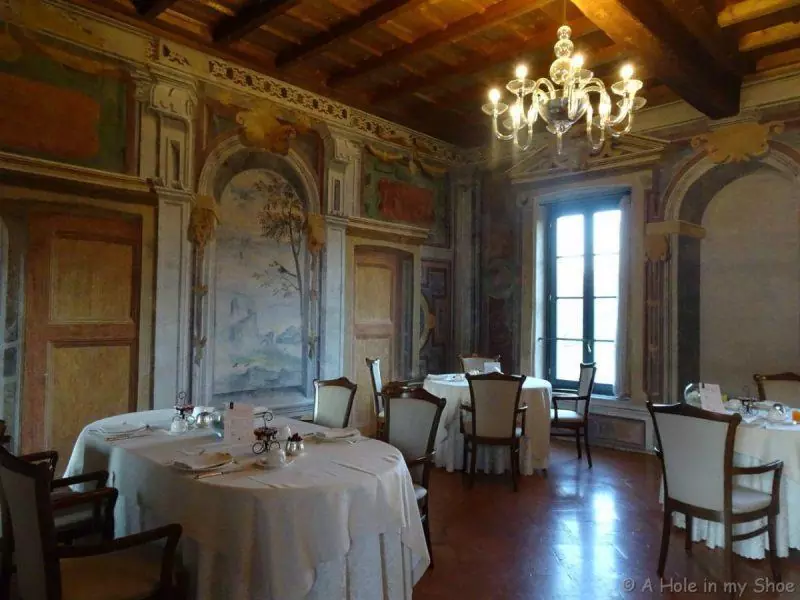 By Lyn and Steve Baker, A Hole in My Shoe
On our way from Lucerne to Salzburg we squeezed in a night in Europe's fashion capital, Milan, for a stay in a 17thcentury mansion. Grand Hotel Villa Torretta Milano was owned by a rich Milanese family and a night here was probably the closest we will get to Milan high life. Having just completed Switzerland's ultimate scenic train travel on the Bernina Express we found ourselves in Tirano, Italy and figured as we had time to spare, why not?
This hotel is only minutes from the centre of town and nearby to Parco Nord, the large shopping centre. Built in 1600's and abandoned in 1960's, the villa was painstakingly restored, preserving many of the original features. There are ceilings with centuries-old oak timber and frescoes relocated or repainted to retain their original tones. The atmosphere and décor within the villa is timeless.
We were surprised to learn the chapel Oratory of Santa Margherita on the grounds still conducts Sunday mass. But one thing that really amazed me was the Pet Suite. Yes, that's right, the Villa Torretta was the first hotel in Italy to have a pet-friendly suite option for cats and dogs.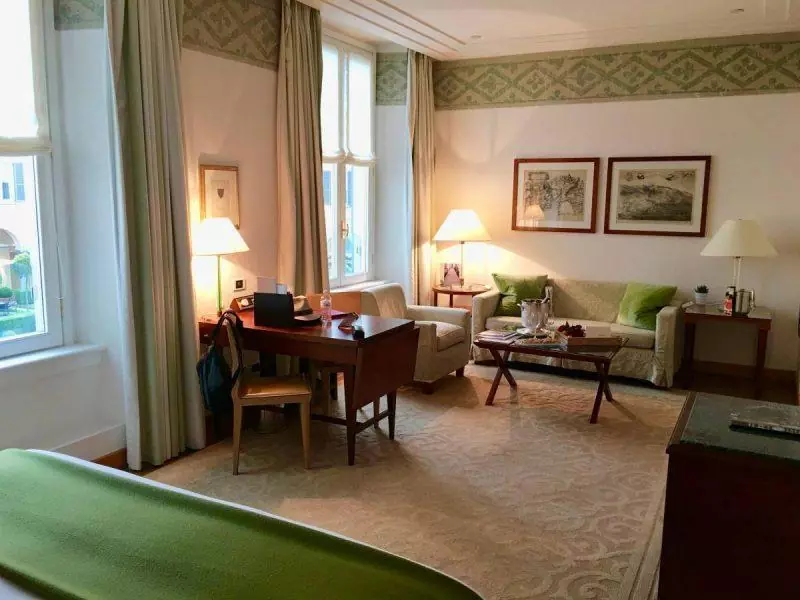 By Sherrie Albritten, Travel By a Sherrie Affair
What could be more perfect than being able to stay at a Four Seasons hotel? I can tell you — a Four Seasons hotel in a wonderful shopping district in Milan, Italy! Our stay at this spectacular hotel was perfect in every way. The furnishings were exquisite. Our check-in process was seamless with the ,anager and reception awaiting our arrival.
We were next led to our suite which had my favorite color green as the main color scheme with a mixture of cream. The room was neat, roomy and bright with tall windows. There was a chilled bottle of champagne, pastries, fruit and a handwritten welcome letter waiting for us. It's those little touches that can start your stay off right.
Each morning we enjoyed a delicious breakfast in the dining room before beginning our tourist excursions in Milan. The late afternoons we enjoyed relaxing in their park-like courtyard with a glass of wine. The Four Seasons in Milan is a little piece of tranquility in such a busy city.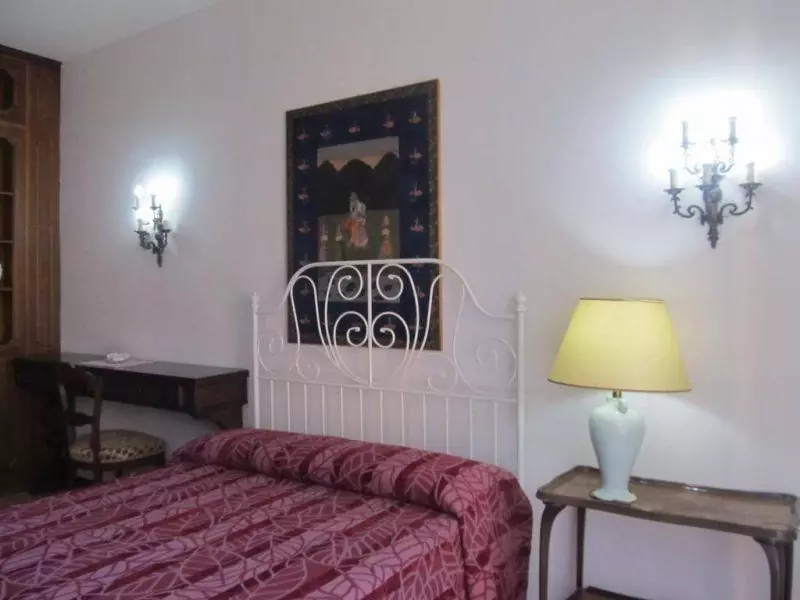 By Alex Waltner, Swedish Nomad
Welcome to My House in Milano is centrally located within 15 minutes walking to the Duomo di Milano. It's a great and hospitable budget hotel where you get a private room. The bathroom is shared, but it's totally fine because the owners live there themselves and they always make sure it's tidy and neat. The owners are also very friendly and helpful in terms of sightseeing and accommodation.
The breakfast served is hearty for an Italian breakfast, but sweet of course. You'll get enough in order to be full for a few hours, and the coffee is delicious.
The hotel is located inside a residence house, and you can tell there's some history in this building. The rooms are decorated with figurines, plates and authentic furniture. The beds are comfy, and I can really recommend this place for budget travelers who don't want to stay in a hostel, but don't want to splurge and pay a lot for a more expensive hotel option."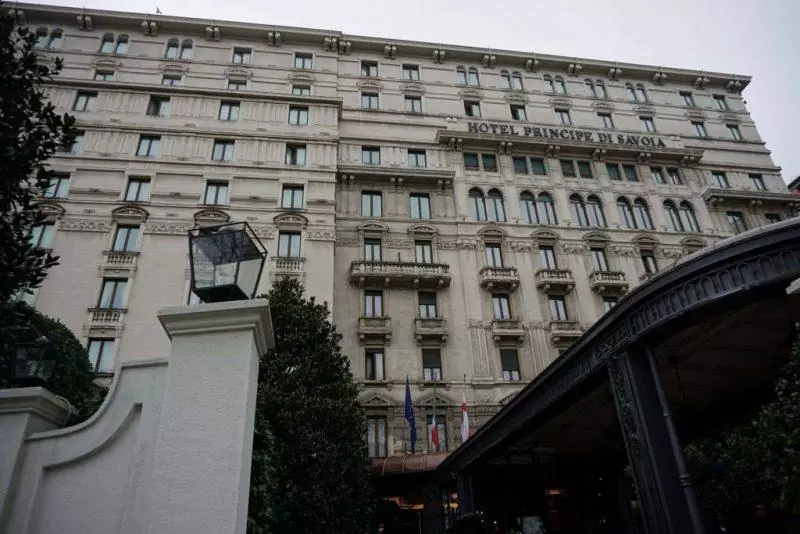 By Priya Vin, Outside Suburbia
The Hotel Principe Di Savoia belongs to the Dorchester collection, a smaller hotel chain with the most luxurious hotels all over the world, with properties in London, Geneva, Paris and LA to name a few. It is located 10 minutes taxi ride away from Milan Central station in the beautiful and busy Piazza della Repubblica. Spacious Mosaic Rooms capture the spirit of Principe di Savoia, and blends contemporary design with 19th century Italian style. The hotel is well appointed with fine furniture and art.
We loved the views from our windows over to the Piazza della Repubblica square, watching the yellow trams making their way around. We loved walking around in the green space across from the hotel as we made our way to the cafes nearby for breakfast. And the best thing is that the hotel has a complimentary limousine service to the city center and the Duomo, which goes several times an hour during the day and also pickup from a designated location in the Piazza della Scala.
We stayed at the Principe during our trip to Northern Italy in November. We didn't expect to like Milan that much since we tend to get lost in a city and prefer quaint towns but we fell in love with Milan and I believe that had a lot to do with the hotel we chose.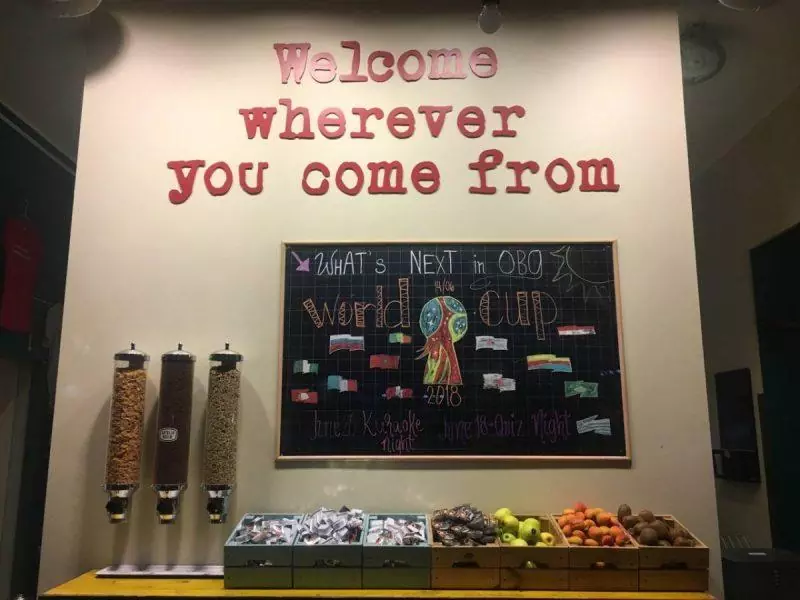 By Patrick Muntzinger, German Backpacker
If you're looking for a hostel in Milan, I can highly recommend Ostello Bello – probably one of the best hostels I ever stayed at! You'll actually find two Ostello Bello hostels in Milan and I stayed in each of them for a few nights. One is located directly in the city centre between the Duomo and the famous Navigli area – perfect for sightseeing. The other hostel is located right next to the train station and a great base for day trips – I visited Lake Como when staying there.
Both hostels offer clean dorms, fast WiFi and super friendly staff. There's also free breakfast and dinner buffet (!) every day. You'll find a bar in each hostel (and you'll receive a free welcome drink), creating a social atmosphere so you will easily get to know other travelers there.
The staff is very helpful and can give you all necessary information for sightseeing around Milan. Keep your eyes open if you're on a bigger trip around Italy since Ostello Bello also has hostels in various other cities of the country.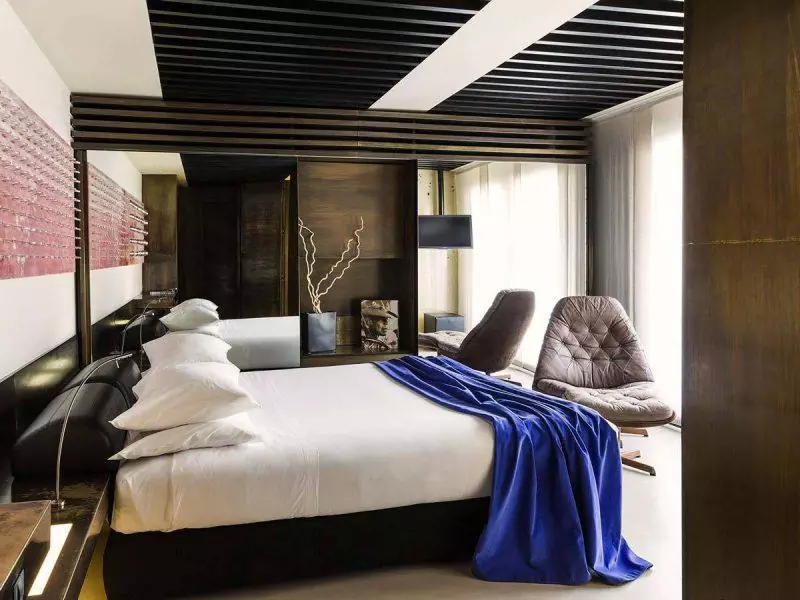 By Sally Pederson, Luxurious Lifestyles
The Straf Hotel in Milan is located steps away from the Duomo. The stunning Gothic Cathedral took almost six centuries to complete. It is also within minutes of the Galleria Vittorio Emanuele II, Italy's oldest shopping mall housed in a 19th-century glass-covered arcade. The area is known for upscale dining restaurants and luxury clothing brands. Numerous tourist attractions and museums within a twenty-minute walk from the Straf Hotel.
The boutique four-star hotel contains 64 rooms. Some room names are typically called single, double, superior, executive, and suite. Additionally, they also call some rooms the well-being, double relaxation and double comfort rooms.
The rooms combine two philosophies; warm and cozy yet sophisticated and hi-tech yet minimalist. Custom-made furnishings bring an innovative design not observed anywhere else. Vincenzo De Cotiis, the Architect, added splashes of color throughout the hotel with large pieces of art.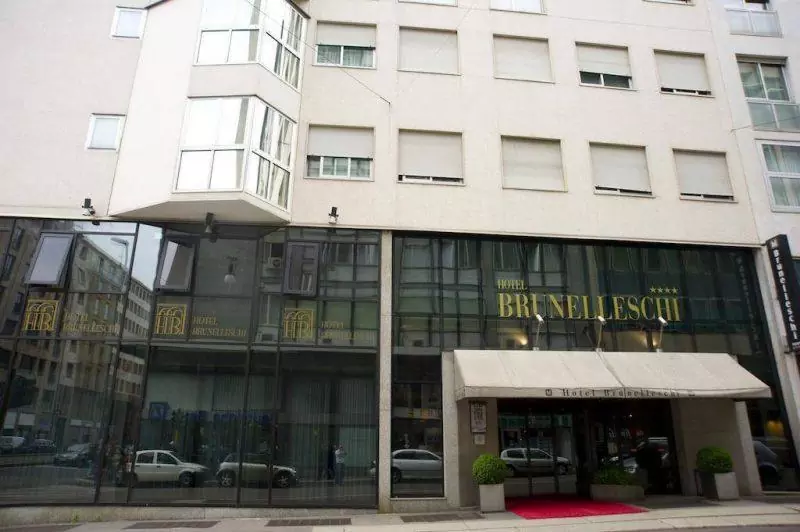 By Cathy Beesley, Cathy Travelling
We stayed four nights in Milan at Hotel Brunelleschi, a four star hotel located in the historic centre of Milan. It was only a short train ride from the airport to the station near the hotel. After a long journey, we were grateful to find lovely spacious rooms and delicious breakfasts.
Milan is a cosmopolitan city with Hotel Brunelleschi adding to our experience. We walked the streets, stopping to admire the the mosaics on the floor of Galleria Vittorio Emanuele II (only a two minute walk from our hotel) and were in awe of the designs. Our hotel also organized a day trip to Lake Como.
Location, comfort and a helpful staff — what more could you want?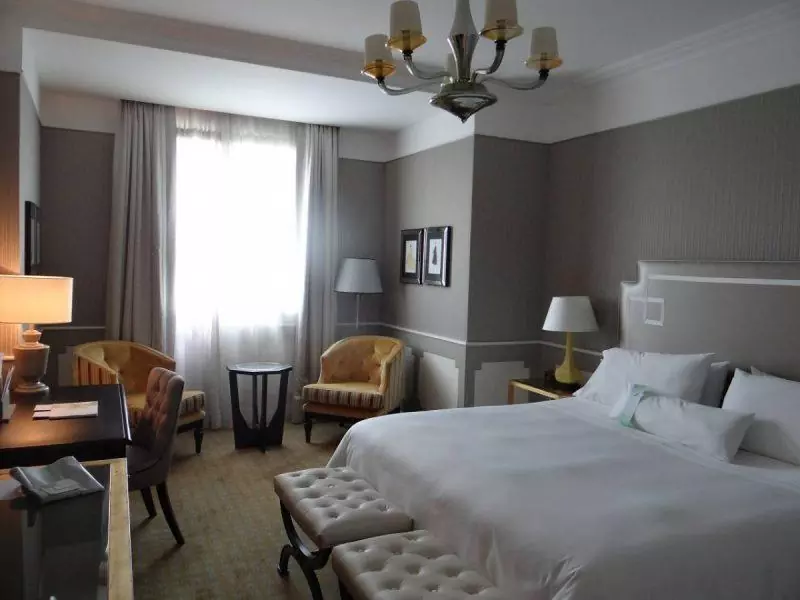 By Suzanne Wolko, PhilaTravelGirl
There are very few hotels in the world where I can honestly say, "I don't want to leave" and the Westin Milan is one of them. When I arrived, I was greeted and escorted into the understated elegant lobby where the friendly staff welcomed me.
The lobby welcomed you into the luxury of the Westin Milan with a wood paneled bar and contemporary restaurant but it was the guest room that enveloped you in comfort and relaxation. The plush bedding and design accents were more than enough to keep you lingering in bed longer than necessary.
After a busy day of sightseeing, I took a travel day off because the spa was calling me. On my lazy Sunday, I slept late and enjoyed brunch before my spa treatments. Feeling restored, I returned to my room for a nap before ordering room service for dinner making sure to include the chocolate dessert in my attempt to eek out every second of the luxury experience at the Westin Milan.
RELATED POST: HOW TO GET TICKETS TO SEE THE LAST SUPPER IN MILAN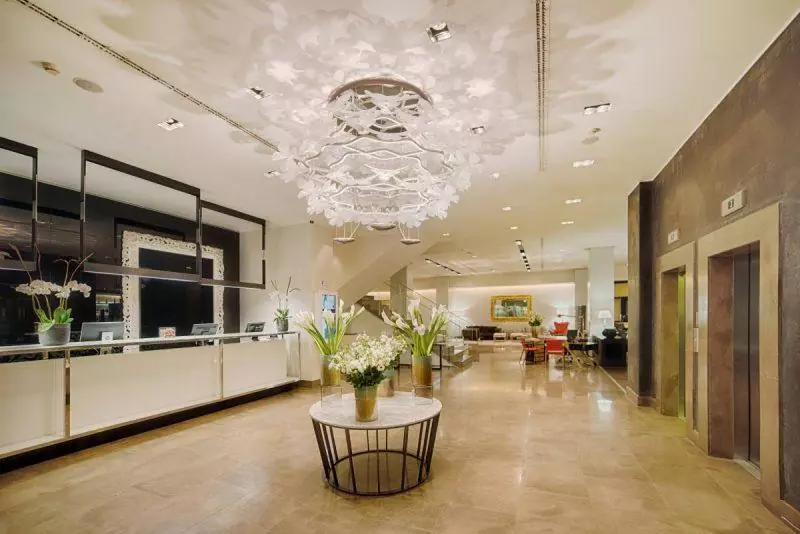 By Montoya Hudson, The Spring Break Family
When looking for a place to stay in Milan, there is no better option than the NH Collection Milano President. This 5-star hotel is located in Milan City Center and is right in the middle of the action. The Milan Duomo, Galleria Vittorio Emanuele, La Scala Opera House and so much more is all within walking distance. You can even see the Duomo from most of the rooms. The San Babila undergound station is a short distance away as well.
If you're unsure what to do during your visit, the hotel has a wonderful concierge team that will gladly assist with your itinerary. The rooms themselves make comfort a priority with luxury linen and high class touches like evening turn down and daily slippers. There is an extensive breakfast selection on-site sure to rival any area restaurant.
All of these things make NH Collection Milano President undoubtedly the best place to stay in Milan.
By Margherita Ragg, The Crowded Planet
Last year, I spent a month and a half reviewing hotels in my hometown Milan for a major UK newspaper, visiting all corners of the city and staying in design hostels, five star hotels and anything in between. My favourite Milan hotel was definitely the Sheraton Diana Majestic, a historic four-star property located in Porta Venezia, and known to locals as 'Il Diana'.
This is one of the longest-running hotels in Milan, open since the 1920's, and a meeting point for well-heeled Milanese since then. It's still a popular location for aperitivo and brunch, which are also open to non-residents.
There are two reasons why I love it so much – the historic atmosphere, and the inner garden open from May to September, giving guests the opportunity to enjoy a real 'secret garden' in the heart of the city, with secular trees, flowers and fountains. The service is always top notch and the location can't be beaten – the Duomo is only about 15 minutes walk away and some of Milan's best bars and restaurants are barely 5 minutes walk from the hotel.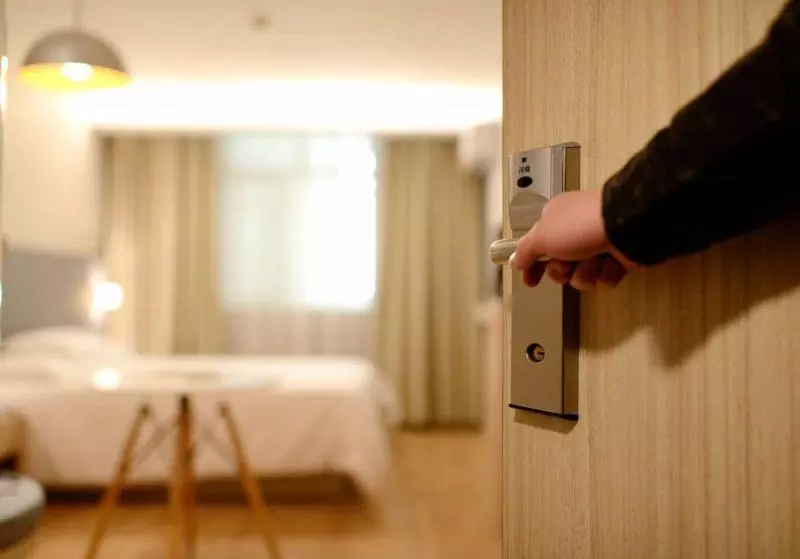 The MOXY Milan Malpensa airport hotel scores major points for its chic vibes and location. It's located, as the name suggests, at Milan Malpensa Airport across the street from the train, which gets you into Milan city center in under an hour. There's a free shuttle to get in between airport terminals depending on when you land. This is the perfect spot for a quick layover or one night in the city if you have to catch a flight out early in the morning.
Are you ready to book your next trip to Milan yet? Your Italian adventure is waiting!
RELATED POST: HOW TO SPEND ONE DAY IN MILAN, ITALY
Till next time, safe travels.
Liked this post? Pin me below: