Looking for the best places to eat in Madison, WI? Read on for 26 options you're sure to love!
Madison, Wisconsin has become increasingly famous for its food scene. It's the site of many farmers and producers so a lot of the ingredients are locally sourced. Not to mention, there are food trucks galore among Madison's streets, bringing in a world of cuisine ranging from Venezuelan empanadas to Japanese Hibachi.
There is so much good food to eat in Madison that dining out is an attraction in and of itself. What's more, there are options to fit every cuisine preference and dietary restriction.
Here are some of the best places to eat in Madison, WI!
Best Places for Breakfast in Madison, WI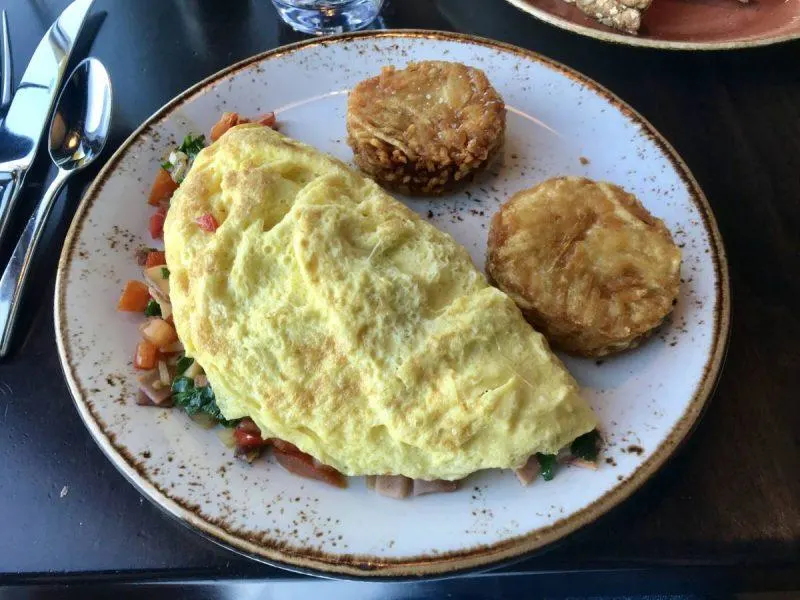 1. Marigold Kitchen
This place packs a lot of flavor and is a popular spot for breakfast/brunch. Its bright orange decor complements the zest found in dishes like chili poached eggs and duck confit hash. The restaurant is counter service so make sure you send someone in your party to get a table while you place your order since it can get busy. Libation-wise, they offer Bloody Mary's and mimosas.
2. The Statehouse
The Statehouse is located inside the Edgewater Hotel. I recommend it for its stunning 360-degree views of the water, highlighted by large floor-to-ceiling windows. They have an a la carte breakfast menu including dishes like lobster Benedict and corned beef hash. There's a full bar on site.
3. Monty's Blue Plate Diner
At Monty's, you can get breakfast all day. The meals here are hearty and affordable, making it perfect for families or budget travelers. They also have several vegan and vegetarian options like walnut burgers and vegan banana walnut pancakes. I had the Monty's Breakfast Sandwich with fried egg, bacon, spinach, tomatoes and goat cheese on jalapeño cheddar bread — it was to die for. This is one of the most iconic places to eat in Madison, WI.
4. Pat O'Malley's Jet Room
This is another spot that's recommended if you're looking for memorable views. It's located inside the Wisconsin Aviation building so you can see smaller planes right outside the window. It's perfect for an aviation geek or anyone looking for a quirky setting. There is no alcohol served. They have a big menu and the breakfast skillets are delicious. I had "The Scramble" and left stuffed.
5. Bassett Street Brunch Club
This place has a fun vibe, with events like a Taylor Swift (Pre)Birthday Lover Bash. It can get packed and they don't take reservations so aim to go earlier in the morning or later in the afternoon, during the shoulders of brunch if you will. This is the spot for drinks, with options ranging from Bellinis to a spiked horchata. They also have a diverse menu with everything from pork carnitas hash to coconut cream pie French toast.
Where to Eat Lunch in Madison, WI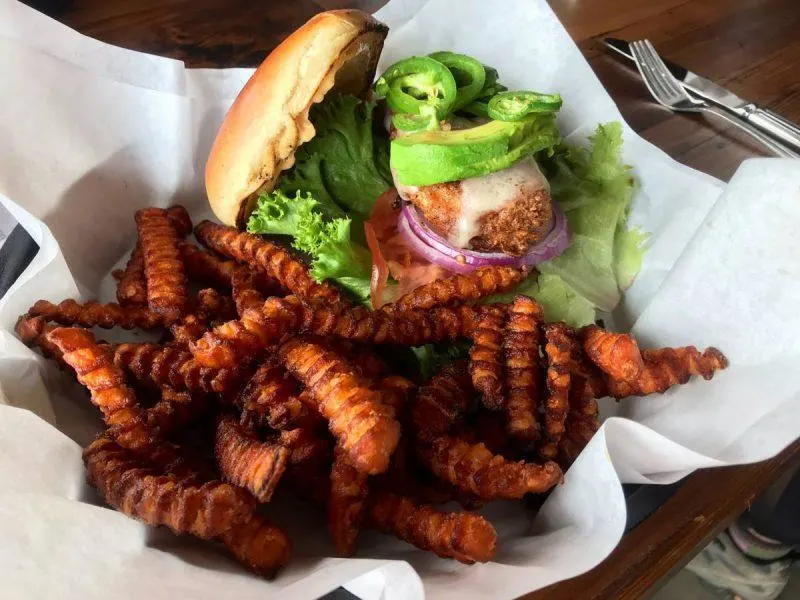 6. Cafe Hollander
This is a European style "grand cafe," meaning a place where neighbors can meet over a cup of coffee or pint of beer every day. Think of it as a European version of Cheers. If you're a fan of Belgian frites don't miss out on their loaded cone. They also have a creamy mushroom soup and tomato bisque that are popular and salads like roasted apple and beet & avocado.
7. Ian's Pizza
Ian's is a Madison staple. They serve whole pies or pizza by the slice and offer flavors like mac n' cheese, macho nacho and drunken ravioli. They also have different specials every month, like a Thanksgiving slice in November and chicken pot pie pizza in January. There's more than one location for Ians (thank goodness for that!) and they happily deliver.
8. Ha Long Bay
This is a Vietnamese restaurant offering reservations, carry-out and catering. Dishes include pho, pad Thai, spring rolls and various rice and stew options. Lunch is served from 11:00am to 3:00pm on weekdays and comes with a choice of cucumber salad or tom yum tofu soup for under $10.
9. Food Trucks at Library Mall
There are plenty of food truck options at the UW Madison Library Mall. Try Caracas Empanadas if you're in the mood for warm, meat-filled Venezuelan pastries. El Grito Taqueria is a fan favorite, usually offering three types of tacos on their menu with the options changing daily. They make it a point to have two meat tacos and one vegetable option and boast homemade habanero sauce. You can't go wrong strolling the area and going wherever the scrumptious wafts move you.
10. Graze
True to its name, this spot favors grass-fed animals and rotational grazing. It's pub fare but at an escalated level, with options like a Wisconsin cheese board, a beet and walnut burger and cookies and milk for dessert. Lunch is served Monday to Friday from 11:00am – 2:30pm.
Best Restaurants for Dinner in Madison, WI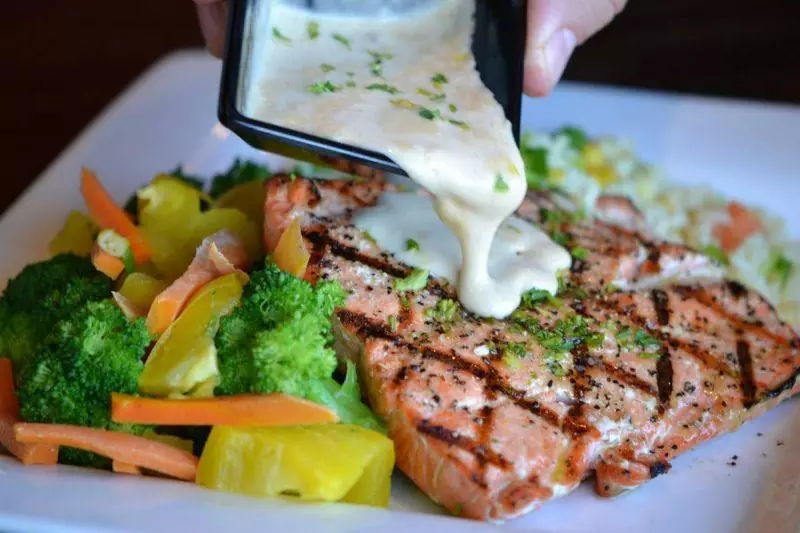 11. The Old Fashioned
Inspired by the tradition of Wisconsin supper clubs, this restaurant looks like a cozy lodge with dark wood furniture and inviting booths. They serve some of the best meals in the city, from ribeye steak to rainbow trout. They also have daily meal specials after 4pm, like Fish Fry Friday and Taco Night Tuesday.
12. Fresco
Located on the top floor of the Madison Museum of Contemporary Art on State Street, Fresco is a great place to go for dinner before a night out on the town or when catching a show at the Overture Center next door. They also have floor to ceiling windows with views of downtown and outdoor seating available on the rooftop during nice evenings. The menu is scrumptious and includes items like crispy Brussels sprouts and seared scallops.
13. Ale Asylum
This is a more casual establishment but is located right near the airport so it's perfect if you need to catch a flight. I saw more than one person there with luggage. It's a taproom and microbrewery offering tours and their own beer menu. I recommend the Unshadowed, a light Hefeweizen with a crisp finish and 6% alcohol content. The food here ranges from sandwiches to tacos. They also have Fish Fry Fridays and ribs and fries on Saturdays.
14. Heritage Tavern
This is a fine dining experience and popular location for special events like birthdays or engagements. Popular items include the deviled eggs appetizer, mushroom and wild rice crusted monkfish and Heritage pork schnitzel and knockwurst with braised red cabbage, sour cream spätzle, pickled aronia berries, mustard cream sauce and red wine reduction. Reservations are encouraged.
15. Graft
This is a small plates restaurant inspired by wine and Midwest ingredients. They work with local farmers, growers and producers and offer dishes like fried chèvre and quail. Their wine selection is impressive with a menu spanning more than 16 pages.
Dessert
16. Gale Ambrosius Chocolatier
Gale used to be a cartographer in another life before deciding to pursue the confectionary arts. She studied in France and opened up her shop in Madison to much critical acclaim. I knew about Gale before I visited Madison from a feature in Delta Sky Magazine. Gale is often found on-site making her famous caramel. She also offers a subscription box called 12 on the 12th, where she sends 12 truffles to your home on the 12th of every month.
17. Hubbard Avenue Diner
This is the home of the original pie taco. You read that correctly — pie, wrapped up in a taco-shaped pie crust. Options include cherry, French silk, pumpkin and the Flocko Taco, a blue cotton candy-flavored filling topped with cotton candy whipped cream and pink flamingo sprinkles. This is also a great place to eat generally. Hours of operation are from 7am-9pm.
18. Kilwins
If you want to soothe your sweet tooth, head to Kilwins for free samples fo fudge and ice cream. They're located across the street from the Overture Center and have delicious chocolates that make a fine purchase for yourself or as a gift. The ice cream is a welcome treat on a hot day. My personal favorites are the Toasted Coconut and Mackinac Island Fudge flavors.
Happy Hour Drinks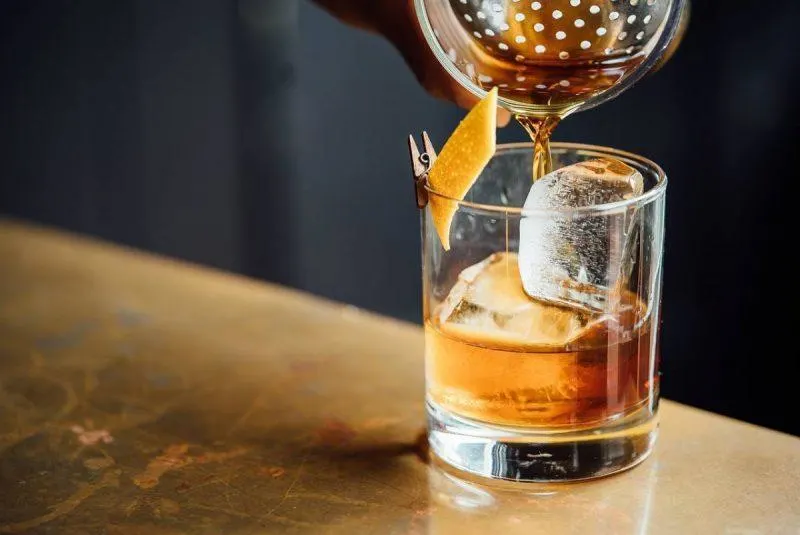 19. Cafe CODA
This is a jazz club with live music and reasonably priced drinks. They support young musicians and local bands. Sit closer to the stage if you're hoping to hear the music as it can get loud inside. There can be a cover to get in depending on the night and the performance, from $5-$20.
20. Eno Vino Wine Bar and Bistro
This is the perfect place to catch the sunset. The bar and restaurant is located at the top of the AC Hotel in downtown Madison, overlooking the Capital Building. The views of the city are stunning, and the drinks aren't too shabby either with cocktails like a blueberry basil mule and "Cinnsation," a hot or cold cinnamon whisky drink.
21. Le Tigre Lounge
This is the ultimate hole in the wall bar with one unforgettable theme — tigers. There are hundreds of them, everywhere you look. There's tigers behind the bar, on the wall, in the bathroom, on the floor. Small tigers, stuffed tigers, paper tigers, paintings of tigers. It's a fun spot to have a drink with friends and get away from the hustle and bustle of the city.
Miscellaneous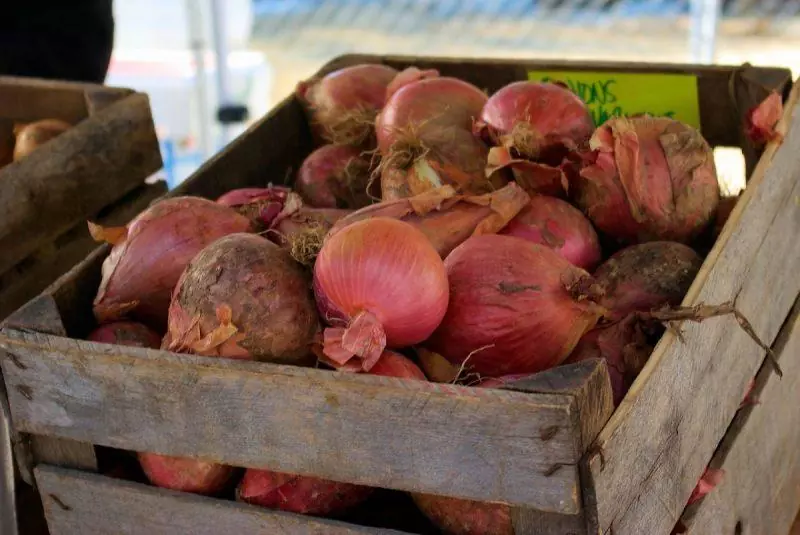 22. Dane County Farmer's Market
This is not a restaurant, but it's the most famous producers-only farmer's market in the country and well worth a visit. It takes place on Saturdays and is a great place to stock up on produce and artisan crafts. This stop will take a few hours so come prepared to spend the morning here.
23. Fromagination
If you like cheese, you need to stop by Fromagination, a gourmet cheese shop located on State Street. There's a wide variety of cheese for you to choose from, with all sizes from full shells to odd chunks by the register (my favorite basket in the store). The staff is extremely knowledge and happy to help you sample the different varieties and pair the cheese with crackers.
24. Vom Fass
I walked into this store intending to spend just a few minutes and spent nearly an hour. It's magic! There are olive oils, spirits and wine from around the world that you can sample. I ended up leaving with a rich, sugary rum fro the Barbados that I'm keeping on stock for a special occasion. They wrapped my bottle up well in bubble wrap and it safely made the journey home with me. This is a great place to go for culinary gifts and souvenirs.
25. Green Owl Cafe
The Green Owl Cafe markets itself as being Madison's only fully vegan and vegetarian restaurant. Indulge in the Middle Eastern platter with hummus, tabouli, roasted red pepper and walnut spread and baba ganoush served with toasted pita, olives and pickled vegetables or try the Mac n' cheese with tomatoes and bread crumbs. Bonus — it comes gluten free!
26. Surya Cafe
This place is gluten-free and vegan so the prices can be a little high to reflect that but the cafe is intimate and there's a focus on forming connection through shared dining experiences. You do not have to remove your shoes to enter, though you'll find many people opt to do so. The dishes are all healthy and Instagram-worthy, making this a good place to stop by after yoga or to catch up with friends.
Those are just some of the many places to eat in Madison, WI. You won't go hungry here! If you're looking for a fun foodie destination to visit on a long weekend getaway, consider Madison, Wisconsin for your next trip.
RELATED POST: 15 FUN THINGS TO DO IN MADISON, WISCONSIN
Till next time, safe travels!
Note: I was hosted on a press trip with Visit Madison. All opinions are my own.
Liked this post? Pin me below: