Toronto's Distillery District is a history lover's dream. The names "Gooderham and Worts" hang above you as you enter the sprawling complex, the buildings still standing despite prohibition, cholera and even a raging fire. It was designated a National Historic Site of Canada in 1988.
Today, the area is a mix of old and new, with a dedicated path denoting the original 1832 shoreline intersecting with bustling shops and restaurants. Pretty impressive, considering the whole District was once swamp land.
I took a walking tour of the Distillery District with GoTours Canada, but you can also explore the area via Segway. I was surprised at how much art there was to admire along the way, with elaborate sculptures and installations both inside and out.
The tour included a comparison of old paintings of the area with current photographs, allowing us to appreciate how much the District has evolved, and the impact of whiskey production on the local economy.
RELATED POST: DINING WITH A CHOPPED CHAMPION IN TORONTO
How to Get to the Distillery District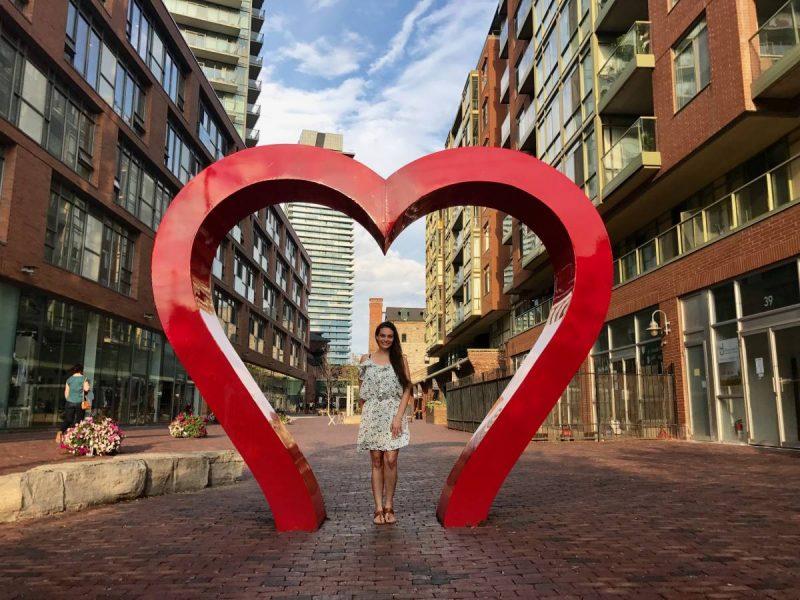 The Distillery District makes a great stop if you're already In the Downtown Toronto area. Add this to your itinerary after the CN Tower, or if you're visiting for a Toronto Blue Jays Game.
I got there on Uber for approximately $10 from Queen Street West.
You can find detailed directions on the Distillery District's website, but essentially you're aiming for Parliament Square Park at the corner of Parliament and Mill Streets.
It's there that you'll see the heart sculpture above greeting you at the entrance.
Stores and Restaurants at the Distillery District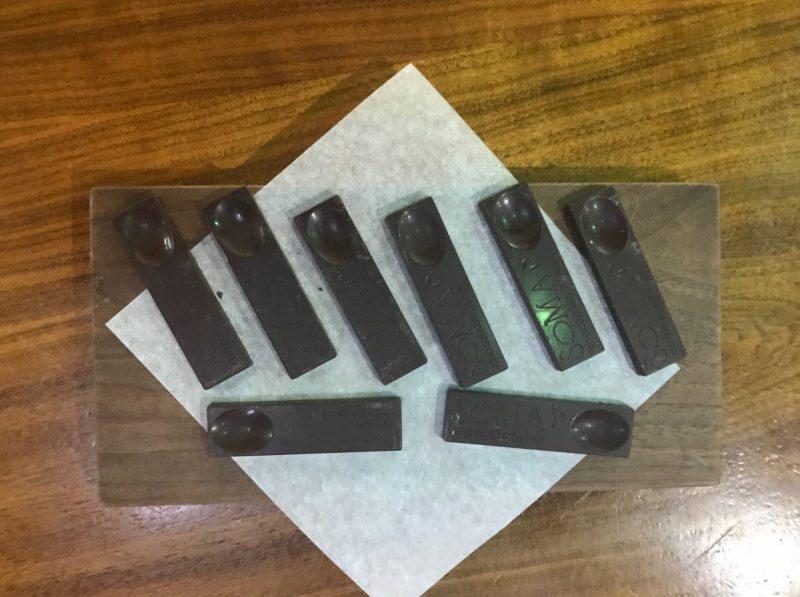 We passed many stores during our historical walking tour. The District is a mix of boutiques, big name shops and even street carts and vendors. We walked into two store—Soma Chocolatemaker and Mill Street Brewery.
At Soma, our guide Joseph explained the process that these Toronto chocolate makers take to make the finest chocolate in the world.
From cocoa bean to chocolate bar, they do all cleaning, roasting, grinding, winnowing, refining and tempering of the chocolate in-house. The brand has grown to two stores and a small chocolate factory.
At Mill Street Brewery, we tasted several beers, each with a different flavor.
My favorite was the one with hints of raspberry. The tour ended here but everything was so good that we lingered after for food and drinks.
RELATED POST: FOOD TOUR OF KENSINGTON MARKET IN TORONTO
History of the Distillery District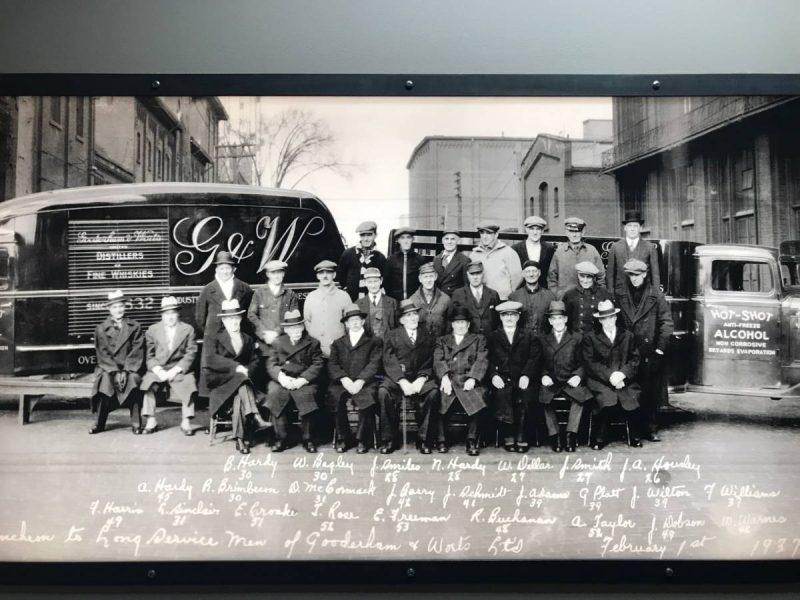 A 90-minute walking tour with GoTours Canada will cover more than 300 years of history. Your guide will point out the charred stone archways that remain from the massive fire of 1869.
The building miraculously survived erupting in flames that could be seen for miles, and still stands today.
Also, did you know that since cholera was so prevalent in those times, drinking whiskey was actually safer than drinking water?
Joseph explained that workers would show up inebriated and were docked in pay based on their level of intoxication, from "morning drunk" to "dead drunk."
Our tour also took us past multiple paintings and photos of the area over time, so you could gain an appreciation for how much it has developed.
Art in the Distillery District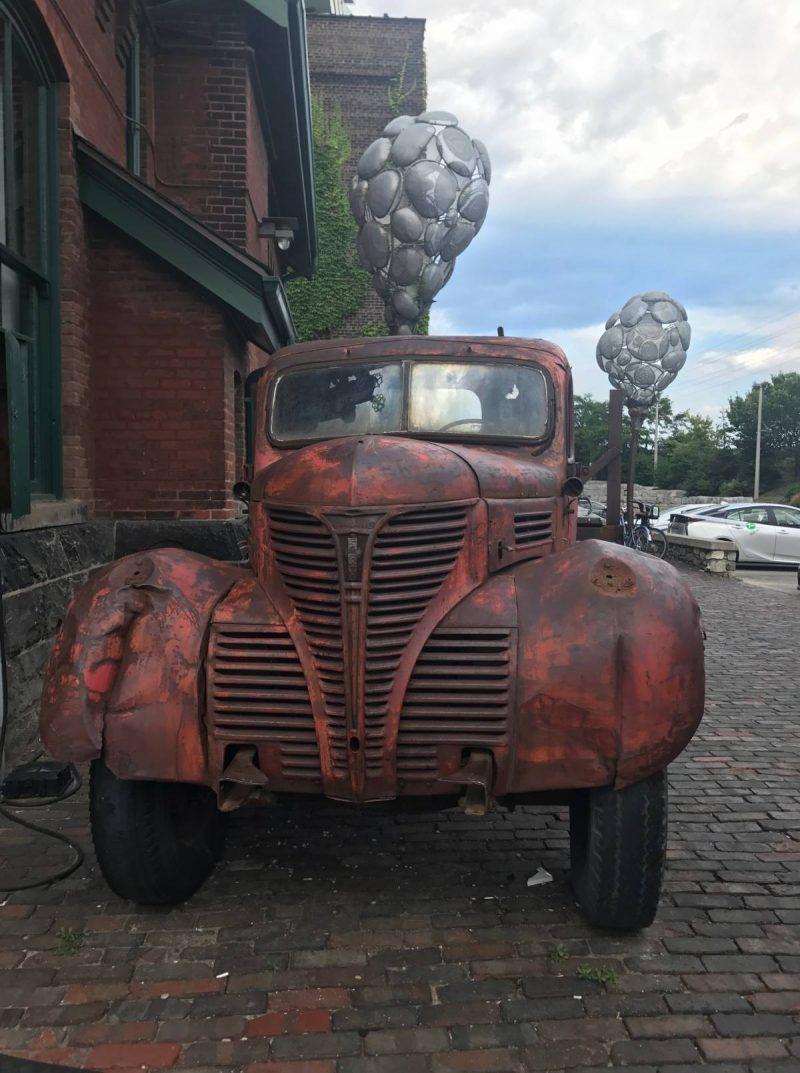 Like most of Toronto, the Distillery District is teeming with art. From old relics turned into artistic displays to the love locks installation where guests can purchase and add a lock, you'll find plenty of interesting picture spots while strolling on your own.
You'll also find weird buildings, art-inspired playgrounds and a larger than life installation in the center which kids climb and people eat below.
The Distillery District is an eclectic neighborhood filled with young professionals that makes a great stop on any visit to Toronto.
Till next time, safe travels!
RELATED POST: EAT GOURMET ECLAIRS IN TORONTO
Liked this post? Pin me below.