Looking for a review of Trattoria Vecchio Mercato in Florence? You've come to the right place.
Everyone knows the Italian food staples–pizza, pasta, gelato–but did you know that one of the best places in the world to find a steak is actually Florence, Italy?
I know what you're thinking. What could this Tuscan city possibly know about a good slab of beef? Turns out, quite a lot. A Florentine steak, or a bistecca fiorentina as it's called, is cut from younger cattle and boasts a tender, juicy quality.
To be an authentic Florentine steak, the meat most come from a Chianina cow, native to the area. They were originally work animals but are now bred almost exclusively for their meat.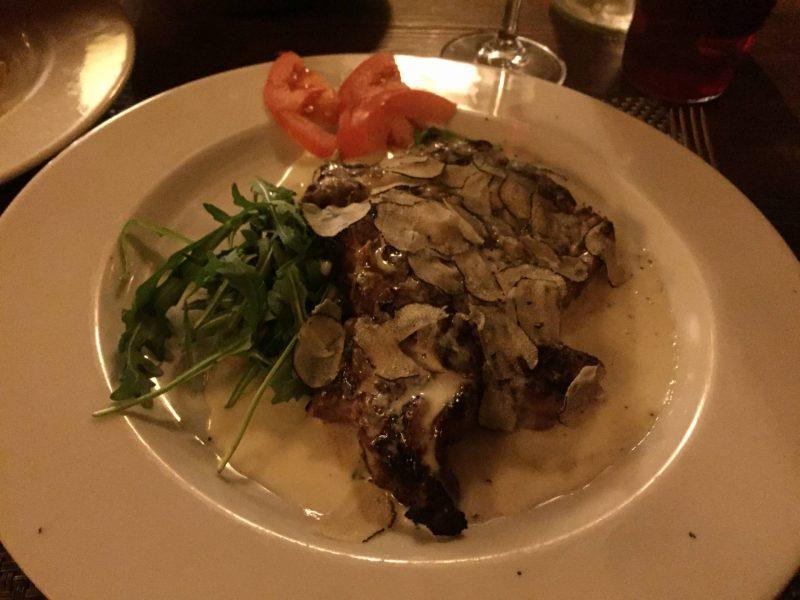 I strolled to Trattoria Vecchio Mercato on a Friday evening unsure of what to expect. The restaurant is centrally located and was just 5 minutes from my AirBnB and the Duomo by foot.
While there is no shortage of restaurants offering steak options, your search should emphasize quality over quantity. Trattoria Vecchio Mercato stands in sharp contrast to Mercato Centrale, which is right across the street.
The two locations could not be more different. Where Mercato Centrale is a rushed frenzy to find a seat and snag mediocre food, Trattoria Vecchio Mercato is a relaxed and pleasant atmosphere from start to finish, with culinary creations that will make you glad you skipped the pizza and pasta for once.
The owners, Luigi and Antonella, capture the essence of Italian charm. The stone-walled interior is adorned with paintings and drawings from the local Galleria Academy. Luigi features local artists as a way of keeping the decorations fresh while simultaneously helping the community.
RELATED POST: MUST-SEE ART IN FLORENCE, ITALY
I had the pleasure of attending on a Monday night, when there was live music playing. A stand-up piano is tucked away in the corner of a small dining room that houses no more than 10 parties.
The sounds of a Spanish guitar accompanied pianist Fabrizio Mocata and provided a welcome reprieve from the hustle and bustle of downtown Florence right outside.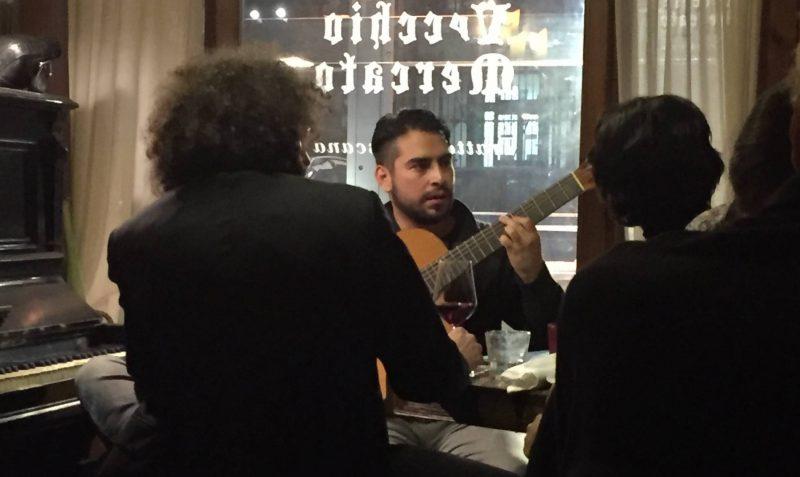 Now I have one word for you–truffle. My course of choice was a steak and truffle specialty suggested by Luigi, served with butter potatoes. It was phenomenal. It paired perfectly with the red wine and came apart so easily that a knife was entirely optional.
The food, ambience and company made this restaurant the perfect Florentine dining experience. I had such a good time that I ended up staying out longer than I expected. When I travel solo I'm usually in bed by 10:00pm for an early morning and sightseeing the next day. At Trattoria Vecchio Mercato I stayed out till ::gasp:: midnight!
I am grateful to have been hosted by Trattoria Vecchio Mercato and hope you'll visit them on a future visit to Florence. If you're in the area on a Monday night, you won't find a better ambience. Not to mention, after your meal you can do some shopping in the San Lorenzo market.
I highly recommend adding this charming establishment to your itinerary on your next visit to Florence. It's nice to get a bit of substance in between all that gelato binding. Make sure you tell Luigi I said hi and prepare to enjoy a fabulous piece of steak.
RELATED POST: THE ULTIMATE FLORENCE FOOD GUIDE
Till next time, safe travels!
Note: I was sponsored on this visit but all opinions and fond dining memories are my own.