Before Nugateau, I never paid much attention to eclairs. Sure, they were available at my local grocery store, but I thought of them as standard. Predictable even.
That all changed on a recent trip to a Toronto when I was invited to visit the Nougateau boutique on Queen Street West.
I had just finished a food tour of Kensington market and was within walking distance to the shop, so when I got the invitation I made a quick detour, and I'm so glad I did.
I entered the small bakery, rectangular in shape with an enticing array of eclairs on display to your right upon arrival.
The shop was immaculate, mostly white with touches of gold to match the logo. It smelled sweet, like toasted honey bread.
I asked for Kadir, with whom I'd been corresponding via email, and a man in the back of the shop quickly approached with a smile.
Upon introducing myself, he shook my hand and welcomed me to Nugateau, like Willy Wonka introducing Charlie the Chocolate Factory for the first time.
Just like Charlie, I was privy to a behind the scenes look at the work that goes into these deceptively complex eclairs.
Here's everything you need to know about Nugateau, a little shop of wonders on Toronto's trendiest street!
What is Nugateau?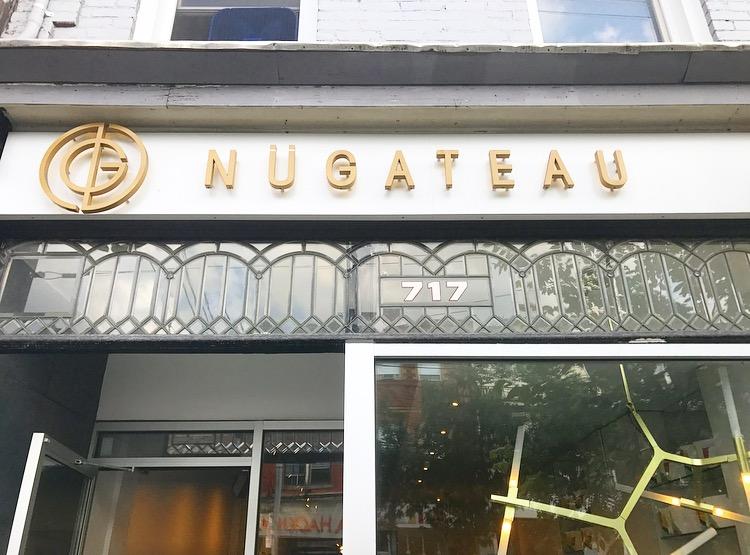 Nugateau is a high-end bakery offering sweet and savory eclair options. Their creations vary from smoked salmon (Pacific wild salmon, avocado and wasabi creme, fresh cucumber) to the fraisier (vanilla cake, fresh strawberry compote, white chocolate chantilly).
There are endless flavors to choose from, but what really makes these eclairs stand out is the attention to detail seen on each piece.
Every one is delicately garnished and made to look more like a work of art than a meal. They're almost too pretty to eat! Almost.
Nugateau Chef/Owner Atul Palghadmal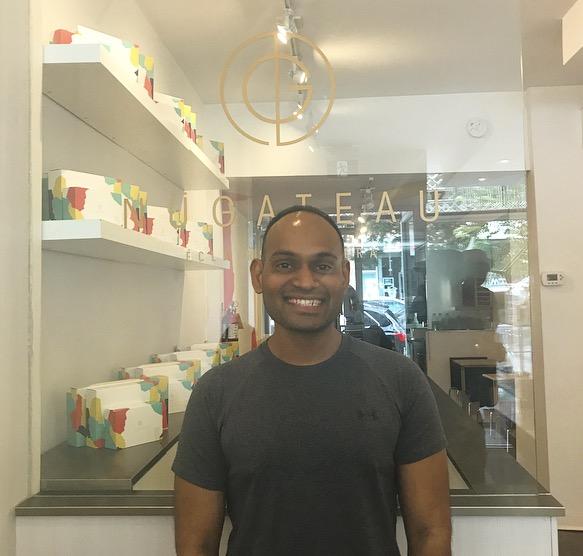 I had the pleasure of meeting Le Cordon Bleu trained owner and pastry chef Atul Palghadmal, who greeted me at an impromptu moment in the day and didn't hesitate to take a break in what he was doing to speak with me.
The gleam in his eye isn't just from my rushed photography (apologies, Atul!) but also the look of a man who derives genuine satisfaction from his work, and from sharing it with others.
Atul's grin stretched from ear to ear as he fondly recalled the more than 100 flavors he experimented with before landing on some of his signature offerings, like raspberry rose lychee (red crusted eclair, whipped raspberry rose ganache, whipped lychee opalys ganache, fresh raspberries).
When asked what spurred him to experiment with eclairs of all things, he indicated that the base, a puff pastry, was neutral enough to blend with all sorts of ingredients.
He even expanded the menu recently to include ice cream eclairs, Iceclairs, just in time for summer. I tried the pistachio one and was floored.
Somehow, the eclair retained its consistency despite being stuffed with in delicious (and quickly melting) pistachio ice cream. This was no accident.
Atul explained that making the perfect eclair is more challenging than people think since the consistency of the dough can change with the weather and external conditions.
He's constantly adjusting his recipe to get it just right depending on the day. With that kind of commitment to quality, it's easy to see why Nugateau is booming under his direction.
Nugateau Locations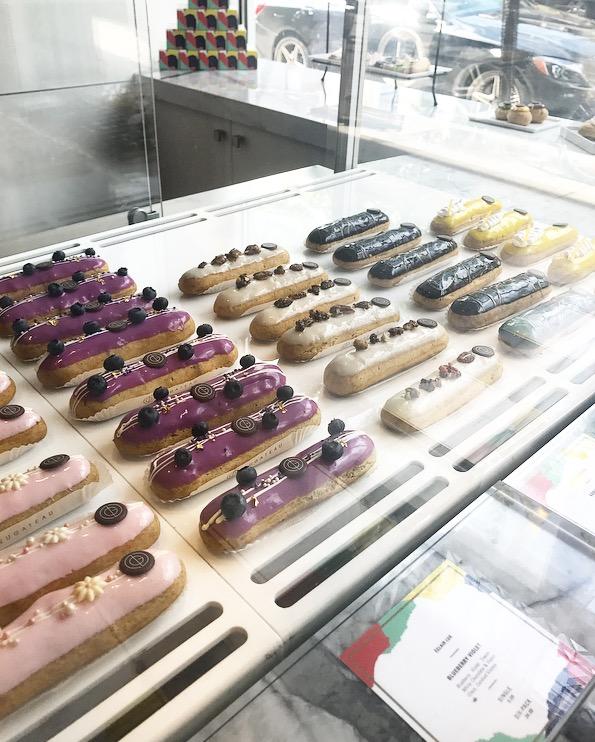 Nugateau was opened two years ago and has taken off, with a second location open in Saks at the Eaton Centre.
Located in downtown Toronto, it's easily accessible by car or public transport and makes a great pit stop for those attending an event at the Rogers Centre.
The flagship location is at 717 Queen Street West. Queen Street is a trendy shopping area frequented by residents and tourists alike.
It's here that you'll likely find Atul hard at work. Both locations offer the same menu, so you won't miss out on your favorites.
Nugateau Prices
The eclairs go for between $5-$8 a piece.
This is a bargain considering that each is at least 6 inches long, made with the highest quality ingredients and assembled with careful precision.
For the cost of a sundae at literally any ice cream shop, opt to change your routine and try a culinary-inspired option instead.
You can also purchase a box of 6 for a small discount. The boxes make great gifts for a family or work event and come in a decorative box so you don't need to worry about wrapping paper or gift bags, just grab and go.
What's the Etcetera?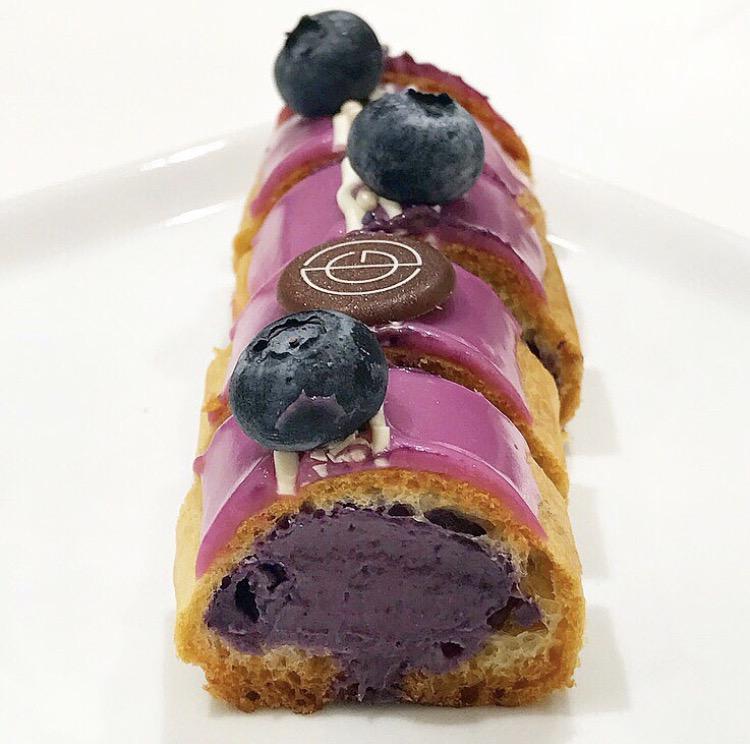 Nugateau offers a range of hot and cold drinks including expresso, iced lattes and tea. They also have seasonal drinks and flavor shots, depending on what's available.
I am so grateful to Nugateau giving me a taste (literally!) of their unique creations. If you're ever in Toronto, be sure to check them out and treat yourself to Toronto's finest eclair.
Till next time, safe travels!
Liked this post? Pin me below.
*Nugateau graciously provided a complimentary box of eclairs to sample. All opinions are my own.