I visited Jordan as a solo female traveler for 10 days. Here's what I did during my visit.
Jordan is one of the most incredible countries I've ever seen. It completely blew me away.
This was my first time in the Middle East, and I wasn't sure what to expect.
I am so glad I visited and I felt completely safe as a solo female traveler.
I would say the only unusual thing is they do a search of all vehicles before entering a hotel. The entrances are gated versus having an open driveway or parking lot.
It looks like they're using a gold detecting machine. Your driver will need to pop the trunk. This made me nervous at first, but it became normal by the end of my trip.
Every single day was a bucket list adventure, filled with activities I had only dreamed about before. I had legit Princess Jasmine moments and felt like royalty.
It looks like they're using a gold detecting machine. Your driver will need to pop the trunk. This made me nervous at first, but it became normal by the end of my trip.
If you're looking to plan your first visit to the Middle East, you can't go wrong with Jordan.
Here's what I saw on a 10-day trip!
Day 1: Arrive in Amman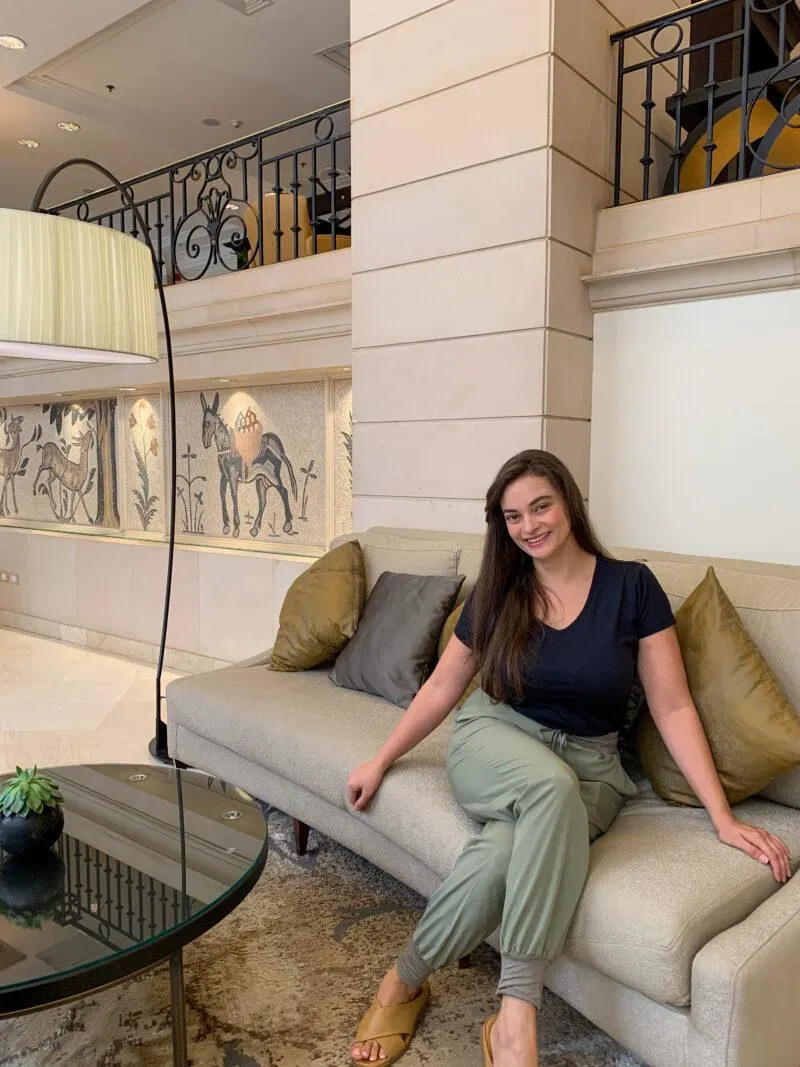 It's an 11-hour flight from New York City to Amman, the capital of Jordan. Often times, you need to make a connection somewhere so your travel journey can be 20 hours or more.
As such, I highly recommend taking it easy the first day. Check into your hotel. Order room service. Take a long shower.
The biggest thing you need to concern yourself with is how you get to the hotel from the airport.
I had a private driver throughout my visit and he picked me up at the airport with my name on a sign. He helped me with my luggage so I had no stress upon arrival.
I also had airport services that assisted me through the visa and immigration process. You can add this on to your arrival for less than $50 per person.
It is recommended that you get a Jordan Pass, which doubles as a visa to enter the country and also admission pass to several important sites, including Petra.
Day 2: Amman to Petra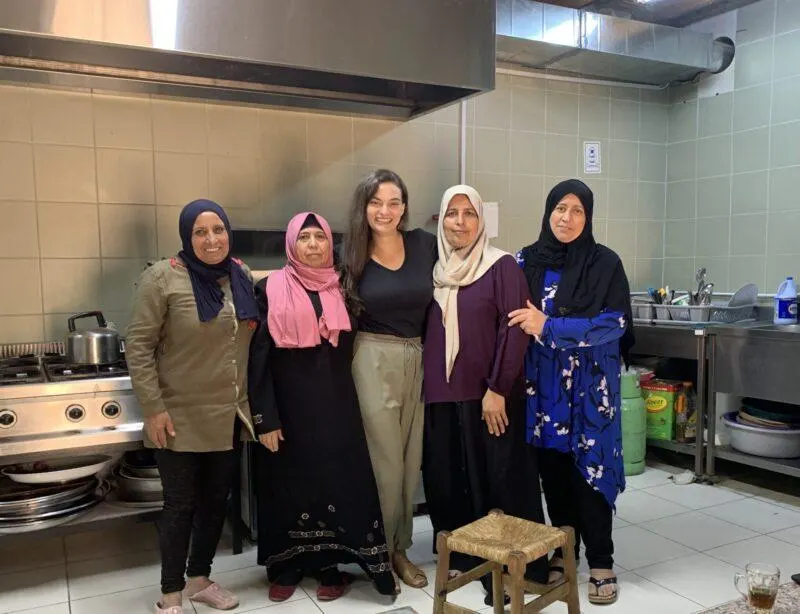 I didn't spend long in Amman. I stayed at the Marriott Amman and had breakfast before leaving — the tea was lovely. Then on my way to Petra, I stopped by the Iraq Al-Amir Women's Co-Op a little outside the city.
This organization was lovely, with the women specializing in different handmade crafts, from making paper to ceramics to fabrics.
I was able to have tea with them, hear their stories with the help of my driver who translated, and bought souvenirs to support their endeavors.
They are an organization formed by the Queen Noor-el-Hussein foundation with the goal of elevating women.
Afterwards, we went straight to Petra. Since this fell on a Wednesday, I was able to attend Petra at Night, which only operates on Mondays, Wednesdays, and Thursdays. It is included in your Jordan Pass.
Petra at Night takes place at the Treasury, the first stop when you enter Petra from the main entrance and the most famous facade of all the buildings in this ancient city.
You have to walk a little over a mile to get there in the dark, with the path lit by "candlelight," or at least battery operated lights that look like candles.
When you arrive, a bunch of candlelight lanterns are set up on the floor and the Treasury is illuminated in different colors. There is no sound or show.
The whole expedience lasts about an hour. I went to sleep right after, ready to explore Petra by daylight the morning after.
Day 3: Petra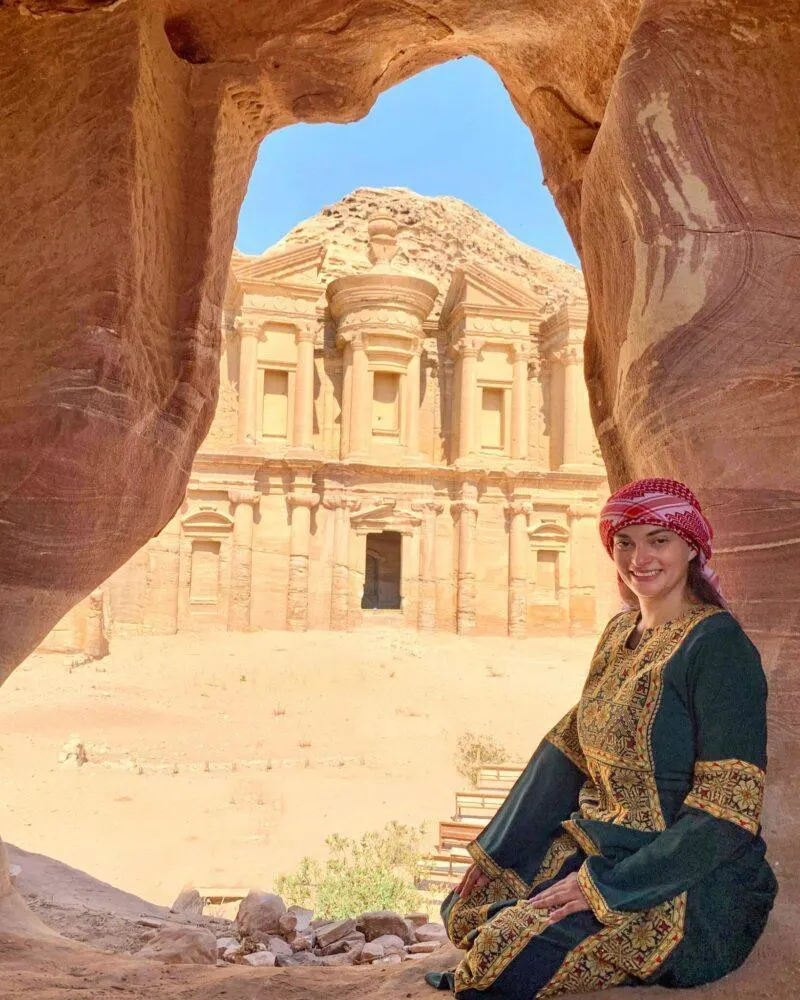 Petra is a mission to explore and not the easiest site to visit. My driver took me to the entrance but afterwards I had a guide to navigate the area. There are a bunch of shops at the entrance, largely overpriced so heads up.
You can also take a horse at the entrance, and the horse operators will tell you it's included in your ticket. That is true, but you still need to tip them.
There's debate over the treatment of the horses. If you must, save the ride for the way out when you're already tired of walking.
Once you enter, you'll find Bedouin locals offering to be your guide. There is a lookout point that is technically reserved for Bedouin access and they have a tent set up there to monitor access. If you have a guide that is not a Bedouin they'll probably tell you they can't accompany you there.
Be aware that if you accept a Bedouin guide, they don't tell you the amount you front. You pay after, based on what you think they deserve, and somehow it always ends up being upwards of $200.
In addition to the Treasury, there are many other ruins to see during your visit, from the stadium to the Monastery. You can walk or take a horse. You can also enter from the other direction, ending your day at the Treasury. By 4-5pm things are wrapping up.
If you spend the full day there, I don't think you need more than a day to explore Petra and see the highlights.
That night, I went back to my hotel at the Marriott Petra and had dinner in their Bedouin tent. It was a fancy feast that cost approximately $120 for one person. There was live music as well.
Days 4-6: Wadi Rum
After exploring Petra, I was ready to get away from the crowds and went to spend 2 nights in the Wadi Rum desert.
Upon arrival in the desert, I took a camel ride. My guide was from Egypt and for about an hour we took a leisurely stroll in a secluded, sandy area.
After, I took an SUV tour of famous landmarks in the area, learning where movies like Lawrence of Arabia and Dune were filmed. I saw ancient petroglyphs and had tea cooked over a fire made in the sand.
The desert is reserved to accommodations run and operated by Bedouin people, so there are no Marriotts or Hiltons. Most options are desert camps, some basic, some luxury.
I went with the best experience of them all and stayed at Memories Aicha Luxury Camp.
This camp was glamorous, with a king sized bed, en suite bathroom with robe and slippers, and panoramic glass domes where you could sleep under the stars.
A stay here included a buffet dinner with a different menu every day, and breakfast and lunch were available for purchase.
I had no phone service or internet so I took the time to disconnect. Also, if you reserve on Booking.com, the owner throws in a free astrophotography session.
He is a talented photographer and your pictures will look like you're on Mars!
Days 7-8: Dead Sea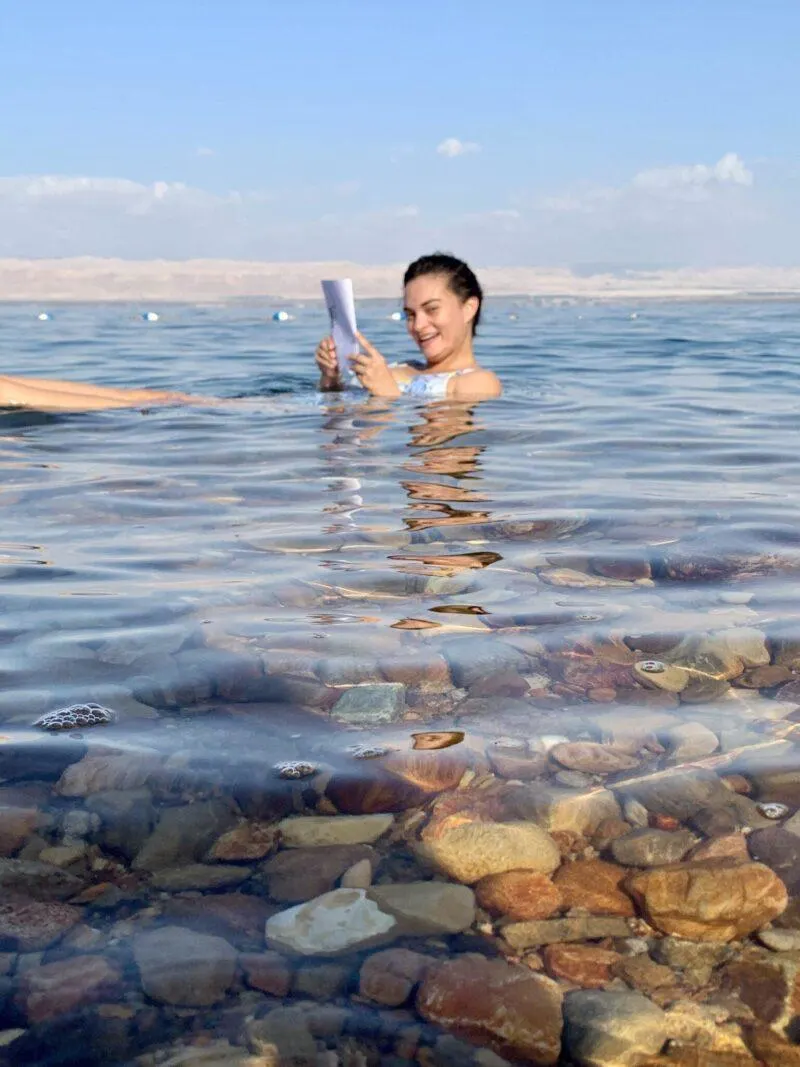 After Wadi Rum, I went to soak my muscles and relax in the Dead Sea, known for having some of the most healing waters on earth.
I stayed at the Marriott Dead Sea Resort & Spa. They had direct access to the Dead Sea and a beach setup with chairs and mud already mixed. They also had golf carts available to take you from the resort pool to the beachfront.
If you wanted to avoid the beach, they have a saltwater soaking pool inside the spa that mimics the experience.
While I was here, I got a massage at the spa. I also dined at their various on-site restaurants, enjoying cruising from Mexican to burgers to a traditional Jordanian breakfast.
Day 9: Dead Sea to Amman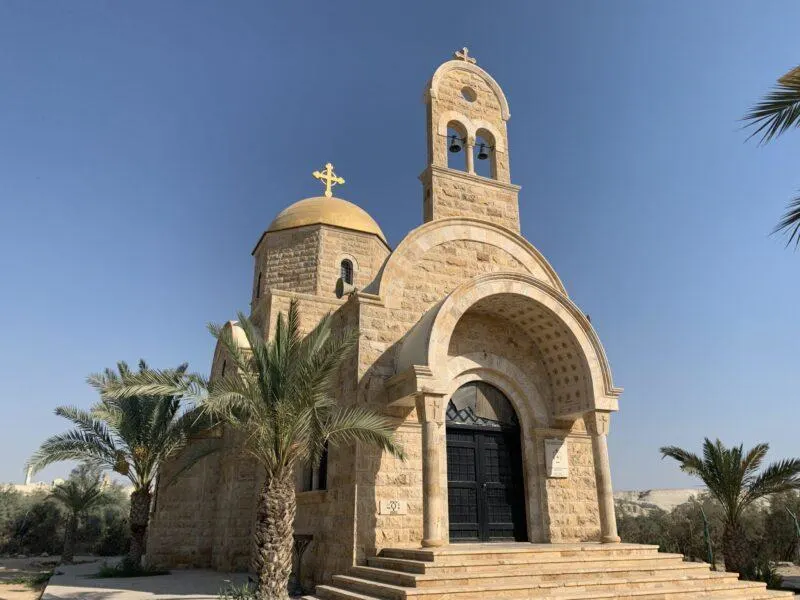 My last day in the country was about knocking out some nearby sites before leaving.
I started with Wadi Mujib, the lowest nature preserve in the world. It's not for the faint of heart — you're trekking in a slot canyon with a river running through it and have to pull yourself upstream at several points against the current.
There are guides along the way to help you at tricky points, just make sure to have tips available. You will get completely soaked so wear appropriate attire and shoes with a good grip, like river shoes or hiking sandals. It's about $20 to enter generally and you can spend 3-4 hours here.
After, I went to Bethany Beyond the Jordan, the baptism site of Jesus and a stop included in your Jordan Pass. You drive to the area and there's a shuttle bus that takes you further in, to the start of a trail. From there, you walk to the River Jordan, getting an introduction as you go.
On the way out, there's a gift shop where you can buy religious themed souvenirs, including holy water from the river.
Since I had a flight the next day, I spent the night in Amman.
Day 10: Depart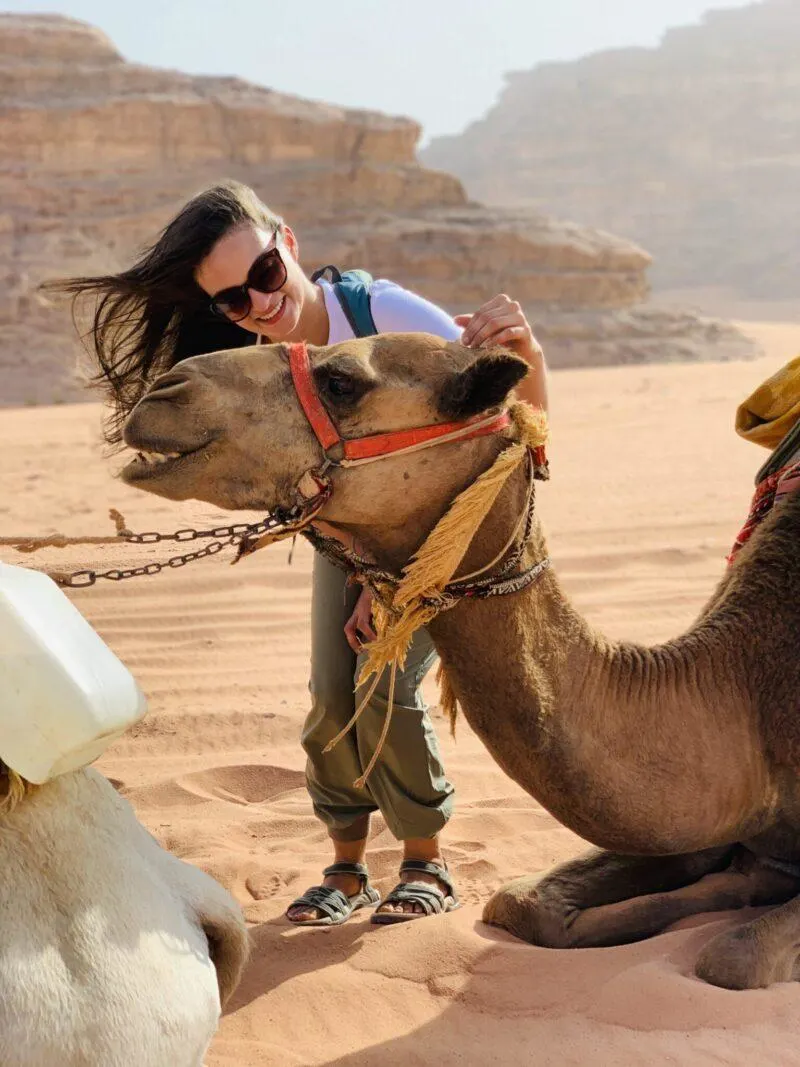 The last day in Amman I had a slow wake up, got breakfast, and went straight to the airport. It was a smooth departure.
What is the best way to get around Jordan?
A lot of people ask me for the contact information of my private driver while in Jordan. His name is Mohammed and his WhatsApp is +962 7 9614 1282. Feel free to reach out to him for pricing and to book driver services.
There are also Ubers and taxis available. You can rent a car if you want, though I recommend this for outside of Amman. Public transport is an option in the city but nonexistent in the desert.
What should you wear in Jordan?
As a woman, I advise you to dress modestly. This means covering your shoulders and elbows. It's hot and dry so loose fabrics are ideal. This is not a hard and fast rule and you'll see people wearing less clothing, especially at the Dead Sea resorts where everyone is walking around in a bikini.
If you want to dress in traditional attire, you can find a keffiyah, a traditional red and white scarf, and have someone help you put it on.
Is it safe to travel around Jordan as a woman?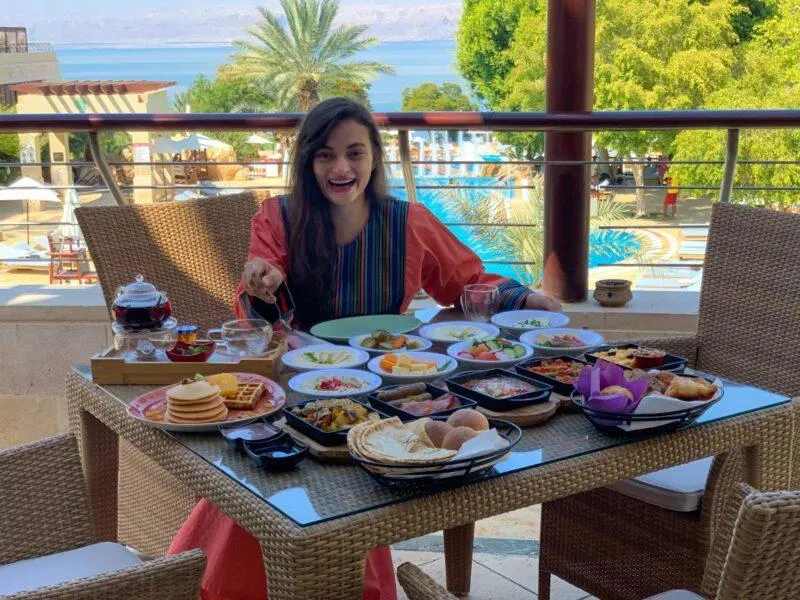 I felt safe in Jordan, although I will note I had my driver or a guide with me the whole time. It helped to have someone to translate. Many items have a local price versus a tourist price. My driver was kind enough to get me shawarma at the local price.
Till next time, safe travels!