Are you a digital entrepreneur looking for a free and easy to use video conferencing platform? You've come to the right place.
I transitioned from practicing law to traveling and writing full-time in April 2018 and when I did I had no idea what I was getting into. Coming from a traditional office background, working from home was challenging.
I didn't realize how many hours went into writing a 1,000-word article, for instance, or that every single piece of software you need is based on a subscription model.
Whatever happened to the good ol' days when you could just buy Microsoft Office in a box for one flat price?
It's amongst this environment of "charge them till they drop" that 8×8 video conferencing has emerged as a differentiator in the space.
This free video conferencing platform is new on the market but is set to make big waves and rival well-known names like Zoom and Skype.
I've used several video conferencing platforms in the past. As a blogger, I've utilized video chats to attend and host webinars, to meet with people on my team, to hold interviews and just converse with friends and family while traveling. They're not all created equal.
While most offer a free trial, some video conferencing platforms can cost $50/month, adding up to several hundred dollars a year.
If you're already strapped for cash as a startup or small business, this is an unnecessary expense.
Thankfully, there's a way to avoid it. Here's what you need to know about free video conferencing with 8×8.
RELATED POST: 12 WAYS TO MONETIZE YOUR BLOG
About 8×8 Video Conferencing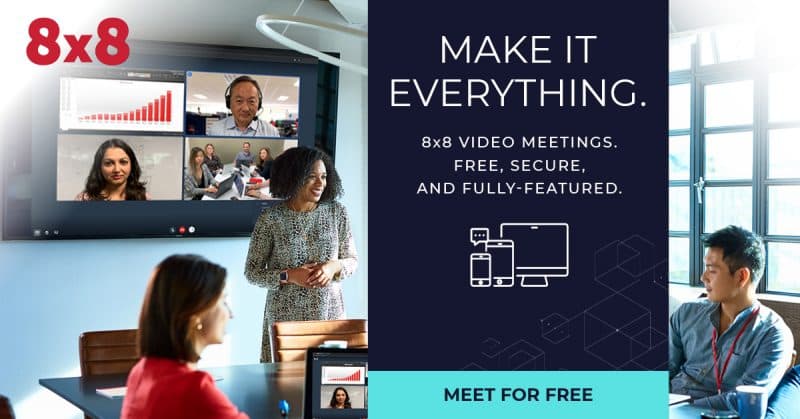 8×8 is a one stop solution for the communication needs of online businesses. It has voice, video, chat and a contact center.
If you opt to invest in a monthly subscription, you can set up all of your business' communication needs on 8×8 for as little as $12/month. They even have apps avialable so you can access your office phone while on the go.
However, if you're just looking for a place to meet with members of your team, the video conferencing platform is all you need and it's completely free.
The dial-in number is toll-free for all attendees. There's no limits on meeting time or the number of meetings you can hold. You can invite up to 50 participants. It's the perfect solution for digital entrepreneurs whose teams are based online.
8×8 Features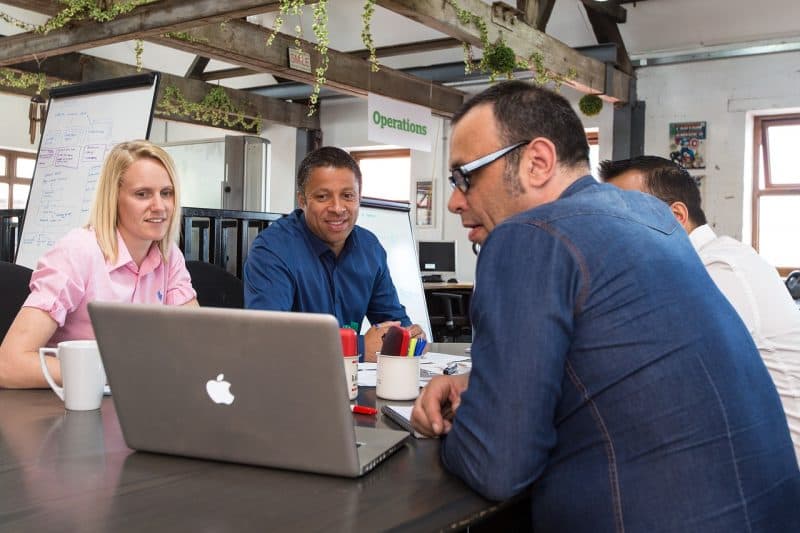 You're probably thinking, "this is a free service — it must not come with much." I get it, I was skeptical too! But in fact this is one of the easiest and most well-equipped programs I've had the pleasure of using.
Need to record your meeting? No problem, they have cloud storage for that. Need to share your screen? You can do so at the click of a button, sharing a particular program or your entire monitor.
One feature I didn't expect to find was closed captioning and the voice recognition software was more accurate than I thought it would be.
I found this valuable this because I often mute large group meetings or am multi-tasking when I'm on a call. Having subtitles allows you to pop in and still catch the gist of what's being said.
There's also a chat box and the ability for someone to mark themselves as "raising their hand" if they have a question. I find it tough to get a word in during group meetings so I appreciate this option and means of instilling a little order to the chaos that accompanies a 50-person phone call.
They also sync your meetings automatically with your email calendar of choice.
Comparison to other free video conferencing platforms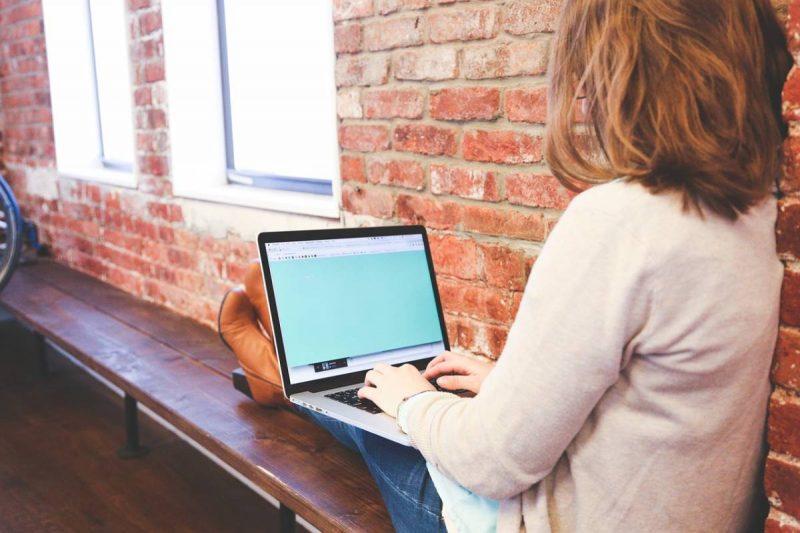 As I mentioned earlier, I've tried several paid and free video conferencing options and none has been seamless. In some cases, you need to download a completely separate app or create an account or enter a special meeting password password just to get into the room.
8×8 doesn't have any of this red tape.
As a host, you have a designated meeting room and you share that link with your attendees. When they enter the link into their browser, they automatically enter the conference room — no sign-ups, no passwords, no additional verification or new downloads required. It is that simple.
This comes in handy when you're conferencing with someone who doesn't work online. Many times, I've had guests become confused by additional steps, wasting my time and theirs and starting our meeting off on a tense note.
With 8×8, you won't have to worry about that.
Note that if you do want to set a password, you have that option available if you want to make sure your meetings are secure and can't be shared with just anyone.
Most things that are free are too good to be true, but 8×8 free video conferencing is the exception.
Click now to try 8 x 8 video conferencing today and see for yourself!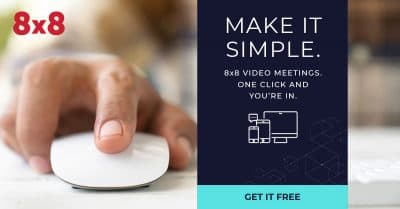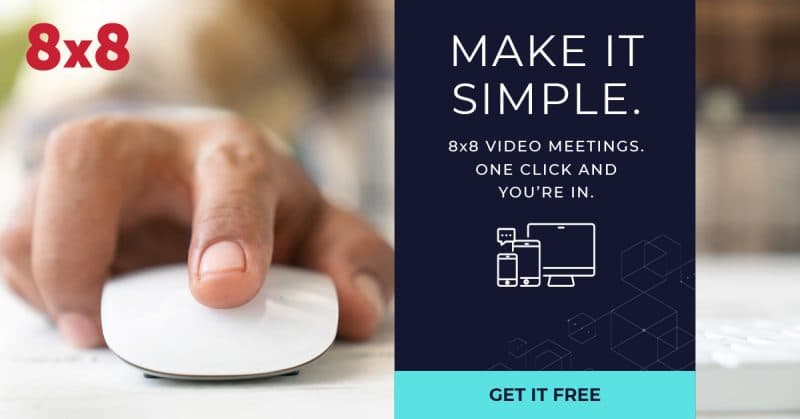 Till next time, safe travels.
RELATED POST: 9 REMOTE WORK TIPS TO GUARANTEE YOUR SUCCESS
Note: This post was sponsored by 8×8 Video Conferencing. All opinions are my own.
Liked this post? Pin me below.